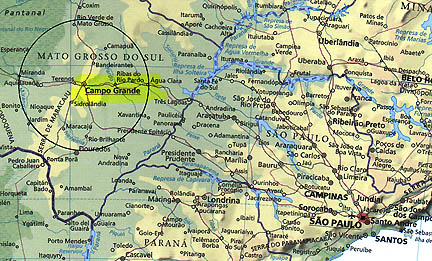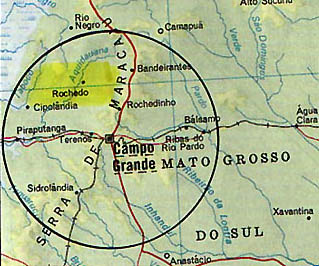 February 22, 2003  Corguinho, Mato Grosso do Sul, Brazil – In December 2002, I interviewed Brazilian businessman, Felipe Branco, owner of Castelo Branco Fezenda in Campo Grande, about the alleged September 15, 2002 abduction of farmer Urandir Oliveira from his Corguinho bedroom into a non-human craft. (See Earthfiles December 19 and 21, 2002.) Felipe had taken dramatic photographs of scorched body marks on the bed sheet and ceiling of Urandir's bedroom.

Felipe Branco invited me to visit him and his family in Campo Grande in order to go to Urandir's farm to collect physical samples from the bed, ceiling and surrounding environment where even rock has melted in the presence of glowing lights, or plasmas. I left Philadelphia on February 5 and Felipe and I met at the Campo Grande airport on February 8. From there, we traveled in his sturdy truck for two hours on rough dirt roads to Urandir's farm. The soil everywhere is red with iron and cattle graze everywhere. Mato Grosso do Sul is the biggest cattle producer in Brazil.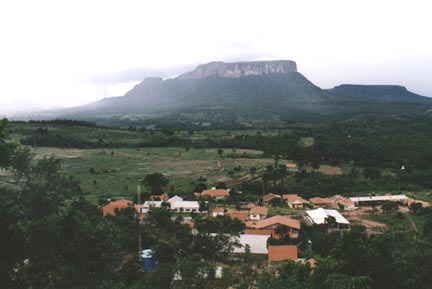 Urandir Oliveira was born on March 14, 1963, in a rural area outside Sao Paulo and is about to have his fortieth birthday. He was born in Maraba Paulista in the state of Sao Paula, Brazil, to Francisco Gomes and Joao Fernandes De Oliveira. His father was a city service employee in Sao Paulo. Urandir had five brothers and three sisters.
By age eight, Urandir realized that when he fought over food with his brothers and sisters at the kitchen table, his hands could bend and twist the metal utensils. He remembers once throwing a fork that kept bending as it hit the table top.
Urandir recalls physical abductions from Earth locations into an extraterrestrial craft when he was 13, 23, 27, 35 and 39, plus an encounter in Sao Paulo with ET humanoids when he was 23-years-old.
Age 13, March 6, 1976, Urandir Oliveira's Extraterrestrial Abduction # 1, Sao Paulo
When he was thirteen on March 6, 1976, at 10 p.m. at his home in Sao Paulo, he had his first encounter with a craft. The beings were tall and blond-haired. Their eyes were like a cat's, vertical honey-colored pupils in blue, green or yellow irises. He understood that the frequency of his mind had been speeded up by the blond humanoids to improve communication. Since then, one of the consequences has been that Urandir Oliveira's mind control over matter resembles the powers of metal bender, Uri Geller, who linked his abilities to a childhood encounter with a glowing being.
Age 23, 1986, Urandir Oliveira's Extraterrestrial Encounter in Sao Paulo
Urandir had been making money by entertaining people with his mental powers in Sao Paulo. Then one night, he came upon a beggar and child who were hit by a car and broken bones were exposed through their skin. Not knowing how or why, he bent down and placed his hands on their terrible wounds and the bleeding stopped. Shortly thereafter, tall blond beings approached him and said, 'Now you know what to do with the light energy.'
Age 27, 1990, Urandir Oliveira's Extraterrestrial Abduction # 2, Sao Paulo
Then in 1990, he and a friend were both lifted up in beams of light into a craft where Urandir remembers many crystals pulsating with light and "lightning." He understood that the pulsating crystals "activated human force fields."
Age 35, 1998, Urandir Oliveira's Extraterrestrial Abduction # 3, Corguinho Farm
In 1996, Urandir bought 209 acres of farm land in Corguinho between hills and a mesa where local farmers for decades have seen mysterious lights and aerial craft. His parents and in-laws also moved to the farm to help with the work. Over the next couple of years, Urandir appeared on several Brazilian television programs to demonstrate his Uri Geller-like ability to use his mind to bend metal, shut off and turn on lights, to move and control the direction of a small metal ball and to mentally break metal coins and glass dishes. By 1998, Brazil Verade TV traveled to his Corguinho farm because Urandir informed the station that the blond beings were coming back to get him again. The crew was videotaping when six lights in an arc appeared in the night sky and descended toward the ground. As the arc of lights seemed to lower toward Urandir, he walked through them into a small beam of light that lifted him into a disc-shaped craft while the Brazil Verade television camera rolled. Some of that video was broadcast in Brazil and the tape was sent to CNN for international broadcast. But to date, Urandir does not think CNN ever aired any of it and he wonders what happened to that professional videotape of his second abduction.
What no camera had access to was the inside of the craft. There, tall, blond humanoids showed Urandir wall screens containing moving images of Earth destruction by nuclear missiles and nuclear power reactors. Urandir understood that the destructions will be caused by changing Earth magnetic fields which affect the electronic systems in the missiles and reactors. The blond beings also showed Urandir that three "fully functional" pyramids currently covered by sand will be uncovered for the world to see.
Age 39, September 15, 2002, Urandir Oliveira's Extraterrestrial Abduction # 4, Corguinho Farm
His fourth abduction encounter began after 7 p.m. local time on September 15, 2002, in the bedroom he and his wife, Jessica, shared in their farm house. Urandir said he had received telepathic information several days before from the beings that by 10 p.m. on September 15, another transport to a humanoid craft would occur. So, anticipating another interaction, Urandir told his parents and in-laws, as well as local friends, to be ready for "a rain of rocks" that would last for seven minutes when Urandir was taken to the non-human craft. That same week, Jessica had traveled with their 2-year-old son, Aria, to Sao Paulo, to visit family and was not there when the drama unfolded.
Interview: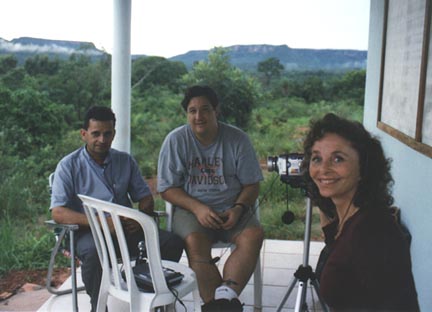 Urandir Oliveira, Farmer, Ecovila Fezenda, Corguinho, Mato Grosso do Sul, Brazil. Portuguese translation by Luciano Didier, Brazilian Fiesta Tours, Rio de Janeiro, Brazil; and Felipe Branco, Fazenda Castelo, Campo Grande, MS. : "He (Urandir) was very anxious because for three days already he was expecting to be abducted, and there were only three hours left to the time the beings told him he would be abducted. (He thought it would be 10 p.m.). He tried to prepare himself, so he went home and took a shower and put his shorts on and laid down on the bed. He picked up a book and tried to relax.
A few minutes later, he realized a flash in the room. Then he felt his body like a fever warming up.
WHAT WAS THE COLOR OF THAT FLASH?
The flash was sort of a light purple, or violet. He is describing it as violet. The flash took the whole room and then was condensing in the form of the shape of a tube that included the bed and himself all the way from the bottom of the floor to the ceiling.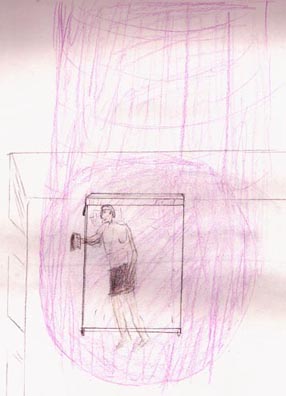 AT THAT MOMENT, WHERE IS THE BOOK?
The book was in his right hand (extended in the air beyond the right edge of the bed) and when the light flashed, eventually he released the book. The book fell from his hand. And he felt sort of a paralyzing. He could not move. He really felt this fever in his body and his body on the bed.
FELIPE: He felt his body warmer on the bed.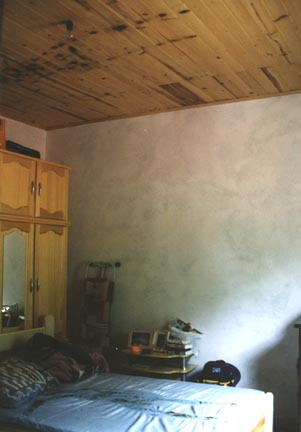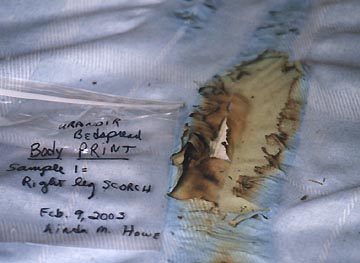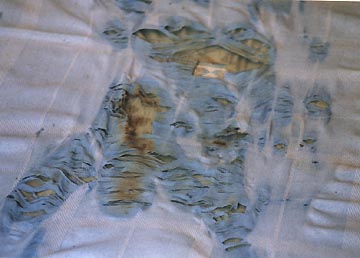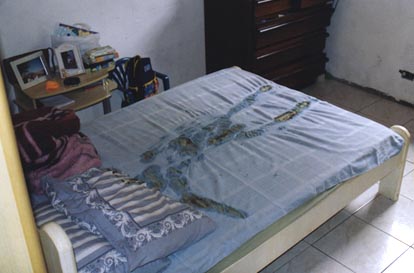 WHEN YOU LOOK AT THOSE SHEETS AND THAT CEILING, YOU WOULD THINK YOU WOULD FEEL PAIN (FROM THE BURN)?
Yes, because it leaves the impression that something burned someone there. But knowing in advance already the beam process of abduction (from earlier encounters), he knew it was not going to be painful at all.
WHAT IS HAPPENING AFTER THE HEAT AND GOING UPWARD?
He felt himself rising up and going through the ceiling. From the point he was paralyzed, he could not move so much, but from what he could see, he realized everything was like normal from inside the light as he is rising. Actually the position did not allow him to see much, but what he could see are the normal things like the walls, the door, the window.
WHAT HAPPENS AS HE GETS UP TO THE WOOD CEILING?
He saw himself going through the ceiling and he could actually see the molecules between the ceiling, like if he were going through foam.
FELIPE: Not like a foam rubber, but like a soap, more like soap bubbles, like when you wash your hands and you produce the foam that comes out in the soap.
LUCIANO: And then he is turned upright so he is standing after he crosses that point of the ceiling, going through the ceiling.
IN THAT SAME VIOLET BEAM?
In the same violet light.
THE OTHER DAY, HE MENTIONED HE COULD SEE AND HEAR MORE?
Even at the height and distance he was, he could see and hear perfectly well, even better than normal, as if everything was amplified. He could see the stones falling everywhere, he could hear peoples' conversations and see them down there.
COULD HE SEE THE CRAFT HE WAS RISING INTO?
No, he could only see it at the moment he approached it.
THE ROCKS ARE FALLING WHY?
It was a signal, a sign, that the beings left so that everyone would recognize that moment and everyone would know he was being abducted. (Howe Note: Several people on the farm told me during my February visit that Urandir explained the blond beings would produce small rocks falling from the sky for seven minutes as an 'announcement' that Urandir had been transported.)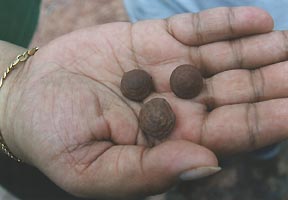 PLEASE DESCRIBE AS YOU ARE APPROACHING THE CRAFT WHAT YOU WERE SEEING AND FEELING.
As he was approaching the craft rising and saw everything that was going on down below, he goes into the first room into the craft. And it is also violet color inside this craft.
IS ANYONE THERE?
Yes, there was. As he walked in, there was another person.
IS THIS THE ONE YOU HAVE DRAWN, THE BLOND HAIR WITH VERTICAL-PUPIL EYES?
Exactly.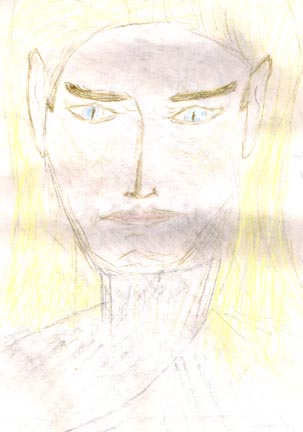 THIS BEING WAS WAITING, AND HOW MANY OTHERS?
There were more ­ he cannot tell exactly how many, but there were more behind him. He was the main one, this one, waiting for him.
HOW MUCH TALLER WAS THE BEING?
FELIPE: More like 6 foot three or five inches.
WHERE DOES URANDIR GO?
Then he walked in towards a bubble that was higher than him. As he saw a bed inside this bubble and just supposed he had to go and lay down there.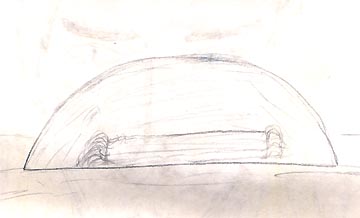 DOES THE BUBBLE HAVE TEMPERATURE, FEELING?
It was cold.
WOULD IT BE LIKE GOING THROUGH JELLO?
Just like a car with air conditioning on.
LIKE COLD AIR?
Cold air.
SINCE HE HAS DRAWN THIS AS A BUBBLE WITH A BED INSIDE, HOW DOES HE GET IN THERE?
He just walked through it.
HAD HE DONE THIS BEFORE?
No. (laughs)
DID THE BLOND BEING EXPLAIN TO HIM MIND-TO-MIND WHAT WAS GOING TO HAPPEN?
It was as if he (the blond being) was telling him, 'Go in, lay down and relax.' That's what he felt.
WHEN YOU PASSED THROUGH THE BUBBLE, WHAT HAPPENED?
He goes through it, feels very cold, lays down on the bed and then some sort of mist comes in and the shorts he had on disappear and in its place, some kind of other clothes materialized over his skin.
LIKE A LEOTARD? DO YOU KNOW LEOTARD?
Yes.
COLOR?
Silvery.
DID IT GLOW NEON LIKE THE BLOND BEINGS?
Yes, all of them.
ALL OF THE SUITS?
All of them, including his own, emanated a light like silvery-white neon lights.
DOES HE HAVE ANY UNDERSTANDING WHAT THAT LIGHT DOES?
This light stabilizes his chakras and is sterilizing him from any bacteria on this planet.
WHAT HAPPENED THEN AFTER HE'S IN THE SUIT?
He walked out of this bubble and went towards them. The greeting with the beings is touching the (index) finger to identify the energy. And the same finger passing, like rubbing, the forehead, like if he was tuning into the other one's mind to start a telepathic conversation.
WHEN THE BEINGS TOUCH HIS FINGER AND FOREHEAD, DOES HE SEE ANY IMAGES?
FELIPE: The being does not touch his forehead. The being touches his own forehead and then Urandir touches his own forehead. Only the (index) fingers touch.
WHEN THEY TOUCH FINGERS OR HE TOUCHES HIS OWN FOREHEAD, DOES HE (URANDIR) GET ANY IMAGES IN HIS HEAD?
It's only telepathic conversation. No images on his mind."
In Part 2 of this series from my research in Corguinho, Brazil, I will detail my interview with Urandir Oliveira about what he saw and learned during the three Earth days he was inside the craft.
Continued in Part 2.

© 1998 - 2023 by Linda Moulton Howe.
All Rights Reserved.