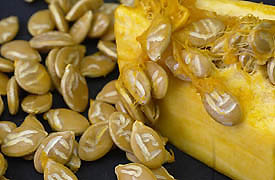 March 15, 2003  Salt Lake City, Utah - Late last night, I received an email from an Earthfiles viewer concerning a restaurant in Salt Lake City, Utah, that yesterday discovered seeds inside a yellow squash that were engraved with letters and symbols. One evident pattern in a photograph taken by Ryan Galbraith from The Salt Lake Tribune, shows in the lower left corner the mathematical symbol Pi (appx. 3.14159) which represents the ratio of the circumference to the diameter of a circle and appears as a constant in a wide range of mathematical problems.

© 1998 - 2018 by Linda Moulton Howe.
All Rights Reserved.