"I noticed that the seed itself still had the skin or a membrane around it which makes the seed smooth to the touch. So, in fact, you would have to take off this skin or membrane to actually feel the markings or engravings that are in the seed. …There was no way that a worm or any insect could do that because it would have eaten through the skin or membrane."
 – Dave Rosenfeld, Photographer, Salt Lake City, Utah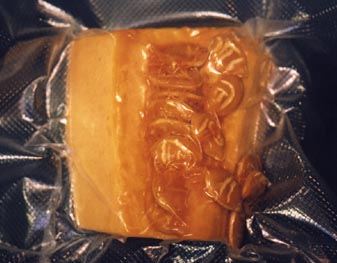 March 28, 2003  Salt Lake City, Utah – As I reported on March 15, 2003, about 500 "engraved" seeds were found inside an otherwise fresh, healthy banana squash by Salt Lake City restaurant owner, Kasim Barakzia, on March 14, at his restaurant, Baba Afghan. Almost every seed had letters or symbols engraved on both sides in what appeared to be different languages. The first symbol that Kasim recognized was the Arabic symbol for Allah.
Kasim has cut open dozens of banana squash every week since he opened his restaurant nine years ago and has never seen anything like these seeds before. Normal squash seeds are smooth and glisten with a thin, transparent membrane.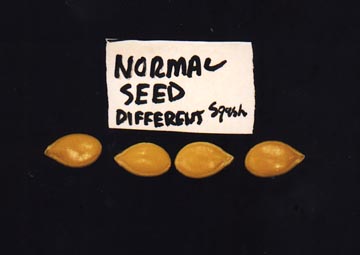 This week I was able to coordinate a photography session with Kasim Barakzia and Ryan Layton of Layton, Utah, with his friend, Dave Rosenfeld, a Salt Lake resident who likes to explore earth mysteries through his group, Utah UFO Hunters. I talked with Kasim about how important it would be to photograph as many of the carved seeds as possible, both front and back of each labeled group of seeds, to see how many of the engraved symbols could be recognized and if a relationship could be determined between the symbols on either side of each seed. Kasim also wondered if there was a specific message in all the seeds coming at this critical time of war between the United States and Iraq.
The following are a few of the several dozen photographs taken of the front and back "engraved" in the banana squash seeds. The far left seed below is carved with the Arabic symbol for "Allah," or God.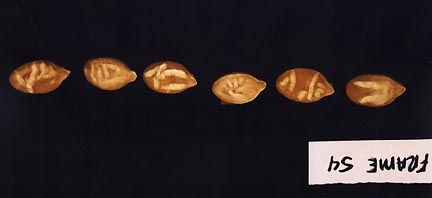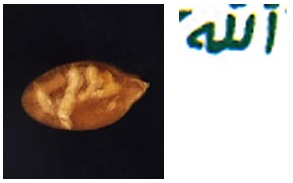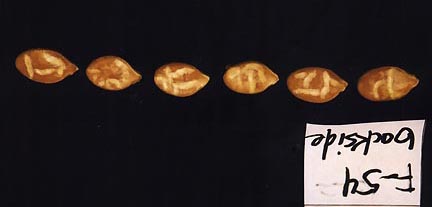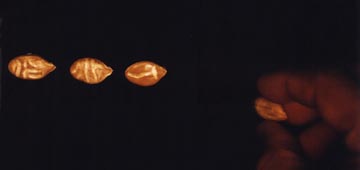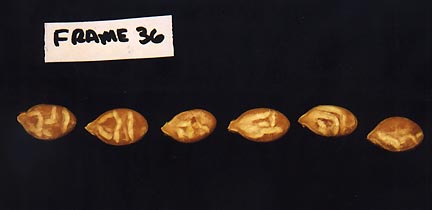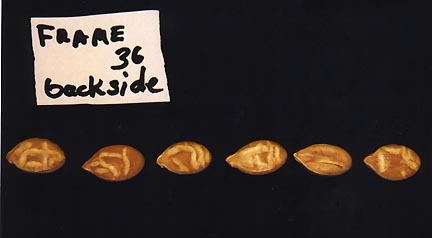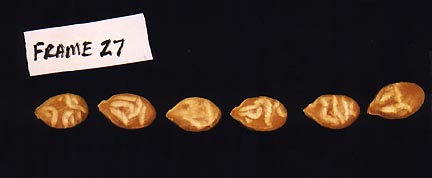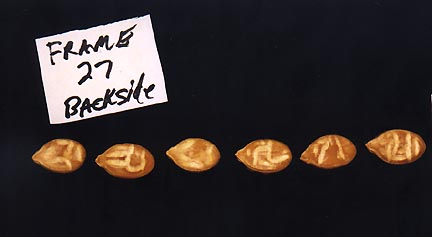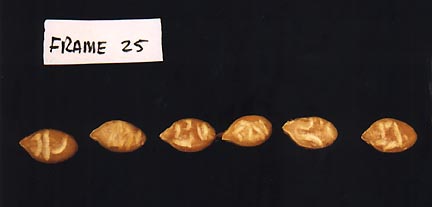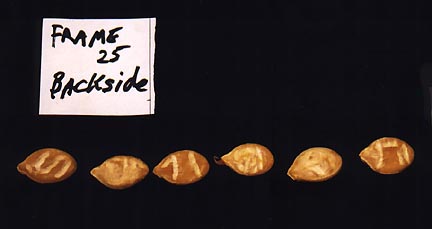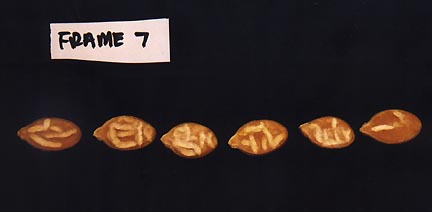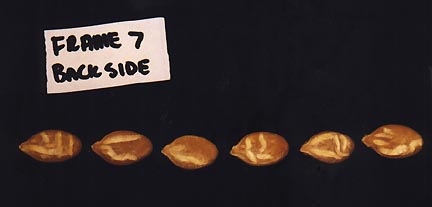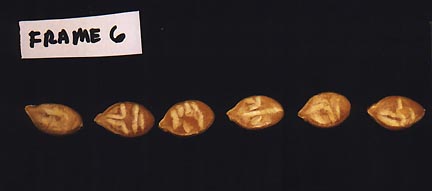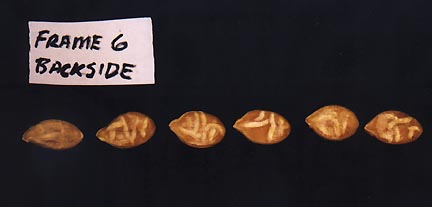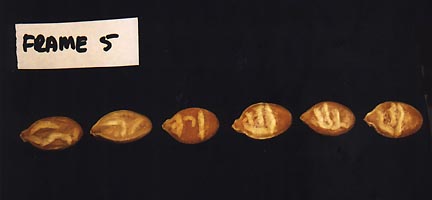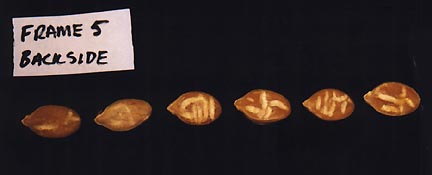 ---
Interview:
Dave Rosenfeld, Photographer and Utah UFO Hunters, Salt Lake City, Utah: "I was skeptical when I went to photograph. When Kasim (Barakzia) pulled out the seeds, they were all in vacuum packs, 30 to 40 seeds per pack, and he did not want them to leave his sight, that's for sure. He was pretty protective of them.
When he pulled them out and I started inspecting them, just the symbols at first ­ looking at the different shapes of the symbols. I noticed that the seed itself still had the skin or a membrane around it which makes the seed smooth to the touch. So, in fact, you would have to take off this skin or membrane to actually feel the markings or engravings that are in the seed. After seeing the seeds up close and seeing the membrane was still on the seeds intact, I was quite floored!
WHAT YOU ARE SAYING IS THAT WHATEVER THIS ENGRAVING PROCESS WAS, IT WAS BENEATH A TRANSLUCENT OR TRANSPARENT SKIN SURROUNDING THE SEEDS?
Correct. There was no way that a worm or any insect could do that because it would have eaten through the skin or membrane.
DID YOU SEE THIS TRANSPARENT COVERING ON EVERY ONE OF THE SEEDS?
Yes, and even on the dry seeds he had, the ones that were really dry and cracking apart ­ that's where you could really see the membrane as it was flaking off the seed.
THAT MAKES THIS EVEN MORE REMARKABLE BECAUSE HOW WERE THESE SYMBOLS ENGRAVED THROUGH THE TRANSPARENT COVERING OF THE SEEDS WITHOUT LEAVING A MARK IN THE COVERING?
Exactly. That's what got me. I was like, 'Whoa! This is really strange.' Then when you look at the symbols, you are pretty amazed by those alone. But then when you see the skin is covering, you are like, 'There is no way somebody could do this. No way!'
Talking with Kasim, he says that he has been cutting open squash for 9 years and he says that sometimes he gets squash from different locations. This squash was from Mexico and he said if someone was to fake this, hoax this, if there is some way to do this, they would have to do it when the squash was quite young in order for it to heal over after placing the (carved) seeds back in there.
HOW COULD ANYBODY OPEN UP A SQUASH, CARVE 500 SEEDS AND PUT THEM BACK INTO THE SQUASH WITHOUT IT BEING QUITE OBVIOUS?
Yes, that's what Kasim has been saying, too. He has never seen anything like it. And he personally cut open that squash, so he knew that it wasn't pieced together."

© 1998 - 2018 by Linda Moulton Howe.
All Rights Reserved.