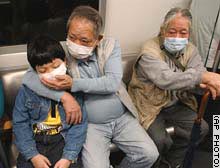 April 14, 2003  Vancouver, British Columbia, Canada – Today, the World Health Organization (W.H.O.) and the Centers for Disease Control (CDC) are reporting that the number of Severe Acute Respiratory Syndrome cases, known as SARS pneumonia, have risen around the world to 3169 and 144 deaths. This is an epidemic. Many doctors are wondering if it will become a global pandemic that can infect hundreds of thousands, maybe even millions, of people over the next several months.
In the United States, there are now 193 suspected SARS cases, the greatest numbers in New York and California. Fortunately, there are still no American deaths.
But in Hong Kong, five more patients with SARS have died ­ including four who were in their forties and healthy. Those deaths mean that SARS is able to kill not only the older, already-diseased patients, but the younger, more physically able that were thought to have a good chance of recovery from SARS.
A good example of how the SARS virus can attack a healthy, young person is the case I reported March 29, 2003. The sister of the SARS patient described the agony of the disease which nearly killed her 38-year-old sister. The woman was a healthy vegetarian who ran every day, worked a full time job and raised a baby with her husband. But on February 25, she ended up suddenly in a hospital on a ventilator to help her breath. After six weeks, she was finally allowed to go home the end of March where she is now still so weak it's hard for her to sit up. Only then did the doctors and hospital confirm to the woman and her family that she is a victim of the SARS virus. When she asked why they weren't told that diagnosis earlier, the doctor said the hospital did not want the "negative publicity." That has angered the family because the girls' mother also became ill with pneumonia. Why, they ask, did the hospital not make everyone wear masks and gowns if the doctors knew, or even suspected, the woman had the potentially deadly SARS pneumonia?
As the SARS cases keep increasing in the United States and around the world, there was a breakthrough early Saturday morning, April 12, at 4 a.m. Medical researchers at the Canadian BC Cancer Agency's Genome Sciences Centre were the first to complete a draft sequence of the 29,727 nucleotides in the brand new, never-seen-before, coronavirus believed to be responsible for SARS. This detailed knowledge about the genetic sequencing of the RNA virus will help laboratories create diagnostic tests, antiviral drugs and hopefully a vaccine.
This afternoon, the BC Cancer Agency's Genome Sciences Centre held a press conference by phone to discuss their virus sequencing breakthrough. Professor Caroline Astell, Ph.D., a biochemist, molecular biologist and Project Leader at the Centre, said the SARS virus began in animals before jumping to humans with the contagious ability to spread person-to-person.
---
Interview:
Caroline Astell, Ph.D., Biochemistry and Molecular Biology, Project Leader, BC Cancer Agency Genome Sciences Centre, Vancouver, B. C., Canada: "It's a new virus and it would be my opinion that this is probably replicating in some animal species in China and it underwent a limited number of mutations because this is an RNA virus and like all RNA viruses, including HIV, when it replicates the enzyme that does that makes a mistake and the property of that enzyme is that it doesn't correct itself, as a DNA enzyme does correct itself.
So, I think there was a small number of mutations that occurred which gave it the property of entering human cells and it replicates very well – or at least it's able to replicate in human cells. We talked earlier about the sensitive diagnostic tests that can be developed. Yes, they'll be used on SARS and suspected SARS cases, but another very important use will be to look at serum from animal populations in southern China and find out where that virus is replicating. I think that is another tool that can be used which animal group it's replicating in. It's thought to be replicating in some animal species.
COULD THE SARS VIRUS MUTATE SO MUCH IT MIGHT DISAPPEAR?
I don't think it's going to disappear soon. The reason is that preliminary data from the CDC in Atlanta, the blood data, says they don't see antibodies to this virus in North American population in a limited study they have just done. We haven't seen this virus before and there is a huge pool of people out there – and Bob Brunham has said maybe only 5% of the people infected show disease symptoms and 95% of those infected don't show disease symptoms, so there is nothing that is going to prevent SARS from spreading around throughout the world population.
DO YOU MEAN THAT SARS IS NOT PROVOKING HUMAN ANTIBODIES TO ITS PRESENCE TO APPEAR?
No, what they don't see is antibodies to this virus in the general population which I would interpret that this virus has not moved through the North American population yet."
---
SARS Cases as of April 14, 2003 Reported by CDC and W.H.O.
United States
Suspected SARS pneumonia cases in the United States have climbed to 193 in 31 states; no deaths.
Alabama 1
California  41
Colorado  6
Connecticut 4
Florida  11
Georgia 3
Hawaii  5
Illinois 11
Kansas 1
Kentucky 1
Maine  2
Massachusetts  8
Michigan  2
Minnesota 5
Mississippi  1
Missouri  2
New Hampshire 1
New Jersey  3
New Mexico  1
New York  22
North Carolina   6
Ohio 10
Oregon 1
Pennsylvania  5
Rhode Island  1
Texas  6
Utah  5
Vermont  2
Virginia  5
Washington 19
Wisconsin 1
April 14 – Total Suspected U. S. Cases Under Investigation: 193 in 31 states. No deaths.
Worldwide:
Brazil  2
Canada   100 cases,   13 deaths
China   1418 cases,   64 deaths
China, Hong Kong   1190 cases,   47 deaths
China, Taiwan,   23
France,  5
Germany  6
Indonesia 1
Italy   3
Kuwait 1
Malaysia  4 cases, 1 death
Philippines 1
Ireland   1
Romania  1
Singapore 158 cases,   12 deaths
South Africa 1
Spain  1
Sweden 1
Switzerland,  1
Thailand  8 cases, 2  deaths
United Kingdom  6
United States  193
Viet Nam  63 cases,  5 deaths
April 9 – Current World Total: 3,186 Cases and 144 Deaths
---
Websites:
http://www.bcgsc.ca/bioinfo/SARS/  (BCGenome Sciences Centre)
http://www.who.int/en/  (World Health Organization)
http://www.cdc.gov/    (Centers for Disease Control)

© 1998 - 2018 by Linda Moulton Howe.
All Rights Reserved.