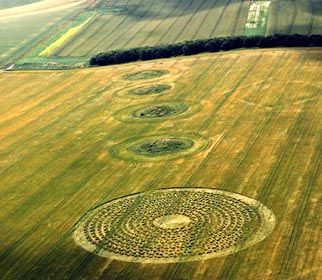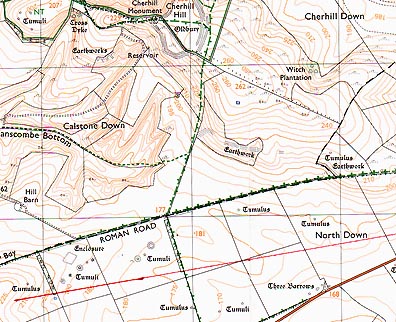 July 10, 2003 – Beckhampton, England – Farmer David Sheppard was dismayed when he found more than the usual ancient line up of burial mounds in his North Down spring barley field on July 6, 2003. Right at the end of four tumuli that have been lined up pointing towards Silbury Hill near Avebury for more than 4,000 years, was another bigger circle made from his own crop. Stuart Dike and Mark Fussell of the Cropcircleconnector.com, with the farmer's permission, were able to get in on the ground and photograph the remarkable detail of hundreds of small, swirled clumps of standing plants that dot eleven concentric rings that radiate from a downed center.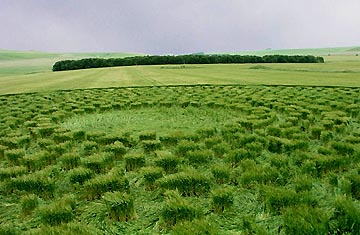 Stuart Dike wrote in his report at the Connector, "The floor construction itself certainly needed an immature crop to create this design. I felt that if the barley had been any riper, the whole process would have looked rather messy (older plants would be stiffer and not as fluid). However, from our rather brief visit to the formation, kindly granted by the farmer, we noticed the fluidity of the crop around the small standing clumps. This ultimately creates hundreds of small rings, which then creates the standing crop shapes. It is a masterful piece of work, which sends out a clear and concise communication to our subconscious. You can feel the ancient atmosphere at this location, surrounded by burial mounds."
Lucy Pringle, crop formation researcher and author, flew over the formation and provided the aerial photographs for this report. Lucy has flown over and walked in more than a hundred formations the past decade and this week I talked with her about her observations over the extraordinary North Down "fifth tumulus" created in the barley. For other North Down formations, see More Information below.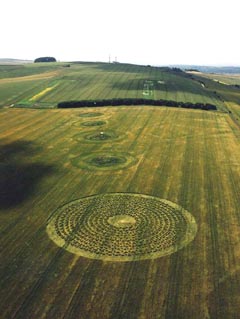 ---
Interview:
Lucy Pringle, Crop Formation Researcher and Author, Petersfield, Hampshire, England: "I don't think these are random alignments. I think our ancestors in the ancient times in the olden days, they took these things into consideration.
YES, THE ORIENTATION TO THE MAJOR SACRED SITES OF AVEBURY AND SILBURY HILL.
That's correct. But whether it would then line up again with Avebury, I don't think it would.
RIGHT, IT APPEARS TO BE WITH SILBURY HILL. AND I'M CURIOUS, IF IN YOUR YEARS OF STUDYING CROP FORMATIONS AND SOME OF THE HISTORY, HAVE YOU EVER COME ACORSS ANYTHING SPECIFICALLY ABOUT THE NORTH DOWN AREA AND ALL THE TUMULI THERE?
No, I haven't, but I think it's worth investigating now that it has actually happened because it is unusual to have these four (tumuli) in direct alignment. One wonders if somebody, rather like the Archer. Did you read the article about the Archer being found in a burial mound close to Stonehenge?
The "Archer" Discovered in Stonehenge Burial Mound
By examining the oxygen taken from his teeth which contain certain isotopes, they were able to identify that he originated probably in the Nordic countries in Sweden. Also they were able to carbon date him and he was thought to live during the period that Stonehenge was being built and possibly he was part of the construction's process. He certainly was an important person because gold artifacts were found which are very rare and specific of that period of time that haven't been found before. That was a very exciting find ­ so in a way one could ask: could the people buried in the four tumuli in direct alignment to Silbury Hill have had some unique connection with the hill itself?
These are the only four in this particular area in such alignment, but who is to say that the other ones which appear to be random might have been in alignment with others that have been destroyed over the years? One simply can't tell.
I THINK IT IS FAIR TO SAY THAT IF THERE IS ONE COMMON DENOMINATOR FOR EVERYONE WHO HAS PAID CLOSE ATTENTION TO CROP FORMATIONS OVER THE PAST DECADE OR SO, IT WOULD BE THE RELATIONSHIP OF THE PATTERNS TO THE GEOLOGY, GEOGRAPHY AND THE SACRED SITES.
Very strongly. You are absolutely correct. There is a very strong link between crop circles and the ancient sacred sites and I think that a lot of work ­ particularly in the British Dowsing Society ­ is going on and Jim Lawrence with whom I do a lot of work who is an academic at York University. He is leading this particular scientific investigation and he is finding that you will find the same energies or same physical effects within the sacred sites that you find within the genuine crop circles.
WHEN YOU CONTEMPLATE THAT, WHAT INTUITIVE THOUGHTS RUN THROUGH YOUR MIND ABOUT THE PAST, PRESENT AND FUTURE ALL COMING TOGETHER IN CROP FORMATIONS?
I think it is rather a special connection which is reminding us possibly that our ancestors have a knowledge which we have lost through time, through our modernization through technology usurping our natural instincts. In fact, drawing us back to the time when we needed to be close to the Earth, we needed to understand the astronomy, we needed to understand the seasonal changes, to understand our landscape and energies within our landscape which we've lost, we've put to one side thinking they were unimportant. They are not. They are absolutely vitally important and maybe this is making re-think that our ancient ancestors had a lot going for them that we have lost in the process of time.
Time Travelers? Angels? Intelligent Force of Nature?
WOULD THE CIRCLEMAKERS BE TIME TRAVELERS? OR EVEN ANGELS, AS ROBBERT VAN DE BROEKE SAYS IN HOLLAND?
Well, what is time, Linda? This is another conundrum, isn't it? Time is the past, present and the future.
WHEN SOMEONE ASKS YOU TODAY AFTER ALL YOUR YEARS OF GOING INTO THE CROP FORMATIONS AND FLYING OVER THEM, WHO IS ­ OR WHAT IS ­ THE SOURCE OF THE CROP FORMATIONS, WHAT DO YOU THINK IN YOUR OWN MIND NOW?
(Lucy laughs) Oh, dear, that is the $64,000 question, isn't it? I think it changes if you keep an open mind. One may think one thing one day and another thing the next. What I do believe is there is an intelligence behind this crop circle phenomenon. What, who, where that intelligence is, I simply have no idea. And this, I think, is one of the whole fascinations of this whole enigma, if you like, that we come to an area where we just have to say or admit we don't know. We simply do not know the answer. This is the part I love about it because we have to be brave enough to say, 'I don't know.'
But I do believe if there is intelligence, it is a beneficial intelligence. I think it uses all the forces of Nature available to it. When it actually hits the ground, you don't want to be there because it hits the ground with such terrific force that it wouldn't do you any good. But of the few people who have seen it happen, they are far and few between and I think the majority of the time, the intelligence actually directs the force away from the observers.
There are people who have overnight vigils at this time of year sitting on the Wansdyke, sitting above Alton Barnes, East Field, all over the place, and virtually nobody has seen one of these formations appear. They happen behind the shoulder, they happen in the field next door, over the hedge, they do not happen where the people are observing them.
Do Crop Patterns Form In Seconds?
YOU AND BIOPHYSICIST W. C. LEVENGOOD FOR YEARS HAVE SAID THAT WHAT HAPPENS, IT HAPPENS IN SECONDS.
Yes, in a time scale between four and seven seconds, I think, which is so rapid. When you take into consideration the scale of time that it takes for the manmade ones to be stomped out ­ it can take hours, days ­ it's just not the same thing at all.
OVER AND OVER AGAIN IT'S VERY CLEAR THAT WHAT EVER THE ENERGY IS, IT IS ABLE TO FUNCTION IN FULL BLOWN THUNDERSTORMS.
Yes, absolutely. It certainly is. And when you go in the next day, there is not a scrap of mud on the crop. It's quite extraordinary.
DO YOU FEEL THE FORCE IS THE 'FINGER OF GOD,' IN SOME LITERAL WAY?
Oh, I think so, because God is behind everything, isn't He. Absolutely.
THE ENERGY FORCE OF THE UNIVERSE.
Yes. He directs the force of the universe. Maybe we don't always respond or listen or whatever, but certainly yes, I especially think the finger of God is behind the truly mysterious crop formations, without a doubt."
---
More Information:
Previous North Down Formations
July 25, 2000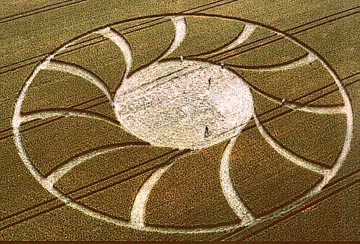 May 6, 2002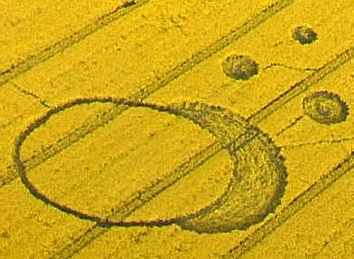 General Measurements of Tramlines in English Fields
Lucy Pringle: "The space between the tramlines is 60 feet ­ and then you have the tramlines themselves and they are each 6 feet. So, for the North Down formation, that takes us very close to 300 feet in diameter."
Continued in Part 2 – Holland
---
Websites:
http://www.cropcircleconnector.com
http://home.clara.net/lucy pringle
http://www.invisiblecircle.de and http://www.invisiblecircle.org/ser/d-archiv-2003.html
http://www.cropcircleresearch.com
http://www.temporarytemples.co.uk
http://www.busty-taylor.com/cropper/98busty2.htm

© 1998 - 2023 by Linda Moulton Howe.
All Rights Reserved.