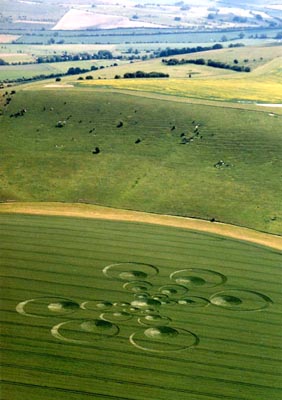 July 8, 2003  Bristol, England – On June 15, 2003, a pilot called Stuart Dike and Mark Fussell of the Cropcircleconnector.com to report a beautiful formation in young wheat laid out in the natural bowl below the Ridgeway at Ogbourne St. George, Wiltshire, England. The site is about five miles north of the larger village of Marlborough, but extremely hard to reach. There are no roads within two or three miles and the only way to reach the formation is to walk at least forty minutes along the Ridgeway track. Stuart told me it is "probably the most remote location I've ever walked to myself. You have to climb a hill and go down a hill to get to it, carrying camera gear and poles the whole way."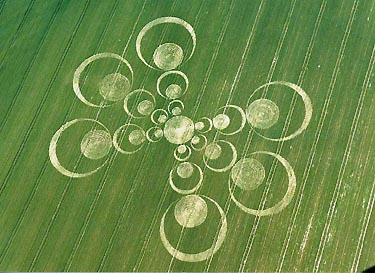 Interview:
Stuart Dike, Architectural Technician and Co-Editor and Field Director, www. cropcircleconnector.com, Lifton, Bristol, England: "The setting of the natural amphitheater in the hill enhances the whole atmosphere of the formation and it has a wonderful elegance when you look at it. It does something to you.
WHAT ABOUT THE DETAILS ON THE GROUND IN TERMS OF THE PLANTS AND SOIL?
The plants were not flattened to the ground. It was a very light imprint, like a very subtle energy or softer energy which forced the plants to the ground.
THAT'S EXACTLY WHAT LUCY PRINGLE SAID TO ME THE DAY SHE WENT IN WHICH I BELIEVE WAS THE DAY AFTER IT WAS DISCOVERED AND SHE SAID THAT THE PLANTS WERE PUT DOWN SO LIGHTLY THAT IT WAS HARD TO BELIEVE FROM THE AIR THAT SHE WAS SEEING SUCH A CRISP AND ELEGANT PATTERN, WHEN ON THE GROUND, THE PLANTS WERE RAISED SO HIGH ABOVE THE SOIL.
That's correct. And also I think we have to take into account that the crop was young at that point in time, very young wheat, and it tends to spring up very quickly. But the energy wasn't as hard. It's almost like it respected the young plants at that point in time, almost like it knew it didn't need a heavy energy to force them down because they were so young.
DID YOU SEE ANY OF THE MAGICAL BENDS WHERE THE PLANTS ARE DOWN WITHOUT WRINKLES, OR SEE ANY SWOLLEN NODES?
No, I didn't notice any and I saw no evidence of blown nodes.
WHAT ABOUT MARKS FROM BOARDS OR STRING OR POLES?
Three of us went into the formation and none of us could see any evidence of board marks at all. It did not have a mechanical look. It had a sort of fluid look to it.
THAT 'FLOWING WATER' APPEARANCE THAT WE'VE SEEN SINCE 1990?
Yes, very similar to that. That's a good description actually.
Twenty Mysterious Lights Emerged Out of Formation
WHEN YOU WERE THERE VIDEOTAPING ON JUNE 15TH, WHAT ELSE HAPPENED?
Something quite extraordinary because from the top of the Ridgeway before we went down the hill and into the formation, we picked up what I thought were at least twenty unusual objects flying in the formation, up out of the formation and possibly flying very close to the tramlines. These objects were of similar characteristics to other objects that people have caught on videotape over the years. One example would be the 1999 Barbury Castle formation. The same object was seen over that formation.
SO THESE ARE SMALL, WHITE SPHERES?
Yes, I would say the size of a golf ball or slightly larger. They seem to have slight differences in sizes at times, so you can't say exactly what size they are, but the ones I picked up (on videotape) I would say were about the size of a golf ball.
IN THE BARBURY CASTLE VIDEOTAPE, THE VIVIDNESS OF THE WHITE MOVING LIGHT IN THE VIDEO FRAME OF 1999 AGAINST THE CROP WAS QUITE BRIGHT AND YOU ARE TALKING ABOUT TWENTY OBJECTS ON VIDEOTAPE AS YOU WERE TAPING THE OGBOURNE ST. GEORGE FORMATION?
That's right, yes. We will be making available at least two or three of these objects on camera for our forthcoming DVD, but I believe there are several more objects that are smaller in size and moving at very fast speeds out of the formation. But for viewers to be able to view them clearly, there are at least two or three you can see coming out of the formation.
COULD YOU SEE THEM ALL WITH YOUR OWN EYES?
Not the smaller ones, but at least four objects in total you could see flying out. I caught two of them on camera and they accelerated up into the sky at which point I lost them because the background sky was so bright.
DO YOU MEAN THAT UNLIKE BARBURY CASTLE IN WHICH THE LIGHTS SPED OFF ON A HORIZONTAL MOVEMENT ACROSS THE FORMATION AND OUT ACROSS THE COUNTRYSIDE, THAT AT OGBOURNE ST. GEORGE, THE LIGHTS WENT STRAIGHT UP INTO THE AIR?
That's right. They accelerated at a speed that was so fast I couldn't track them anymore. Probably the most compelling one is the one that comes straight out of the central circle, flies across several circles within the formation and as it reaches the outer circle, this other object shoots up and almost hits the other object which then realizes it must move out of the way. So it changed its course and then as it reached just outside the circle, just flew vertically up into the sky at speeds faster than any bird or insect can possibly do. Then, laying that back on the fantastic technology of DVD, we can then see that the object moved sideways as it was accelerating up and then moved back into its original position. So, it was doing maneuvers that was beyond any birds, insects or whatever.
WHAT SEEMED TO BE THE RELATIONSHIP OF THE TWENTY, SMALL WHITE SPHERES OF DIFFERENT SIZES TO THE OGBOURNE ST. GEORGE FORMATION?
They all had different sort of behaviors. The first one glided smoothly across the crop. The second one I picked up on tape just flew directly out of the circle and then some flew closer to the camera some distance from the circle. But I do feel that out of all of them, there seems to be some connection with the formation itself. But I think we have to be careful to say they are the real circlemakers. Or perhaps they are another phenomena that is attracted to the design itself.
We can't say definitely that these small lights are the creators of the formation caught in daylight on our tape, but they do seem to connected to the formation in some way.
WHAT WAS YOUR INTUITIVE GUT FEELING ABOUT THEM?
I felt they were definitely intelligent. They were not at the mercy of the wind. they were certainly self-aware and knew exactly what they were doing. I felt in some strange way that they were sort of reacting to ourselves. A lot of people talk about how the human mind is somehow connected to crop circles, but I think these objects are aware of our minds working. Maybe they were sort of playing up to the camera. It's an extraordinary thing to say, but looking back on it and analyzing what happened, it was almost like a show they put on.
THEN IT MUST HAVE BEEN SOMETHING TO GO DOWN INTO THE FORMATION EXPECTING THAT YOU WOULD BE CLOSE TO WHATEVER THESE THINGS WERE?
Absolutely. It was a strange feeling and also exciting because obviously to capture something very close to the camera on a pole would have been profound stuff. It was disappointing to not see them close at hand, but as I say, in a way I kind of felt that there was a big chance we wouldn't capture them (up close) because of our presence within the formation. Perhaps they were there, but thought we were in their space. It was an extraordinary thing to think about.
Mysterious Lights Not Visible After Cameras Inside Formation
The strange thing about all this is that we spent at least an hour and half inside the formation taking pole shots, video shots of the entire formation, but not once down in there did we capture them (on tape) or have a close encounter with those things. They were only caught from on top of the hill as we began to move down from at least a mile away and it's almost like they are shy of you. There have been instances in previous years where we caught an object on camera and there were people in the middle of a formation. As soon as they moved out of the formation, this thing (mysterious light) carried on its way, almost like it didn't want people in its way to do whatever it wanted to do. It's amazing thing to say, but they do seem to have these strange behavior patterns.
WHAT DO YOU THINK THE MYSTERIOUS LIGHTS ARE, STUART?
I think you have to be very careful in talking about aliens or anything else. I think these objects are closer to the Earth than we can imagine. They could be perhaps entities from another dimension. Maybe this is what you see when the envelope opens up between two sort of dimensions. the strange thing is I feel that you need to get into these formations very quickly. There is almost like a residue energy left after the creation of the formation and there is power left within the formation which causes these lights. I think later on, it tends to die down because you don't see them so much later on. I think we were very lucky to get there so early on the first day and this might have been a unique experience which might not be repeated again. But I do hope this year I can capture more on tape."
---
Websites:
http://www.cropcircleconnector.com
http://www.invisiblecircle.de and http://www.invisiblecircle.org/ser/d-archiv-2003.html
http://home.clara.net/lucy pringle
http://www.cropcircleresearch.com
http://www.temporarytemples.co.uk
http://www.busty-taylor.com/cropper/98busty2.htm

© 1998 - 2023 by Linda Moulton Howe.
All Rights Reserved.