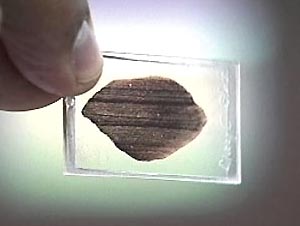 July 2, 2003  Philadelphia, Pennsylvania – As reported in my June 6 four-part Earthfiles series about scientific data emerging from analysis of the physical evidence I gathered in Corguinho, Brazil, in February 2003, x-ray diffractometry (XRD) was done at the University of Pennsylvania across the interior of one of the 75 small stones given to me from the September 15, 2002, "rain of rocks." The XRD computer analysis produced a list of minerals, starting with quartz, which is the most abundant substance in the stones, and continuing in order of quantity: Quartz, Goethite, Hematite, Rutile (which contains titanium), Albite and Cubanite. The mineral, Cubanite, is very rare and strongly magnetic. Biophysicist W. C. Levengood had discovered magnetic fields in two Corguinho stones I sent to his laboratory before the Cubanite was discovered.
After the XRD analysis, further work was done to examine thin slices of Corguinho stones on a petrographic microscope by Prof. Gomaa Omar. Born and raised in Egypt, Prof. Omar is a rock expert, published in Science, and has taught and researched at the University of Pennsylvania Department of Earth and Environmental Science for twenty-five years. He is puzzled about the origin and creation mechanism of the several disk-shaped Corguinho stones that he examined.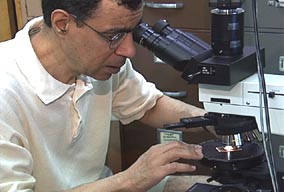 Gomaa Omar, Ph.D., Prof. of Geology, Department of Earth and environmental Science, University of Pennsylvania, Philadelphia, Pennsylvania: "It's very clear when you look at the cross-section here, you really can see how they are banded. See the banding here in each one of these. In addition to the football shape, really the most important thing is the banding there. This is a mystery to me. I don't see that very often. It's something that should be investigated further, no doubt about it.
YOU'VE NEVER SEEN IT BEFORE THOUGH, YOU HAD SAID.
No, I've never seen these particular football-like shapes and this particular mineral arrangement. I've never seen that before, no. The stone is primarily an iron matrix in which quartz crystals are embedded.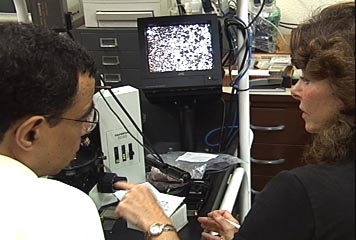 TO HAVE ALL OF THIS QUARTZ EMBEDDED IN THE IRON – AND WHEN YOU GO UP TO A HIGHER MAGNIFICATION TO THE 100 POWER – COULD YOU DO THAT?
(Prof. Omar increases petrographic microscope power.)
IF I UNDERSTOOD CORRECTLY, ALL THE RAGGED EDGES AROUND THE WHITE QUARTZ ARE AGAIN BECAUSE THE IRON WAS ABOUT 2,000 DEGREES FAHRENHEIT?
It was in a melt, yes.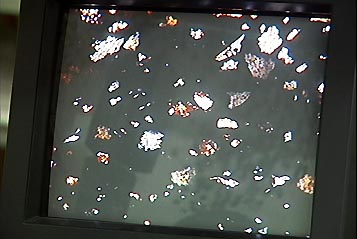 SO, THESE DISK-SHAPED STONES ­ WHATEVER THEIR FORMATION ­ THEY HAD TO HAVE ORIGINALLY BEGUN AS HOT LIQUID IRON?
Yes. And definitely it's very clear that the quartz grains were floating in this iron liquid at high temperature. That's another observation we can make."
Unidentified Fibrous Crystals Embedded in Corguinho Disk-Shaped Stone
As we were looking at a slice from one of the disk-shaped Corguinho stones, Prof. Omar changed the lens power to 400X. Scattered among the quartz were long and brightly colored objects that shone like prisms in sunlight.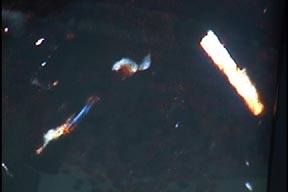 Prof. Omar: "These are spectacular ones. You see, the difference in colors has something to do with the thickness of the crystal. So whenever you get blue, yellow or golden-yellow like this, or greenish ­ that has something to do with the thickness as you can see there.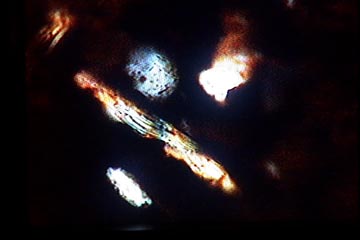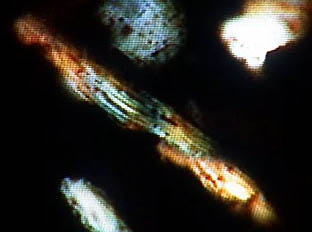 AND IF THE QUARTZ GRAINS HAVE BEEN EATEN AWAY BY THE MELTED IRON, ARE YOU LOOKING HERE AT FIBROUS CRYSTALS THAT HAVE NOT BEEN EATEN AWAY BY MELTED IRON?
Maybe at the edges here, toward the edges a little bit. But it looks like it (fibrous crystal) is more resistant to the decay and decomposition by the hot liquid than the quartz.
SO, WHATEVER THESE ARE, THEY ARE ABLE TO RESIST A HIGH MELT TEMPERATURE MORE THAN THE QUARTZ?
You could say that, yes. How much, I do not know.
Banding Puzzle Implies Spining Force Created Corguinho Disk-Shaped Stones
IS IT TRUE THAT IN THESE FOOTBALL-SHAPED ROCKS THAT YOU HAVE EVIDENCE THAT THEY HAVE BEEN EXPOSED TO HIGH PRESSURE AT THE CENTER?
No, I would say high temperature. But as to the banding and the stratification going from the center outward, that has something to do with spinning force that we were talking about before. That's the most likely explanation so far and I really don't know what would cause this spinning force to form this. So that's the stratification inside (the stone). I think it's due to the spinning force, which it would be nice to know how that happened."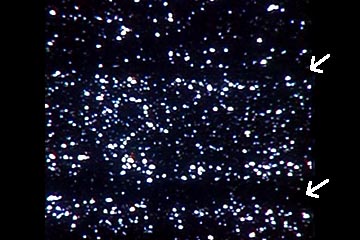 Prof. Omar is intrigued by the Corguinho, Brazil stones and more analysis is upcoming to try to determine the composition of the fibrous crystals and to learn more about the iron and quartz matrix constructed in bands that suggest they were produced by a spinning force.

© 1998 - 2018 by Linda Moulton Howe.
All Rights Reserved.