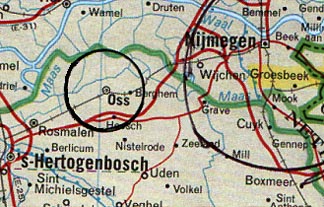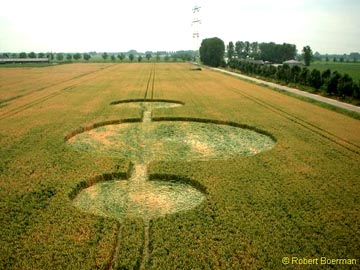 July 11, 2003  Oss, Noord Brabant, Holland and see Update below – Today Robert Boerman of the Dutch Crop Circle Archive e-mailed me about the fifth reported Dutch formation of 2003 in Oss that he investigated yesterday west of Groesbeek. The circle nearest the camera measured about 15 meters.10, or fifty feet in diameter; the largest middle circle measured about 25 meters.70, or eighty-five feet; and the furthest smaller circle measured about 9 meters.90, or about thirty-three feet in diameter.
Based on an eyewitness, the triple circle pattern must have formed some time after 9:30 p.m. on Wednesday, July 9, to the early morning of Thursday, July 10, when the farmer found it.
---
Interview:
Robert Boerman, Dutch Crop Circle Archive (www.dcca.nl), Brummen, Holland: "An eyewitness walking with a dog said that at 9:30 p.m., there was nothing in the field. And then about 11 p.m., there was another eyewitness driving on the highway in his car, and he said there were some high clouds and it was a very large column of a cloud come down from the sky. He thought it was in the area of the crop circle (discovered the next morning), but he is not sure. He said, "The only thing I saw was a column of clouds."
A COLUMN IN THE AIR THAT LOOKED LIKE IT WAS MADE OF A CLOUD, BUT IT HAD STRAIGHT SIDES TO IT THE WAY WE WOULD THINK OF A CYLINDER?
Yes, like a cylinder, but it was sort of bent to the left.
MEANING, IT WASN'T A STRAIGHT UP AND DOWN COLUMN, BUT IT HAD KIND OF A CURVE TO IT AT THE BOTTOM?
It was about 300 feet above the ground and then it bent to the left.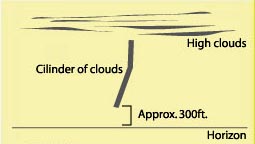 IT DIDN'T RESEMBLE A TORNADO OR WATER SPOUT OR A DUST DEVIL?
No, nothing.
IN OTHER WORDS, THIS IS A DESCRIPTION OF SOMETHING THIS PERSON HAD NEVER SEEN BEFORE?
Yes, that's correct. He was living close to the field. He could see the formation from the farmer on the right. He said, 'I was driving on the highway and only drank one beer," he told me. 'My wife was driving and that is what I saw. Whether you believe it or not, that's what I saw ­ a cylinder of clouds. It was in the same area that the crop circles were found, but I'm not sure if it was the same field, but it was in the same area.'
The circles were discovered the next morning. I don't know the exact time, but it was early in the morning, and the same farmer who saw the cylinder of clouds said it was absolutely flattened, the crop. It was beautiful and no traces of humans, no footprints or whatever. 'It was really beautiful!' he said.
NOW LOOKING AT THE PHOTOGRAPH, I WOULD AGREE. IT LOOKS BEAUTIFUL AND CRISP AND PRECISE. AND THEN YOU SAY, WHY IS THAT BIG CENTRAL CIRCLE SORT OF SHIFTED TO ONE SIDE?
I have no idea. What we have measured, the leylines ­ every single circle has leylines crossing in the center and the leylines are connected to the outside of every circle. I have to draw the image tonight. It wasn't possible to create that pattern any other way because it's connected exactly inside the leylines.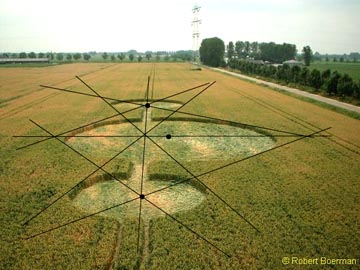 SO, WHAT YOU ARE SAYING IS THAT IN TERMS OF MEASURING LEYLINES, THAT THE CENTRAL CIRCLE WOULD HAVE TO HAVE BEEN SHIFTED INTO THE POSITION THAT IT IS IN ORDER TO HAVE THE LEYLINES CROSS AT THE CENTER OF THAT LARGE CIRCLE.
Yes, that's the only way to make it.
HOW DID YOU MEASURE THE LEYLINES?
With dowsing rods. And my son, Bart, he joined me. He is 9 years old and he said he saw a ball of light coming out of the crops and landed 20 or 30 meters inside the crop.
ON THIS MOST RECENT ONE OF JULY 10?
Yes, this one.
AND WHERE WERE YOU WHEN THAT LIGHT APPEARED?
I was doing some measurements and taking some photos. and he said, 'Daddy, look here!' I said, 'What?' He said, 'I just saw a ball of light coming out of the standing crop and then 20 meters further, it's going down in the crop.' He has been several times in crop circles. He knows what he is talking about. He's only 9 years old, but he can feel the leylines with his hands and can see them. And I told him to do whatever he wanted to in the formation and that's what he told me.
DID HE DESCRIBE THE COLOR AND SIZE?
White. It was white color. He thought about the size of a tennis ball.
DID YOU GET DOWN AND LOOK AT THE BENDS, THE NODES, THE SOIL AND THAT SORT OF THING?
Yes, and we didn't found anything. Nothing like blown nodes or whatever.
DID YOU LOOK FOR POLE MARKS IN THE CENTERS OF THOSE CIRCLES?
Yes, and there weren't any. No pole marks.
SO NO OBVIOUS EVIDENCE OF MANMADE MECHANICAL CREATION?
No, nothing. It was also what the farmer told us. When he first entered the field, he said the lay was very beautiful and no traces of humans or whatever.
AND THIS IS THE SAME FARMER WHO NOTICED THAT CYLINDER OF CLOUDS. DID HE HEAR ANYTHING WHEN HE SAW THE CYLINDER OF CLOUDS?
No. He was on the highway a few miles away. I also remembered, I talked to another person who said a dog was barking all night that night.
IN THAT SAME AREA?
Yes."
Updated on July 16, 2003:
Second Eyewitness of Cylindrical-Shaped Cloud
Eric Van Houtum, Musician, Nijmegen, Holland: "On the night of July 9, it was my birthday and I came back from rehearsal with my band. I was heading to the highway, the A-50. then I saw this ­ it was a cloud shaped like a column or pillar. Then I got on the highway and the cloud didn't move at all. It didn't move from my point of view.
WHEN YOU WERE DRIVING AND FIRST SAW THIS, DID YOU SEE MOTION FROM THE CLOUD DOWNWARD?
No, not at all.
SO THE FIRST THING YOU SAW, THIS CLOUD CYLINDER WAS ALREADY EXTENDING FROM THE CLOUDS ABOVE DOWNWARD?
Yes. It was bended at one point around one third of the entire length of the ­ well, I call it a cloud. One third was bent.
WOULD YOU SAY IT SEEMED TO BE CYLINDRICAL LIKE A PIPE?
Yeah, OK. It maybe seemed round, yes.
HOW LONG DID YOU SEE IT IN THIS CYLINDRICAL, STATIONARY POSITION?
I guess it's at least ten minutes and the highway where I was driving, it makes a slow bend over a distance from maybe ten or fifteen kilometers and the bend goes north. So, I expected that if it was an optical illusion, I expected it to change position or become horizontal, but it didn't.
AFTER THOSE TEN OR SO MINUTES, WHAT HAPPENED?
Then it got too dark to see. I was driving in dusk, twilight, and it was only in the north side enough light to see it in the direction where the cloud was. When I got over the bridge, it was too dark to see it.
AND IN THE AREA OF HOLLAND THAT YOU LIVE, ABOUT WHAT TIME WOULD THAT BE WHEN IT GETS DARK?
Then, it was 9th of July ­ it must be very late, I think, 23 hours, 11 or 11:30 before it gets pitch dark."
---
More Information:
2003 Crop Formations Reported in Holland:
1) May 6, 2003, Hoeven, Holland: Twenty circles scattered in grass in Hoeven, Holland. The pattern was harvested immediately because the farmer didn't want any visitors.
2) June 12, 2003, Hoeven, Holland. Three circles.
3) June 17, 2003, Hoeven, Holland. Seven circles.
4) June 28, 2003, Krimpen Ijssel, Zuid Holland. Seven circles in reeds.
5) July 10, 2003, Oss, Noord Brabant, Holland. Three connected circles of varying sizes seemingly linked to leylines as defined by dowsing rods.
6) July 12, 2003, Standaardbuiten, Holland. Large circle and two smaller circles like a tail.
7) July 14, 2003, Dronten, Flevoland. "Comma" shape inside circle.
8) July 15, 2003, Wilhelminaoord, Drenthe. Two patterns: circle and a ringed circle.
Update about Mielen-Boven-Aalst (Gingelom), Belgium Formation.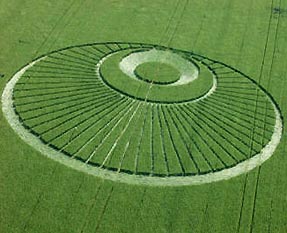 Robert Boerman:
"I spoke to a friend of mine in the formation today in Oss. He was in the formation in Belgium and he said he wanted to call someone with his cell phone. But he said, 'My cell phone refuses. So I asked my wife and her cell phone also refuses. We had a good connection there outside the circle ­ very much outside the circle. But inside the circle, absolutely no connection with the cell phones, two cell phones.'
SO THEY COULD COMMUNICATE WITH THEIR CELL PHONES AS LONG AS THEY WERE OUTSIDE THE BEAUTIFUL BELGIUM FORMATION THAT MATCHES GOG MAGOG OF ENGLAND IN 2001, BUT AS SOON AS THEY WENT INTO THE BELGIUM PATTERN, THEY COULD NOT MAKE ANY CELL PHONE CONNECTION?
That's correct."
Continued in Part 3 – Italy
---
Websites:
http://www.cropcircleconnector.com
http://home.clara.net/lucy pringle
http://www.invisiblecircle.de and http://www.invisiblecircle.org/ser/d-archiv-2003.html
http://www.cropcircleresearch.com
http://www.temporarytemples.co.uk
http://www.busty-taylor.com/cropper/98busty2.htm

© 1998 - 2023 by Linda Moulton Howe.
All Rights Reserved.