"An analysis of astronomical data suggests not onlythat the universe is finite, but also that it has a specific, rather rigid topology (dodecahedral sphere). If confirmed, this is a major discovery about the nature of the universe." 
­  George F. R. Ellis, "The Shape of the Universe," Nature,
Vol. 425, October 9, 2003, www.nature.com/nature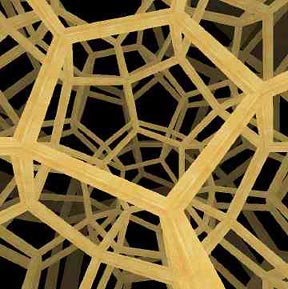 October 11, 2003  Canton, New York – Two of the big cosmic questions for centuries have been:
1) What is the shape of our universe?
2) Is the universe finite (closed in a wrap around shape) or infinite (endlessly open)? New astronomical data is finally making it possible to know the answers.
After more than two millennia of speculation, observational data might finally settle these ancient questions. Back in 1917, Albert Einstein proposed that a spatially closed universe would perhaps make more sense because there would not be the problem of boundary conditions at infinity. In fact, it's been argued that the only universe in which we can predict the astronomical future such as orbits of comets is a small, finite universe. The reasoning is that only in a small, finite universe would we have all the data needed to make calculations and predictions.
In February 2003, NASA's Wilkinson Microwave Anisotropy Probe (WMAP) made very refined measurements of the slight changes in temperature of the cosmic microwave background radiation (CMB). Anisotropy means the density fluctuations in the microwave background. The microwave radiation resulted from the Big Bang theorized to be the beginning of this universe.
A group of scientists who have studied the new microwave data have proposed in the October 9, 2003, issue of the journal, Nature, that our universe "is spatially closed" and that the only universe model so far known which would match all the microwave density fluctuations is a Poincare dodecahedral space. That would also be a finite universe.
If the universe were flat and infinite which is the current standard model of cosmology, then microwaves from the Big Bang would fill the universe on wavelengths at small and large scales. But in the new NASA data, the broadest waves are missing.
The lead scientist proposing the finite dodecahedral universe is Jeffrey Weeks, Ph.D., an independent mathematician in Canton, New York, who received his Ph.D. in Mathematics from Princeton University and is currently supported by a MacArthur Foundation grant. Joining him in the Nature paper are Dr. Jean-Pierre Luminet of the Paris Observatory and three other French scientists. Dr. Weeks and his colleagues write:
"Microwave background temperature fluctuations arise primarily (but not exclusively) from density fluctuations in the early Universe, because photons traveling from denser regions do a little extra work against gravity and therefore arrive cooler, while photons from less dense regions do less work against gravity and arrive warmer. The density fluctuations across space split into a sum of three-dimensional harmonics – in effect, the vibrational overtones of space itself – just as temperature fluctuations on the sky split into a sum of two-dimensional spherical harmonics and a musical note splits into a sum of one-dimensional harmonics.
The low quadrupole implies a cut-off on the wavelengths of the three-dimensional harmonics. Such a cut-off presents an awkward problem in infinite flat space because it defines a preferred length scale in an otherwise scale-invariant space. A more natural explanation invokes a finite universe, where the size of space itself imposes a cut-off on the wavelengths. Just as the vibrations of a bell cannot be larger than the bell itself, the density fluctuations in space cannot be larger than space itself. Whereas most potential spatial topologies fail to fit the WMAP results, the Poincare dodecahedral space fits them very well."

---

 

Interview

:
Jeffrey Weeks, Ph.D. in Mathematics from Princeton University, Independent Mathematician and Recipient of MacArthur Foundation Grant, Canton, New York: "If you just look back over the past millennia, far and away the predominant model of the universe has been Aristotle's picture of space as this finite ball that just has an edge. You go out past all the planets and stars and you get to a spherical wall out there that's the end of space and you're not supposed to ask what is beyond that.
That was in western thinking, at least, that went unquestioned from the time of the ancient Greeks until the 17th Century. The whole idea of an infinite universe, in a larger historical context, is something new. It's just with the invention of the telescope that we started seeing stuff and realized the universe is bigger than Aristotle had given it credit for.
Really, the pendulum didn't start to swing back the other way until the mid to late 19th Century when people were a little uncomfortable about the idea of an infinite universe, but they didn't like the idea of having a boundary, either. So, the solution was found in the form of a wrap around universe.
We can make one if you want. Do you have a piece of paper there?
YES.
OK, if you take a piece of paper and imagine that's a universe for 2-dimensional people to live on. Now, just sitting there as a piece of paper, it has an edge. But if you take it and roll it around to make a cylinder, then the 2-dimensional folks on it ­ they can travel off to the west and go right around and come back from the east.
RIGHT. AND THEY'LL END UP WHERE THEY STARTED.
And they'll end up back where they started, yes. So, that's really the driving idea behind all of this.
COULD YOU EXPLAIN YOUR WORK PUBLISHED IN THIS WEEK'S JOURNAL, NATURE?
Yes. Getting back to that cylinder. You take the cylinder and cut it open again and flatten it out to a piece of paper. But you still remember that it should be wrapping around and the same from top to bottom as if it rolls around the cylinder from top to bottom as well. So, if those 2-D people head north, they just roll right on and come back from the south.
IS THAT THE COSMOLOGIST'SMETAPHOR OF THE BAGEL? (But the dodecahedron would be spherical, not bagel-flattened.)
Yes. Right. So, from your piece of paper, all you need to do is bump that up a dimension. Instead of thinking of it as a 2-D rectangle where you go off one side and come back from the other, think of a 3-D block of space. Are you in a rectangular room as we're speaking?
YES.
Super. So, there's your rectangular block of space and just like the 2-D people go off one side and come back from the other, imagine that if you go past one wall you come back from the opposite wall.
If it's infinite, you just keep going and see new stuff for as long as you care to travel. But if it's finite, you go out one wall and come back the other wall. It's wrapping around like the cylinder wraps around. So, if you travel a certain distance, before you know it, you're back at your starting point.
ALL RIGHT. NOW, YOUR WORK.
OK, this work is based on the data that just came in February 2003 from the mapping satellite that is up there taking a good look at the microwave radiation ­ in effect, the afterglow of the Big Bang. The big surprise in that data is that we see fluctuations in the early universe ­ denser regions, less dense regions. But the surprise is you see small scale fluctuations, but you see only very, very weak large scale fluctuations. In affect, those large scale fluctuations are missing.
It's kind of like if you're out on the open ocean and there are big waves coming by. There can be real long wavelength waves and on top of those, you have superimposed sort of medium-sized waves and maybe a little bit of light chop on top of those. You have waves at all different scales.
You can create the same effect by sloshing the water around in your bathtub. You'll get waves of all different scales, all sloshing around on top of each other. The only difference is that you won't get any really long wavelength waves in your bathtub because your bathtub is not big enough to hold them.
So, it's the same story in the universe. If you have a wrap around universe like the cylinder, you won't get any waves that are longer than the cylinder is big.
THAT IS THE FINITE UNIVERSE?
Yes.
NOW, THAT LEADS TO THE QUESTION IN YOUR MODEL: WHY IS IT THAT YOU HAVE COME UP WITH A SOCCER BALL, OR 12-SIDED SPHERE?
Yes, the dodecahedron, the 12-sided solid. Basically, that picture is almost exactly like the rectangular room where the walls connect up. Except instead of using that rectangular block of space, we want to start with this dodecahedral block of space ­ the 12 pentagonal faces, rather than your 6 rectangular walls.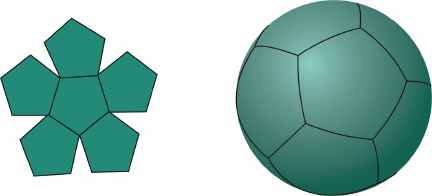 BUT WHY?
Ah! Because when you do the computation for each kind of universe and what sort of fluctuations do you expect to see when you look up in the sky ­ they make slightly different predictions. In the case of a rectangular room, they really don't match too well what the satellite is seeing. But in the case of the dodecahedron, they match quite well.
IF IT IS 12-SIDED, THERE IS AN ARTICLE BY DENNIS OVERBYE ENTITLED 'A NEW MODEL OF THE UNIVERSE THAT IS SHAPED LIKE A SOCCER BALL."
HE QUOTES YOU AS SAYING THAT THIS WOULD BE A 12-SIDED HALL OF MIRRORS IN WHICH THE ILLUSION OF INFINITY IS CREATED BY LOOKING OUT AND SEEING MULTIPLE COPIES OF THE SAME STARS.' COULD YOU ELABORATE?
Yes. It's kind of like when you wake up in the morning and look in the mirror. It looks like there is another copy of yourself on the other side of the mirror. But really, it's not another person there. It's just a second image of the same person.
IF THERE ARE 12 SIDES TO THE UNIVERSE, HOW MANY STARS WOULD HAVE TO BE REDUCED, HOW MUCH SIZE OF THE UNIVERSE WOULD HAVE TO BE REDUCED IF YOU ARE RIGHT?
Not by a lot. It turns out that what we're actually seeing ­ we don't see an infinite universe because as we look out into space, we're looking back in time because of the amount of time that it takes light to reach us. So, we only see just a single ball of space, looking back to the beginning of time. Now, this dodecahedron is smaller than that ball, but not a lot smaller. It's maybe 3/4's of the way out there. So in rough terms, it says that we are seeing stuff on average maybe twice. But we're not seeing it dozens of times or hundreds of times.
MEANING THAT IT'S (UNIVERSE) FINITE OR INFINITE AND THERE WILL BE NO MORE TWILIGHT GREY ZONE ABOUT WHICH IS WHICH?
If you find the circles (See: More Information below), then you know it's finite and you're done. If you don't find them, then it might be infinite ­ but it might be that the universe is finite but just too big for us to see all the way around. We're only seeing something like 46 some billion light years out into space. That's as far as we can see. If the universe is finite and bigger than that, then we might not be able to tell. (Editor's Note: The age of the universe is estimated to be 14 billion years in time. During the expansion from the Big Bang to now, light will have traveled an estimated 46 billion light years. That's the furthest we have penetrated in "seeing the universe" and that distance is assumed to be the edge of the physical universe.)
GIVEN THE WILKINSON MICROWAVE SATELLITE DATA FROM FEBRUARY OF THIS YEAR, IT SOUNDS TO ME LIKE FOR THE VERY FIRST TIME AT THE END OF 2003 AFTER THE CENTURIES THAT MAN HAS WONDERED WHETHER THIS WAS A FINITE OR INFINITE UNIVERSE, THAT WE'RE ACTUALLY GOING TO HAVE AN ANSWER THIS FALL?
Yes, I think it could wrap up pretty well. The only caveat is that if you find it's finite, then you've found a definite answer. If you find, it's not ­ what you are really detecting is that it's not small enough to fit within the horizon of what we are seeing. So, you're still not sure whether it's finite and just too big to see all the way around, or whether it's truly infinite. So, we wouldn't have an answer saying it's definitely infinite. Only an answer that it's bigger than we can see.
But it is exciting after millennia of speculation to finally have real data to look at and get some sort of answer."
---
More Information:
Tests are underway to test the dodecahedron universe hypothesis
Excerpt from "New Model of the Universe: It's Shaped Like A Soccer ball" by Dennis Overbye, The New York Times, October 8, 2003:
"In the model proposed by Dr. Weeks and his colleagues, three-dimensional space has 12 sides, like a soccer ball, or more technically, a dodecahedron. Each face is 'glued' to its opposite number. A spaceship crossing one face or panel of the soccer ball about 37 billion light years from here would find itself entering the other side of the soccer ball; after traveling twice that distance (74 billion light years), it would find itself back where it had started. For comparison, the light from the Big Bang has expanded over the course of cosmic time to fill a sphere 46 billion light years across, Dr. Weeks said.
"While the lack of cosmic low notes is suggestive (of finite universe), cosmologists say there is a definitive test of finite universes in the Wilkinson (microwave radiation) map. When the cosmic radiation intersects the side of whatever shaped box is the universe, it would make identical circles (of density fluctuations), like a balloon squashed in a box, on opposite sides of the sky. In the case of a bagel, there would be two circles in the map, on opposite sides of the sky. But in the case of Dr. Weeks's dodecahedron, there would be six pairs of circles, each about 35 degrees in diameter."
Some Astronomers Disagree with Dodecahedral Theory
Astronomers led by Dr. David Spergel of Princeton University say their ongoing analysis of the same WMAP data has probably ruled out the soccer ball-shaped universe because they haven't been able to find the six pairs of circles of microwave density fluctuations. Dr. Weeks's and Dr. Spergel's groups plan to meet in Paris in mid-November to compare data and discuss the possibility that the search has not looked at smaller diameters at 35 degrees or less. Depending upon that Paris meeting, the shape of our universe and whether it is finite or infinite might be forthcoming within the coming months.
---
Website:

© 1998 - 2019 by Linda Moulton Howe.
All Rights Reserved.