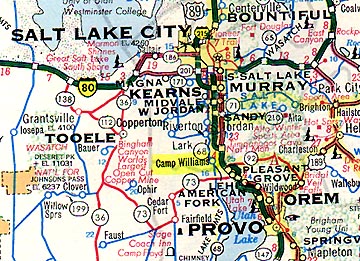 ---
October 17, 2003  Salt Lake City, Utah – On Thursday, October 16, 2003, at 10:50 a.m. MT, a Utah National Guard NCO with several years in military service reported a "plane in distress" falling in the sky over Camp Williams south of Salt Lake City. As a precaution and in standard operating procedure in the event of a pending air crash, the Salt Lake City International Airport stopped two airliners from landing. But the FAA said there weren't any aircraft in the area. When the NCO's report reached higher authorities, NORAD at Cheyenne Mountain, Colorado, became involved. As of this date, NORAD has not released any official statement about the NCO's report. The unofficial guess is that the object was "probably a meteorite."
---
Interview:
Lt. Col Brad Blackner, Public Affairs Officer, Utah National Guard (employed 24 years), Camp Williams, Salt Lake City, Utah: "Yesterday morning at 10:50 a.m. (Oct. 16, 2003), one of our sergeants from Camp Williams, a training range in south Salt Lake City, was doing some work out on the range and he witnessed what he explained to be an aircraft traveling south to north with either a contrail or fire or light coming out of the rear. He originally thought it was a plane in distress. As he watched, it went out of sight and didn't reappear again. So, he assumed that the aircraft went down.
He notified our range control who in turn called the FAA. From the reports we received, the FAA said there weren't any aircraft in the area. So, the report continued up the channels and got to the national level and NORAD out of Cheyenne Mountain called to follow up.
So, we took the individual back out to the range who witnessed this and to the area where he had worked to try to find out some type of debris or indication of wreckage which was not found. There had been some meteor showers according to NORAD and some of the other federal agencies. This is supposed to be a high time of the year for meteor showers. That's what they thought it was.In fact, one of the television stations relayed information to me that it was a meteor shower. But there has been no conclusions as of yet.
IN THE REPORT YOU FILED WITH NORAD, DID THE NCO DESCRIBE SEEING THIS OBJECT HAVE ANY TYPE OF EXPLOSION? THE REASON I'M ASKING IS THAT THE TV REPORT ON CHANNEL 4 DESCRIBED ONE OR TWO EXPLOSIONS?
I haven't personally read the report, so I can't say.
THERE WAS ALSO A STATEMENT THAT SOME AIR TRAFFIC GOING INTO THE SALT LAKE CITY AIRPORT WAS DIVERTED?
When the original report came out and they notified the FAA, I guess that was normal procedure. That was the first thing they did because Camp Williams is in the path of airplanes coming into Salt Lake City International.
SO, IF THEY HAD A QUESTION ABOUT ANYTHING IN THE SKY THAT MIGHT BE AN AIRLINER IN DISTRESS THEY WOULD DIVERT OTHER AIRLINERS?
Yes, that's correct. (The NCO's) been with the National Guard for quite a number of years. He's a senior NCO, and he has worked out there for quite a number of years, so he was taken very seriously at the time and still as the report comes in, he anticipates action or steps we might need to take after NORAD sees the report.
IT'S FAIR TO SAY RIGHT NOW, IT'S STILL AN UNKNOWN?
I would say yes. We haven't come to any conclusions. We basically just fill out our reports and take them to higher headquarters and wait for a response from them.
WAS THERE ANY DEBRIS FIELD OF ANY KIND FOUND TODAY ANYWHERE?
No. No. They returned to the area, as I mentioned earlier, where he first made the sighting, and there was no indication of wreckage of any kind.
AND MAKES IT MORE MYSTERIOUS ABOUT WHAT IT WAS THAT EVEN A LARGE METEORITE COMING IN MIGHT HAVE AT LEAST LEFT A DEBRIS FIELD SOMEWHERE.
It makes it a bit unusual."
---
More Information:
Lt. Col. Brad Blackner says NORAD is analyzing the Utah National Guard NCO's eyewitness report and that further official comment might be forthcoming.

© 1998 - 2023 by Linda Moulton Howe.
All Rights Reserved.