"OF THE 280 MILLION PEOPLE IN THE UNITED STATES, WHAT PERCENTAGE WOULD END UP WITH THIS FUJIAN FLU THIS TIME?"
"I think at least 20%. So, we're talking about 50 million people at least in 2003-2004. And about 70,000 excess deaths."
– Paul Glezen, M. D., Virologist, Baylor College of Medicine
Updated – December 5, 2003 – Two influenza vaccine manufacturers announced today that they have shipped all their vaccines and will not have any more until the spring of 2004. So, if one doctor's office is out of flu shots, try another. Some offices and clinics have more flu vaccines than others.

Explaining the current flu vaccine shortage, Dr. Julie Gerberding, Director of the Centers for Disease Control and Prevention (CDC) said, "This year it appears that many more people than in recent years received a flu shot during October and November, and unlike other years, there is high interest in obtaining flu shots into December. CDC is doing everything possible to assess the availability of flu vaccine to identify any locations that have supplies that may be able to be made available to locations that need vaccine. Some states have plans in place to redistribute vaccine supplies should that be needed.
Dr. Gerberding said that in more typical years, about 70-75 million Americans receive a flu shot. In 2003, flu vaccine manufacturers "produced approximately 83 million doses of flu vaccine. The United States has never used more than 80 million doses of flu vaccine in a season."
December 1, 2003  Houston, Texas – In Denver, Colorado, this week, eight children have died of the nasty Fujian Influenza A flu bug known to doctors as H3N2. Another death this week in New Mexico has been linked to Fujian. The Fujian virus originated in the Fujian province of China and was the main flu strain in Australia this summer.
H3N2 is the same subtype virus that caused the 1968 epidemic known as "Hong Kong Flu." But H3N2 has changed its surface antigens so much over the past thirty-five years that even people who had the Hong Kong flu won't have much immunity from the current Fujian version. The result is a severe and early outbreak of this serious viral strain in Texas, Colorado, Scotland and England. And it's bound to spread much further around the Northern Hemisphere this winter.
Paul Glezen, Director of the Influenza Research Center at Baylor College of Medicine in Houston, Texas, says, "We will probably see more excess deaths than we saw in the 1968 Hong Kong Flu pandemic. We have to expect this year that we'll see U. S. mortality in the range of 70,000, which is high."
---
Interview:
Paul Glezen, M. D., Professor of Molecular Virology and Microbiology and Pediatrics
and Epidemiologist for the Influenza Research Center, Baylor College of Medicine, Houston, Texas: "It's the same influenza subtype, but antigenically, it's quite different because the surface antigens of the virus are changing almost constantly. So, in 35 years, this virus has changed a lot antigenically, but it's still an influenza A H3N2 subtype which is the subtype that appeared in 1968.
DOES THAT MEAN PEOPLE WHO GOT THE HONG KONG FLU IN 1968 AND WERE VERY ILL WOULD HAVE SOME INCREASED IMMUNITY TO THIS PARTICULAR VIRUS?
Not much left because the surface antigens are the antigens that we make antibodies to and those antigens have changed considerably since 1968. So, I don't think the 1968 immunity helps much.
Influenza H3N2 Symptoms
IN TERMS OF SYMPTOMS, WOULD THE SYMPTOMS OF THE FUJIAN H3N2 BE ANY DIFFERENT FROM THE 1968 HONG KONG?
Symptoms of flu will depend on dose of virus and susceptibility of the host. It's pretty standard. If you're susceptible, you're going to get a high fever, aching body, chills, sore throat, cough and then whatever happens ­ whether you are able to handle the infection and slow it down or whether you get a complication which can be a bacterial or a progression of the viral infection. But they all start about the same.
Child Deaths
WHY HAVE CHILDREN DIED?
Children are 'naive' ­ virgin ­ to influenza because they haven't lived long enough to be exposed to flu virus and that means they are susceptible. Studies have shown that young children have a very high risk of ending up in the hospital with their first exposure to influenza. And of course, there are three different viruses, so they have to get exposed to three different ones. (See: More Information below) We have to assume that if hospitalization rates are high that some of those kids are going to die. I think most studies show that there is some mortality, but it's much lower than we see in the elderly patients that have chronic underlying conditions. They are going to be more vulnerable and more likely to die.
IN THE CHILDREN IN COLORADO, DO YOU HAVE AN UNDERSTANDING OF WHAT EXACTLY KILLED THEM?
No, I don't. I haven't seen any clinical descriptions of what they had. But I can tell you what has been seen around the country the past two years.
Influenza Viruses Attack Vital Organs
Number one: there is encephalopathy and that is brain swelling and that can be fatal.
Number two: you can get a fulminating pneumonia and that can be fatal.
Number three: then there is a possibility of getting myocarditis, inflammation of the heart muscle. That has been suspected in some of those cases.
In all three of those ­ anything that affects the vital organ system can be fatal. And flu can affect the central nervous system (CNS), heart or lung. Most commonly is lung, but in the fatal cases, the central nervous system and heart can be involved as well.
IS IT BRONCHITIS AND PNEUMONIA THAT CAUSES THE MOST DEATHS IN THE H3N2 FLU?
Probably, yes. Probably the lower respiratory tract involvement causes the most deaths, but they occur in people who have an underlying condition and because of the underlying condition, the death often gets attributed to their chronic disease like heart disease or cancer or chronic obstructive pulmonary disease, or whatever their underlying condition is. So, it's kind of hard to tell what is causing the death. But I think that you're correct. It's probably the bronchitis and pneumonia that are contributing to deaths in people who are already chronically ill.
FROM YOUR PERSPECTIVE AS DIRECTOR OF THE INFLUENZA RESEARCH CENTER AT BAYLOR MEDICAL CENTER, DO YOU THINK THAT H3N2 FUJIAN COULD END UP BEING WORSE THAN 1968 HONG KONG?
I've been quoting as saying, and this is correct, that there will be more deaths this year than there were in 1968 when that was the new pandemic strain. But you've got to realize that our population increased and we have a much larger elderly population of vulnerable people. There are a lot of factors involved in that, but I do think there will be more deaths this year than there were in 1968.
Estimated 2003 Mortality Rate From Influenza A H3N2 Fujian Virus
We've had three mild years and now it looks like we are getting caught up and getting another bad year. I would expect this year to be more like the number of deaths we saw between 1997 and 2000, which would be in the range of 70,000 excess deaths.
AS OPPOSED TO AROUND 35,000 IN A SO-CALLED AVERAGE YEAR?
That's just for deaths attributed to heart and lung disease from influenza, 36,000. But what we generally use is total excess mortality and that previously was 20,000. Now, it's 51,000.
OF THE 280 MILLION PEOPLE IN THE UNITED STATES, WHAT PERCENTAGE WOULD END UP WITH THIS FLU THIS TIME?
I think at least 20%. So, we're talking about 50 million people at least in 2003-2004. And about 70,000 excess deaths.
How Best To Protect Yourself Against Influenza
Flu Vaccine
Anti-viral Drugs
I think the main thing is that people take the vaccine and remind them about the anti-virals because anti-virals have to be used early to be effective. They are very effective if they are used promptly after the onset of illness. Number one: vaccine. And if they get a breakthrough of the flu despite the vaccine, it can be treated because the treatment will not only shorten the course of the illness, but it will reduce the chance that they will get a complication and it will reduce the chance that they will spread it to their contacts. So, it's a wise thing to do.
IS IT TRUE THAT IN THE CURRENT VACCINES, THERE IS NOTHING THAT IS DEALING WITH THE SPECIFIC ANTIGENIC CHANGES OF THE FUJIAN VIRUS?
Well, the current flu vaccine has the Panama in it which was the previous variant and there is definitely some cross-protection. We just can't say how much yet.
HOW LONG WILL IT BE BEFORE THEY HAVE THE CURRENT FUJIAN STRAIN IN AN INFLUENZA SHOT?
They are making a vaccine for the Southern Hemisphere right now that will contain it and that will be available here in the spring (of 2004).
WHICH WILL BE AFTER IT'S DONE ITS…
Right, after our epidemic here.
SO IT IS WORTH IT TO GO OUT AND TRY TO GET THE CURRENT INFLUENZA SHOT?
Very definitely, yes, very definitely.
DOES WASHING HANDS CONSTANTLY HELP?
Not too much because influenza is airborne and you inhale it in. It's better to have the antibodies to fight it off rather than trying to protect yourself physically.
But hand washing is important, because you've got to remember there are ten other viruses circulating around right now – coronaviruses like SARS and the rhinoviruses that cause colds. Hand washing is very important in fending off coronaviruses. But those viruses are more stable and remain viable and infectious on surfaces that we are in contact with all the time. So, hand washing is important. But it's not necessarily going to protect you against getting influenza that you can breathe in.
Persistent High Fever Demands Doctor or Emergency Attention
WHAT DO YOU RECOMMEND TO PARENTS WHO HAVE A COUGHING CHILD WHO HAS BEEN SICK WITH FLU SYMPTOMS, OR OLDER PERSON WHO IS COUGHING HARD? WHAT ARE THE WARNING SIGNALS THAT THEY SHOULD GO TO AN EMERGENCY ROOM OR DOCTOR?
Fever is probably the best guide. If they are still running a pretty good fever, then they should go in. Coughs can persist for a long time. You also have to think about the possibility of active airway disease or asthma because that will be exacerbated by the flu and if they have persistent coughing, then you have to think about whether they have to be taken in for active airway disease. So, there are several possibilities. But they definitely need to see the doctor if a high fever persists.
IF THERE WERE INFLAMMATION IN THE HEART MUSCLE OR HEART SAC, WHAT WOULD THOSE SYMPTOMS BE?
Heart failure or in the sac, you get a lot of pain, too.
SO, IF YOU'RE IN THAT CATEGORY, YOU'RE ALREADY IN SO MUCH TROUBLE THAT SOMEONE IS GETTING YOU 911 TO THE HOSPITAL?
Depends on how rapidly it comes on, but you definitely need to have medical care.
HOW DO YOU KNOW, HOW DOES A PATIENT KNOW THE DIFFERENCE BETWEEN A NORMAL BAD HEADACHE AND HAVING ENCEPHALOPATHY WITH THIS H3N2 VIRUS?
Persistent bad headache. If they start to become disoriented ­ that would be an early sign. Not know where they are or what time it is or whatever. Unfortunately, a lot of kids have seizures and that's a pretty sharp sign of problems.
---
More Information:
Three Influenza Viruses in United States Now
There are two sub types of Influenza A:
1) H3N2 (Panama subtype in the current vaccine, which is not exactly the same as the new variant.)
2) H1N1 (New Caladonia in the vaccine now.)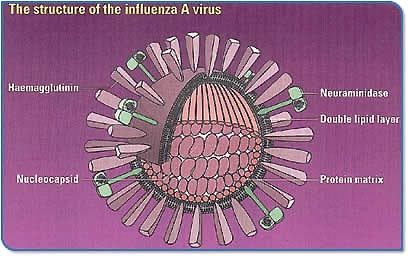 3) Influenza B.
Influenza B and Influenza A H1N1 don't change as fast as H3N2, so that means older people and older children and adults are more likely to have some partial immunity to B or H1N1. But all three viruses are bad for little kids who are still very susceptible to infection.
---
Website:
http://www.medmall.org/Proflu/page5.html
http://www.eurosurveillance.org/ew/2003/031023.asp

© 1998 - 2019 by Linda Moulton Howe.
All Rights Reserved.