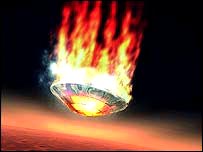 December 19, 2003 Washington, D. C. – NASA Science News has released a story worth sharing about next Thursday's projected landing of the Beagle 2 spacecraft on Mars. NASA begins: "It's wintertime in the northern hemisphere of Mars and a flying saucer is about to land.
"Back on Earth where it came from, the craft is known as the Beagle 2, sent to Mars by the European Space Agency (ESA) in search of life. More accurately, the Beagle 2 will be looking for chemical traces of life – telltale signs that life once existed, or perhaps, exists right now on the red planet. Named after the ship that carried Charles Darwin, the Beagle 2 is a self-contained laboratory shaped like a saucer, or a pocket watch, about three feet in diameter that can spread out its solar panels. Although it carries many powerful scientific tools, it weighs a mere 70 pounds. Being so light and compact, the Beagle 2 was able to hitch a ride to Mars onboard the ESA's Mars Express spacecraft launched last June 2003.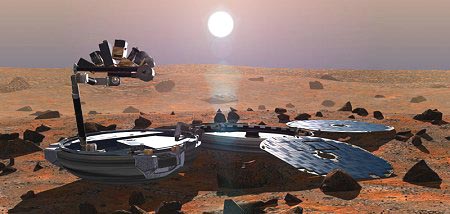 "While Mars Express, the orbiter, surveys the red planet from a few hundred miles up, the Beagle 2 will be able to stick its devices right into Mars, sampling rocks and soil on the surface and below. 'The rock abrasion tool goes right up against a rock, removes its weathered surface, and can continue to go in and take out a little core – about 20 to 100 milligrams of sample,' says Everett Gibson, NASA's interdisciplinary scientist for the Mars Express/Beagle 2 mission. The ability to remove the surface of a rock is important, as scientists learned when NASA's Sojourner rover scrutinized Martian rocks in 1997. They all looked much the same because their surfaces had been weathered by dusty winds and solar radiation. Beagle 2 will be able to sample the minerals inside."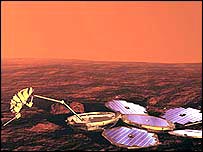 Beagle 2's Search for Carbon-12 and Methane on Mars
Beagle 2's other tool called 'the mole' is able to reach as far as two meters (6.5 feet) from Beagle 2 and drill down about 1.5 meters to gather samples back into its shallow 'mouth.' Just like the cored samples from surface rocks, soil collected from underground will have been shielded from solar ultraviolet radiation. In those more protected samples, life of some kind might have more easily developed. Collected soil will go into the Beagle 2's lab oven where released gases will be analyzed by a mass spectrometer. Beagle 2 will look at the types of carbon ranging from lighter carbon-12 to heavier carbon-13.
NASA says, "On Earth, things that are alive tend to prefer the lighter carbon and use more carbon-12 in their metabolism. If the spectrometer identifies a sample containing more carbon-12 than would be expected in an inorganic sample of soil, that might be a sign that life had once dwelled there.
"The spectrometer will also check the atmosphere for traces of methane. That gas can be produced by living creatures. On Earth, it comes from termites, cows and swamps. If Beagle 2 detects any methane on Mars, something must have created it recently since the strong ultraviolet radiation that shines on Mars would destroy methane in a matter of months."
If Beagle 2 finds methane, there's a good chance that biological processes are operating on Mars.
Three Rovers Will Be Exploring Mars in 2004
December 25, 2003 – Touch down on Mars for Beagle 2, built and operated by the European Space Agency's Mars Express mission (Great Britain).
January 3, 2004 – NASA's Spirit rover lands for 90-day mission (United States).
January 24, 2004 – NASA's Opportunity rover lands for 90-day mission (United States).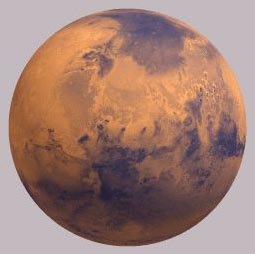 ---
Website:
http://www.beagle2.com/index.htm

© 1998 - 2019 by Linda Moulton Howe.
All Rights Reserved.