Panoramic view inside the Gusev crater that surrounds NASA's Spirit lander and its robotic rover. NASA has received 73 percent of a 360-degree crater view. Image courtesy NASA and JPL.
January 9, 2004  Ithaca, New York – As the New Year of 2004 gets underway, the Bush Administration announced this week that the President will soon propose a plan to send a manned American mission to Mars and to the moon.
In addition to proposing the first trip back to the moon since December 1972, President Bush says he wants to build a permanent space station there. Some scientists speculate that the moon could be used as the preparation and launching pad for a manned Mars mission.
Spirit and Opportunity – Robotic "Geologists" on Mars
Mars was already dominating the news before the White House announcement. This past Saturday, January 3, 2004, NASA scientists cheered in their Pasadena Jet Propulsion Lab control room as a robot named "Spirit" came down inside the Martian crater Gusev near the red planet's equator.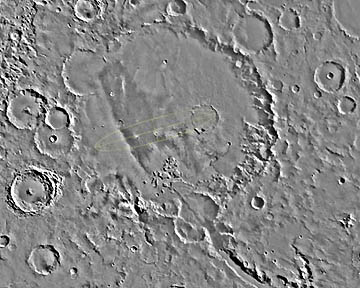 Spirit is the fourth American machine to successfully land on Mars since the first Viking mission of 1976. Spirit was dropped to the Martian surface by its orbiter and was protected in its fall by many air bags. When Spirit hit the dusty surface inside the crater, it bounced several times before coming to a stop.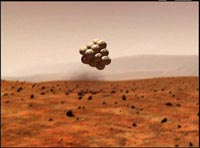 Then, on January 8, when NASA engineers tried to move the 6-wheeled robot out of its lander to explore the ground and rocks around it, one of the air bags blocked its path. The goal is to get the Spirit robotic geologist rolling on the crater surface by Wednesday, January 12. But the air bag problem might delay that exploration by a few more days.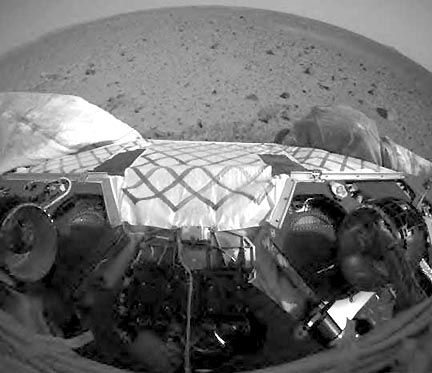 A second robot named "Opportunity" is expected to land on the opposite side of Mars on January 24 at roughly Noon Eastern Time. Spirit and Opportunity were made to be Earth's first roving robotic geologists on Mars, capable of drilling into the surfaces of rocks to find out what they are made of. Scientists also hope that the robots will be able to find evidence of lake water or running water from Mars' ancient past.
Gusev Crater Was Probably Once A Watery Lake
Already, while still parked inside the lander, the Spirit robot has picked up data that indicates the presence of minerals that might have formed a lake inside the Gusev crater landing site. No one today doubts that there is ice water and carbon dioxide ice in the very cold northern high latitudes of the red planet. But where did all the water go that left big channels and canyons?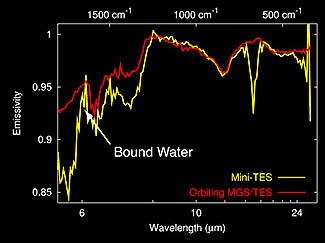 Spirit Rover's First Color Photo of Mars, Sharp As Human Eye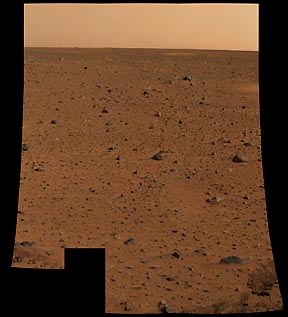 The first images from the Spirit lander showed the iron-red surface covered by rocks and a pink sky, just as Viking had done back in 1976. But these new images from Spirit are the clearest ever transmitted back to Earth. In fact, one of the cameras on Spirit called a "pan-cam" has the sharpness of the human eye.
The images were sent back to the Jet Propulsion Laboratory in Pasadena from two satellites we currently have orbiting Mars and which receive data from the Spirit robotic lander. One of the first photographs surprised planetary geologists. It shows strange tracks near the Spirit lander, almost as if the soil were folded on itself in layers.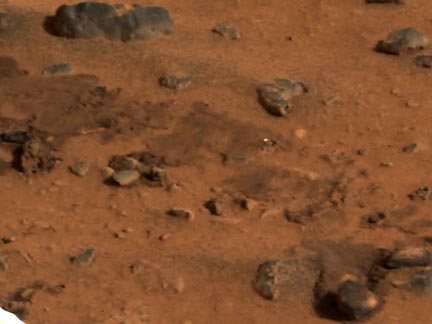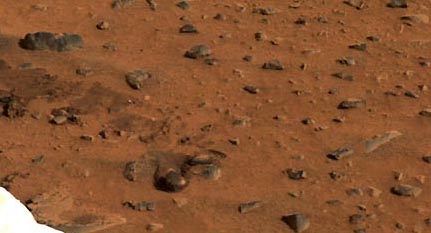 Many of the scientists participating in the Spirit and Opportunity lander research are from Cornell University. This week I talked with Cornell's Dr. Peter Thomas, Senior Research Associate at the Center for Radio Physics and Space Research in Ithaca, New York. He is an expert in Martian surface features and I asked him about the unusual appearance of the landing tracks.
---
Interview:
Peter Thomas, Senior Research Associate at the Center for Radio Physics and Space Research in Ithaca, New York: "They are unusual in the sense that we haven't seen them before from the previous landers. But the previous landers, including all the way back to Viking are showing that among the things that are on the Martian surface mixed in are not just things that might be dark minerals, clays, or things like that ­ but also things that are considered salts like sulfur. They are in very small amounts, but still there and so there is some variety of materials which might with very small particles give the soil some cohesion. We know this from the way dust particles behave when they are dry ­ just very small things can give them cohesion. But they might behave in very interesting ways, especially if you push down on them a little bit on a soft deposit with an air bag and then let go of it.
When I first saw the image of the tracks, it did really look like if you slide something on the surface where there is a little thin layer that is loose. These are some of the things I would like to see in stereo to get a feel for what the 3-dimensional form of the disturbed material is.
DO YOU THINK THERE IS ANY CHANCE THAT IT'S WATER OR AN OILY SUBSTANCE OR SOMETHING THAT IS RIGHT THERE UNDER THAT SURFACE DUST?
It's probably more like little bits of sulfur or other salts that can bind the very small particles with electrostatic forces between the dust particles. I don't think you really need much in the way of water vapor or ice in order to do that bonding. But as one of the soil components around the Spirit landing area, that's one of the components that will get looked at. The rover is probably not going to exit the lander for several more days.
THEN WILL IT BE INDEPENDENT ENOUGH TO GO OUT AND DRILL DOWN INTO THIS AREA THAT IS COMPACTED?
The drilling ­ it will rove and it is independent once it moves off and is free of the lander. It does have a thing called a rock abrasion tool on it which is designed to basically remove "rinds" on rocks and look at it through microscopic imagers and determine what the composition below is. Now this (compressed Martian soil near Spirit lander) looks like fairly loose material, so using the rock abrasion tool would probably just scatter the particles. So, examination of this will probably not involve the rock abrasion tool, but you can certainly get an idea of what minerals and elements are in it.
One of the other things is simply to drive the Spirit rover's wheel over the soil to see what the mechanical response to a known pressure ­ you know what the pressure in the bottom of a rotor wheel is. If you just drive the wheel over the compressed stuff and see how far it goes in, you can get a good idea of the mechanical property of the soil. That will tell you something about the strength of the material which in combination with its chemical composition can then ­ using microscopic imager ­ tell you a lot about whether it's typical wind-deposited dust; or has it had some unusual erosional history; or has a particular composition that happens to clump more nicely than other dust on Mars.
ANY POSSIBILITY THAT THIS COULD BE CO2 ICE IN THOSE COMPRESSED TRACKS?
It's probably not because the CO2 ice comes out at much colder temperatures than even the H2O water does. This is a fairly low altitude and latitude part of Mars. It's really too warm to be CO2 ice associated with the compression.
H2O Water Ice "Definitely" On Mars
IS IT FAIR AS A REPORTER TO SAY THAT WE DEFINITELY KNOW THAT THERE IS SOME WATER ON MARS?
Certainly there is some water on Mars. It might not be very much and it might be in very unglamorous situations of being little bits of ice in soil at high latitudes. But that's what the gamma ray spectrometer says.
COULD SPIRIT OR OPPORTUNITY HAVE LANDED IN THAT NORTHERN LATITUDE?
No, it gets harder because the temperatures and the amount of sunlight to work landers at the higher latitudes. There will be another lander at moderately high latitudes in a few years, but the Mars polar lander a few years ago unsuccessfully tried to land at high latitudes. It would have specifically, one of its experiments was to see if there was any water ice near the surface there. It's just more difficult in those higher latitudes because of the sunless days and much colder temperatures to put landers at high latitudes.
HOW DEEP CAN SPIRIT DRILL?
Its drill is designed only to go a very short distance into hard rock. It's not like a real drill going down in any depth at all. It's just to get a few millimeters of covering off rocks.
SO, WE DON'T YET HAVE THE ABILITY TO DRILL STRAIGHT DOWN LIKE LOOKING FOR WATER ON THE EARTH SOME HOW?
Right. It's first, hard to do. It's also not really expected to be particularly useful.
BUT CAN THE ORBITERS THAT YOU ARE SO FAMILIAR WITH, CAN THEY USE RADAR AND OTHER SYSTEMS TO DETECT WATER AT ANY SPECIFIC DEPTH NOW ON MARS?
They might be able to give some indication of that. The Mars Express which the Europeans (European Space Agency, ESA) just put into orbit has a radar unit on it that will give you some information on the layering depth. It might give some indication of whether there is some possibility of water in the pores of the rocks and soil. But that would be sort of a big average number."
Why Are There So Many Rocks on Mars?
Another mystery in Mars surface photographs are all the rocks. If wind and dust have been blowing for centuries, why do they look so fresh and even angular? Why aren't the rocks all worn down to smooth surfaces beneath the red dust of Mars? Dr. Thomas is particularly interested in the role that wind and dust play. I asked him if wind has sand blasted the surface for millennia, why are there so many rocks of various sizes and shapes – many angular – in the Martian photographs?
Peter Thomas, Ph.D.: "It's been subject to meteorite impacts for a long time and that's really like hitting with a hammer. You break things up where there is solid rock. Even where there is not solid rock, the impacts can compact and make the soil into fairly solid rock. That's one of the methods that is most likely for the scattering of rocks.
THAT WOULD MEAN THAT THE SURFACE OF MARS WAS LARGELY EXTRATERRESTRIAL IN TERMS OF METEORITES COMING IN ­ THOSE ROCKS WOULD NOT BE INDIGENOUS?
The rocks themselves would not necessarily be the meteorites themselves. They would be the fragments of the local rocks that had been broken up when hit by the meteorites. It's only a very small fraction of the surface material that would be meteorites. It's the fragmented debris that happens when you hit something with a high speed meteorite.
There are other ways, of course, of breaking the rocks up and meteorites are one way to scatter the stuff. All the rocks might not been placed that way. They might have been rocks carried there by water and gradually eroded into sharper forms. There might have been rocks carried only a short distance by water and not rounded very much, maybe sharpened by the wind later. That's one of the reasons you want to really go over and drill into the rocks and see exactly what is in the inside and if it is the same as what is on the outside to see what all the local layering is and if the rock was carried there by water or whether it was dropped there as part of material thrown out by an impact crater.
Why Not Put a Rover Lander Near the Huge Martian Volcano and Canyon?
IF THE BIGGEST VOLCANO (OLYMPUS MONS) AND BIGGEST CANYON IN THE SOLAR SYSTEM ARE ON MARS, WHY HAVEN'T WE SENT A ROVER NEAR ONE OF THOSE, ESPECIALLY THE VOLCANO?
Basically because of the topography. If you remember the landing scheme for this Spirit used a bouncing scheme and you put that on a long slope such as Olympus Mons, then you have no clue as to where the thing will wind up or how many hours later it will wind up somewhere. That's the sort of the same thing with the big canyon. You can target these things to an accuracy of maybe a few tens of miles horizontally. You might actually do better than that, but you don't really believe beforehand that you're going to get within a few miles of where you are targeting. So, if you have rough topography like that, then you really don't know the kinds of things you are going to land on or will it be safe? Certainly a bouncing system is not one you want to put down on something with very long slopes where it would continue to roll for a very long time.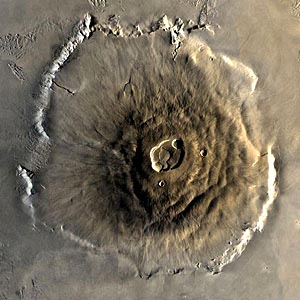 Olympus Mons is a volcano that rises over 68,000 feet (about 13 miles or 21 kilometers) on the west side of the Tharsis Bulge region of Mars. It is a shield volcano like those that make the Hawaiian islands. That's more than twice the height of Mount Everest, 5.5 miles (9 kilometers), and Mauna Kea, a partially underwater Hawaiian volcano, is 6 miles (10 kilometers) tall. The diameter at the base of Olympus Mons is 372 miles (600 kilometers), which is about the size of the state of Wisconsin.
Future Martian Missions
'OPPORTUNITY' AND 'SPIRIT' EACH HAVE ABOUT 3-MONTH RESEARCH MISSIONS AS 'ROBOTIC GEOLOGISTS.' WHAT IS THE NEXT SIGNIFICANT CLOSE-UP LOOK AT THE MARTIAN SURFACE?
After these missions, there is a smarter lander designed for a few years from now. The ultimate goal of a lander is to be able to set up a sample return. That's many years down the road since it is a very complicated operation to do right and safely. There are continuing orbital missions to survey the planet in various ways to look at the climate. We've had Mars Global Surveyor going for the last six years and Mars Odyssey continuing to orbit. Subsequent orbiters, one which will be launched in 2005, will continue to give us a continuous look at the Martian weather and climate over several years so we can start to get a real handle on how that operates over many years."
What Has Happened to Britain's Beagle 2 Lander?
Also on Mars is the European Space Agency's Beagle 2 lander. Scientists are very disappointed that the Beagle 2, released from the Mars Express Orbiter on Christmas Day to land on the red planet's surface has still not sent any signals. Mars Express is the first European mission to another planet and ESA officials remain hopeful there still might be communication with Beagle 2 which was tasked with collecting soil and rock samples for analyses.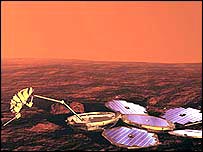 I asked Dr. Thomas if there was any more news about the fate of Britain's Beagle 2 lander.
ANY SPECULATION ABOUT WHAT COULD HAVE HAPPENED?
"Well, it's a difficult thing to do. That was a mission that did not have a lot of redundant parts on it. So, it's hard to tell.
DO YOU THINK THAT THE ANTENNA COULD HAVE LANDED IN SUCH A WAY THAT IT WAS BROKEN?
That would all be speculation. We really don't know what might have happened. It's difficult. I don't know much of the details about the actual operation of the Beagle. It would be nice if it showed up, but we don't know at the moment.
WOULD THE MARS ORBITERS SUCH AS MARS GLOBAL SURVEYOR HAVE LENSES THAT COULD LOOK CLOSE-UP IN AREAS WHERE THEY THINK IT (BEAGLE 2) MIGHT BE TO TRY TO FIND IT?
That would be really difficult because the area you can cover at high resolution from those would be very small compared to the area that it possibly landed in. It might be a couple of hundred kilometers on a side that you would be looking for and if all the resources of the orbiters were dedicated to do that, it would take a long time without any really useful result because you would barely be able to detect something. Maybe if it were there, its size is so small that even detecting it would be marginal and detecting it in a useful way is even more unlikely because it probably wouldn't tell you anything about why it was not communicating."
---
Websites:

© 1998 - 2019 by Linda Moulton Howe.
All Rights Reserved.