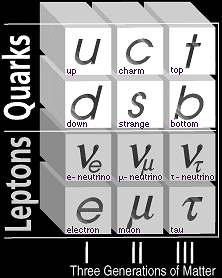 January 17, 2004  Urbana-Champaign, Illinois – Not everyone is certain that Supersymmetry of super atomic particles is the answer to Dark Matter. In fact, some theoretical physicists argue about whether the Brookhaven muon magnetic moment measurement is even a meaningful discrepancy.
One physicist has specialized in precision measurements of the muon calculation in order to look for problems in the Standard Model that physicists currently think explains most atomic particle characteristics and interactions. He is David Hertzog, Professor of Physics in the Loomis Laboratory of Physics at the University of Illinois/Urbana-Champaign campus in Urbana.
This week I asked him if he thinks the muon magnetic moment calculation tends to support Supersymmetry's theory that Dark Matter is causing the discrepancy in the muon measurement.
---
Interview:
David Hertzog, Ph.D., Professor of Physics, Loomis Laboratory of Physics, University of Illinois-Urbana-Champaign, Urbana, Illinois: "I believe you will get many people who think there is a link there. But I wouldn't be able to make that step myself. When people say, 'Ah, these guys have measured something different from the Standard Model with their muon measurement,' then there is actually lots of possible scenarios of what it could be. Among those, some of the popular ones are Supersymmetry and regarding that theory there are some who believe it is related to the cold, dark matter.
IF IT WERE SUBSTANTIATED THAT THE LINK BETWEEN THE DIFFERENCE BETWEEN THE MUON MAGNETIC ATTRACTION DID HAVE SOMETHING TO DO WITH DARK MATTER THAT MAKES UP SO MUCH OF THE UNIVERSE, WHAT WOULD THE IMPLICATION BE FOR PHYSICS?
That would be grand! If when the big colliders open up their ability to make direct searches, they can then artificially produce the particles we are discussing right now. Then they can catalog them, find out what properties there are, how do they decay, what are the families. They will be able to find out how many exist and if this model of Supersymmetry or something else is in fact correct. There will be an explosion possibly of new particles being found and a tremendous amount of interest. It's sort of like peeling out another layer of the onion in the basic building blocks of matter.
I THINK IT'S DR. KANE AT THE UNIV. OF MICHIGAN WHO THINKS THE IMPLICATION OF THIS WORK IS THAT THE UNSEEN PARTICLES ARE MUCH HEAVIER THAN THE PROTONS IN OUR VISIBLE UNIVERSE.
The ones we are looking at would be 300 times heavier or so than the proton. Indeed, the mass or scale that would affect the muon anomaly the way we're seeing it is pretty heavy indeed.
IT'S PUZZLING TO REALIZE THAT WE ARE IN ONLY ABOUT 4% OF THE KNOWN UNIVERSE IN THE PHOTON MATTER WORLDS THAT WE SEE. THE DARK MATTER TAKES UP MUCH MORE. ISN'T THAT IMPLICATION THAT THE PARTICLES THAT ARE UNSEEN ARE HEAVIER THAN THE UNIVERSE THAT WE SEE?
I'm just as shocked by this as you are. The fact that we have identified in the last few years rather precisely the various divisions of particles and dark matter and dark energy in the universe and we're such a small fraction (of it all), I keep saying to my colleagues, 'What have we been busy doing? We're missing everything here! We're spending all of our time on just a small fraction of it!'
So, yeah, it's sort of an exciting thing to think about cracking the bigger problem. Now, with regard to your question, 'Doesn't it mean the Dark Matter is all heavier?' Well, it can be lighter, as well. It simply has to be a combination of how many things out there we're not looking at times their mass.
The excitement of the last few years about neutrinos having mass has similarly generated feeling like, 'Ah ha! Now we've solved some of the mass problem in the universe as well.' So, it's a matter of how many things are out there and how much they weigh.
BUT IT IS ODD AND PUZZLING, ISN'T IT, THAT WE ARE LIVING IN A UNIVERSE IN WHICH SO MUCH OF IT IS UNSEEN?
I think so! I think that's a little odd and puzzling, too! But we're able to see and perceive matter in sort of interesting and limited ways as well. The matter that's out there certainly affects the whole growth of the universe. In that sense, we are perceiving it very well. But in the sense of viewing it, we don't view it. We would love to be able to create this stuff directly. First of all, the indirect views and experiments like ours are going to be a good hint. But if you can come along with a big atom smashing accelerator and directly produce these things, then you've really got the proof.
Can Bigger Atom Smashing Accelerators Find Dark Matter?
WHEN THE NEW ACCELERATORS COME ON LINE AND YOU MIGHT BE ABLE TO GENERATE SOME OF THESE DARK MATTER PARTICLES, WILL THAT HELP US UNDERSTAND HOW THIS UNIVERSE CAME TO BE IN SOME WAY?
If you were building an object out of Lego blocks and you were missing half of them, half of the types and shapes and colors and so on, you wouldn't have the whole set of what could be made. So what we're trying to do is basically find all the constituents of matter. The elementary building blocks. That's satisfying in itself, Step One.
And sure, if you are asking is there greater understanding of how the universe evolved from all that, of course there will be. It depends on how easy this is and how prolific the finds are. If it's a big harvest of particles and all the theories make sense? Or when we start finding particles, do we have to throw out the whole idea of Supersymmetry and substitute it with something different? So until we know what we've got, it's going to be hard to speculate too much, except for the fact that when we find these things, we know that will help us understand.
LET'S SAY WE'RE AT THE TIME WHEN THE CERN LARGE HADRON COLLIDER (LHC) IS UP AND RUNNING AND THEY ARE ABLE TO FIND THESE HEAVY HYPOTHESIZED PARTICLES THAT THEY THINK ARE MAKING UP THE DARK MATTER. WHAT THEN ABOUT OUR VIEW OF PHYSICS IN THE UNIVERSE?
OK, I think that would be an outstanding find. That would be a spectacular ­ probably the most spectacular find in my science career would be such a thing that you are proposing. If we could really find a set of particles and could be coupled to the Dark Matter directly, what a spectacular sort of hand shake between theoretical astrophysics, all of the observations of the universe and then the laboratory measurements with subatomic particles all tied together. It's a wonderful ­ it would be a wonderful step.
It really would make us re-write a lot of the particle physics textbooks from the beginning in a sense.
WOULD IT SOLVE ANY PARTICULAR COSMIC MYSTERY IF WE KNEW FOR A FACT THAT THERE WERE ALL THESE OTHER INVISIBLE PARTICLES THAT COULD BE MEASURED?
Certainly this whole question of what is the Dark Matter is just driving people crazy right now. We want to know what it is. Now that we have all these results which predict the ratios of matter and energy in the universe, we sure as heck are a little embarrassed to be dealing with only about 4 to 5 percent of it. So, yeah, if we could solve that one, that would chip off another big thing. Then we'd only have the voodoo world of Dark Energy to discuss.
THE MEASUREMENT OF THE MUONS MIGHT BE THE FIRST BIG STEP TO SETTLING WHAT THE DARK MATTER MIGHT BE?
I'd call it the first tiny step. I prefer the 'first tiny step,' rather than the 'first big step.' We're doing, we're just giving a hint of something that might be out there. And if it eventually turns out to be connected to our measurement in reverse, that would be just swell and grand! But there is no way our measurement can say it is the Dark Matter which affects the muon spin. We can only say that something does."
---
More Information:
Belle Discovers a New Particle
– new type of meson? –
November 14, 2003
High Energy Accelerator Research Organization (KEK)
An international team of researchers at the High Energy Accelerator Research organization (KEK) in Tsukuba recently announced the discovery of a new and unusual sub-atomic particle. This particle, which the researchers are calling the X(3872), weighs about the same as a single atom of helium and exists for only about one billionth of a trillionth of a second before it decays to other longer-lived, more familiar particles. Although extremely short-lived by any human standard, this is nearly an eternity for a sub-atomic particle this heavy.
The new particle was found among the decay products of so-called beauty mesons that are produced in large numbers at the KEKB "B-factory," an electron-positron collider at the KEK laboratory that is specialized for producing large numbers of particles that contain a b ("beauty") quark. There the "Belle collaboration," an international team of faculty and student researchers from Universities and laboratories from eleven different countries, operate of the Belle detector, which is tailored to study the particles produced at KEKB. Belle is a complex assortment of highly sensitive radiation detectors located inside of a large superconducting electromagnet, The device took nearly ten years to design and build.
While investigating various ways the B-mesons (particles that contain a b quark) decay, the Belle team observed that they can decay into X(3872) and K-meson although its occurrence is extremely rare. The X(3872) almost instantly decays into a "J-psi" particle and two pi-mesons. (Figures)
There are hundreds of sub-atomic particles and the discovery of a new one is usually not an extraordinary event. However, as its name implies, the X(3872) particle is peculiar in that it does not easily fit into any known particle scheme and, as a result, has attracted a considerable amount of attention from the world's physics community. The Belle discovery was recently confirmed by researchers with the CDF experiment at the Fermi National Accelerator Laboratory in Illinois, home of the Tevatron, the world's largest atom smasher. There the X(3872) is referred to as the "mystery meson."
A normal "meson" particle is comprised of a quark and an antiquark that are held together by the "color" force, also called as "strong" force because it is the most powerful force in nature. The large variety of meson particles that have been found to date reflect the many different ways that these combinations can be accomplished. However, the mass and the decay properties of the X(3872) do not match theoretical expectations for any conceivable quark-antiquark arrangement.
Theoretical physicists around the world are considering a number of potential explanations. These include modifications to the theory of the color force, or the possibility that the X(3872) is the first example to be seen of a new type of meson, one that is made from four quarks (i.e. two quarks and two antiquarks).
The discovery is described in a report published in this week's edition of Physical Review Letters, a prestigious journal for physics research.
---
Website:
http://pdg.web.cern.ch/pdg/cpep/adventure_home.html
http://public.web.cern.ch/public/about/future/future.html

© 1998 - 2019 by Linda Moulton Howe.
All Rights Reserved.