"Scientists liken the alien soil to clumpy cocoa powder."
NASA Jet Propulsion Laboratory
January 19, 2004  Pasadena, California – The Mars Exploration Rover Spirit deployed its robotic arm early Friday morning, January 16, 2004, to use its microscopic imager, one of four geological instruments located on the arm. The instrument will help scientists analyze and understand Martian rocks and soils by taking very high resolution, close-up images. The first surprise was the clumpy nature of the red soil and some planetary geologists wonder if an electrostatic binding of the dust could be at work.
First Patch of Probed Soil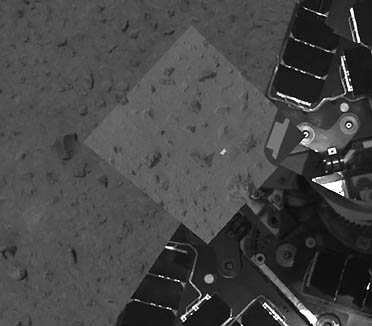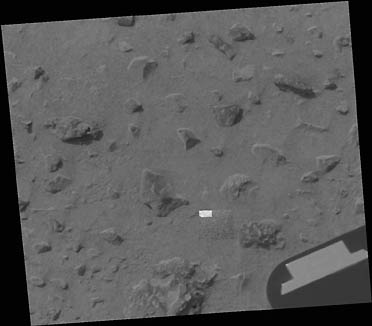 Clumpy Martian Soil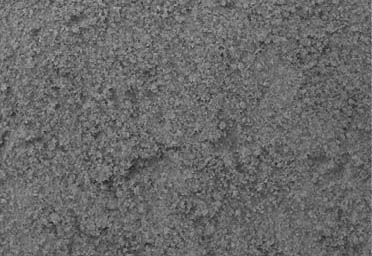 This close-up look at a patch of Martian soil is the sharpest image ever taken on another planet. The picture was captured by Spirit's microscopic imager. Scientists liken the alien soil to clumpy cocoa powder.The actual size of the soil patch shown here is 3 centimeters (1.2 inches) across. Scientists think the soil might have some cohesive properties, perhaps electrostatic binding. Other speculation has raised the question of moisture in the soil.
Spirit Close-Up Images of Martian Rocks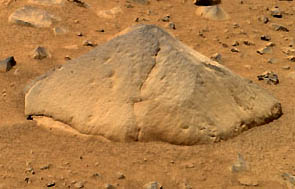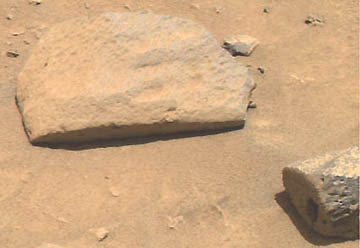 NASA reported today about the Adirondack image, "The true color image taken by the panoramic camera onboard the Mars Exploration Rover Spirit shows the rover's first target rock, "Adirondack." Spirit traversed the sandy Martian terrain at Gusev Crater to arrive in front of the football-sized rock on Sunday, Jan. 18, 2004, just three days after it successfully rolled off the lander. The rock was selected as Spirit's first target because its dust-free, flat surface is ideally suited for grinding. Clean surfaces also are better for examining a rock's top coating. Scientists named the angular rock after the Adirondack mountain range in New York. The word Adirondack is Native American and is interpreted by some to mean 'They of the great rocks.'"
---
Website:
http://marsrovers.jpl.nasa.gov


© 1998 - 2019 by Linda Moulton Howe.
All Rights Reserved.