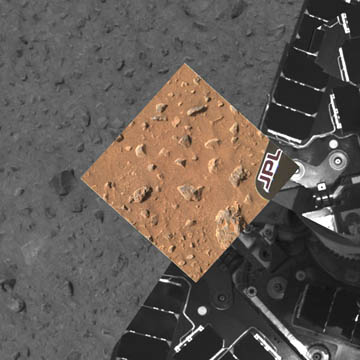 January 21, 2004 Pasadena, California – Scientists at NASA's Jet Propulsion Laboratory (JPL) in Pasadena yesterday were puzzled about the first soil examined by the Spirit rover in its alpha particle X-ray spectrometer as it begins its exploration of the Martian Gusev crater.
"We're starting to put together a picture of what the soil at this particular place in Gusev Crater is like. There are some puzzles and there are surprises," said Dr. Steve Squyres of Cornell University, Ithaca, New York, principal investigator for the suite of Spirit instruments and upcoming on Spirit's twin, Opportunity, after it lands on the other side of Mars on January 24, 2004, at 9:05 p.m. Pacific/ 12:05 a.m. January 25 ET.
NASA reports that, "One unexpected finding was the Moessbauer spectrometer's detection of a mineral called olivine, which does not survive weathering well. This spectrometer identifies different types of iron-containing minerals. Scientists believe many of the minerals on Mars contain iron. "This soil contains a mixture of minerals, and each mineral has its own distinctive Moessbauer pattern, like a fingerprint," said Dr. Goestar Klingelhoefer of Johannes Gutenberg University, Mainz, Germany, lead scientist for this instrument.
The lack of weathering suggested by the presence of olivine might be evidence that the soil particles are finely ground volcanic material, Squyres said. Another possible explanation is that the soil layer where the measurements were taken is extremely thin, and the olivine is actually in a rock under the soil.
Martian Soil Continues to Puzzle Scientists
Scientists were also surprised by how little the soil was disturbed when Spirit's robotic arm pressed the Moessbauer spectrometer's contact plate directly onto the patch being examined. Microscopic images from before and after that pressing showed almost no change. "I thought it would scrunch down the soil particles," Squyres said. "Nothing collapsed. What is holding these grains together?"
Information from another instrument on the arm, an alpha particle X-ray spectrometer, might point to an answer. This instrument "measures X-ray radiation emitted by Mars samples, and from this data we can derive the elemental composition of martian soils and rocks," said Dr. Johannes Brueckner, rover science team member from the Max Planck Institute for Chemistry, Mainz, Germany. The instrument found the most prevalent elements in the soil patch were silicon and iron. It also found significant levels of chlorine and sulfur, characteristic of soils at previous Martian landing sites, but unlike soil composition on Earth.
Squyres said, "There may be sulfates and chlorides binding the little particles together." Those types of salts could be left behind by evaporating water, or could come from volcanic eruptions, he said. The soil may not have even originated anywhere near Spirit's landing site, because Mars has dust storms that redistribute fine particles around the planet.
Spirit Switches on Its X-ray Vision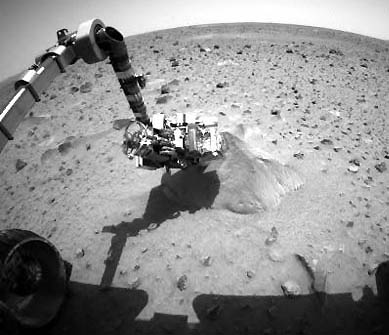 This image shows the Mars Exploration Rover Spirit probing its first target rock dubbed "Adirondack." At the time this picture was snapped, the rover had begun analyzing the rock with the alpha particle X-ray spectrometer located on its robotic arm. This instrument uses alpha particles and X-rays to determine the elemental composition of Martian rocks and soil. The image was taken by the rover's hazard-identification camera.
---
Website:
http://marsrovers.jpl.nasa.gov


© 1998 - 2019 by Linda Moulton Howe.
All Rights Reserved.