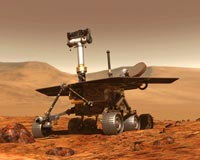 Updated – January 24, 2004  Pasadena, California –
Spirit Communication Revived Briefly,
But Rover's In "Critical" Condition
On January 23, the flight team for NASA's Spirit rover finally received data from the silent robot in a communication session that began at 5:26 a.m. PST and lasted 20 minutes at a data rate of 120 bits per second. Spirit's response was provoked by a JPL command to Spirit at 5:02 PST via the NASA Deep Space Network antenna complex near Madrid, Spain, telling Spirit to begin transmitting about its problems.
Pete Theisinger, Project Manager for the Mars Exploration Rover Project (Spirit and Opportunity) told reporters at NASA's Jet Propulsion Laboratory in Pasadena, "The spacecraft sent limited data in a proper response to a ground command, and we're planning for commanding further communication sessions later today." Later, he said Spirit was in "critical" condition. "The chances that it will be perfect again are not good."
NASA scientists think something has happened to Spirit's computer hardware. The robot had taken hundreds of images and was about to make its first robotic arm "scratching" on the surface of the pyramid-shaped rock called "Adirondack" when its steady flow of scientific data abruptly stopped.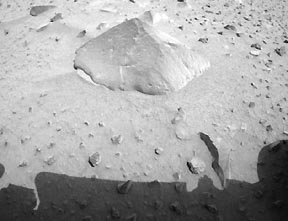 Meanwhile, Spirit's twin rover called Opportunity is on course to land on Mars Saturday, January 24, at 9:05 p.m. PST. It's programmed to come down at a site on the opposite side of the red planet from the Spirit rover's Gusev crater.
Mars Express Sees Water at the Martian South Pole
Report from ESA's Space Operations Centre, Darmstadt, Germany:
"This is the first time water ice has been detected on the ground. This is the first direct confirmation." ­ Allen Moorehouse, ESA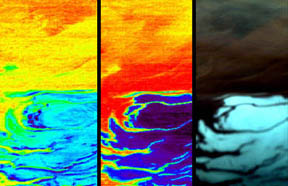 The European Space Agency is in high spirits as its first mission to Mars has already produced "stunning results" after instruments aboard its Mars Express orbiter were switched on. OMEGA, the combined Mars Express camera and infrared spectrometer, observed the southern polar cap of Mars on January 18, 2004, as seen on all three bands in the ESA image above, which confirmed the presence of water ice and carbon dioxide ice.
Professor David Southwood, ESA Director of Science, said after seeing the camera and spectrometer images, "I did not expect to be able to gather together – just one month after the Mars Orbit Insertion of December 25, 2003 ­ so many happy scientists eager to present their first results." ESA scientist Allen Moorehouse said, "This is the first time water ice has been detected on the ground. This is the first direct confirmation."
ESA reports: "The new high-resolution spectrometer data shows different carbon dioxide distribution in the northern and southern hemispheres. The Mars instrument, a sophisticated radio transmitter and receiver, emitted a first signal successfully on 21 January that was received on Earth through a 70- meter antenna in Australia after it was reflected and scattered from the surface of Mars. This new measurement technique allows the detection of the chemical composition of the Mars atmosphere, ionosphere and surface.
"ASPERA, a plasma and energetic neutral atoms analyzer, hopefully will answer the fundamental question about whether the solar wind erosion led to the present lack of water on the Martian surface. The preliminary results show a difference in the characteristics between the impact of the solar wind area and the measurement made in the tail of Mars.
Another exciting experiment was run by the SPICAM instrument (an ultraviolet and infrared spectrometer) during the first star occultation ever made at Mars. It has simultaneously measured the distribution of the ozone and water vapor, which has never been done before, revealing that there is more water vapor where there is less ozone.
Reull Vallis Ancient River Channel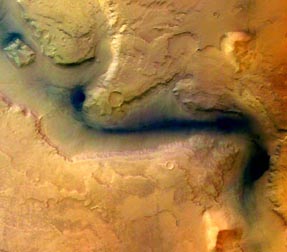 ESA announced: "This picture was taken by the High Resolution Stereo Camera (HRSC) onboard ESA's Mars Express orbiter, in color and 3-D, on January 15, 2004, from a height of 273 kilometers (170 miles). The location is east of the Hellas basin at 41° South and 101° East. The area is 100 kilometers across, with a resolution of 12 meters per pixel, and shows the Reull Vallis channel once formed by flowing water. The landscape is seen in a vertical view with North at the top."
Valles Marineris, Largest Canyon in Solar System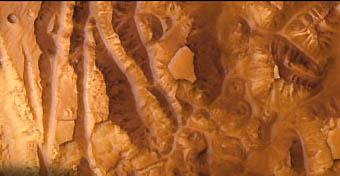 On January 14, 2004, the European Space Agency (ESA) reported that "the first spectacular stereoscopic colour picture" was taken of the Grand Canyon of Mars known as Valles Marineris. "The image covers a 1700 km long and 65 km wide swath which was taken in south-north direction. It is the first image of this size that shows the surface of Mars in high resolution (12 metres per pixel), in colour, and in 3D. One looks at a landscape which has been predominantly shaped by the erosional action of water. Millions of cubic kilometres of rock have been removed, and the surface features seen now such as mountain ranges, valleys, and mesas, have been formed."
The image was taken by ESA's Mars Express satellite from 275 kilometers above the surface of Mars by the High Resolution Stereo Camera (HRSC). For more, see ESA Portal at: http://mars.esa.int
---
Websites:
http://marsrovers.jpl.nasa.gov/home/index.html
http://www.esa.int/export/esaCP/index.html

© 1998 - 2019 by Linda Moulton Howe.
All Rights Reserved.