"I will attempt no science analysis, because it looks like nothing I've ever seen before. I've got no words for this. I am flabbergasted. I am astonished. I am blown away. Opportunity has touched down in a bizarre alien landscape."
– Steven Squyres, Principal Investigator, Cornell University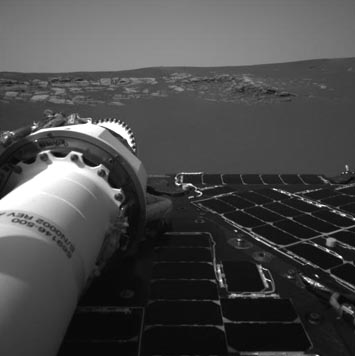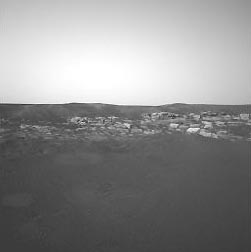 January 25, 2004  Pasadena, California – Opportunity, NASA's second rover, landed on Mars five minutes after 9 p.m. in California and after midnight on the East Coast as expected. Opportunity bounced down in its airbag-covered lander on to a smooth plane called Meridiani Planum near the equator half way around Mars from the Gusev crater where the first damaged rover, Spirit, landed on January 3, 2004. Opportunity's mission is to search for signs of water and its landing marks and the soil look even muddier than the Gusev crater's.
The Meridiani Planum is the highest altitude landing so far attempted by NASA and might be a shallow crater. After coming through the Martian atmosphere at 19,000 kilometers/hour, slowing down by a parachute and hitting the ground bouncing several times in cushioned airbags, Opportunity's communication with JPL mission controllers was lost for awhile. In fact, scientists at JPL thought the lander kept bouncing for twenty minutes after landing. Then JPL realized that Opportunity's antenna was pointing downwards and the signal was bouncing off the surface of Mars. Communications were restored and Opportunity has taken dozens of photographs.
Dr. Steve Squyres, lead scientist for the rovers, told The New York Times, "I will attempt no science analysis, because it looks like nothing I've ever seen before. I've got no words for this. I am flabbergasted. I am astonished. I am blown away. Opportunity has touched down in a bizarre alien landscape."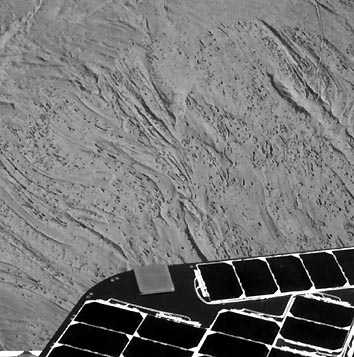 Meridiani Planum Soil – "Grey Hematite"?
Meridiani Planum is not expected to have the red soil of the Gusev Crater where Spirit landed. Opportunity is surrounded by dark grey or black mineral thought to be "grey hematite." Planetary geologists suspect that water once flowed there. The soil around Opportunity's wheels looks wet. But scientists are trying to figure out if soil particles on Mars cling in a peculiar way due to electrostatic forces or some other phenomenon rather than actual H2O water molecules at the surface which scientists have presumed would be dry dust.
Future Rock and Soil Exploration
So far, Opportunity seems to be operating well and the solar-powered rover is equipped with tools to scratch and drill into rocks and to examine the soil. If all goes well, Opportunity should operate for at least the next three months.
Ironically, it was exactly the moment just before Spirit was supposed to do its first drilling into the pyramid-shaped rock in the Gusev crater that its data stream shut down. Spirit has not sent any images or scientific data since January 21st. NASA scientists don't want the same thing to happen to Opportunity, so there is an intense effort to understand Spirit's problems. NASA reported Saturday that some "good progress" has been made in repairing Spirit and the agency hopes to have an answer about what went wrong.
---
Websites:
http://marsrovers.jpl.nasa.gov/gallery/all/opportunity.html
http://marsrovers.jpl.nasa.gov/home/index.html
http://www.esa.int/export/esaCP/index.html

© 1998 - 2019 by Linda Moulton Howe.
All Rights Reserved.