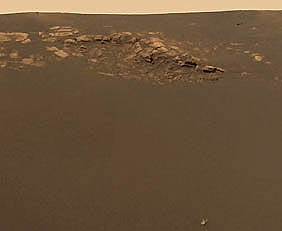 February 18, 2004  Pasadena, California – The NASA/JPL Martian rovers, Spirit and Opportunity, each came down near the Martian equator about 6,600 miles apart protected inside many inflated airbags. Each airbag was about 13 feet (4 meters) in diameter and had a stitched pattern of a ring with lines radiating from it. The idea was that each lander would be dropped from its orbiting spacecraft and fall to a bouncing landing inside the airbags. Soon after Opportunity came to rest on January 25, 2004, the rover's panoramic camera took a 360 degree image of the shallow crater surrounding it on the Meridiani Planum near the Martian equator.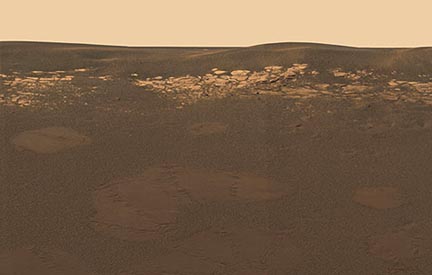 James Rice, Ph.D., Professor of Geomorphology and member of the Mars Rover Mission Science Team, Arizona State University, Tempe, Arizona:
"THOSE CIRCLE IMPRINTS THAT HAVE LINES COMING OUT OF THEM BELOW THE BEDROCK ARE THE IMPRINTS OF THE AIRBAG THAT ARE HITTING THE GROUND. BUT BECAUSE THE DISTANCE BETWEEN THE LANDER AND THE BEDROCK IS ONLY ABOUT 28 FEET?
Yeah, about 9 meters (28 feet) between the lander and the bedrock. If you look at one of the panoramas, especially from the Opportunity site, what we did is bounce across the surface and rolled into the crater, down one rim of it and up the other and came back and you can see airbag marks in the panorama where we were rolling across and down to the crater like that.
We were really pretty lucky – it's the first Martian outcrop we've ever seen and had the ability to go up and examine.
SO EACH OF THOSE MARKS ­ THE CIRCLES THAT HAVE THE LINES RADIATING FROM THE CENTERS ­ EACH OF THOSE MARKS WOULD BE WHAT? ONLY ABOUT HOW MANY METERS OR FEET IN DIAMETER?
I think the airbags when fully inflated are around maybe 4 meters in diameter roughly.
ABOUT 13 FEET. SO THOSE IMPRINTS OUT IN THE SOIL COMING BETWEEN THE BEDROCK AND THE LANDER WHERE THEY HIT MIGHT BE A LITTLE SMALLER THAN 13 FEET?
Yes. The whole outcrop when you look at it in the images, you think it looks like a big wall of rock. But in reality, that outcrop out there is only about 10 to 20 centimeters high. And it's more like a little ledge. If you were there as an astronaut and saw it, you'd probably go up to it and kick it with your boot or bust a chunk off with a rock hammer and look at it and go on your way outside the crater to explore the thing.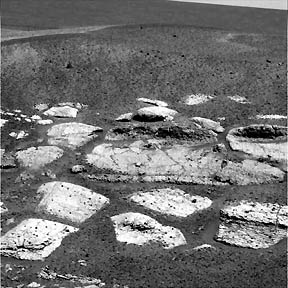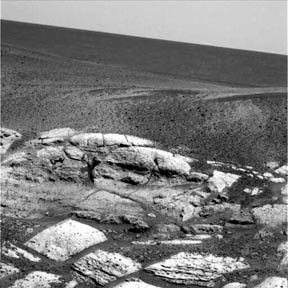 From our perspective, it's a big deal because it is bedrock which we have never seen on Mars and have an opportunity to go up and analyze it. But it's not a very big feature ­ it's very small. And you have to remember when you see these images from the rover ­ especially images from the HAZCAMS ­ there are two hazard aboard cameras ­ two on the front and two in the back. These are mounted down real low on the rover, almost like you are crawling around on your belly. Then there is the PANCAM and the NAVCAM images are about 5 feet 4 inches above the ground, more like a human would see it.
Biggest Bedrock Pieces Only About 8 Inches High and 24 Inches Long
But the perspective you get is that a lot of these things look a lot bigger than they really are, so the outcrop ­ even when I look at it today ­ I have to remember it's a very small feature. Typically the biggest chunks on average of that outcrop is only 10 to 20 centimeters high. It's very small. 20 centimeters is roughly about 8 inches. It's a very small feature out there and these spherical particles are very small also.
The biggest one (spherule) that we've measured up to this point has been around 5 millimeters. A lot of them are smaller than that, like 1 to 2 millimeters ­ about the size of a bb (gunshot).
Length of Bedrock Outcrop Is Only 50 Feet
HOW LONG IN FEET IS THE OUTCROP FROM ONE END TO THE OTHER?
If you were to drive from one end of the outcrop to the other is about 15 meters ­ about 50 feet. So it's very small. The biggest chunk we've seen in there is about 50 to 60 centimeters (about 24 inches) long and 20 centimeters high (8 inches) high.
Distance from Lander to 2-Pronged Object Only About 12 Feet
THEN, IF YOU GO BACK TO THAT PANORAMIC PICTURE FROM THE OUTCROP DOWN TO THAT 2-PRONGED OBJECT, HOW FAR WOULD YOU ESTIMATE THAT WOULD BE?
The 2-pronged object would be pretty close. The distance from the lander ­ we took the initial panorama from the lander to the outcrop ­ I believe that distance was about 8 meters.
24 TO 25 FEET.
Yeah, very close.
SO THOSE ROCKS ARE ONLY ABOUT 25 FEET FROM THE OPPORTUNITY LANDER?
Right, from where the initial landing point, yeah.
THAT MEANS THAT WHATEVER THE 2-PRONGED THING WAS, IF THE ENTIRE OUTCROP WAS ONLY 28 FEET OR SO FROM THE LANDER AND ROVER, THEN THAT 2-PRONGED THING HAD TO BE NO MORE THAN 12 OR 14 FEET AWAY?
I don't really know, but it would be a lot closer than the outcrop, yeah. It looks like it's right down there. It is safe to say it is definitely closer than 24 to 25 feet.
You've got to remember when you look at this stuff that a lot of things look like they are foreshortened. When we take the images of the NAVCAM and PANCAM, we can get ranging data. If we have stereo, we can get distances because the rover needs this to drive. It takes this information and has to have the ability to make little maps before it drives off to make sure there are no hazards there.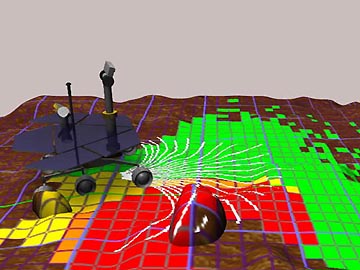 Of course, we are using this information to measure the heights of the rocks and aspect ratios on rocks. We can measure the width and height of the rock, but we can't measure that 3rd dimension because we can't see behind it right now.
To get that third axis, you have to travel around it to see what it looks like. So we have capabilities to look at interesting targets when we want to, but we don't want to go driving around every little rock out there because we're utmost goal of this mission is to identify past environments where there could have been water. And if there is water there, it will tell us something about if it was possibly inhabitable for life forms in early Martian history. So we'll try to go after the most interesting scientific targets in terms of trying to relate back to water in that region of the planet.
2-Pronged Object in Opportunity Panoramic of Bedrock Only "Size of A Man's Fist"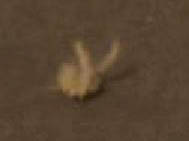 CAN YOU TELL FROM THE DIMENSIONS YOU HAVE BEEN GIVING ME ON THE ROCKS AND THE DISTANCE FROM THE LANDER TO THE OUTCROP, WHAT WOULD BE THE HEIGHT, THE WIDTH, AND DEPTH OF THAT 2-PRONGED OBJECT?
It depends on how that is from your camera, how far the target is away. You can't just put your finger on an object in the picture and say this is 10 inches high and we bring it back to here, so it's only a fraction of that. You can get a lot of erroneous measurements that way. But it's pretty small. (Prof. Rice determined later the 2-pronged object is "the size of a man's fist."
WHAT DO YOU THINK THE 2-PRONGED OBJECT IS?
Think we solved that one. We talked to the engineering team and it looks like it's probably a piece of the airbag, more than likely. We've got images now where you can see the parachute and the backshell off in the distance roughly about 400 meters away from the rover right now. See: 02/13/04Earthfiles
BUT THE THING ABOUT THAT 2-PRONG THING, IT LOOKS ORGANIC, CASTING A SHADOW.
It is there. It did cast a shadow. But it looks ­ people we've talked to in the engineering team who have come in and looked at it think it's pieces of the airbag material that shredded upon impact. The thing hits the ground and then rolls around before coming to a stop. So potentially there is a lot of stuff that can come off a spacecraft assembly structure.
I'M CURIOUS WHY THAT WOULDN'T HAVE BEEN AN OBJECT TO SEND OPPORTUNITY OVER TO SEE WHAT IT WAS?
We get certain scientific targets as priorities and we are more interested in the outcrop out there instead of a piece of material that we brought along with us.
BUT WHAT IF IT WERE A PLANT?
If it's a plant, it will still be there and we can go check it out. The area we're in is a little crater about 20 meters (65 feet) in diameter. It's not going to go anywhere if it's a plant. So after we do our reconnaissance at the outcrop which is get the highest scientific value we have ­ it (2-pronged object) will still be there for us to check it out.
But Where Did the 2-Pronged Object Go?
Original Opportunity Panoramic Camera Shot with Object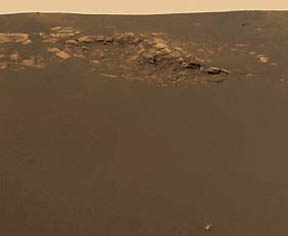 Recent Tracks of Opportunity to Bedrock – Right Over the 2-Pronged Object?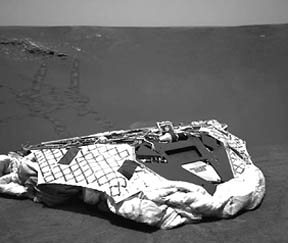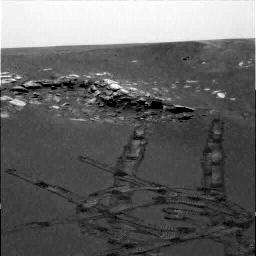 As I said, no one was too excited about what that is. It looks like parts of material that came with us and basically we don't want to spend our time studying something we already know ­ airbag material ­ versus going to look at this outcrop that we don't know what's there or what it's made of right now.
Our top priority when we first saw this outcrop ­ the first night we landed, the NAVCAM images and then the PANCAM images ­ is the outcrop of bedrock.
Once again, if it (2-pronged object) was a plant, you'd expect to see more than one in the panoramic 360 degree image. The idea of it being a plant is highly unlikely."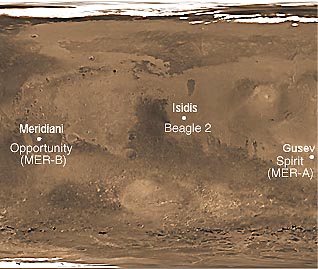 ---
Websites:
http://marsrovers.jpl.nasa.gov/home/index.html
http://www.esa.int/export/esaCP/index.html

© 1998 - 2019 by Linda Moulton Howe.
All Rights Reserved.