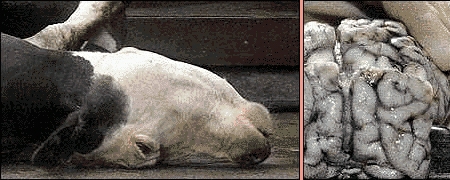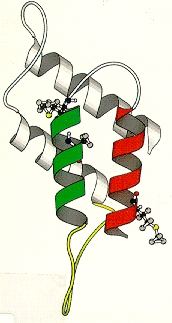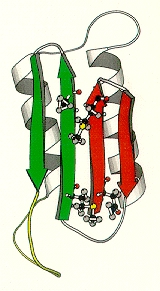 February 19, 2004  San Francisco, California – "Mad cow" disease once thought to be confined to England has spread to other countries the past few years, including most recently herds in Canada and Washington State. And this week came another disturbing discovery: Italian researchers have found a second type of deadly prion disease in cattle that closely resembles the prion proteins that sporadically and spontaneously attack and kill humans in what is called Creutzfeldt-Jakob Disease, or CJD. That means controlling what goes into cattle feed won't stop all mad cow disease – and that there are even more deadly prions in the food chain than anyone knew until now.
Both mad cow in animals and CJD in humans cause shaking, stumbling and severe mental deterioration before inevitable death. There is no cure. Ironically and tragically, the cause of these diseases are proteins that are normally found in every living animal and human, but can mysteriously change shape and destroy brains and nervous systems.
Until the Italian discovery, it was assumed that mad cow, also known as bovine spongiform encephalopathy (BSE), was spread from infected cow tissues and bones that were recycled into cattle feed. But even after strict measures were taken in England and other countries to kill sick animals and eliminate infected cattle feed, mad cow disease has still been reported.
Medical experts are convinced that people who eat meat products contaminated with the deadly mad cow proteins can contract a variant form of Creutzfeldt-Jakob, known as "vCJD." Now the Italian scientists have found a prion very similar to vCJD in cows.
This week I talked with prion expert and Professor of Neurology, Giuseppe Legname, Ph.D., who works in the laboratory of Dr. Stanley B. Prusiner, Nobel laureate (Nobel Prize in Physiology & Medicine 1997), who discovered and named the shape-changing, deadly protein prions. The laboratory is at the University of California-San Francisco. I asked Dr. Legname about the implications of the Italian discovery that sporadic and spontaneous prions can infect cattle as they do in human CJD.
---
Interview:
Giuseppe Legname, Ph.D., Adjunct Associate Professor of Neurology, University of California-San Francisco, San Francisco, California: "We were only aware of one so-called strain of 'mad cow' disease and this originated in England and then spread out in Europe and other parts of the world and most recently one case was actually identified here in the United States (Washington State in December 2003). What this new research has found is that there is an additional strain out there which has different characteristics than the one we were aware of and the different characteristics are resembling what a sporadic form of the human disease are.
BSE was thought to be infectious, caused by infectious prions, which cows would contract by eating tainted food. What this new research is pointing out is even if cows are organically grown, they might still contract the (prion) disease sporadically, like humans.
THIS NEW DISCOVERY BY THE ITALIAN SCIENTISTS OF THE SECOND FORM OF MAD COW DISEASE THAT SO CLOSELY RESEMBLES THE HUMAN CREUTZFELT-JAKOB DISEASE ­ THAT MEANS THAT THE LIKELIHOOD OF MORE PRION CONTAMINATION IN CATTLE – AND POTENTIALLY HUMANS – INCREASES?
Absolutely. You are absolutely correct.
Dr. Legname and His Family Are Avoiding Meat
AS AN EXPERT, WHEN YOU THINK ABOUT THIS, WHAT MAKES YOU NERVOUS?
What makes me nervous is I have children and I used to consume meat, especially beef meat. But now I'm looking at different sources of proteins, such as fish, chicken and things like that. This is a problem and I would probably pay a little price on top of what we already pay for our meat to be reassured that what I'm buying, and ultimately consume, is safe. That's the point here. That will allow us to understand more this disease, to study it in more detail, and then come up with alternative ways of managing this problem.
But definitely the first thing would be to reassure the consumers ­ including me and you ­ that the beef that you buy at the supermarket or eat at the restaurant, it's safe.
United States Is Not Screening All Cattle for Mad Cow Disease
WHAT YOU ARE SAYING IS THAT IN THE UNITED STATES RIGHT NOW, THERE REALLY IS NO GUARANTEE AS LONG AS WE ARE ONLY DOING A LITTLE SPOT CHECKING?
Exactly. And here in the United States, the screening on cows is very small. Last year it was around 20,000 cows/year. If we compare that number with how many cows are slaughtered every year in the U. S. ­ the number is close to 35 MILLION cows! You can understand that there is a huge discrepancy between the screening and the actual amount of cows processed.
In comparison, we have countries like Japan where they screen every single cow that will go into the human food supply. And in Europe, where older cows are screened ­ meaning 30 months or older ­ is mandatory. So, we have already a system in place in other countries where they are addressing this problem.
To answer your question, unless we know and we confine the problem by screening and understanding how many cows are affected by this disease out there, we will not know exactly what the impact will be for human health.
Human Symptoms of CJD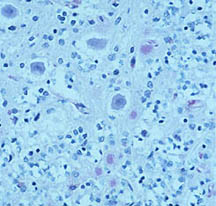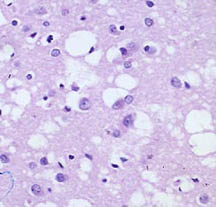 WHAT ARE THE SYMPTOMS IF A HUMAN GETS THE CJD PRION DISEASE?
The late stages basically are lack of sleep, lack of coordination in the movements, forgetful. People don't remember exactly what they are doing, what their name is, or who people even close to them are. Ultimately, it would be difficult for them to be independent like eating on their own or grooming on their own. Eventually, they will be complete demented status and ultimately death.
Could Alzheimer's Be A Prion Disease?
HOW DOES THAT DIFFER FROM ALZHEIMER'S DISEASE?
That's a very, very good question. In the early stages of CJD, it's quite difficult to distinguish if it is actually Alzheimer's disease or CJD. So far, we have not been very successful in identifying a way of discriminating these two diseases. There are similarities between these two diseases and common signs to these two diseases.
The thing that differentiates the CJD from Alzheimer's disease is that CJD is unfortunately a faster disease. As soon as you diagnose it, then within 12 months the patient would die from the disease because it is invariably fatal.
Alzheimer's has a course that will take a few years before the patient will ultimately not be able to sustain the disease any longer.
IS IT POSSIBLE THAT ALZHEIMER'S COULD HAVE A PRION SOURCE JUST LIKE CJD AND WE HAVEN'T UNDERSTOOD THAT?
Well, all these diseases that we collectively call neuro-degenerative diseases have something in common ­ like Parkinson's, Huntington's and others, including Alzheimer's and CJD. It's a protein problem ­ a protein that is in the brain either loses the function or the shape it is supposed to have and ultimately leads to pathological changes in the brain. So, there are similarities among these diseases. In a way you are right ­ they could all be some kind of prion disease.
AND COULD IT BE THAT ALL OF THEM LEAD BACK TO THE MEAT THAT HAS BEEN EATEN IN A PERSON'S LIFE?
I wouldn't say that. We know the link is pretty clear with the prion protein and the prion disease. But I wouldn't extend that with the other neuro-degenerative diseases. So far, there is no clear link to that.
BUT YOU AND YOUR OWN FAMILY ARE MOVING AWAY FROM MEAT BECAUSE YOU ARE A PRION RESEARCHER AND YOU ARE WORRIED ABOUT IT.
Exactly."
Can Deadly Prions Spread Through Dairy Products and Dog Biscuits?
When it comes to worries about how people become infected with Creutzfeldt Jacob disease, a lot of people have asked me: Can I get prion disease from drinking milk or eating cheese? And so I asked Dr. Legname:
Giuseppe Legname: "That's an excellent question because people think, of course. So far, again, there is no link between dairy products and prion diseases. Others have done some research on that and there is no evidence that this is the case.
WHAT ABOUT THE CALCIUM IN DOG BISCUITS OR CHICKEN FEED? ONE DREAMLAND LISTENER E-MAILED:
"My job this week was to deliver dicalcium phosphate to a dog biscuit company. The dicalcium phosphate came from cow bones. Do you know if that process removes all the prions? Or do you know if that is the primary source of dicalcium phosphate that also gets used in human goods? The guy who loaded the truck said under his breath that some times the stuff gets fed to cows, and quite often it is used as chicken feed and for other farm animals."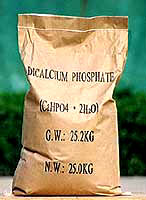 IS THE DEADLY PRION PROTEIN DESTROYED IN COW BONE PROCESSING TO MAKE DICALCIUM PHOSPHATE?
The processing of the (cow) bones that will lead eventually to dicalcium phosphate ­ we need to understand how they (manufacturers) do it. Because the source is bones from cows, there is still a chance that probably prions might not have been inactivated.
If some of this is tainted with prions, then the likelihood of having animals and also humans contract the disease is higher because again, prions are a very resistant infectious agent and the more we have of these infectious agents in our food supply or even the animals that live close to us, the higher the chances we could be infected.
Prions Are Difficult to Destroy
WHAT KILLS PRIONS?
There are ways of killing prions and extreme PH (bleaches) and naturant agents (guanademium hydrochloride and high concentrations of urea) are combined together will be successful in destroying prions.
WHEN YOU SAY 'EXTREME PH'?
When I say 'extreme PH,' I'm talking about things like Clorox or sodium hydroxide. Chemicals that are at either extreme of the PH scale from alkaline to acidic.
IT SOUNDS TO ME LIKE YOU ARE SAYING BLEACH CAN KILL PRIONS?
Yes, correct. The bleach is extreme PH and that will kill prions.
BUT HOW COULD YOU PUT BLEACH IN DICALCIUM PHOSPHATE TO MAKE…
Exactly! (laughs)
YOU CAN'T DO IT, RIGHT?
You can't do it. That's the problem because we have here in the lab a procedure that we follow in order to make sure that any material that is being used in the lab and goes outside the laboratory is completely and surely inactivated. That's one thing.
Whether or not we can use the same procedure for food or the food supply, well ­ that's not very practical because you wouldn't put bleach on your steak in order to make sure you don't have prions. The research is ongoing on other compounds that could be used as inactivation for prions. So far, this is as much as we have achieved.
LET'S SAY HIGH HEAT DOESN'T DO IT EITHER?
No. Radiation, high heat, or vapor ­ normal procedures that would kill a virus or kill bacteria doesn't work with prions.
BUT WHAT YOU ARE SAYING IS THAT OUTSIDE OF A LABORATORY, THERE IS NO EFFECTIVE WAY OF GETTING RID OF PRIONS IN THE FOOD SUPPLY OF ANIMALS OR HUMANS?
Correct.
THAT'S VERY SOBERING.
I know! But that is why we call for a wide scale screening of meat that comes from cows here in this country because unless you reassure that the originating material is not contaminated, it would be quite difficult to understand and estimate how much of these ­ what is the size of (the prion) problem in this country?
Prevention is the best way. Knowledge of the food supply that is NOT contaminated with prions would assure that the consumer is in a safer position."
Deadly Proteins Are Found in Muscles of Human CJD Patients
Dr. Giuseppe Legname said that recently a Creutzfeldt Jacob patient died and when researchers examined the patient's muscle tissue, there were "detectable amounts of prions" not only in the brain and spinal cord, but in the skeletal muscles.
That reinforces the fact that deadly prions have also been found in mad-cow-infected animal muscles which is the meat that humans eat. That is why Dr. Legname feels strongly that every animal going into the world's human food chain should be tested for prion disease.
---
Websites:
http://www.thedoctorsdoctor.com/diseases/prions.htm
http://www.path.sunysb.edu/faculty/woz/NPERESS/webclass2p2.htm

© 1998 - 2019 by Linda Moulton Howe.
All Rights Reserved.