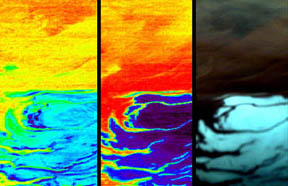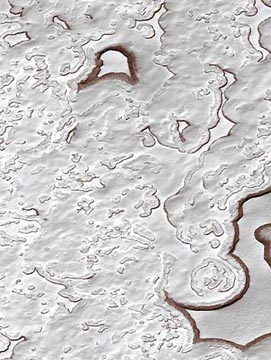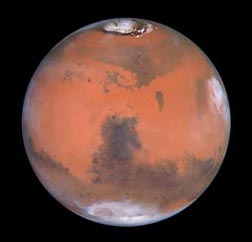 February 23, 2004  Pasadena, California – The stated goal of the Mars rover missions is to look for evidence of water that might once have flowed in rivers, pooled in lakes, or even created an ocean on the red planet. Photographs like the branching delta below taken by the Mars Orbiter Camera suggest a large flow of water.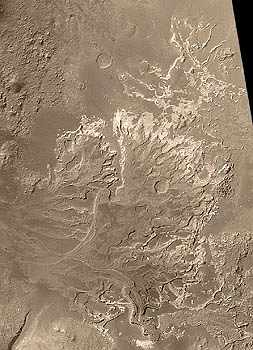 Even the Opportunity and Spirit tracks look like the wheels are moving through mud, even though scientists argue strongly that there could not be any moisture in the cold, dry surface soil. But what creates the cohesion in the compressed grains is not yet understood.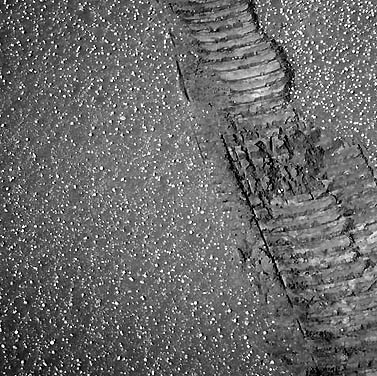 This past week I talked about the muddy looking tracks at both the Spirit and Opportunity landing sites and what possibility there might be for liquid water to still exist somewhere on the surface of Mars with James Rice, Ph.D., Astrogeologist, Research Scientist, Arizona State University, Tempe, Arizona, and Mars Rover Science Team Member, NASA's Jet Propulsion Laboratory (JPL), Pasadena, California.
---
James Rice, Ph.D., Astrogeologist and Research Scientist, Arizona State University, Tempe, Arizona, and Mars Rover Science Team Member, JPL, Pasadena, California:
"COULDN'T WATER, H2O, OR SOME KIND OF MOISTURE (SALTY WATER) BE SOME HOW TRAPPED IN THIS SOIL IN A WAY THAT THE ACTION OF THE ROVERS' TIRE PRESSURE ON THE SOIL MIGHT RELEASE MOISTURE?
I think it's very unlikely and I just thought of a good example to refer you back to. Go look at the astronaut's boot prints on the moon. The moon is bone dry and you can see the tread of their boots very well in that fine, sandy material. So if you go back and look at the moon and look at these things here, I think you will see there is a lot of similarity and there is not one drop of water on the moon where the Apollo landing sites took place. And on Earth, get some cement or flour and put something down in it and you'll see that the details are preserved in there pretty well.
BUT ISN'T IT POSSIBLE THAT THERE COULD BE MOISTURE PRESERVATION IN THIS PLANET MARS IN WAYS THAT WE DON'T UNDERSTAND?
We know there is water ice on Mars at the polar caps and the Mars Odyssey Gamma Spectrometer is seeing ice buried at depth in the mid to high latitudes. There is ice on Mars. But liquid water physically just can't exist on the surface of Mars today for a couple of reasons:
First of all: the atmospheric pressure on Mars is just too low. It's around 6 to 10 millibars. To give you a comparison to the atmospheric pressure on Earth where we have abundant liquid water, it is about a 1000 millibars here. That is a big difference.
So, that low atmospheric pressure on Mars is pretty close to a vacuum almost. The atmospheric pressure on Mars is equivalent to flying about 20 miles above the surface of the Earth. And there's not much up there in terms of atmosphere.
Second, the temperatures on Mars are very cold. The average temperature on Mars globally is around 70 below zero F. There are some areas that get warmer around the equator, but Mars is a cold place.
If you were an astronaut on Mars right now and opened a bottle of water, it would boil away before your very eyes and the reason it would boil is that the atmospheric pressure is so low. Then as it boiled away, it would go from a liquid into a gas. It might snow out on your feet because of the cold temperature). That's why liquid water is unstable on Mars today. These Spirit and Opportunity sites are near the equator. Meridiani is smack dab on the equator – maybe only 2 to 3 degrees south of the equator. So, it's very unlikely that water is playing a role in any of these tread or other marks.
If you go back and see one of the first comments that Neil Armstrong said on the moon is that he could see the tread of his boots in the dusty material. It's the same type of fine cohesive material holding a lot of detail. I think the water explanation is really reaching because liquid water can't exist in surface Martian conditions today. If you go back and look at the boot prints of the astronauts that walked on the moon, you see that fine detail.
HOW COULD THERE HAVE BEEN SEAS AND LAKES AND RUNNING RIVER CHANNELS IF WHAT YOU JUST SAID WAS TRUE: THAT THE PRESSURE ON MARS IS SO LOW, WATER WOULD BOIL AWAY? HOW DID IT EVER HAVE OCEANS, LAKES AND RIVERS?
Well, that's a good question and Mars did have a big climate change. Climate change is talked about a lot on Earth with the greenhouse effect or global warming and stuff. Mars did have a global climate change ­ a drastic one!
Drastic Global Climate Change on Mars? What Happened?
WHAT WOULD MAKE IT CHANGE?
We don't know. That's one of the things we are trying to learn with orbital missions and surface missions. We see abundant evidence for water scouring out the surface of Mars in outflow channels and gullies and networks. Water did play a role in Martian history. The climate had to be different to have some of these features form from water. And we don't really know right now what caused that climate to change or when it occurred. That's one of the things we are trying to solve. That's one of the big questions about Mars besides the biology question on Mars.
ON EARTH, WE HAVE 14.7 POUNDS PER SQUARE INCH AT SEA LEVEL. IF MARS HAS ONLY .6% OF THAT PRESSURE NOW, YOU ARE TALKING ABOUT SOMETHING HAPPENING SO DRAMATICALLY ON MARS THAT THE ATMOSPHERIC PRESSURE WENT SO LOW THAT WATER WOULD HAVE BOILED AWAY?
No one knows how quick it happened. It could have been a more gradual thing. Some of the theories think that part of the Martian atmosphere has been blown off into space in the interaction with the solar wind. Mars does not have a magnetic field right now as we have on Earth where we have radiation belts that protect us from a lot of this nasty stuff from the sun and galactic cosmic rays. Since Mars does not have a magnetic field right now, the solar wind blowing off the sun could interact with the Martian atmosphere and strip away particles from the upper layer over billions of years and take away parts of the atmosphere.
So, the atmosphere could have thinned that way. Another way the atmosphere could have thinned is that on Earth, we have plate tectonics. We recycle our rocks. Mars does not have plate tectonics and the rocks don't get recycled. So if there were bodies of water on Mars ­ lakes or possibly even oceans ­ and say these carbonate rocks, which is something we are trying to find, carbonate rock like a limestone. Most people are familiar with that. That limestone rock could basically lock up part of your atmosphere in rock and it takes your atmosphere gases and locks them in the limestone rocks. That would take away your atmosphere in fact and thin it over time. So, it could have been a gradual process. Like I said, we don't really know what caused the atmosphere to change or when that occurred. But obviously, something did change on Mars.
IT WAS DRAMATIC. THIS IS NOT SOMETHING SMALL. IT WAS HUGE.
It would have affected the whole planet and we don't know what time scale it was on. It could have been fairly quickly geologically or over a long period of time. We don't have answers for that right now.
SO FAR, THERE HAS NEVER BEEN ANY LIMESTONE DETECTED ON MARS FROM EITHER A SATELLITE ORBITING OR FROM ANYTHING ON THE GROUND?
That's true. We have not seen any bedrock exposures of carbonates or limestones. We really would like to find out because that would tell us a lot of things. If we found carbonate rocks ­ carbonate rocks are laid down in bodies of water. That's how they form primarily and that would give us an indication that there was a standing body of water here for a period of time that allowed carbonate rocks to form. It would be very interesting to find that and it's one of the things we are looking for. That's one reason we are not trying to analyze every rock, such at the Gusev site which has a lot more rocks than the Meridiani. We don't have enough time. If they are all basalts, we don't want to be looking at basalts, volcanic rock.
We're looking for that sort of needle in a haystack. That would be the treasure trove if we could find a carbonate rock and confirm it with the spectrometers that could look in the infrared which our eyes cannot see in. Hopefully, the infrared spectrometers will be able to identify carbonates if they are there. But they might not be there.
One thing we have to be careful about Mars. A lot of people want to try to project the Earth on to Mars with heavy oceans and that sort of stuff. Mars could have had standing bodies of water such as lakes. But they might have only existed in the wink of an eye geologically and maybe didn't do anything in terms of fostering the development of life or anything like that. We don't know. Mars is a planet in its own right. There could be ­ things might not work the same as we're familiar with on Earth.
European Space Agency Earth-Penetrating Radar
Will Look for Underground Water
THE EUROPEAN SPACE AGENCY (ESA) EARTH-PENETRATING RADAR IS GOING TO START OPERATING IN APRIL, I BELIEVE. ITS GOAL IS TO LOOK FOR UNDERGROUND WATER OR ICE AND WILL BE ABLE TO SEE 5 KILOMETERS BELOW THE MARTIAN SURFACE.
Yeah, it's going to be looking for possible sedimentary rocks, layers of rocks, different kinds of compositions which might show seismic patterns, whether there is underground ice or liquid water at depth that will show up very obviously. If you get down deep enough, you can possibly have liquid water. The reason it would be liquid is because you have all that overburden of lithostatic pressure ­ kilometers of rock ­ on top of that and could increase the pressure and allow liquid water to exist at depths on Mars, three to five kilometers down there. If it's there, hopefully ESA's Mars Express ground penetrating radar will be able to see that and that should be a very interesting experiment to start doing here soon.
WILL THEY ALSO BE ABLE TO TELL LIMESTONE DEPOSITS BENEATH IN THAT 5 KILOMETERS, VERSUS OTHER SUBSTANCES?
I think it would be very tough to do to put compositions ­ to say it's limestone versus other type of rock. There might be other ways to infer that based on the way the waves act and the way they are refracted, maybe through denser rock, and may do something different than say through limestone. There are many ways to infer that, but you can't say that with certainty. The way to look for the limestone is what we are doing right now with the orbiting spacecraft. I'm sure they have ­ they'll be doing the same thing with Mars Express ­ to look in canyon walls or crater walls, exposed cliff faces, to look for any layered rock to see if any limestone shows up there.
But the water signature should stand out pretty well if there is liquid water down there. Here on Earth, there is a large lake in Antarctica, a sub-glacial lake, and it's under several kilometers of ice and the way it was discovered is with radar, flying over Antarctica and penetrating down. It's pretty obvious when you hit liquid water interface of ice and liquid water or rock and liquid water. There's a definitive signature you get back from the liquid water surface there with radar and that's how a lot of these lakes were discovered in Antarctica looking with radar flying over the ice sheet down there and seeing radar waves and it hits the water which reacts differently versus rocks or even ice.
So, I think if there is liquid water at depths on Mars, and they can penetrate to that 5 kilometer depth, they should be able to see if any is down there."
---
Websites:
http://marsrovers.jpl.nasa.gov/home/index.html
http://www.esa.int/export/esaCP/index.html

© 1998 - 2019 by Linda Moulton Howe.
All Rights Reserved.