February 20, 2004  Pasadena, California – Only one month ago, the Mars Rover called Spirit started working inside the Gusev crater and extended its robotic arm for the first time toward that large pyramid-shaped rock, "Adirondack," to find out what it was made of.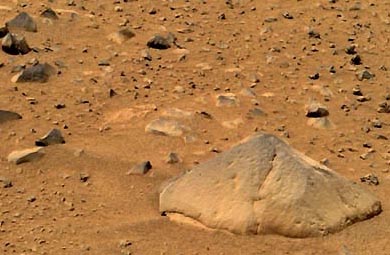 The answer is dark volcanic basalt beneath a dusty coating of red iron dust. In fact, many rocks in the Gusev crater seem to be basalt and scientists are trying to figure out if they came from a volcanic eruption IN the crater? Or were carried by a river of water into the crater long ago? Or maybe were even blown into the crater by strong Martian winds?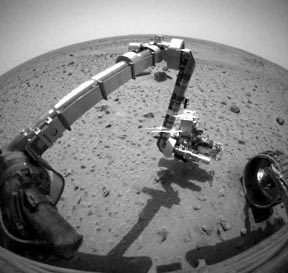 By January 24, the second rover, Opportunity, landed in a truly alien-looking landscape. The region is called Meridiani Planum near the equator. Here is astronomer Steve Squyres from Cornell University who is principal investigator for both rover missions about his reaction to the first Opportunity images.
---
Interviews:
Steve Squyres, Ph.D., Professor of Astronomy, Cornell University, Ithaca, New York, and Principal Investigator, Mars Rover Mission, NASA/JPL, Pasadena, California: "The very first picture! The very first picture that came down before we had even deployed the mast showed the outcrop. I was just blown away by that! It was fortunate, there's no question about that. We got lucky.
AND FOR ME TO REALIZE, IT WAS A REVELATION THAT IT WAS ONLY ABOUT 28 FEET FROM THE LANDER TO THE BEDROCK.
Yeah, when you first look at that outcrop, it looks pretty humongous. Then when you sit down and do the numbers, you realize you can step on this with your boot ­ it's not that impressive.
SO WHEN WE ARE LOOKING AT THESE IMAGES, WE HAVE TO KEEP IN MIND THAT THESE ARE ALMOST LIKE FISHEYES?
Actually the HazCam images are like fisheyes. The PanCam images look very much like your own eyes. They are just very high resolution. The thing is, you're not used to seeing pictures of Mars that are that high resolution, so when you see something, you think that it's big. But given how crisp these images are, how good the resolution is, they are very small."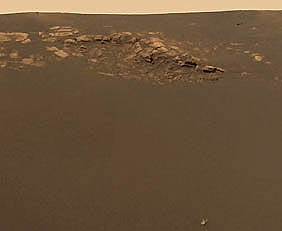 In fact, the bedrock that looks so far away and high in the first panorama images was only 28 feet from the lander's lens. The rocks are only an outcrop about eight to ten inches high. And the entire length of the outcrop is only fifty feet.
So far, Opportunity has discovered a lot of sulfur in at least one rock – which could mean a volcanic source, or possibly a water source.
Opportunity has also photographed thousands of tiny, round stones that scientists are calling "spherules." They are about the size of a gun "BB" and no one yet know what they are made of or exactly where they came from.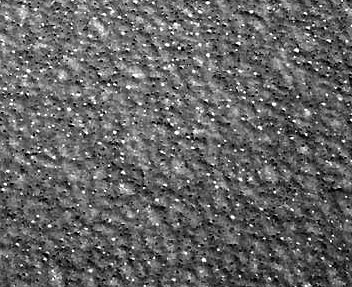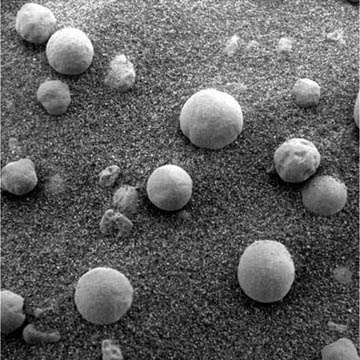 The spherules at the bedrock are very round and their colors range from dark grey to light greyish tan which suggests the spherules are a different composition than the soil and bedrock.
Over at the Spirit site in the Gusev crater 6,600 miles away, there are also spherules that are not so round and might have been ground down by the wind rolling small stones. But that's only a current guess, pending more data.
Spirit made a trench today about three inches deep, just like the Opportunity rover made a trench a couple of days ago. Scientists are looking for hard evidence that liquid water has been on Mars. Researchers are also trying to find out if the very small spherical stones all over the Opportunity site and similar spherules at the Spirit site go down into the soil.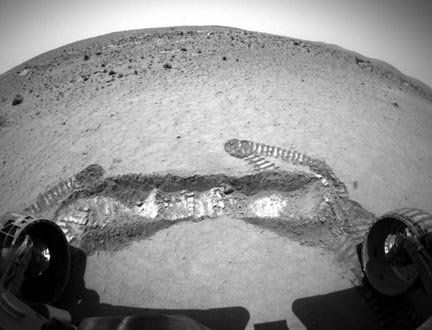 Opportunity's Trench Reveals Shiny Spherules Below the Surface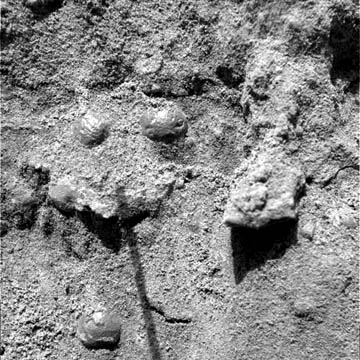 So far, the opportunity trench revealed a few shiny sphericals, but no one knows what makes them glossy. Over at the so-called "laguna hollow" where spirit dug its trench, some scientists thought there might be indications of salty water, a brine that can exist in liquid form at very low temperatures. If so, that might explain why some of the soil sticks to spirit's wheels, almost like moist dirt, and why the spirit lander's airbags left tracks that looked like mud. But so far the salty water idea is only a hypothesis.
Other scientists argue mars is too cold and dry at the equatorial sites to have surface moisture, even brine.
The Mysterious Filaments At The Opportunity Bedrock
Back before Valentine's Day, I received an e-mail from my friend Paul Anderson, Director of the Canadian Crop Circle Research Network in Vancouver, British Columbia, Canada. He attached one of the microscopic images (mi) from the opportunity rover of some of the spherules laying on the soil near the bedrock. He pointed out two very thin filaments on the soil and asked what they might be.
So I started sending the filament image around to several mars rover mission scientists for their comment. The first thing I learned is that none of the scientists had seen the spherule and filaments image before my sending it to them. Here now, is a brief summary of what some had to say, beginning with Dr. Ronald Greeley, Regents Professor of Geology at Arizona State University's Department of Geological Sciences in Tempe, Arizona, and one of the 7 Chairs of the Science Operations Working Group (SOWG) for Spirit and Opportunity now working at NASA/JPL headquarters in Pasadena, California.
Ronald Greeley, Ph.D., Regents Professor of Geology at Arizona State University's Dept. of Geological Sciences in Tempe, Arizona, and one of the 7 Chairs of the Science Operations Working Group (SOWG) for Spirit and Opportunity now working at NASA/JPL headquarters in Pasadena, California: "Yep, it's a hair-like thing, all right! It's a puzzle."
Jim Rice, Ph.D., Astrogeologist, Research Scientist, Arizona State University, Tempe, Arizona, and Mars Rover Science Team Member, Pasadena, California: "And this is the first time I've seen this filament that you sent me.
COULD THESE FILAMENTS BE ORGANIC LIFE?
Nothing is ever completely impossible, but I think ­ based on our understanding of Mars ­ it's a pretty harsh place. If these are seen in other images, then I think that would be very interesting because they look a lot like the filament structures we find in volcanic eruptions. Volcanic origin ­ we are trying to narrow it down and if we see a lot of filaments out there, it could possibly indicate it's a volcanic type glass material from (lava) fountains."
Susanne Neuer, Ph.D., Asst. Research Professor, School of Life Sciences and Dept. of Geological Sciences, Arizona State University, Tempe, Arizona: "The filaments ­ it's very exciting to be able to recognize structures as small as these little filaments. There are many possibilities what these filaments could be.
It s very tempting to try to deduce that they might actually be related to any life forms in the soil. But in fact, we don't have sufficient data and just a microscopic image is not conclusive to say anything about the origin of these filaments. It could be either inorganic, meaning a mineral that is filamentous, or dust grains that are strung together as Dr. Greeley pointed out. Or it could be an artifact simply because the resolution of the image is not fine enough to resolve something that has a diameter of maybe a micron or so. I think that is what that filament is in diameter."
Steve Squyres, Ph.D., Professor of Astronomy, Cornell University, Ithaca, New York, and Principal Investigator, Mars Exploration Rover Mission, Pasadena, California:
"STARTING WITH THE IMAGE OF THE SMALL FILAMENTS THAT ARE ON THE GRANULES…
Oh, yeah! I don't know what to make of those. We did see that. It caught peoples' attention when we saw it.
You got to be careful when you see something like that in a place like where we are right now because remember this vehicle landed using airbags which involved lots and lots of fabric that got thoroughly tattered and torn in the landing process. And so if you are seeing what looked like little fibers around, there is a non-trivial probability that we brought them with us.
So, I don't know what to make of that. I cannot tell you whether it's Martian. Now, if we drive 500 meters away from this crater and we are still seeing them, then let's talk. At this point, I don't know what to think of it."
---
Mars Rovers Have No Organic Detectors
I talked with professor Steve Squyres last night at the Jet Propulsion Laboratory in Pasadena about the unidentified filaments in the Opportunity microscopic image. I was surprised to learn that the rovers do not have any instruments to test for organic substances – and that my questions about possible organic life – even about algae or fungus on Mars – are not welcome in the strict geology research.
Prof. Steve Squyres: "There is some little filament in this image and we don't know what it is. That's about as far as I'll go.
ARE THERE SPECTROMETERS ON THE ARM OF THE OPPORTUNITY ROVER THAT COULD GO DOWN AND TOUCH THIS AREA IF YOU WERE ABLE TO CONTROL IT AND BE ABLE TO TELL IF THERE WERE ORGANIC SIGNALS? SOMETHING WAS ORGANIC LIKE A LIPID OR?
No. No. Searching for organics is not part of what we are trying to do in our payload.
SO IF IT WERE ORGANIC, THE INSTRUMENTS CURRENTLY COULD NOT…
If what were organic?
LET'S SAY THESE FILAMENTS WERE SOMETHING ORGANIC.
You mean some kind of fabric that we brought with us that was organic in nature like a polymer of some sort?
NO, WHAT IF THEY WERE INDIGENOUS TO MARS AND WERE ORGANIC? I'M JUST TRYING TO UNDERSTAND IF WE ARE ABLE TO DISTINGUISH?
I don't even want to go there.
WELL, THE BIGGER QUESTION IS: ARE WE ABLE TO TELL ORGANIC VERSUS INORGANIC WITH THE CURRENT ROVERS?
As I said, we do not have an instrument on the payload that is tasked for looking for organic molecules.
SO IF IT WERE ­ JUST HYPOTHETICALLY ­ IF THE FILAMENTS WERE…
Sorry, we're not going there. The problem is if you say, "If it were" then you can immediately take it and run with it in ways I don't intend. So, let's be careful here.
OK, AS A SCIENCE REPORTER I'M JUST TRYING TO LOOK AT THESE IMAGES AND JUST FIND OUT IF…
I think we are probably looking at stuff that came off or our airbags.
IF IT WERE NOT, THOUGH, I WAS JUST TRYING TO FIND OUT HOW YOU COULD DIFFERENTIATE?
If it were, given the size scale of these things ­ all we can do is take pictures of them. We cannot measure their composition in any way shape or form.
SO DO YOU FIND ANYMORE SOMEPLACE ELSE LIKE OVER AT THE BONNEVILLE CRATER OR SOMETHING, YOU STILL WOULDN'T BE ABLE TO TELL EXACTLY WHAT THEY WERE?
There is no way to tell what they are made of. We would be able to image them and to study their shape and morphology. The only ones we have seen so far are very close to where we (Opportunity) landed.
LET ME ASK YOU ONE OTHER THING. I WAS TALKING WITH PROFESSOR RICE AND HE SAID THAT HE IS INTERESTED IN THE POSSIBILITY THAT THEY COULD BE SOMETHING LIKE THE VOLCANIC HAIRS OF PELE IN HAWAII.
That's certainly a possibility.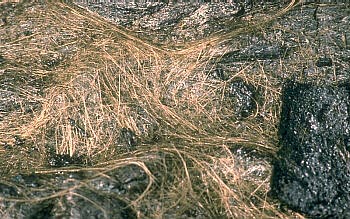 WOULD THERE BE ANY WAY OF CONFIRMING THAT WITH ANY INSTRUMENTATION?
Again, all we can do is take pictures.
SO, AT THAT 1 TO 2 MICRON SCALE THAT THEY MAY BE, IT'S NOT REALLY POSSIBLE ON THIS MISSION TO TELL EXACTLY WHAT ­ IF THERE WERE FILAMENTS SOME PLACE ELSE ­ WHAT EXACTLY THEY ARE MADE OF?
Again, we do not have spectrometers that can measure the composition of something that small.
What we're trying to do with this mission is go to places where we think water might have been present, either as standing water bodies or hydrothermal systems, water percolating around and what have you ­ water percolating through the ground, and see if we can find compelling evidence for that and make inferences about whether that would have been an inhabitable environment.
AND IF IT HAD BEEN, IS THERE ANYTHING THAT WOULD STILL BE A RESIDUE IN AN ORGANIC CATEGORY?
Again, we do not have on this payload, nor did we intend to, a capability to look for organic molecules. That's not what we're trying to do this mission.
IT WOULD BE EXCLUDED ­ IF YOU ARE LOOKING FOR ANCIENT WATER ­ BECAUSE WE KNOW THERE IS WATER ICE AT THE POLES ­ IS THERE A POSSIBILITY THAT THERE COULD BE SOME WEIRD LICHEN OR FUNGI OR ALGAE? SOMEWHERE?
I don't even know how to begin to answer a question like that. I'm sorry.
BECAUSE?
You are talking completely hypothetically.
YES, BUT THERE IS WATER ICE AT THE POLES.
There is ice. There is solid ice. Life ­ all forms of life that we know on Earth require water in the liquid phase. And that has not been found on Mars ­ yet.
I THOUGHT WE HAD ALGAE AT ANTARCTICA IN SOME OF THE STRANGE ICE THERE.
In order to ­ um, in order to multiply and to propagate itself, in order to metabolize, life requires liquid water. Now, there are forms of life that can go into dormant phases if they are totally frozen. But in order to have these sort of active biological processes, liquid water is, as far as we know, a requirement.
SO IN THESE PARTICULAR MISSIONS, IF THERE WAS SOME HYPOTHETICAL ALGAE OR LICHEN OR SOMETHING ­
I'm sorry, these missions tells us absolutely nothing about hypothetical algae, lichen or anything else. That's not what this is about.
I JUST DIDN'T KNOW. THIS IS THE FIRST TIME ­ I DIDN'T KNOW YOU COULDN'T LOOK FOR SOMETHING OF AN ORGANIC MOLECULE LIKE A LIPID. I DIDN'T REALIZE THAT.
No, that's not part of what we're trying to do on this mission.
WILL YOU BE ABLE TO LOOK TO SEE IF THERE ARE ANY MORE OF THESE FILAMENTS ANYWHERE AROUND THERE?
We are taking microscopic images everywhere as we go along and if something is there, we'll see it. Again, in this point and time, it's impossible to say these things are even Martian, so I can't say much about them.
WHAT ABOUT THAT STRANGE 2-PRONG THING THAT PEOPLE ON THE INTERNET WERE PASSING AROUND AND WERE REFERRING TO AS THE 'PLANT' OR THE 'BUNNY?'

Oh, the bunny. The bunny is another one of these things that probably was a piece of airbag or something from material we brought with us.
IT'S DISAPPEARED FROM THE PANORAMAS?
Yeah, either we ran over it or it blew away ­ one of the two. I'm honestly not sure."
---
Websites:
http://marsrovers.jpl.nasa.gov/home/index.html
http://www.esa.int/export/esaCP/index.html

© 1998 - 2019 by Linda Moulton Howe.
All Rights Reserved.