"Opportunity has landed in an area of Mars where liquid water once drenched the surface. Moreover, this area would have been a good habitable environment for some period of time." 
­ Ed Weiler, Ph.D., NASA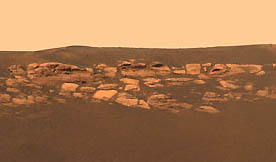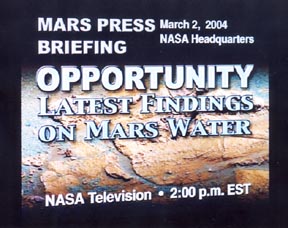 March 3, 2004  Washington, D. C. – The large NASA press room had filled with reporters and half a dozen television crews Tuesday afternoon to hear principal scientists and NASA officials confirm that the Opportunity rover had shown them geological evidence of water in the Martian bedrock. Ed Weiler, Ph.D., Associate Administrator for the Office of Space Science at NASA Headquarters, opened the press conference by saying, "Opportunity has landed in an area of Mars where liquid water once drenched the surface. Moreover, this area would have been a good habitable environment for some period of time."
Finding solid geological evidence that liquid water had once flowed or pooled in lakes on Mars has been a major goal of the Opportunity and Spirit rover missions. Steve Squyres, Ph.D., Professor of Astronomy at Cornell University in Ithaca, New York, and Principal Investigator of the Mars Rover Mission, described the four pieces of water evidence.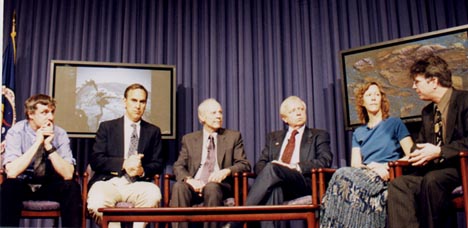 ---
Interviews: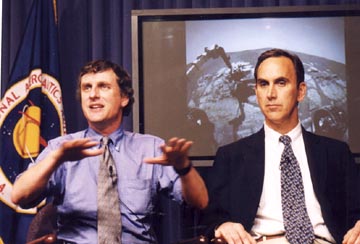 Steve Squyres, Ph.D., Professor of Astronomy at Cornell University in Ithaca, New York, and Principal Investigator of the Mars Rover Mission, Pasadena, California: "We have concluded that the rocks (at El Capitan in bedrock) here were once soaked in liquid water. One question is: were these rocks laid down in liquid water? We don't have an answer for that one yet. … The second question is: were these rocks acted upon, altered, by liquid water? And the answer to that, we believe definitively, is yes. We have four different pieces of evidence that have lead us to that conclusion.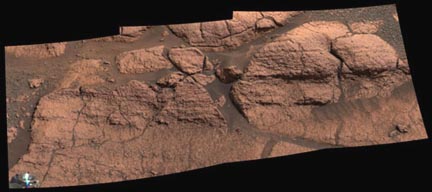 First Piece of Water Evidence
The first one has to do with the little spherical objects a few millimeters in size. We've been calling them 'spherules.' Actually, within the team, we've nicknamed them 'blueberries,' because if you look at them, they – like blueberries in a muffin – are embedded in the bedrock and weathering out of it. They are little, tough, round things inside the rock.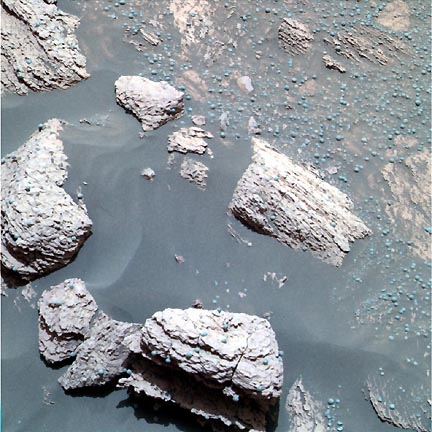 We've looked at three different ideas for what they might be. We thought they might be what geologists call 'lapillae.' (Italian for small stone) Lapillae are little volcanic hailstones that form when you have an eruption of volcanic ash and they coagulate and fall out.
Another possibility is that these were droplets of volcanic glass or droplets formed by an impact. If you have a very energetic event that sprays liquid rock up in the air and it freezes and falls out, you can make little round objects that way. We have looked at them with our color camera. We have looked at lots of them with our microscope. We have sliced through them and looked at them in cross section.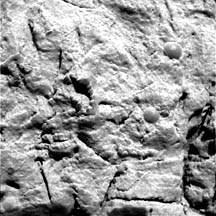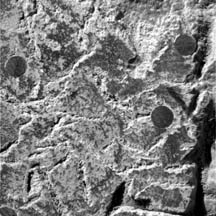 We have looked at their shapes in the way they are related to the rock around them. And all of this has lead us to the conclusion that these are what geologists call 'concretions.' Concretions form when there is liquid water in a rock that has stuff dissolved in it and then it begins to precipitate out. It begins to solidify from solution and as it does so, it grows around a nucleation point and as a cementing agent, it starts to fill in the pores in the rock and it grows to make a small spherical object. We believe that these are what we are seeing here. If so, it's pointing toward water.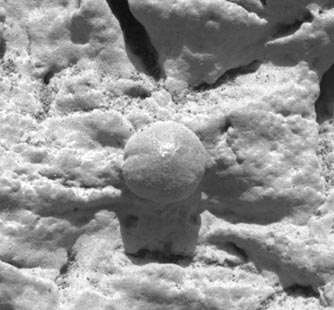 Second Piece of Water Evidence
When we looked at this rock close-up, we found in some places it is shot through with some very weird looking holes. These holes are not round. They are tabular in shape. Where they intersect the surface, they are long and thin. They are typically maybe one centimeter long, maybe 1-2 millimeters wide. They are shot through the rock at all kinds of crazy angles. It's a if a bunch of objects the size and shape of pennies were once embedded in the rock and then went away.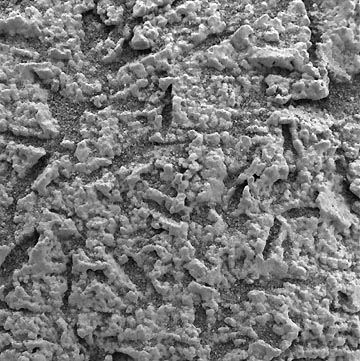 The best way we have of explaining this is that these are actually a familiar form from certain kinds of rocks on Earth. What happens is that crystals grow within rocks. If you have water in solution and crystals precipitate from that, if the crystals are tabular – flat in form – as they grow, either by pushing the rock aside or simply by replacing the rock – you can get these little tabular crystals within the rock. Then, either the water chemistry changes and they dissolve away. Or, they are eroded away and leave little tabular holes behind. So, these things we think are probably the molds of crystals that were once there and precipitated out of water.
Third Piece of Water Evidence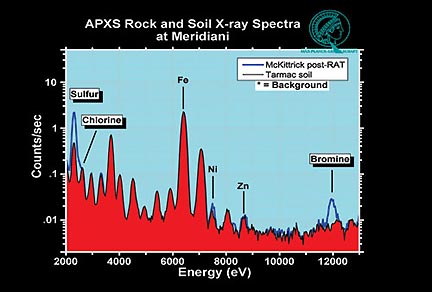 Our next piece of evidence comes from the Alpha Particle X-ray Spectrometer (APXS), the instrument that measures how much of each chemical element is found in this rock. What we found when we first looked at this rock is that it looked like it had an awful lot of sulfur in it – way more sulfur than has been found in any other Martian rock. Our infrared spectrometer, our miniature thermal emissions spectrometer (Mini-TES) has looked at this rock and also found evidence of sulfate salts. When we first looked at this, we looked at the outside of the rock. When you look at the outside of a rock with this instrument, you can't be certain what you are seeing. You might be seeing a coating on the outside because the instrument can't see very deeply into the rock.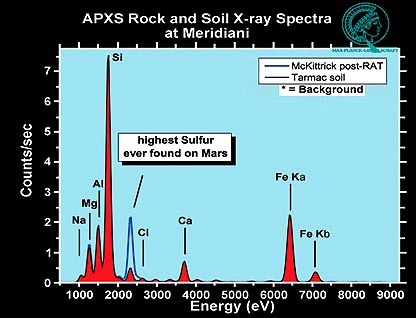 But we brought with us a grinding tool called a RAT, rock abrasion tool, and it can grind away. We used it to grind away 2, 3, 4 millimeters from the outer surface of this rock. Then we put our instrument in there and we found even more sulfur. We found an enormous amount of sulfur in this rock, too much to explain by any other mechanism we believe than this rock being full of sulfate salts. That's a tell-tale sign, we believe, of liquid water.
Fourth Piece of Water Evidence
Then I think perhaps most compellingly of all, once we put that RAT into the hole in the rock, we looked at it with our Mossbauer spectrometer. That's an instrument that measures what minerals are present. In those Mossbauer data, we found compelling evidence for a mineral called Jarosite. It's an iron sulfate hydrate. This is a pretty unusual mineral, fairly rare on Earth.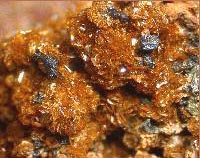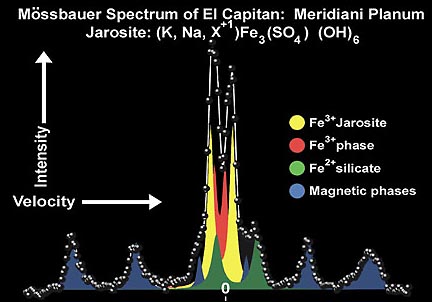 When you look at the ground rock with the Mossbauer spectrometer, there is a lot of Jarosite in this rock and because it is a sulfate hydrate, this is a mineral that you've got to have water around in order to make it.
So, the combination of probable concretions, these things that we think are crystal molds, sulfur, the sulfates and particularly, the Jarosite. You put that story together and it's hard to avoid the conclusion that these rocks were deposited in liquid water."
Significance of Water Evidence
The purpose of this mission was to go to Mars and to see whether or not it once had habitable environments. We believe at this place on Mars, Meridiani Planum, for some period in time, it was a habitable environment. This was a ground water environment, the kind of place that would have been suitable for life (as we know it on Earth). That doesn't mean that life was there. We don't know that. But this was a habitable place on Mars at one point in time.
The other thing that I think is crucial is that this is a place that minerals precipitated out from liquid water. If you ask yourself on Earth, what kinds of rocks really well-preserve evidence for very ancient life and for biochemistry, one of the best kinds of rocks for doing this are rocks that contain minerals precipitated from water. What happens is that not only does the water provide the medium in which that biochemistry, the life, takes place. But as minerals precipitate, they can trap the evidence of that and preserve it very well for very long periods of time."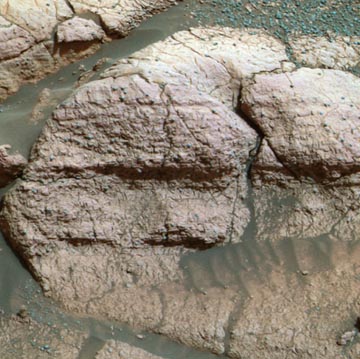 What's Next for Opportunity Rover?
Once we are finished working on El Capitan (in the bedrock), we are backing away and driving to another place called "Big Bend." There we are going to take some very detailed images with all of our cameras and try to determine whether these rocks were laid down in liquid water."
Continued in Part 2 – Rovers not equipped with organic sensors.
---
Websites:
http://marsrovers.jpl.nasa.gov/home/index.html
http://www.esa.int/export/esaCP/index.html

© 1998 - 2019 by Linda Moulton Howe.
All Rights Reserved.