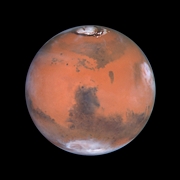 March 3, 2004  Pasadena, California – At the March 2, 2004, NASA press conference in Washington, D. C., I learned from German geologist, Goestar Klingelhoefer, Ph.D., that his Mossbauer spectrometer needs an area of about 1.5 centimeters in order to get accurate readings about iron and other elements. Very small objects such as the many unidentified spherules, or "blueberries," at the Opportunity Meridiani Planum site are too small for the Mossbauer to get an accurate reading on one, or even a few. The spherule diameters range from 1 to 5 millimeters. To date, what those mysterious little balls are made of is still a mystery.So, in the next couple of weeks, it is hoped that the Opportunity rover can put its robotic arm and various sensors – including the Mossbauer – down against a concentration of the spherules. The idea is that the instruments would then have a dense, larger area in which to take measurements.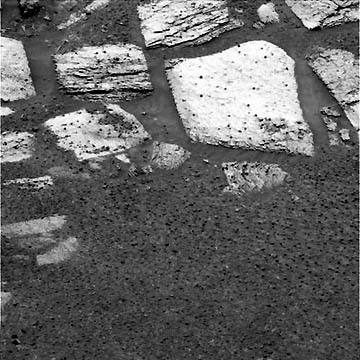 The size of the area needed for the rover instruments to retrieve meaningful data is one of the limitations on these missions. Prof. James Rice of Arizona State University explained the problem in determining the elemental composition of the small filaments in one of the spherule photographs. See: Earthfiles 02/20/04. Anything down in the few microns diameter range is too small for the instruments' abilities to analyze.Looking for microbial-sized life forms – if they exist in fossils or alive – is a huge challenge. When the European Space Agency (ESA) released their aerial image of Spirit's landing site in the Gusev crater, there was a light green color throughout the crater that provoked some in Europe to speculate it might be evidence of algae or other living substance. See Earthfiles 01/31/04. But while interviewing geologist and MIT Professor, John Grotzinger, at the NASA press conference, I learned that NASA/JPL scientists strongly disagreed with the ESA green coloration. Prof. Grotzinger said the confusion was a selected mineral frequency and not literally green growth on the Martian crater surface.Recently, another respected JPL/NASA scientist, Dr. David Des Marais, hypothesized that liquid salty water, or brine, might exist on or near the surface of the Martian soil and might explain why some of the rover wheels seemed to pick up soil as they moved. Other scientists argue that moisture in the surface soil is not possible at the cold temperatures and very low atmospheric pressure on Mars and that the clinging soil could be explained by "electrostatic attraction."The public wants to know if there is any life on Mars – microbial or other. NASA scientists confirmed at the NASA press conference that the current Opportunity and Spirit missions have no instruments to look for organic substances. But exploration for evidence of organic life forms is planned for the 2009 Mars Reconnaissance Orbiter. Why can't the current rover missions do both inorganic and organic searches? I talked about the problem with Professor Grotzinger.
---
Interview:
John Grotzinger, Ph.D., Shrock Professor of Geology, MIT, Cambridge, Mass.; JPL Long Term Planning Leaders and Member of the Geology Group in the Science Operations Working Group (SOWG), NASA/JPL, Pasadena, California:
"This mission (Spirit and Opportunity rovers) is not set up to look for organics, but to look for other indirect signs of the presence of water. The equipment package, the payload, that is on these particular spacecraft, is designed to test for minerals and to look for textures in rocks that are consistent with the presence of water as a first step.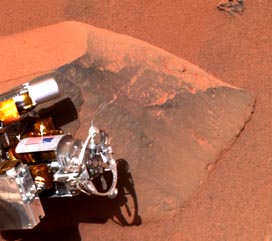 Once you have evidence of that, then you can design a new spacecraft which will very specifically be focused on the organics question. So, the process is similar to learning to walk before you can run.
IS THERE A LIMITATION IN THE ENGINEERING AND THE SIZE OF WHAT CAN GO ON ROVERS THAT YOU HAVE TO MAKE A DECISION ABOUT GOING ORGANICS VERSUS INORGANICS ONE WAY OR THE OTHER?
Yes, given the budget constraints, you have to make pragmatic decisions about what you are going to put on the payload and if you put one thing on the payload that does something very specific, then you are going to have to take something else off the payload that also does something very specific. So, in this case, if you equip the payload to look for organics, you might get to Mars and lo and behold! you chose the wrong place. You don't get any positive tests for organics and you have never answered the question about whether or not this was the best place to do this.
Could There Be Moisture in the Martian Soil?
WHEN SPIRIT FIRST BOUNCED DOWN IN THE LANDER INSIDE THE GUSEV CRATER, THE FIRST EXCITEMENT WAS ABOUT THE STRANGE, MUDDY-LOOKING PATCHES THAT IMMEDIATELY BROUGHT TO MIND MOIST SOIL. IF MOISTURE, WHAT ABOUT LIFE?
At the Gusev landing site, there was a feature there that I first studied called the 'magic carpet' which was a folded piece of soil and it was attractive as a candidate to think about as a potentially water-influenced feature.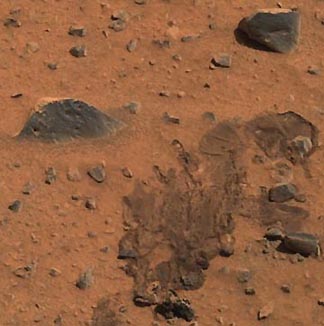 But when we got the detailed pictures, we could see streaks in the soil adjacent to the lander that were created by the airbags retracting and we wondered if those streaks were the result of water that was either an artifact of the airbags degassing some liquid. Or partial melting of some ice that was immediately beneath the soil at the Spirit lander. But when we got the more detailed images, it was very easy to understand these tracks as a result of grains ­ larger particles, pieces of rock ­ being dragged and plowing their way through the soil where the soil was dry.
There are some types of soils that adhere together with what we call 'electrostatic attractions.' These are relatively strong forces that keep the particles from pulling apart and if you pull another larger rock through the soil, it will make drag marks that can be reminiscent of water, but don't have to be water.
So, when we looked at all the evidence, it was most consistent with a fine and dry sediment that was behaving in response to some of these electrostatic forces.
SOME HAVE SAID THAT THE MARTIAN SOIL APPEARS TO ADHERE TO THE ROVER WHEEL TREADS AS IF THERE WAS MOISTURE IN THE SOIL?
That's not true at all. I don't think anybody on the science team and look at that data and suggest that water is the only way to do that.
It is possible that a small subset of the features that we look at could share an origin with water as well as with something like electrostatic forces. But really all the information that we look at can be uniquely explained by electrostatic forces in the absence of water.
COULD SURFACE WATER EXIST IF IT WERE POOLED ON THE SURFACE OF MARS AT ITS LOW ATMOSPHERIC PRESSURE BETWEEN 6 AND 7 MILLIBARS (EARTH IS 1000 MILLIBARS AT SEA LEVEL)?
I think Meridiani Planum is too high. Meridiani is way above the temperature and atmospheric pressure in which liquid water would be stable. But at Gusev, which is the lowest of the landing sites, it is possible that there is enough water in the atmosphere ­ as tiny as it is ­ that it could conceivably condense if the climate were correct at that time. Mars, as a consequence of its history, has had a variable climate and there would be times when it could condense to form liquid droplets that might become absorbed into the soil and then when those liquid droplets evaporated, the next day when the sun rises and the soil heats up, they could precipitate tiny amounts of minerals. If this happened days in and days out for hundreds of thousands of days and years, it's possible you could precipitate some of the salts that Ben Clark at Lockheed-Martin was talking about that have been observed in the soils since the days of 1976 Viking.
Indeed, we see some textures in the soils at Gusev that would suggest that a process like that could be viable. But that's a short step to go, rather than thinking about how to scale that up to a process where you might have larger pools of water there.
IN THE PHOTOGRAPHS FROM THE MOC ORBITER CAMERA (MSSS), OVER THE LAST COUPLE OF YEARS THERE HAVE BEEN IMAGES OF WHAT SEEMS TO BE ICE INSIDE OF CRATERS. IS THAT FROZEN WATER ICE? AND COULD THERE BE WATER ICE FROZEN UNDER THE SURFACE AT MERIDIANI PLANUM AND GUSEV?
The facts are that we have evidence of water ice on Mars wherever it is. There are a number of places that are candidates for that. Water ice probably exists beneath Meridiani Planum and beneath Gusev. But if it does, we haven't seen any evidence yet that it has been converted into a liquid as observed by any of the spacecraft.
WHAT WOULD THAT EVIDENCE BE?
What we would expect to see are pools of water into which the wind that blows on Mars might affect the sediments in such a way as to build ripple structures or other features that are consistent with water moving around small shorelines. True structures that would be built like a pile of mud that might have been dragged by the airbags. What we don't see is anything other than just a smooth veneer over which the airbags were dragged. So far, the rovers haven't seen water ice.
No Water Ice Evidence in Spirit and Opportunity Trenches
MEANING THE TRENCHES, FOR EXAMPLE. IS THAT WHAT YOU MEAN THAT IF THERE WAS WATER ICE CLOSE TO THE SURFACE AND THEY DID A TRENCH, THERE SHOULD HAVE BEEN PERHAPS WATER ICE?
Yes, in the trench we did not dig down into any recognizable water ice.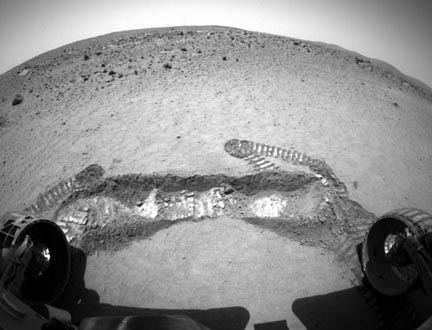 I THINK IT WAS DR. DAVID DES MARAIS WHO WAS RAISING A QUESTION ABOUT THE SOIL STICKING TO THE ROVER WHEELS, SUGGESTING THE POSSIBILITY THERE MIGHT BE EVEN SALTY WATER OR MOISTURE?
It's possible there could be brines beneath there and in the soils. But the question is: what is the evidence that would allow you to distinguish that from other processes like electrostatic attractions in which sediment would stick to the wheels? So, what Dave Des Marais is talking about is not impossible. It's just hard to verify.
Difficult for Rovers' Instruments to Confirm
Electrostatic Attraction or Moisture in Martian Soils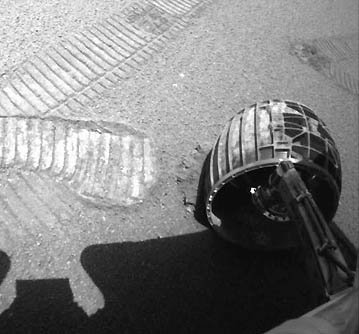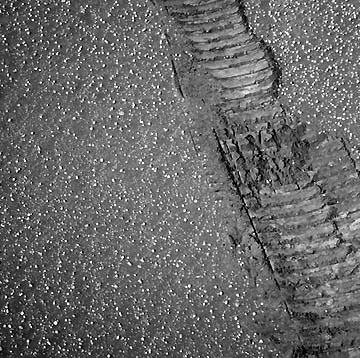 AS A SCIENTIST, HOW WOULD YOU MAKE A DETERMINATION ABOUT WHETHER OR NOT THE SOIL CLINGING TO THE WHEELS OF THE ROVERS WAS CAUSED BY SOME KIND OF MOISTURE, MAYBE EVEN BRINE MOISTURE, OR THE ELECTROSTATIC HYPOTHESIS?
You would have to go there and collect a piece of the sample and analyze it to see if it was wet.
THERE REALLY IS NO WAY ON THESE CURRENT ROVER MISSIONS TO KNOW?
I think with the instruments that we have, you can formulate a hypothesis like that, but it's not possible to test it.
SO THERE COULD BE MOISTURE, BUT YOU WOULDN'T BE ABLE TO TELL?
I don't think there has to be any moisture there. You can explain all of it in an alternative way involving electrostatic forces between the particles. But I think it would be hard to distinguish between the two with the instrument packages that we have. We're not set up to look for things that would confirm tiny, tiny trace quantities of moisture might be present in the soils. We can't rule it out. But we can't do much with that option either. We are looking for something bigger than that. We know that there is ice. We know that there is water on the surface of Mars today. That's not the question. The question is to decide whether or not there was water once on ancient Mars and whether or not that water was abundant in quantity way beyond the levels we're talking about in the soil on a permanent basis that could potentially have given rise to life on Mars.
AND WHERE DID THAT WATER GO?
It probably went down into the subsurface and also to form the ice caps. And let me just qualify that all of that water doesn't mean much because we don't know how much that water was. What we're looking for is evidence that there was significant quantity of water. It doesn't mean that it was there and has now gone. If there was very little, there might be a little in the soil and a little in the Martian ice caps.
Continued in Part 3 – Sulfur/sulfates and sulfur-eating microbes.
---
Websites:
http://marsrovers.jpl.nasa.gov/home/index.html
http://www.esa.int/export/esaCP/index.html

© 1998 - 2019 by Linda Moulton Howe.
All Rights Reserved.