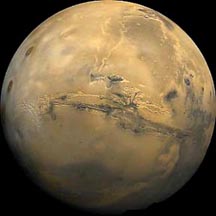 March 5, 2004  Pasadena, California – When the Opportunity rover's rock abrasion tool (RAT) drilled a hole in a piece of Martian bedrock called "McKittrick" in late February, NASA/JPL scientists were surprised that the sulfur content jumped up four times higher than the amount registered on the surface of the rock. When the rover moved over to another piece of bedrock called "Guadalupe," the sulfur amount jumped up to five times more than measured in the soil. At this week's NASA press conference in Washington, D. C., respected geochemist, Benton C. Clark, member of the Mars Explorer Rover (MER) science team and Chief Scientist of Space Exploration at Lockheed Martin said, "This supposed rock now looks like it is a chemical sediment." Sedimentation of high concentrations of sulfur and sulfate salts on earth means solution in water, the water evaporated, and left the salts.

At the press conference, geochemist Clark compared the surprisingly high bedrock sulfur concentration to a common household product on Earth.
---
Interviews:
Benton C. Clark, Ph.D., Geochemist and member, Mars Explorer Rover (MER) science team and Chief Scientist, Space Exploration, Lockheed Martin: "We interpret this sulfur to be the compound, sulfate, and so the salt that we think is probably most prevalent is magnesium sulfate, MgSO4. You can buy it in your drugstore. It's known as Epsom salts.

The only difference is that the Epsom salts has a lot of water in it and we think it is more dehydrated on Mars. In that case, its called Kieserite named after Dr. D. G. Kieserr who happens to be from Germany which is one of the classic places in the world where Kieserite occurs. So it is very relevant that a German instrument helped discover this mineral here on Mars.
The Mineral Kieserite
* Chemistry: MgSO4 – H2O, Hydrated Magnesium Sulfate.
* Class: Sulfates
* Group: Kieserite
* Uses: As a minor source of magnesium and as mineral specimens.
Kieserite, which is named after D. G. Kieserr, forms in marine evaporite deposits where sea water has been concentrated and exposed to prolonged evaporation. Other marine evaporite minerals include calcite, dolomite, gypsum, anhydrite, halite, polyhalite, kainite, picromerite, carnallite and sylvite, among several others. Evaporite minerals are geologically important because they clearly are related to the environmental conditions that existed at the time of their deposition, namely coastal arid. They also can be easily recrystallized in laboratories in order to postulate their specific characteristics of formation. Specimens of kieserite must be stored in a closed container as they will absorb water from the air and convert to the mineral epsomite, MgSO4 – 7H2O. If later the mineral dehydrates, it will form the mineral hexahydrite, MgSO4 – 6H2O.
Kieserite lends its name to a group of sulfates called the Kieserite Group. These sulfates are all monoclinic, have medium sized cations and are mono-hydrated (one water molecule). The general formula of this group is ASO4 – H2O, where A can be either magnesium, iron, copper, manganese, nickel and/or zinc.
These are the members of the Kieserite Group:
* Dwornikite (Hydrated Nickel Iron Sulfate)
* Gunningite (Hydrated Zinc Manganese Sulfate)
* Kieserite (Hydrated Magnesium Sulfate)
* Poitevinite (Hydrated Copper Iron Zinc Sulfate)
* Szmikite (Hydrated Manganese Sulfate)
* Szomolnokite (Hydrated Iron Sulfate)
Sulfur/Sulfate Concentration in "Guadalupe" Bedrock – 40%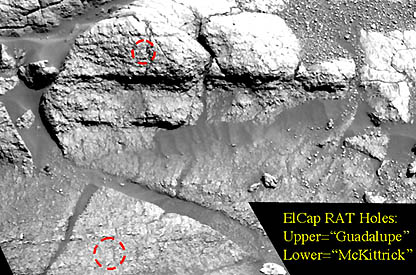 Ben Clark: "Kieserite, plus the chlorides from the chlorine that we saw, add up to a salt concentration that might be as high in this Guadalupe occurrence of 40% of the outcrop. This is an astounding amount of salt. This can no longer be considered to be just simply a volcanic construct of some kind. So, we have a salt and some kind of soil or maybe ground up rock mixture with that. The only way you can form such large concentrations of salt on Earth normally is to dissolve it in water and have the water evaporate.
IF YOU WERE TO FIND OUTCROPS FULL OF SULFUR AND SULFATES LIKE THIS ON EARTH, WHAT ARE THE ODDS THAT YOU WOULD FIND EVIDENCE OF LIFE IN EITHER FOSSIL FORM- OR EVEN ALIVE – IN THIS KIND OF SALTY ROCK?
In addition to physical evidence of fossils, you can have chemical evidence. So, it turns out that sulfur is one of those tracers that works quite well in isotopic fractionation.
When living organisms process sulfur, they tend to fractionate the isotopes in a different way than when purely mineralogical or geochemical processes do.
I've always had a favorite organism (de sulfo …. Latin name) which is an organism that can live off of sulfates as we find in these rocks that needs some hydrogen to go with it. But that's an energy source. It can work independent of the sun. The reason I like the one organism is that it can form spores as well. So it can hibernate over interim times when Mars gets between the warmer spells and the differences in obliquity that we know about.
So there are organisms and there are ways to look for traces of them, but to do the isotopic analysis, you're probably going to have to have the samples back on Earth."
Halophiles, Sulfate-Loving Microbes on Earth
Some of the sulfur/sulfate salts-loving bacteria Ben Clark was talkig about are known as Halophiles. In the 2001 Encyclopedia of Life Sciences about Halophiles, researchers at the University of Massachusetts wrote:
"Preliminary studies have suggested that this microbial activity occurs in some deep-sea hypersaline basins and viable microorganisms can be recoverable from brine inclusions in ancient salt deposits over 100 million years old."
­ Shiladitya DasSarma and Priya Arora, University of Massachusetts, Amherst
On earth, there are even fossils of organisms 3.5 billion years old that resemble modern microbes in salty seas.
Comparing Earth Salts-Loving Filamentous Microbes on Earth to Unidentified Filaments Near Spherules on Mars
What is amazing is to look at images of salt-loving microbes on earth and compare them to the unidentified filaments near spherules in one of the opportunity microscope images. They look very similar ­ but nothing has yet been proved and might never be until humans can walk on mars and collect samples firsthand. Also see: Earthfiles 02/20/04.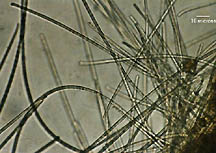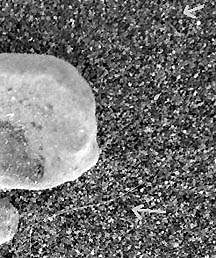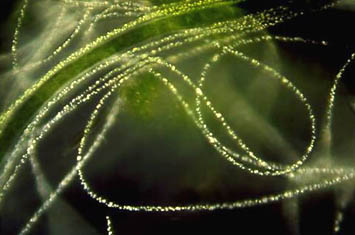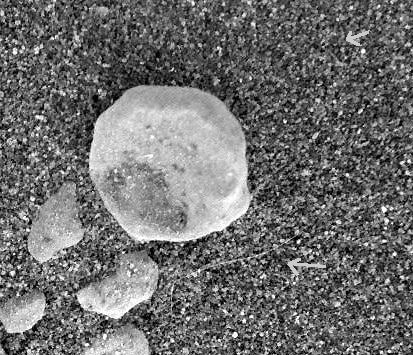 Unfortunately, the Spirit and Opportunity rovers on Mars do not have any equipment to test for organics. They are only focused on geology. I talked about that problem with John Grotzinger, Professor of Geology at the Massachusetts Institute of Technology and one of the team leaders on the rover missions.
Challenge of Identifying Substances on Mars
There are big scientific challenges in identifying substances millions of miles away on the Martian world. At the March 2, 2004, NASA press conference in Washington, D. C., I learned from German geologist, Goestar Klingelhoefer, Ph.D., that his Mossbauer spectrometer needs an area of about 1.5 centimeters in order to get accurate readings about iron and other elements. Very small objects such as the many unidentified spherules, or "blueberries," at the Opportunity Meridiani Planum site are too small for the Mossbauer to get an accurate reading on one, or even a few. The spherule diameters range from 1 to 5 millimeters.
Mysterious Spherules Have "Tails" and "Grow On Stems"
To date, what those mysterious little balls are made of is still a mystery. After the rock abrasion tool (RAT) was used to grind into the spherules embedded in the rock, the cross sections even reveal a "tail" on one. In another panoramic view of the bedrock, some of the spherules seem to be "growing" on stems.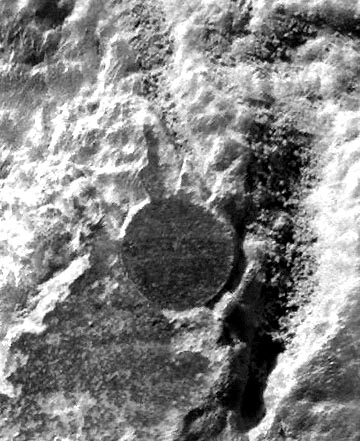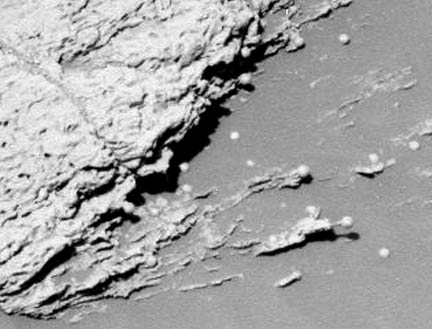 So, in the next couple of weeks, it is hoped that the Opportunity rover can put its robotic arm and various sensors – including the Mossbauer – down against a concentration of the spherules. The idea is that the instruments would then have a dense, larger area in which to take measurements.
The size of the area needed for the rover instruments to retrieve meaningful data is one of the limitations on these missions. Prof. James Rice of Arizona State University explained the problem in determining the elemental composition of the small filaments in one of the spherule photographs. You can see an image of the filaments and spherules in my Earthfiles.com reports about anomalies at the Opportunity landing site. The filaments are only microns in diameter and anything down in the few microns range is too small for the instruments' abilities to analyze.
Looking for microbial-sized life forms – if they exist in fossils or alive – is a huge challenge. When the European Space Agency (ESA) released their aerial image of Spirit's landing site in the Gusev crater, there was a light green color throughout the crater that provoked some in Europe to speculate it might be evidence of algae or other living substance. See: Earthfiles 01/31/04. But while interviewing geologist and MIT Professor, John Grotzinger, at the NASA press conference, I learned that NASA/JPL scientists strongly disagreed with the ESA green coloration. Prof. Grotzinger said the confusion was a selected mineral frequency and not literally green growth on the Martian crater surface.
Recently, another respected JPL/NASA scientist, Dr. David Des Marais, hypothesized that liquid salty water, or brine, might exist on or near the surface of the Martian soil and might explain why some of the rover wheels seemed to pick up soil as they moved. Other scientists argue that moisture in the surface soil is not possible at the cold temperatures and very low atmospheric pressure on Mars and that the clinging soil could be explained by "electrostatic attraction."
The public wants to know if there is any life on Mars – microbial or other. NASA scientists confirmed at the NASA press conference that the current Opportunity and Spirit missions have no instruments to look for organic substances. But exploration for evidence of organic life forms is planned for the 2009 Mars Reconnaissance Orbiter. Why can't the current rover missions do both inorganic and organic searches? I talked about that problem with Professor Grotzinger.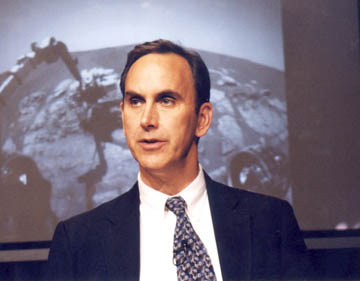 John Grotzinger, Ph.D., Shrock Professor of Geology, MIT, Cambridge, Mass.; JPL Long Term Planning Leaders and Member of the Geology Group in the Science Operations Working Group (SOWG), NASA/JPL, Pasadena, California: "This mission (Spirit and Opportunity rovers) is not set up to look for organics, but to look for other indirect signs of the presence of water. The equipment package, the payload, that is on these particular spacecraft, is designed to test for minerals and to look for textures in rocks that are consistent with the presence of water as a first step.
Once you have evidence of that, then you can design a new spacecraft which will very specifically be focused on the organics question. So, the process is similar to learning to walk before you can run.
IS THERE A LIMITATION IN THE ENGINEERING AND THE SIZE OF WHAT CAN GO ON ROVERS THAT YOU HAVE TO MAKE A DECISION ABOUT GOING ORGANICS VERSUS INORGANICS ONE WAY OR THE OTHER?
Yes, given the budget constraints, you have to make pragmatic decisions about what you are going to put on the payload and if you put one thing on the payload that does something very specific, then you are going to have to take something else off the payload that also does something very specific. So, in this case, if you equip the payload to look for organics, you might get to Mars and lo and behold! you chose the wrong place. You don't get any positive tests for organics and you have never answered the question about whether or not this was the best place to do this."
---
More Information:
NASA Updates:
Spirit Rover as of March 4, 2004
Spirit completed its observations at "Middle Ground" on its 60th martian sol, ending at 9:11 p.m., PST on March 4. Waking up to "Pictures to Prove It," by the Mighty Mighty Bosstones, Spirit finished gathering data from the rock abrasion tool hole on "Humphrey" with the alpha particle X-ray spectrometer and the microscopic imager.
The panoramic camera then continued to acquire more images for the 360-degree view from the current rover position at "Middle Ground."
After backing up 0.85 meters (about 2.8 feet), the miniature thermal emission spectrometer and panoramic camera had their turn to collect data and images from both of the rock abrasion tool's latest efforts on "Humphrey" – the triple-brushed area and the depression.
As of this sol, Spirit has traveled 195.24 meters (about 641 feet).
Plans for next sol include backing up and turning to avoid "Ingrid," a 20-centimeter (about 8 inches) rock to the west of "Humphrey," and then driving approximately 25 meters (82 feet) toward "Bonneville" in the northeast. Spirit will also snap the final images that will make up the 360-degree panorama of "Middle Ground."

Opportunity Rover as of March 4, 2004
On sol 39, which ends at 8:52 a.m. PST on Thursday, March 4, Opportunity awoke to "Bad Moon Rising" by Creedence Clearwater Revival in honor of the eclipse caused by the martian moon Deimos.
The science and engineering team built a whopping 490 commands to accomplish the most complex robotic arm operations on Mars yet. Opportunity took three mosaics on the area dubbed "Last Chance," using the microscopic imager, creating 128 images in over 200 arm moves. Each "frame" of these mosaics required multiple microscopic images. There are two reasons for this. First, the microscopic imager does not have auto-focus, so the team needed to have Opportunity take and return multiple images at each location at different distances from the rock to get at least one in focus. A second reason is that the team needed Opportunity to take an extra image at a slightly different angle for each frame to create the right conditions to build stereo and computer-generated graphics of the "topography" of the rock area up close.
After about two-and-a-half hours of microscopic imager maneuvers, the robotic arm placed the Mössbauer spectrometer on a location at "Last Chance" called "Makar." Opportunity also used the panoramic camera to watch the rare solar crossing of the sun by the moon Diemos and took images of the sky in coordination with the European Space Agency's orbiter at Mars, Mars Express.
The plan for sol 40, which will end at 9:32 a.m. PST on Friday, March 5 is to continue taking microscopic images of the "Last Chance" area, then drive to a new location dubbed "The Dells."
NASA is taking some very detailed images with all cameras to determine whether these bedrocks were laid down in liquid water.
---
Websites:
http://marsrovers.jpl.nasa.gov/home/index.html
More Large Sulfur-Eating Bacteria
http://www.esa.int/export/esaCP/index.html

© 1998 - 2019 by Linda Moulton Howe.
All Rights Reserved.