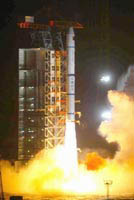 April 19, 2004  Xichang, Sichuan, China – China has launched "Experimental Satellite I," a mini-satellite weighing 93 pounds (204 kilograms) and "Nano-satellite I," a 55-pound (25 kilograms) "micro-satellite" in which metals are bonded at the atomic level. The two satellites are the first of ten that China plans to orbit around the Earth this year and the smallest is a miniature technology breakthrough.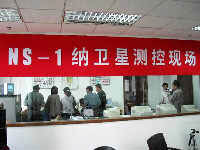 The heavier mini-satellite will orbit 371 miles (597 kilometers) above Earth and the micro-satellite will orbit at 370 miles (596 kilometers). These light weight satellites provide high quality at lower costs and shorter research and manufacturing time lines. This now makes China the fourth country in the world to launch nano-satellites after the United States, Great Britain and Russia.
A spokesman at the Xichang Satellite Launch Center in the southwestern province of Sichuan explained that the mini-satellite will be used for "land resource photogrammetry, geographic environmental monitoring and surveying and mapping experiments" under the direction of the Chinese Academy of Sciences' Remote Sensing Satellite Ground Station.
The groundbreaking micro-electronic "Nano-satellite I" was created by Tsinghua (Qinghua) University and the Aerospace Tsinghua (Quinghua) Satellite Technology Co. in Beijing. The Chinese government says the development of "super small satellites is an important way to serve economic growth and benefit mankind by using space technologies."
Some military strategists point out that China's Technology Research Academy has been developing miniature anti-satellite weapons called a "piggyback satellites" that can attach like a parasite to other satellites, space station or space-based lasers, either jamming an enemy's communications or physically destroying the unit. The Pentagon wrote in a July 2003 assessment that China will probably have a sophisticated anti-satellite system ready to operate in the next six years.
At the same time, China is leading an international movement to ban conventional weapons from space. China, Russia, Vietnam, Indonesia, Belarus, Zimbabwe and Syria have introduced a draft treaty at the United Nations to outlaw the deployment of space-based weapons.
---
Websites:
http://www.china.org.cn/english/2004/Apr/93318.htm
http://news3.xinhuanet.com/english/2004-04/19/content_1426357.htm



© 1998 - 2019 by Linda Moulton Howe.
All Rights Reserved.