"The 'gentleman' (J-Rod) with which I was associated (in S-4/Area 51/Nellis AFB) was approximately 3.5 feet tall. He had a dark brown appearance to his skin. He was in a highly pressurized Clean Sphere. Large head in comparison to its torso... Large bulbous black eyes... When you look into his eyes, you feel like you are going to fall into his eyes forever. I think that had something to do with the telepathic nature of his mental structure. Large arms in length. Four, very sinuous fingers."
- Danny B Burisch, Ph.D., Microbiologist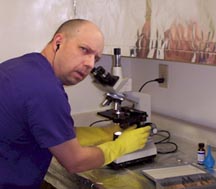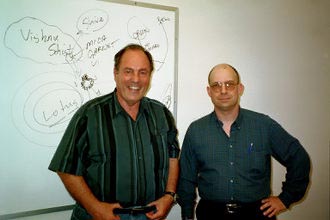 May 19, 2004  Las Vegas, Nevada - Since September 2002, computer analyst and UFO phenomenon investigator, Bill Hamilton, has talked to me about the frustrations of microbiologist Dan Burisch, Ph.D. Dr. Burisch has been working in a U. S. government "black project" for several years, has wanted out and has finally negotiated an agreement to officially retire on June 8, 2004. As a whistleblower, he first approached Bill in 2002 after Dan Burisch learned about the work Bill Hamilton had done with another whistleblower, Bill Uhouse. Both Dr. Burisch and Mr. Uhouse describe working with an entity known as "J-Rod" at Area 51, Nellis AFB, Nevada, and reporting to a select insider group called "Majestic-12." (Top Secret MAJIC)
Click here to subscribe and get instant access to read this report.
Click here to check your existing subscription status.
Existing members, login below:

© 1998 - 2023 by Linda Moulton Howe.
All Rights Reserved.