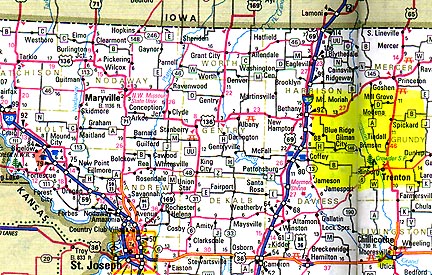 June 5, 2004  Northwestern Missouri – In the farming region around Trenton, Missouri, something horrible happened to a pregnant mare on Thursday, May 20th. She had been seen alive the afternoon before and was discovered twenty-four hours later at 3 p.m., dead and mutilated. The unborn foal's back legs were still in the mare's abdomen, but its head seemed melted away by some incomprehensible force.
The mare was the granddaughter of a Grand Champion American quarter horse and was worth at least $5,000. Her owner who has requested anonymity has been raising quarter horses for more than forty years and this spring has about 100 head in her pastures. Thirty-four of those were pregnant and being watched over by a ranch hand. On Thursday, May 20th, he counted them and realized one was missing. So he went to look for the pregnant mare.
Ranch Hand Who First Found Mare and Foal on Thursday, May 20, 2004, Around 3 p.m. Central: "Well, when I went down there, the eyes were completely gone. The tongue was gone. The mouth was pried open and the colt was half way out, but there was no head to it.
THE MARE WAS ON HER BACK WITH FOUR LEGS UP IN THE AIR?
Yeah, she was on her back, but one leg was laying on the ground and the other three were up in the air.
THE FOAL ­ COULD YOU DESCRIBE WHAT WAS STILL INSIDE OF THE MARE AND THE CONDITION OF THE HEAD?
The head on the colt was completely gone. There wasn't no head.
WERE YOU LOOKING AT NECK BONE?
Just shoulders is all you could see. Everything else was gone.
DO YOU MEAN THAT THE NECK BONE AND SKULL HEAD WERE NOT THERE EITHER?
Right, they were not there. And there were two round holes in the stomach and one by the chest. (The next day on Friday, May 21, 2004, the veterinarian found pieces of skull and neck bone on the ground that were strangely mushy and smooth.)
IN THE MARE?
Yeah. And there weren't no tracks. No blood.
WAS THERE ANY EXCISIONS FROM THE BODY OF THE YOUNG BABY ASIDE FROM THE HEAD? WERE THERE ANY CUTS ON THE FOAL?
I couldn't tell for sure. I didn't examine it thoroughly.
AS YOU STOOD STARING AT THIS SCENE TRYING TO FIGURE OUT WHAT MIGHT HAVE HAPPENED, WHAT WENT THROUGH YOUR MIND?
I didn't know for sure! It was kind of weird. I haven't seen anything like that. It's strange because usually when you have a carcass laying around – we've probably got 100 to 200 coyotes. You can hear them out there at night. They wasn't even up there (at the ravine where the mare and colt were dragged) at all. Like the birds ­ they didn't have nothing to do with them. There was no coyote tracks or nothing. It's a strange deal. I haven't quite figured it out yet."
Mare's Owner Shocked
I asked the owner if in her nearly half century of raising quarter horses had she ever seen an unborn foal with a missing head – from a mother whose eyeballs, tongue, teats and vulva were also missing?
Owner of Dead Mare and Foal Who Has Raised American Quarter Horses for More Than Forty Years: "Never. I've had horses hit by lightning. I've had foals that are mummified in the mares from absorption. I've had all kinds of odd births. I've had all kinds of different things happen, but nothing comes even close. All those other things were explainable. This is not explainable. There is nothing like it.
The excision ­ the one in the stomach was so perfectly round ­ it would ­ I couldn't draw a circle that round. It was just perfect.
DID ANYONE AROUND YOU OR ON YOUR PROPERTY NOTICE ANYTHING UNUSUAL IN TERMS OF LIGHT OR SOUND BETWEEN MAY 19 AND MAY 21?
No. I'm the only person here. It's very quiet here. My dogs would bark if there was anything unusual going on.
AND NO BARKING EVEN?
No barking."
Veterinarian Thinks Technology That Removed
Mare's Vulva Destroyed Foal's Skull
The owner called her local veterinarian who has seen three previous unusual animal deaths in cattle since 1995. But the vet ­ who also requested anonymity ­ was not prepared for the inexplicable foal's missing head. It looked as if only the foal's head had been subjected to intense energy while the rest of the unborn body was unaffected. And the mare had suffered bloodless excisions that law enforcement over the past 50 years has called the "animal mutilation" mystery.
Local Veterinarian Examined the Mare and Foal Remains on Friday Afternoon, May 21, 2004, Approximately 26 Hours After Dead Animals Discovered: "I think the procedure used to amputate the vulva (of the mare) and probably part of the vaginal sphincter ­ that procedure caused damage to the tissue of the (foal's) head such that it was…
HEATED UP?
Well, rapid decomposition, that's the only thing I can tell you, just mushy.
HEATED OR MELTED?
I don't know that term would be accurate.
BUT SOME HOW HEAT WAS APPLIED WHEN THE VULVA TISSUE WAS REMOVED?
I wouldn't say that was accurate either.
THAT WE DON'T KNOW.
We just don't know. Looking at the other cases that I've seen and looking at the edges of the tissue trying to determine what technique was used, I don't know. No sign of singeing or burning. No evidence of normal cutting action like you would use with a sharp instrument. Of course, no sign of blood because all the blood from these animals had been removed. I think that because the foal was close to being delivered ­ maybe just hours away from being born ­ that the technology used in the removal of the vulva inadvertently destroyed through some means the flesh of the foal's head.
THAT WAS DOWN IN THE BIRTH CANAL.
That was down in the birth canal and it was just inadvertent that the head tissue was altered. What method? I don't know. When I look at it and I have handled it with protective gloves on and it's like the consistency of runny oatmeal. It's like it had been in a pressure cooker for a long period of time. (Also, the uterine sac that would have encased the foal was not found.)
The mare had ­ both eyeballs were missing. The tongue was missing clear back to its attachment back in the base of the throat. The udder had been removed. The vulva and vaginal sphincter had been removed and there was a small incision made in the midline of the abdomen ­ one that in looking at it, my first impression was that I was looking at the same excision made on a 650-pound heifer, the first animal I had witnessed.
AS A MUTILATION.
Yes, I had gone through this and the first thing I came to my mind was what I call a 'spay cut.' It's an incision you would make to perform a hysterectomy and the location is critical so you can exteriorize the entirety of the ovaries and uterus for excision.
WERE YOU ABLE TO CONFIRM IN THAT OTHER (HEIFER) CASE THAT A HYSTERECTOMY HAD ACTUALLY BEEN DONE?
Yes.
AND WERE YOU ABLE TO DETERMINE THAT THE MARE HAD BEEN EXSANGUINATED ­ ALL THE BLOOD HAD BEEN TAKEN OUT OF THE MUSCLE TISSUE?
Yes.
THE MUSCLE TISSUE WAS PALE PINK-WHITE?
Yes.
THAT'S UNUSUAL IN ITSELF, ISN'T IT?
Very unusual, but it's been the case with the four that I have seen. The technique used on these animals is very exquisite. Something that I don't know if we have the technology to duplicate. So using the term 'mutilation' is really a very inaccurate term and does injustice. People hear that and they think weirdoes or cult people, but these things that happen are not things that humans can duplicate.
The first incident that I saw nine years ago this month (June 1995), the heifer that we walked up to was lying in grass that was about knee-deep. And there was no lodged over grass ­ there was no grass that had been stepped on and bent over, either by the calf herself or anything else. It was as though she had been floated and laid down where she was. It was disturbing.
WHY ARE YOU AND OTHER VETERINARIANS RELUCTANT TO SPEAK ON THE RECORD?
Because of the highly unusual nature of what takes place. The fact that it's a secretive occurrence. And when you consider the possibilities ­ after a logical evaluation of what you do have, the choices on who is responsible are narrow and disturbing. And here are the two most logical possibilities: that we have alien beings in spacecraft that are coming here from some place else. Or we have demonic beings that are already here and have been here since the beginning.
AND EITHER WAY, A PROFESSIONAL VETERINARIAN DOES NOT WANT TO GET NEAR THAT KIND OF SUBJECT MATTER BECAUSE IT COULD JEOPARDIZE YOUR CAREER?
Maybe not so much a career, but it could (affect) your business!
WELL, THAT WOULD BE YOUR CAREER.
Yes, you would have to go somewhere else. I recently went to a conference where there were many veterinarians there. I took a private survey and even then, I had to be careful how I approached some of them and inquired if they had any experience with mutilations. There were several. I would say the majority of small town country veterinarians ­ those who do rural food animal practice ­ had had personal experience with these things. Most don't talk with anybody, not even their wives about it.
THEY DON'T BECAUSE THEY ARE AFRAID WHAT WILL HAPPEN?
I suppose it's the unknown, probably more than worry about ridicule. It's the unknown. Fear. I don't know, but I know it occurs an awful lot …
BUT YOU DON'T WANT TO GO ON THE RECORD WITH YOUR NAME AND LOCATION.
Not at this point, no.
THAT'S WHAT I'M TRYING TO GET AT ­ YOU AND MOST VETERINARIANS MAKE THE SAME DECISION AND I'M TRYING TO UNDERSTAND WHY IF THIS AN ONGOING INTRUSION ON OUR PLANET.
They can't prove anything. Even the most thorough of autopsies and investigations have not provided any answers.
MEANING YOU CAN SAY THAT EXCISIONS WERE DONE IN SOME CASES WITH HIGH HEAT, BUT YOU CAN'T PROVE WHAT THE INSTRUMENT WAS OR WHO OPERATED THE INSTRUMENT?
Right. Or why."
---
More Information:
In my 1989 book, An Alien Harvest (See Earthfiles Shop), I discussed a Hope, Arkansas event in which five pregnant cows were found dead and mutilated in a straight line on March 10, 2989. From one of them, its unborn calf – still in the uterine sac – was protruding from a large, bloodless excision in the mother's abdomen.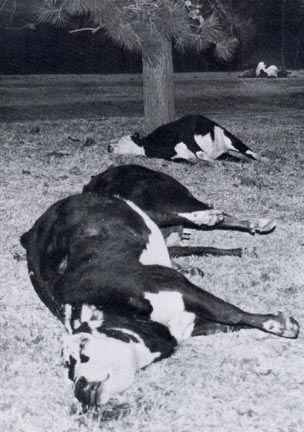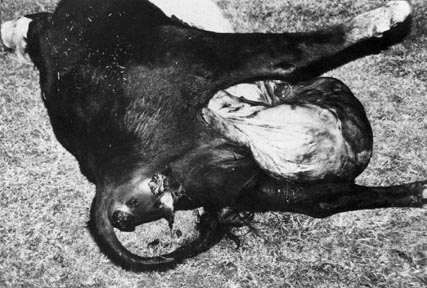 ---
Websites:

© 1998 - 2023 by Linda Moulton Howe.
All Rights Reserved.