"The apparent Path of Venus over the face of the Father Sun (an ecliptic transit in relation to the Sun) has announced (in the past) drastic changes in the Earth, from cataclysms, wars, destruction (lack of food, plagues) to historical changes regarding the evolutionary development of both human beings and the Mother Earth (a destiny that is connected although not intertwined)."
- Carlos Barrios, Mayan Priest, May 2004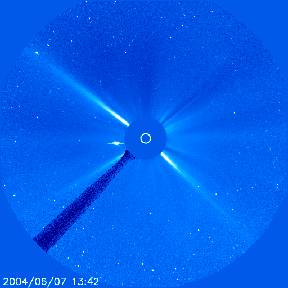 June 7, 2004  Antigua, Guatemala - About half the people on Earth might be able to see Venus move as a small black dot across the disc of the sun on June 8, 2004. It takes about six hours and you need a sun filter to protect your eyes. Astronomers have seen the rare event only five times before in the 18th and 19th centuries. For U.S. East Coast observers, the transit is underway at sunrise and ends around 7:25 a.m. EDT. The starting and ending times are listed for major cities at http://aa.usno.navy.mil/data/docs/Venus2004.pdf.
Click here to subscribe and get instant access to read this report.
Click here to check your existing subscription status.
Existing members, login below:

© 1998 - 2023 by Linda Moulton Howe.
All Rights Reserved.