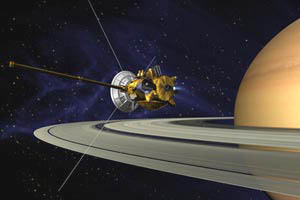 June 11, 2004  Pasadena, California – Three weeks from now on July 1, 2004, humanity's first spacecraft designed to reach and orbit the rings of Saturn will approach from below the ring plane. Cassini, using small jets to control its flight, will cross through the large gap between the very thin outer F Ring and G Ring.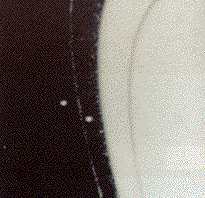 Saturn's rings show intricate structure, some provoked by the gravitational effects of eighteen named moons and about a dozen others that have not yet been named. The rings are divided into seven major divisions. There are two main sections (called rings A and B) plus the smaller ring (Ring C or the Crepe ring), D and F rings; the larger gap in the rings is called the Cassini division; the smaller one is the Encke division. Starting closest to Saturn and working outward, the rings and divisions are: D, C, B, The Cassini Division, A, the Encke division, and F (subdivided into G and E, and a ring with visible clumps of matter, called knots).
Saturn's rings are made of ice chunks and rocks that range in size from a fingernail to a car. The rings are almost 185,000 miles wide (300,000 kilometers), but are very thin, only 0.6 miles thick (1 kilometer). In addition to its historic first close-up approach to Saturn's strange moon, Phoebe, the Cassini spacecraft will fly close to Saturn 76 times and visit Titan 45 times.
First Clear Close-Up Images of Saturn's Strange Moon, Phoebe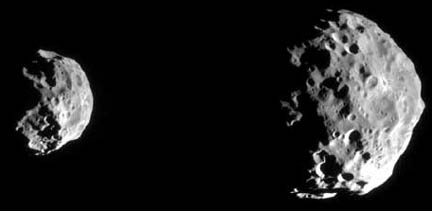 Phoebe is almost circular shape with a reddish color and only 137 miles (220 kilometers) in diameter. In the images above, NASA describes "Phoebe's surface is already showing topography, such as tall sunlit peaks and deep shadowy craters, as well as genuine variation in the reflectivity of its surface materials."
Discovered by W. Pickering in 1898, Phoebe is the only one of Saturn's thirty moons which orbits in the opposite direction of all the other moons and rings. Phoebe is also the only moon to rotate on its axis every nine hours, unlike all the other moons of Saturn (except Hyperion), which always show the same face to Saturn. Because of its bizarre behavior, there is speculation that Phoebe might be a captured asteroid.
NASA June 12, 2004 Press Release About "Battered" Phoebe Photo Above
"Early images returned from the first detailed reconnaissance of Saturn's small outer moon, Phoebe, show breathtaking details in the moon's pockmarked surface that already have imaging scientists puzzling over the body's history. The images are only a preview of what to expect from the high resolution images to be examined later today which will show details about 10 times smaller.
Phoebe has revealed itself to be a rugged, heavily cratered body, with overlapping craters of varying sizes. This morphology suggests an old surface. There are apparently many craters smaller than 1 km, indicating that projectiles probably smaller than 100 meters once pummeled Phoebe. Whether these objects were cometary or asteroidal in origin, or were the debris that resulted from impacts on other bodies within the Saturn system, is hotly debated. There is also variation in surface brightness across the body.
In the first image (at left) in which Phoebe looks somewhat like a sideways skull, the large crater near the bottom displays a complex and rugged interior. The lower right hand part of Phoebe appears to be covered by bright wispy material.
The second, higher resolution image further reveals the moon's battered surface, including a crater near the right hand edge with bright rays that extend outward from its center. This suggests that dark material coats the outside. Features reminiscent of those seen on the Martian moon Phobos — such as linear grooves–are faintly visible in the upper part of this image. There are suggestions of linear ridges or grooves and of chains of craters, perhaps radial to a large crater just hidden on the un-illuminated region in the upper left.
Left to right, the two views were obtained at phase, or Sun-Phoebe-spacecraft, angles of approximately 86 degrees, and from distances ranging from 143,068 kilometers (88,918 miles) to 77,441 kilometers (48, 130 miles); for reference, Cassini's closest approach to Phoebe was approximately 2,068 kilometers (1,285 miles). The image scale ranges from 0.86 to 0.46 kilometers (0.53 to 0.29 miles) per pixel. No enhancement of any kind has been performed on the images.
The Cassini-Huygens mission is a cooperative project of NASA, the European Space Agency and the Italian Space Agency. The Jet Propulsion Laboratory, a division of the California Institute of Technology in Pasadena, manages the Cassini-Huygens mission for NASA's Office of Space Science, Washington, D.C. The Cassini orbiter and its two onboard cameras were designed, developed and assembled at JPL. The imaging team is based at the Space Science Institute, Boulder, Colorado."
Saturn's Largest Moon, Titan
Of the approximately 30 Saturn moons, Titan is the biggest at 3200 miles diameter (5,150 kilometers), which is larger than the planets, Mercury and Pluto, and is the second largest moon in the solar system, after Jupiter's Ganymede. The big moon was discovered by C. Huygens in 1655 and orbits 759,372 miles (1,221,830 kilometers) from Saturn. Titan has a thick mostly nitrogen atmosphere, with some methane, and an atmospheric pressure of 1.6 bars which is 60 percent greater than the Earth's. This atmosphere with its heavy clouds obscures the moon's surface. It may rain liquid methane. The surface temperature is about -178°C = -289°F.


July 1, 2004 Cassini Slows Into 4-Year-Long Orbit Around Saturn
NASA reports that "the Cassini main engine burn to control its flight will begin on July 1, 2004, at 10:36 p.m. EDT and is scheduled to last 96 minutes, ending on July 2, 2004, at 12:12 a.m. EDT. At this time, Cassini will be 98,500 miles (158,500 kilometers) from Saturn's center. In order to slow the spacecraft enough to be captured by Saturn's gravity, Cassini's main engine will be turned to face the direction of travel. The resulting thrust from the engine will act as a braking device, which will slow down the spacecraft as it enters Saturn's orbit. The July 1 burn will place Cassini in a highly elliptical orbit.
"Cassini's closest approach to Saturn during the entire four-year tour will occur during this burn. The spacecraft's distance from Saturn will be about 11,187 miles (18,000 kilometers). Cassini will continue to coast above the rings for approximately one hour and 44 minutes before its descent back through the ring plane."
---
Websites:

© 1998 - 2019 by Linda Moulton Howe.
All Rights Reserved.