"If we don't understand what we're doing to our home planet, we may drive ourselves all into extinction."
– Mike Tanner, NASA Scientist, Aura Satellite


August 16, 2004  Cape Canaveral, Florida – As the ozone holes over the North and South polar regions have enlarged every year since monitoring began in 1979, the U. S. government and scientists agree it is important to study the Earth's atmospheric chemistry more closely. After several delays, NASA finally launched an environmental research satellite called "Aura" (Latin for "air" or "breath") on Sunday, August 15, 2004, from Vandenberg AFB in California.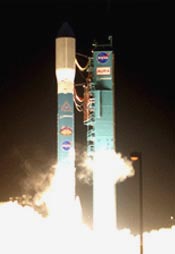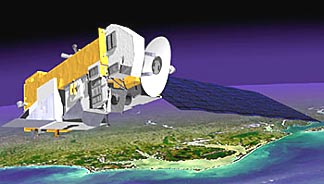 For at least five years, Aura will study the chemicals in the atmosphere which can destroy ozone as well as air quality and climate. "This mission is designed exclusively to conduct research on the composition, chemistry and dynamics of the Earth's upper and lower atmosphere employing multiple instruments on a single satellite." Aura is the third satellite in NASA's Earth Observing System (EOS). Earlier in December 1999, "Terra" was launched to focus its sensors on heat emitted from Earth and the amount of sunlight reflected from our planet's surface. The goal is to better understand how the heat interacts with Earth's oceans and atmosphere. Three years later in May 2002, "Aqua" was launched to study the world's oceans and cycles of evaporation into the atmosphere and return as rain and snow.
Aura carries four instruments that will scan the atmosphere from Earth's surface to the edge of space every day. The chief scientist leading the Aura research is Philip DeCola, Program Scientist, NASA Headquarters, Washington, D. C. He said about the $785 million Aura mission, "Think about the atmosphere. It's one of the most precious resources that we have as residents of this planet." His colleague, Mike Tanner, added: "If we don't understand what we're doing to our home planet, we may drive ourselves all into extinction."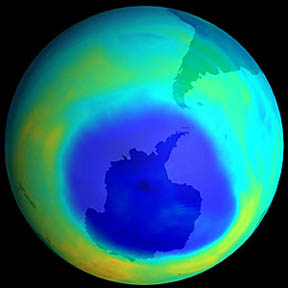 ---
Websites:

© 1998 - 2019 by Linda Moulton Howe.
All Rights Reserved.