"Is the overlap of methane and water on Mars evidence of geothermal activity on Mars? Or is it evidence of biology? That's the question which we all want to answer."
– Michael J. Mumma, NASA Astrophysicist
September 21, 2004  Greenbelt, Maryland – NASA scientists began searching for methane on Mars in 1989. By 2002, the NASA infrared facility in Hawaii with its high resolution spectroscopy began to detect methane. In 2003, the Mars Odyssey's neutron and gamma-ray sensors had tracked seasonal changes of carbon dioxide "dry ice" and water ice. As the dry ice dissipated with the seasonal changes in temperatures, water ice was confirmed to be 90% by volume in some places in the Northern Hemisphere.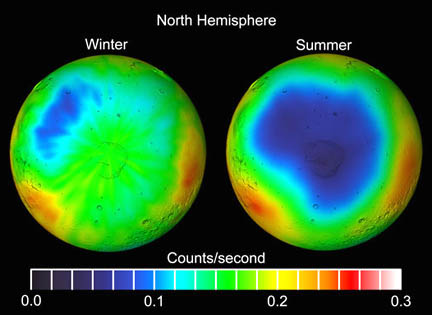 Now NASA has confirmed multiple lines of water vapour and methane at the same time and in the same spectra. Further, NASA scientists have produced a map for the abundance of water and methane on Mars derived from its pole to pole latitude and longitude data.
The NASA map of water and methane overlapping on Mars is being produced by a Goddard team headed by Michael J. Mumma, Ph.D., Chief Scientist of Planetary and Astrophysical Sciences in the Laboratory for Extraterrestrial Physics at NASA/Goddard Space Flight Center in Greenbelt, Maryland. Their paper about Martian water and methane will be submitted to Science in the next few weeks for publication. (Detailed maps are withheld until publication in Science later this year.)
On Monday this week, physicist Vittorio Formisano presented his own paper at the International Mars Conference on Ischia Island, Italy entitled, "PFS Observation of Methane Formaldehyde and HF: Extant Life On Mars?" (See: 09-20-04Earthfiles.) Dr. Formisano says he found methane and water vapor concentrating together in three Martian equatorial regions which he said were similar to NASA's Odyssey discoveries of methane and water vapor together at the same time. After talking with Dr. Formisano, who says he also has evidence of formaldehyde in the Martian atmosphere, I asked Dr. Mumma if organic molecules such as formaldehyde are mixed in with the water and methane overlap regions, could that mean there might be some organic life beneath the Martian surface that is causing the organic gas release?
---
Interview:
Michael Mumma, Ph.D., Chief Scientist, Planetary and Astrophysical Sciences, Laboratory for Extraterrestrial Physics, NASA/Goddard Space Flight Center, Greenbelt, Maryland: "It is, of course, one of the possibilities that we wish to investigate most thoroughly. The first possibility is that there are forms of life below the permafrost region on Mars which are reducing carbon and releasing methane in the process, and probably several other organic gases as well.
Another possibility is that it is an abiotic process ­ that it does not involve actual life itself. It could be a signature of a geothermal process. For example, on Earth, we know when water and carbon dioxide organics are carried under the subduction zone of the Pacific plate off the coast of South America, there is oxidation of iron at great depths. Temperatures down there are high and cause the water molecules to be broken up. The hydrogen then combines with carbon and produces methane (CH4) that does not require the presence of life.
So, the real issue: Is the overlap of methane and water on Mars evidence of geothermal activity on Mars? Or is it evidence of biology? That's the question which we all want to answer.
AND IF YOU ADD INTO THE MIX OF POSSIBLE ATMOSPHERIC MOLECULES THE PRESENCE OF FORMALDEHYDE ­ DOES THAT INCREASE THE LIKELIHOOD THAT THERE COULD BE SOME KIND OF LIFE FORM PRODUCING ORGANIC MOLECULES UNDERGROUND ON MARS?
It's difficult to answer at this time. Certainly, it's encouraging because one step toward the production of methane is to take carbon and add successive hydrogen atoms. If it's originally in the form of carbon dioxide (CO2), strip off an oxygen, add two hydrogen and you have formaldehyde. Add another hydrogen and you get methanol, a form of alcohol. Add another hydrogen and you get methane itself.
What we might be seeing if methane and formaldehyde are together is a signature of that chemical process. Or perhaps not. We need a whole suite of molecules to be measured before we could really confirm whether we are really seeing the signature of biology – or only the signature of geothermal processes.
Has NASA Confirmed Formaldehyde
in Martian Atmosphere?
HAVE YOU AT NASA INDEPENDENTLY FROM THE PSF OF DR. FORMISANO CONFIRMED THE PRESENCE OF FORMALDEHYDE IN THE MARTIAN ATMOSPHERE?
We have not confirmed the presence of formaldehyde on Mars, largely because we have not spent much time searching for it. There are other workers who have claimed the presence of formaldehyde from time to time. But these have not generally been accepted by the scientific community. So, if Dr. Formisano has a firm detection of formaldehyde, this probably would be the very first one that would be accepted by the scientific community.
DR. VLADIMIR KRESNOPOLSKY USED TO BE IN YOUR GROUP USING GROUND-BASED TELESCOPES TO SEARCH FOR METHANE ON MARS. HAS HE BEEN ABLE TO CONFIRM ANY OTHER MOLECULES SUCH AS FORMALDEHYDE OR BENZENE?
No, he has not confirmed any other hydrocarbon species. Dr. Krasnopolsky now is a senior research professor at Catholic University in Washington, D. C. He was formerly associated with my group and he was at one time at the Institute for Space Research in Moscow before the break up of the Soviet Union. He is quite a distinguished atmospheric scientist. His contribution was that he stimulated the search for methane with an instrument at the Canada-France-Hawaii Telescope ­ an instrument called a Fourier Transform Spectrometer. He has since then most recently been analyzing that data to attempt to extract a detection ­ or at least an upper limit for methane on Mars ­ from those spectra.
HOW DOES EARTH-BASED SEARCHING IN THE MARTIAN ATMOSPHERE COMPARE TO DR. FORMISANO'S PSF INSTRUMENT MOUNTED ON THE MARS EXPRESS ORBITER THAT CURRENTLY ORBITS MARS?
The big advantage of the terrestrial-based work ­ that is ground-based observing by Krasnopolsky and also by my group ­ is that we have much higher resolving spectral power than the PFS instrument provides. So, PFS is close to Mars, it is in orbit, it has very high spatial resolution which has some advantages, it goes around the planet once every 90 minutes. But on the other hand, the resolving power of the ground-based instruments (on Earth) is far higher, so the specificity for individual molecules is much greater.
Testing for Underground Organic Life
Versus Inorganic Sources
Isotopic Ratios of Carbon 13 to Carbon 12
IF A COMBINATION OF THE GROUND-BASED OBSERVATIONS ON EARTH, PLUS THE PSF ON THE EXPRESS ORBITER ON MARS, SHOULD SHOW THAT THERE ARE FORMALDEHYDE MOLECULES, WOULD THAT HAVE AN IMPACT ON YOUR OWN THINKING ABOUT THE INCREASED POSSIBILITY THAT THERE COULD BE SOME KIND OF ORGANIC LIFE UNDERGROUND ON MARS?
It might. What it would really do is demonstrate that there are various short-lived species (of molecules) present that require some kind of active carbon chemistry. And the way you actually test for sub-surface life versus a non-biological production mechanism is to look first at the chemical abundance ratios ­ methane, formaldehyde, methyl alcohol, ethane, and other hydrocarbons ­ and also by looking at the isotopic signatures. For example, on Earth, all life forms have a slightly different ratio of heavy carbon to light carbon, which is Carbon 13 to Carbon 12, compared with abiotic forms.
There is just about a 3% difference in the mixing ratio of the isotopes. So if a similar process occurs on Mars, we would expect that we could determine the difference between biology and abiotic production by looking at the isotopic ratios. This is in fact was a key objective of the ill-fated Beagle Landers which the British scientific community placed on the Mars Express spacecraft, but which unfortunately failed.
HOW SOON COULD YOU INVESTIGATE ISOTOPIC RATIOS?
There are two ways of doing them. One is from space observations. My group has proposed placing a high resolution observatory in space to make very high resolution infrared observations of this methane on Mars and many other species (of molecules) as well. If approved, that would provide data in February of 2010 ­ that is, it would be launched early that year and by mid 2010, we would begin general scientific operations.
On the other hand, considering landers on Mars, if we sent a lander to a particularly promising site, one might consider sending a Mars surface laboratory there that could be done by 2009 to 2010 or thereabouts. If it were equipped with some kind of a drill, it could begin to sample sub-surface material ­ probably not at the hundreds of meters depth, but certainly within the first meter of depth from the surface and begin to test questions regarding other more complex hydrocarbons than the ones we have been discussing which are signatures of biology.
Sure Signs of Life – Chiral Amino Acids
IS THERE ANY MOLECULE THAT WOULD BE DEFINITIVE OF LIFE? IS THERE ONE THAT ITS VERY PRESENCE ALONE WOULD SAY THERE HAS TO BE SOMETHING METABOLIZING ON MARS?
If we were to find amino acids that were what we call 'resinic' or L-type amino acids. Or to put it in simpler terms, if we found chiral amino acids in the soil of Mars, we would be certain that biology was at work.
[ Editor's Note: Chiral refers to a 3-dimensional form, as a molecule, that cannot be superimposed on its mirror image. Also, in Primedia's About Chemistry, "Chiral refers to an atom in a molecule that is bonded to four different chemical species, allowing for optical isomerism. Example: The central carbon in serine is a chiral carbon. The amino group and hydrogen can rotate about the carbon. ]
Chiral refers to the 'handedness,' as we call it. At the end of your arms on one side, you have a right hand and on the other side, a left hand. No matter how you reorient the right hand, you can never make it the same as the left hand. The thumb will be on the wrong side. That's why we call it 'handedness.'
Similarly, molecules in Nature ­ some of the amino acids ­ can be put together in such a way that they are either right handed or left handed in their structure. They have the same number of atoms and they are in the same approximate positions. But in one case, the molecule is said to be a right handed molecule because it has one functional group on the right side ­ whereas in the other molecule, it has it on the left side.
It turns out that life on Earth prefers only one handedness. So, it's generally regarded as a signature of life to find chiral chemical species such as amino acids and sugars that would be used by life itself. For all life on Earth, the amino acids are left handed and the sugars are right handed. So, it depends upon which chemical species you are talking about.
There is an instrument that is supposed to be carried on an upcoming Martian probe that will be a gas chromatograph mass spectrometer built by Dr. Paul Mahaffy ­ another scientist at Goddard who specializes in this kind of work. That is an instrument that can measure complex organic compounds. But so far, it is not equipped to measure chiral compounds, but Dr. Mahaffy has plans to do that (measure chiral compounds) in the future.
Are the Martian Methane and Water Vapor
Releases Seasonal?
We very much want to see how the abundance of methane over the source regions varies with seasons. As you know, Mars does have seasons. It has a tilt to its axis, just like the Earth. It's called the obliquity. So, there is a change from north to south and winter to summer seasons on Mars the same as there is on Earth. We would like to know: Is the release of methane and water dependent upon the surface temperature and its variations through the Martian year? Or is it independent of that? This would give us a clue to the depth from which the methane is being released.
If there is no variation with time of year, we think the methane source region would be deep below the permafrost. If there is a prompt change as temperature drops, we would expect that perhaps the release region is much closer to the surface. This is very interesting. If so, it could be that what we are seeing is the release of methane hydrate – that's like a patch of ice that has methane trapped in it, so if the ice sublimates and escapes as water vapor, the methane would escape with it and could explain why there would be a release of both (water vapor and methane). But that can only happen if you have a heat wave propagating on the surface to a depth where this ice exists. That would necessarily be very shallow, just within a few tens of centimeters from the surface of the soil.
IF YOU DID NOT SEE A VARIATION WITH SEASONS, WOULD THAT THEN TEND TO SUPPORT THE HYPOTHESIS THAT THERE MIGHT BE A CONSTANT GENERATION OF METHANE DEEP BELOW THE SURFACE OF MARS BY SOMETHING?
Yes, exactly.
WHAT?
Yes, of course. If there were no variation with seasons, we would think that the stuff was being generated at a steady rate deep below the surface. At this point, we still would not know if it's due to biology or not. One has to make additional measurements such as the chemical composition of additional gases that are being released from the same site. They would be different in the case of biology compared with abiotic mechanisms.
As we mentioned, we would like to measure the isotopic ratio in the released gases to identify whether they are more consistent with biological release or abiotic means.
WHAT WOULD BE THE NEXT TIME YOU COULD EXPLORE THE SEASONAL QUESTION?
Beginning in February 2005, Mars will be in a favorable position. It has a good Doppler shift velocity relative to Earth. We and other groups will be proposing to win time at ground-based telescopes to continue this search and mapping different seasons of the Martian year.
SO YOU COULD START DOING IT IN 2005?
Oh, we will start doing it in 2005!
European Space Agency's Ground-Penetrating
Radar on Mars Express Will Look for Underground Water Ice
WHEN ESA'S DEEP GROUND PENETRATING RADAR KICKS IN, WHICH MIGHT BE SOME TIME BETWEEN SEPTEMBER AND MARCH, WILL THAT HELP RESOLVE ANY OF THESE ISSUES?
Gosh, it should. It can look for sub-surface water ice as our NASA Odyssey has searched. Incidentally, it's actually subsurface Hydrogen (H), not subsurface water (H2O). That's a key point. Odyssey measures subsurface Hydrogen, but it can't really determine what other atoms are bounded at Hydrogen. It could be oxygen or it could be carbon.
That means Mars Odyssey might have found subsurface hydrocarbons, not just water. But the discovered Hydrogen has been interpreted to be mainly water ice because the temperatures are very cold and especially in the polar regions. So, probably most of it is water ice. But there could be a significant portion that is contributed by sub-surface organics.
IF THERE ARE FORMALDEHYDE MOLECULES, THEN MAYBE THERE'S MORE REASON TO LOOK FOR LIFE UNDERGROUND ON MARS?
You bet! Absolutely."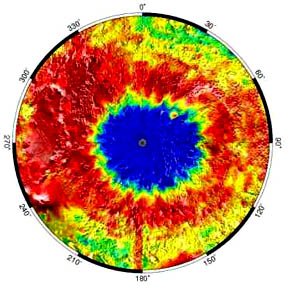 ---
Websites:

© 1998 - 2019 by Linda Moulton Howe.
All Rights Reserved.