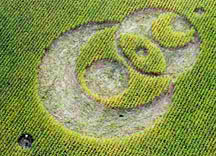 September 22, 2004  Ellettsville, Indiana - Back on September 8, I posted an Earthfiles about possible balls of light reported by Ted Robertson and Jeffrey Wilson of the Independent Crop Circle Research Association's (ICCRA), who investigated the Miamisburg, Ohio formation in tall corn near the ancient Miamisburg earth mound. Included in that Earthfiles report was a geometry comparison between the 2004 Miamisburg Mound, Ohio, corn formation and the 2003 Serpent Mound, Ohio, soybean pattern researched and drawn by Bert Janssen of The Netherlands. The similarities shown below are remarkable.

© 1998 - 2018 by Linda Moulton Howe.
All Rights Reserved.