August 27, 2004  Pasadena, California – Internet rumors have circulated this year that in September 2004, an asteroid will strike Earth and cause great devastation. An asteroid is going to pass the Earth's orbit on September 29th, but there astronomers and asteroid specialists say there is no chance for a hit. The Near-Earth-Passing asteroid is called 4179 Toutatis, a very strangely-shaped rock that was first discovered by C. Pollas on January 4, 1989, at Caussols, France, on photographic plates taken on the 0.9-m Schmidt telescope by Alain Maury and Derral Mulholland during astrometric observations of Jupiter's faint satellites. Toutatis is the long streak in the image below.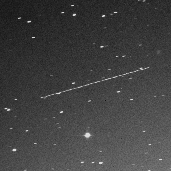 The discoverers named the asteroid after the Celtic/Gallic god, Toutatis, who is the protector of all tribes and who fears nothing – except that someday the sky may fall on their heads.
Asteroid Toutatis is big, measuring 4.6 kilometers long – nearly 3 miles – by 2.4 kilometers wide – about 1.5 miles. Toutatis has an eccentric, four-year orbit, that extends from just inside the Earth's orbit out to the main asteroid belt between Mars and Jupiter. The NASA/JPL website reports, "The plane of Toutatis's orbit is closer to the plane of the Earth's orbit than any other known asteroid that is big and crosses Earth's orbit. Toutatis may have the most chaotic orbit studied to date, a consequence of the asteroid's frequent close approaches to Earth."
In about four weeks, on September 29, 2004, Asteroid 4179 Toutatis will pass by Earth at a range of four times the distance between the Earth and the Moon – the closest approach of any known asteroid or comet between now and the year 2027. Could the chaotic orbit of Asteroid 4179 Toutatis hit Earth any time in the foreseeable future?
I talked about that question with Tim Spahr, Ph.D., Technical Near-Earth Asteroid Specialist at the Smithsonian Astrophysical Observatory, Harvard University.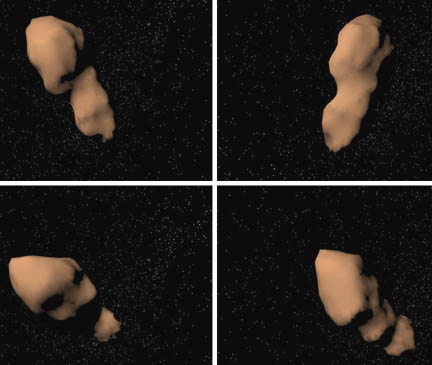 ---
Interview:
Tim Spahr, Ph.D., Technical Near-Earth Asteroid Specialist at the Smithsonian Astrophysical Observatory in Harvard University, Cambridge, Massachusetts:
Could the Chaotic Orbit of Toutatis
Hit Earth in the Future?
" The orbit far in the future is difficult to predict because of encounters with the Earth ­ such as 4 times the Earth-Moon distance and that's still a very safe distance. But, it's observed every time it passes by and that allows refining of the orbit's calculations. So, every time it is observable when it is fairly near the Earth like that, we improve the orbit again and we can predict further into the future. Chaos, for a lot of people, that means we don't know anything. But in this case, it means there are very small changes to the orbital elements of the object. In a few hundred years, we will have trouble predicting exactly where it's going to be. But if we were, for example, to get radar observations this time, or perhaps the next close approach, then we would be able to tell the orbit out to 100 years further, or 1000 years further.
BUT RIGHT NOW, YOU AND OTHER ASTRONOMERS HAVE NO CONCERN WHATSOEVER ABOUT 4179 TOUTATIS COMING CLOSE ENOUGH TO HAVE ANY IMPACT ON THE EARTH THIS SEPTEMBER OF 2004?
Absolutely not. There is no chance of it.
Learning About Near-Misses After They've Passed
NOW, WHAT ABOUT OTHER ASTEROIDS, MINOR PLANETS, OUT THERE IN OUR SOLAR SYSTEM? I KNOW IN THE PAST YEAR OR TWO, WE'VE ALL BECOME AWARE THAT OBJECTS HAVE COME VERY CLOSE TO THE EARTH WITH REALLY NO WARNING. SCIENTISTS HAVE DISCOVERED THEM AFTER THEY HAVE PASSED CLOSELY. IS THERE ANYTHING THAT YOU'RE KEEPING AN EYE ON NOW THAT MIGHT BE A NEAR-MISS?
Actually not. In particular, there are NASA-funded surveys and also some internationally-funded surveys that look for these objects as a matter of course. So, they are being discovered now because people are trying to find objects that might hit us in the next few years or maybe even 100 years, so we could do something about it.
When you have an object that passed very close to the Earth and it was not picked up until after it passed close, that's actually sort of a normal consequence. A certain fraction of objects will only be discovered after they have passed the Earth because they were in the daytime sky, for example, before their close approach, so it was impossible to find them with standard astronomical means.
WE KNOW IN THE EARTH'S HISTORY THAT AT LEAST AT THE TIME OF THE DINOSAUR WIPE-OUT-EXTINCTION EVENT THAT IT APPEARS TO HAVE BEEN LINKED TO A LARGE ASTEROID IN THE GULF OF MEXICO NEAR THE YUCATAN PENINSULA.
Right.
THERE ARE OTHER SCIENTISTS WHO SEEM TO HAVE SOME CONCERN THAT THIS HAS HAPPENED PERHAPS MORE THAN WE HAVE REALIZED AND THAT ASTEROIDS COULD POSE A GREAT POTENTIAL CATASTROPHE TO THE EARTH IN THE FUTURE WHICH IS WHY WE HAVE THE NEAR-EARTH ASTEROID MONITORING.
Yes.
Any Other Known and Potentially Dangerous
Near-Earth Asteroids Out There?
IS THERE ANYTHING ON THE HORIZON THAT WOULD FALL INTO THE CATEGORY OF BEING A MAJOR PROBLEM FOR THE EARTH IN THIS CENTURY?
No. And in fact, that is the interval for which we monitor every single object we know about ­ they are all on 100 year time scales. At this minute, there is nothing that is anything more than a minor threat to the Earth, a one in a million chance of hitting the Earth, or something like that. It turns out that we are more interested in the objects we DON'T KNOW about and that's why NASA is spending this money to discover the objects as fast as possible. NASA right now is concentrating on finding the objects that are one kilometer across or larger because those are the ones that pose the most danger to the inhabitants of the Earth. As we find more and more of those, the danger goes down because we know where those objects are going to be for the next 100 years. Finding the one kilometer near-Earth asteroids, that job will be done in the next decade.
MEANING YOU WILL FEEL CONFIDENT THAT IN TEN YEARS FROM NOW, YOU WILL HAVE FOUND ALL OF THE ONE KILOMETER DIAMETER OBJECTS?
All, meaning certainly more than 95% of them. It's hard to find absolutely everything in short order. But that will be done eventually anyway.
What If A Large Near-Earth Asteroid Sneaks Up On Earth
WHAT ARE THE ODDS THAT IN THESE TEN YEARS WHILE WE ARE LOOKING FOR THESE LARGER OBJECTS TO IDENTIFY THEM AND SEE WHAT THEIR ORBITS ARE THAT ONE OF THEM COULD SNEAK UP ON US?
It's miniscule. It's on the order of one in a billion or something like that. You have a much better chance of winning the lottery four or five times than that happening. When I say 'you' winning the lottery, I mean the same one person winning the lottery four or five times.
THAN ONE OF THESE LARGER ONE KILOMETER DIAMETER-WIDE ASTEROIDS IMPACTING WITH OUR PLANET?
Yes.What I tell people is not to worry about it because there are a whole lot of people around the globe that are concerned about this problem and we are attacking it from a scientific point of view and trying to discover these things as fast as possible, to determine their orbits, and to compute the chance that they might hit. If we find one that is going to hit, then we'll go one step further. But the most important thing is to discover the objects and there is a good deal of money being spent on that right now.
IF WE IDENTIFIED ONE OF THESE OBJECTS IN ORBIT, WOULD WE HAVE ENOUGH TIME TO FIGURE OUT AN APPROACH TO TRY TO DEFLECT OR DESTROY IT?
I think so. The most important part is detecting the object first. If you find an object that is going to hit in a couple of weeks, you probably don't have any time. But the way the scenario is being run now is to try to find the objects dozens or hundreds of years before impact and then we'd have plenty of time to think about it and implement a plan.
Why Don't More Asteroids Collide With Earth?
WITH SO MANY ASTEROIDS OUT THERE IN THE ASTEROID BELT, WHY IS IT THAT ASTEROIDS COLLIDING WITH THE EARTH IS SO RARE?
It's because the vast majority of the asteroids are not in orbits that cross the orbit of the Earth. 99.9% of the objects out there are safely between Jupiter and Mars and never get any closer than one Earth-Sun distance from the Earth. So, there is no threat ever. Then there is a very small percentage of them that cross the orbit of the Earth and those are the ones we're concerned about and trying to find.
WHAT CAUSES THEM TO CHANGE FROM THEIR SAFE ORBIT OUT BETWEEN MARS AND JUPITER TO MAKING A COLLISION WITH THE EARTH?
There are a couple or problems. One is that those objects are always colliding with themselves and any time you have a collision, you can impart a little bit of energy into the pieces and sometimes that will alter the orbits enough such that they can approach, say, Mars. If they approach Mars closely, then there is a chance that their orbit will become more elongated and they can approach the Earth."
---
More Information:
How To Report An Asteroid
IF A PROFESSIONAL ASTRONOMER OR AMATEUR ASTRONOMER FINDS SOMETHING THAT THEY THINK IS A NEAR-EARTH ASTEROID, WHAT IS THE PROCESS FOR COMMUNICATING TO YOU?
The standard process is to get positional measurements on the sky and contact us at the Minor Planet Center, Smithsonian Astrophysical Observatory, Harvard University in Cambridge, Massachusetts. We have a latitudinal and longitudinal coordinates system for the sky and people send me the exact time, their location on Earth and those latitude and longitude coordinates for the object. That comes to my desk and I decide whether or not I think it's a near-Earth asteroid. If so, then I post the information on our web page to encourage other observations which will allow us to refine the orbits.
WHAT IS THAT E-MAIL ADDRESS AND WEBSITE?
The e-mail address is: [email protected]   (Minor Planet Center at Center For Astrophysics)
Website: http://cfa-www.harvard.edu/iau/mpc.html
HOW MANY REPORTS EVERY DAY OR WEEK DO YOU GET?
In terms of Near-Earth Asteroid messages, we get a dozen a day. Those are divided between new discoveries of near-Earth asteroids and follow-up observations for orbit refinement. Once an object has been discovered, then we need more positional measurements of the object and that helps for orbit refinement. So people know to look at our web page, in particular, the Near-Earth Asteroid Confirmation page. They'll make observations and e-mail them to my office and we work from there.
1996 Toutatis Radar Experiment
NASA/JPL reports: "The asteroid's 1996 approach was not as close as in 1992, and Arecibo was unavailable (that telescope was being upgraded), but Goldstone was used for high-resolution imaging on nine straight dates. Toutatis's delay-Doppler signature was qualitatively as expected from predictions based on the existing computer model. Images like the ones below have been used to refine the spin-state parameters and to produce a high-resolution shape model.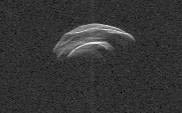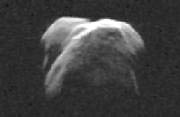 Goldstone images of Asteroid 4179 Toutatis from November 29, December 1 and December 2, 1996. Images courtesy NASA/JPL.
---
Websites:
http://echo.jpl.nasa.gov/asteroids/4179_Toutatis/toutatis.html
http://cfa-www.harvard.edu/iau/mpc.html

© 1998 - 2019 by Linda Moulton Howe.
All Rights Reserved.