October 22, 2004  Lansing, Michigan – Several incidents of unexplained animal deaths have been reported recently.
Two steers and one heifer were found dead and mutilated in Craig, Colorado, last week. Their genitals had been removed. No evidence about how the deaths were accomplished. The Moffat County Sheriff's Office asked a Colorado state veterinarian to examine the three cows.


This past weekend at the Long Beach Peninsula in the state of Washington, hundreds of giant squid washed up dead. Cause unknown. Some people harvested them for food, but the marine fish manager in the State Fish and Wildlife Department warned, "I sure wouldn't eat them. It would be like eating a deer on the side of the road." You don't know what killed them.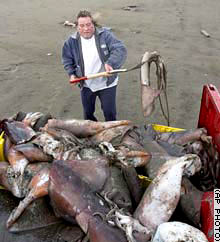 On the southwestern shore of Lake Ontario, Canada, more than 500 Long-Tailed Ducks have washed up dead. Exact cause unknown, but suspected is Botulism E linked to the sudden appearance in the 1990s of Zebra and Quagga mussels from the Caspian Sea on the other side of the world. Those foreign mussels came into the Great Lakes in tankers and boats. For an in-depth look at the Caspian Sea mussel link to the dead birds, see my report at Earthfiles.com.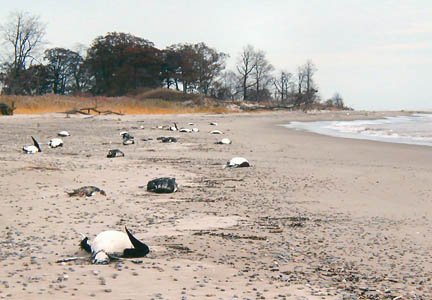 Since the middle of September, at least 200 squirrels ­ primarily fox squirrels ­ have washed up dead on the shores of Lake Michigan at Grand Haven and P. J. Hoffmaster parks. To date, every test done on a few of the bodies have been negative. I talked about the mysterious squirrel deaths this week with Tom Cooley, Wildlife Biologist in the Michigan Department of Natural Resources' Wildlife Disease Lab in Lansing, Michigan.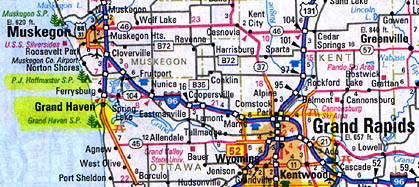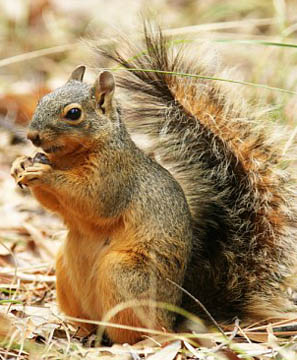 ---
Interview:
Tom Cooley, Wildlife Biologist, Michigan Department of Natural Resources, Wildlife Disease Lab, Lansing, Michigan: "The squirrels I looked at were picked up on September 17, 2004. They were received here on September 24, and I was able to look at them on September 27. These were squirrels that came from the Grand Haven area around or near the Grand Haven State Park, or near P. J. Hoffmaster State Park on the Lake Michigan shore. It was about a 7 to 10 mile area is the description I received that squirrels were seen washing up on the shores of Lake Michigan.
Evidently people were also seeing them in the water of the Grand River, which dumps into Lake Michigan near there. In many cases, they were just seeing carcasses. In some cases, they were actually seeing squirrels that were swimming.
The squirrels that I got in ­ of the three ­ really only one of them was really fresh. The other two had been dead for a period of time. The organs on all three of the animals looked fairly normal. They were in good to very good physical condition. Two of the three had some material in the stomach. The third one did not have anything in the stomach whatsoever.
I was able to save the contents on the two that had stomach contents and the brains on the two that were checked for microscopic examination and the livers from all three of them.
To date, I don't really have a lot of information to go on. The liver tests were for metals analysis and they were negative. The stomach contents were negative. The microscopic examination really did not show much of anything except a little bit of fluid in the lungs. So, at this point I am waiting for analysis on brain tissue. The one we did have checked for West Nile and it was negative. West Nile viruses was a concern by some people as well. We did have the brain checked on that and it was negative.
No Other Animals Affected
WHAT ABOUT OTHER ANIMALS DYING AS WELL?
That's what you would expect. That's why we looked at stomach contents. You look at stomach contents because if they got into something, that would be the most likely source of material to be ingested (contaminated water) than another route.­ especially if you're dealing with only one species. If there was something in the water, you should have other animals dying. With that not being the case ­ it does not sound like there were any fish dead or any other species dead in the water. There were just the squirrels.
THAT MAKES THIS STRANGER, DOESN'T IT?
A little bit.
DOES ANYONE HAVE ANY OTHER HYPOTHESIS NOW ABOUT WHY ONLY THE SQUIRREL POPULATION IN THIS PART OF MICHIGAN SHOULD HAVE MYSTERIOUS DEATHS?
I haven't heard anything from anybody. What I try to do is take the information they give me, look at the animals that are there and see if we can come up with an explanation. At this point, there is nothing here to indicate there has been any kind of foul play or anything like that. That's why it might come back to the idea that it might just be a movement of animals in that particular part of the state, something kicked them off to undergo this migration. Again, I don't how far a migration it could be. It did not sound like they were ­ they were not seeing large numbers of squirrels moving through the woods or anything like that. But something may have made them move and the river was right there and the river was too wide for them to get across.
BUT IT IS ODD, ISN'T IT, FOR SEVERAL DOZEN SQUIRRELS TO BE SEEN BY PEOPLE SWIMMING IN THE RIVER?
Yes. They weren't all seen swimming. A lot were seen dead.
IN THE WATER.
In the water.
No Evidence of Water Contamination
THEN WAS THE WATER CONTAMINATED? OR DID THEY DIE SOMEWHERE ELSE AND FALL INTO THE WATER?
Again, with the ones that were still there and alive, that would indicate they are probably not picking up something at that point. You would think it was just they were trying to get across (the river), especially when we checked the stomach contents and they come back negative.
IS IT FAIR TO SAY THAT THIS TRULY IS A MYSTERY?
Right now I don't have any diagnosis on why they died, so yes, I guess it could be classified as a mystery.
IN YOUR 27 YEARS WITH THE DEPT. OF NATURAL RESOURCES IN MICHIGAN, HAVE YOU EVER HAD ANYTHING LIKE THIS HAPPEN BEFORE WITH THIS MANY SQUIRRELS DYING WITHOUT EXPLANATION?
No. I've never had numbers turned in or hear of numbers like this. You get an occasional one, but not with the numbers eyewitnesses were seeing."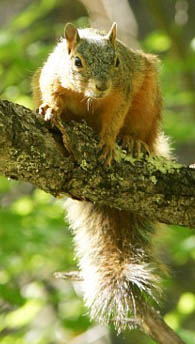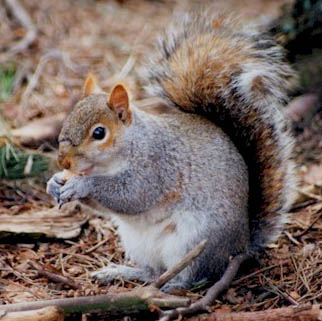 ---
More Information:
Dr. Cooley hopes to have more lab results from fresher squirrel bodies by mid-November 2004. Fortunately, the number of mysterious squirrel deaths have tapered off in October 2004.

© 1998 - 2023 by Linda Moulton Howe.
All Rights Reserved.