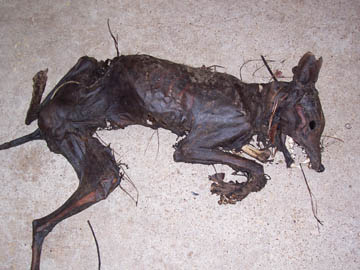 See: 10-14-04 Earthfiles and 10-20-04 Earthfiles. October 22, 2004
Lufkin, Texas – On Monday, October 18, I contacted veterinarian, Craig Wood, D.V.M., at the East Texas Veterinary Clinic in Lufkin, Texas, to see if he would be willing to excise the head and other body parts from the animal Stacey Womack's brother shot on October 8, and ship to a veterinarian DNA diagnostic laboratory. Dr. Wood agreed to help if Stacey would dig up the animal and deliver to his clinic. On Wednesday, October 20, Stacey drove the skeleton enshrouded with dark hide to Dr. Wood's office. Given controversial headlines about "chupacabras" connections, I asked him for his professional assessment.
---
Interview:
Craig Wood, D.V.M., East Texas Veterinary Clinic, Lufkin, Texas: "I think it's a coyote with a fractured jaw on both sides, a coyote with congenital defects that had a severe skin condition. The skull structure is the same (as coyote) and front legs are the same length as the back legs. Also, there are the same number of vertebrae, lumbar and thoracic cervical vertebrae. Skull structure is the same.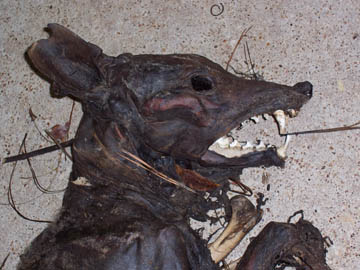 The amount of teeth (probably) was the same (as a coyote's), but some are missing. The length of the canine teeth are the same. They seemed to be exaggerated in the photo (by Stacey) because the soft tissue was receded and drawn back. Because it has an overbite, the top canine teeth tended to sharpen the bottom canines which gave them a little bit different look. The make-up of the skull, the size of the zygomatic arches underneath the eye sockets ­ all of this is consistent with a coyote, a canine. The size is about right ­ a little bit small. But there was not anything unusual.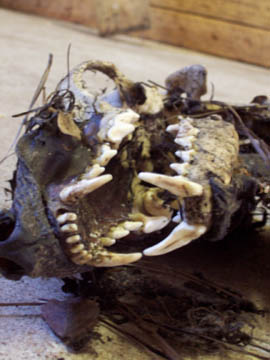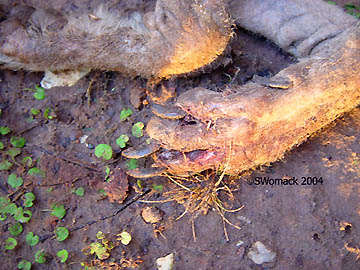 THE OPPOSITE OF WHAT STACEY THOUGHT. SHE SAID THEY WERE NOT WORN DOWN AND THAT THE ANIMAL WAS YOUNG?
I think the animal was fairly young, just looking at the teeth which all have gum. But basically right now, I have a skeleton with a shroud of leather around it is all. But looking at the teeth, they were young.
The one comment I would make to you is that the jaw was fractured bilaterally on both sides, which could have resulted from any sort of trauma. At the same time, the very tip of the jaw where the two mandibles come together was eroded and worn and the incisors were missing, the lower incisors. That suggests to me there was some sort of bone deficiency to begin with, a metabolic deficiency. I don't know what type. But that's probably why it was easier for the jaw to fracture out in nature.
Genetic Anomaly
THIS IS SUGGESTING THAT IF IT WERE A YOUNG ANIMAL, THERE WAS SOME GENETIC ANOMALY?
Probably so, yes.
WHAT WOULD BE MAKING THE GENETIC ANOMALY IN THAT ANIMAL AND PERHAPS THAT ONE IN ELMENDORF?
I don't know anything about the one in Elmendorf, but I imagine this is just some sort of deficiency, some metabolic change. If you have a large enough population, you will get abnormalities. That's the way Nature is.
WHAT ABOUT THE SKIN OR HIDE? STACEY SAID THAT UPON ARRIVING RIGHT AFTER THE ANIMAL HAD BEEN SHOT THAT SHE HAD TRIED TO RUB IT WITH A STICK AND FOUND IT POWDERY AND NOT ELASTIC?
I don't know at this point. The skin was not in a condition that we could examine. But I think you had an underlying problem, a severe skin infection, possibly a mange or sarcoptic mite problem. All of these would have been easier to be present if the skin was not normal to begin with. It would be easier for pathology to set up. There might have been an immuno-deficiency, the same thing that affected the bones may have caused the skin not to be as elastic as it should be or as healthy as it should. It would be very easy for other things to contaminate it. Then you see it several weeks or months down the road, you've got nothing but hairless hide.
STACEY SAID THE EAR SEEMED TO BREAK OFF LIKE A COOKIE?
The skin was not in a condition for us to examine. But probably at that point in the game, the circulation was so poor to the extremities, to the skin itself, that it was not normal. So for it to fall apart would not be unheard of.
SO THE MYSTERY IS WHAT WAS THE PATHOLOGY, OR THE GENETIC ABNORMALITY OF THIS ANIMAL?
I guess so, yes.
IF IT IS LIKE THE ONE IN ELMENDORF ­ THEY ARE SIMILAR ­ THEN BETWEEN MAY AND OCTOBER THERE WOULD HAVE BEEN TWO ANIMALS 300 MILES APART THAT LOOKED SIMILAR UPON DEATH.
I think what you've got are coyotes that have some skin pathology and some disease. I think the population is a lot greater than what people expect as far as coyotes are concerned. Again, you take a large enough population ­ horses, humans, dogs, whatever ­ you will get abnormalities.
DO YOU THINK IT IS WORTH AN INVESTMENT OF ANY KIND TO DO ANY KIND OF DNA ANALYSIS?
I don't. I can with certainty tell you what species you are looking at (canine coyote). I don't think DNA is going to tell you what disease processes were set up before death. But as far as species, I think we already know.
IF STACEY AND HER BROTHER OR ANYONE ELSE CAN TRAP A SIMILAR LOOKING ANIMAL, WOULD YOU BE WILLING TO LOOK AT IT ALIVE JUST TO MAKE A DETERMINATION THERE?
Yes, I would examine it."

© 1998 - 2023 by Linda Moulton Howe.
All Rights Reserved.