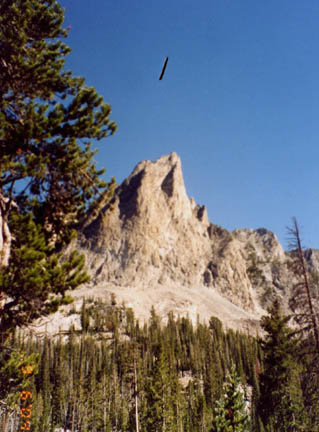 October 26, 2004  Boise, Idaho – This week I received the following e-mail with the above photo. 
"October 24, 2004
Hi, Linda,
My husband and I moved from Bel Air, Maryland to Boise, Idaho two years ago. Our daughter lured us with her love of the wilderness here in Idaho. While backpacking in the Sawtooths, she took this (photo) in September. Of course, she was not nearly as interested in this shot as I was. … In the past, I have helped Nancy Talbott and Dr. Levengood by sending in samples from a local crop formation in Street, Maryland and also sent in a photo of an ice circle found in Churchville, Maryland which no one wanted to talk about!!!
None of the other photos have this on them and she (daughter) has the negative. I am very interested in images captured in ordinary photographs. L. W., Boise, Idaho"
If any Earthfiles viewer has any information about what this aerial object might be, please e-mail me at [email protected].

© 1998 - 2023 by Linda Moulton Howe.
All Rights Reserved.