"To the Aztec, as to all ancient Mesoamerican peoples, time proceeded not linearly, but in cycles. … Just as the world was created, destroyed and recreated time and again, so smaller units of time repeated themselves. …If life was impermanent for the Aztec, so, in the last analysis, was death. Life contained the inevitability of death, but death held within it the certainty of rebirth. For the Aztec, as for other native American peoples, death meant passage from earthly life to another existence on a different plane in a multi-level universe. For some, it also meant even the possibility of return to earth, though in a different form."
– Mysteries of the Ancient Americas
Click back to 12-31-04Earthfiles, climate change report.
January 3, 2005  Albuquerque, New Mexico –
1) R.C.
Australia
"Concerning rapid climate change just reported at the American Geophysical Union meeting, carbon-dated worldwide to precisely *5200 years ago,* did you say anything to Professor Lonnie Thompson about the Mayan-Aztec crop picture of August 2004? [Editor's Note: See Silbury Hill photograph above and 08-04-04 Earthfiles; 06-11-00 Earthfiles]
Four outer shaded-divisions signify precisely *5200 years of 360 days each* (not 365 which would give 5130 years). But carbon-dating is often in error by 100 years over such a long interval.See: https://www.earthfiles.com/news/news.cfmID=839&category=Science
Then there are 10 outside intervals of 520 years each; and 10 inside intervals of 52 years each (a Mayan 'century'); and finally six small lines to show 52/6 = 8.67 years until the Fourth Sun will end.
The most anomalous coding was '12.19.19' for the inside dial; but now we realize they were trying to draw a parallel, between the December 2004 quake and what will happen in December 2012.
Given Thompson's new evidence, the 2012 event is certainly 'on'–even if we don't understand the astrophysics. Probably the most important story ever. Whether the Sun's energy changed (5200 years ago), or whether land masses 'slipped' to different locations, remains uncertain."
2) Bill Hamilton
Lancaster, California
"I am sure you noticed that the duration of 5,200 years is equal to
13 Mayan Baktuns. This 13th Baktun ends on Dec. 21,2012.
The Ox Lahji Baktun calendar spans 5200 years and it will end on December 21, 2012, of the Gregorian calendar. We are in the fourth part of these two cycles that began in 3114 BC. When we put together these two calendars, it gives us one period of great destruction for all humanity.
Is it coincidence that Lonnie Thompson has found evidence of abrupt climate change 5,200 years ago or did the Mayans encode a warning of solar cycles in their calendar?"
3) P. C.
"I just read your recent article stating 'Abrupt climate change occurred worldwide 5200 years ago.' Has anybody been making any connections between this article and the 'Mayan Factor' of Jose Arguelles wherein he discusses at great length the '5200-tun synchronization beam' cycles?…the 52 galactic-activation katuns?….of which we are nearing a pivotal year in 2012?"
[Editor's Note: The following comments are from 13moon.com:]
"As avid stargazers, the ancient Maya were keen to an astrological cycle we call the Precession of the Equinoxes. This is close to a 26,000 year cycle in which Earth transits through each of the 12 signs of the zodiac for about 2,152 years each. Each of these astrological ages represents one month of the grand, Cosmic Year. Sumerians, Tibetans, Egyptians, Cherokees, Hopi, and Mayans refer to this same 26,000 year cycle in their mystical belief systems and each have developed calendars based on this great cycle.
"The ancient Maya understood this 26,000 year cycle to be specifically composed of 5 lesser cycles, each 5,125 years each. Each of these 5 cycles was considered its own World Age or Creation Cycle. As depicted on the familiar, circular MesoAmerican Sun Stone, (often called the Aztec Calendar) each Creation Cycle is said to have been ruled and destroyed by one of 5 elements. Specifically, 4 Jaguar, 4 Wind, 4 Rain, 4 Water.
Aztec Calendar Based On Mayan Calendar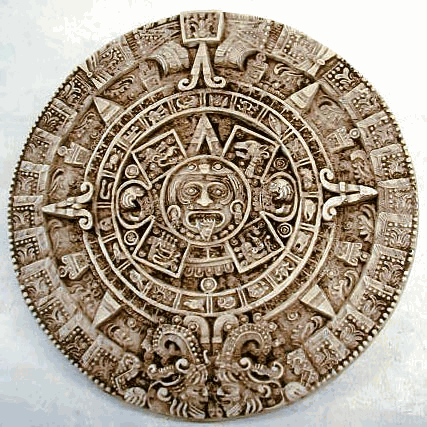 "Our present great cycle (3113 B.C. – 2012 A.D.) is called the Age of the Fifth Sun. This time period is ruled by 4 Earth. This fifth age is the synthesis of the previous four. 4 Earth (called Caban in the Maya language and Ollin in Aztec) has several meanings, including: movement, shift, evolution, earthquake, navigation, synchronicity, clue tracking, turtle. In the Maya language, the word 'ol' of ollin means consciousness.
In Mayan calendrics, the initial date that Earth entered the Fifth World was August 13, 3113 BC, written in Mayan long count notation as 13.0.0.0.0. Every day from that point was reckoned by the number of days passed since the event of this cosmic beginning point.
"As Dr. Jose Arguelles writes in Time and The Technosphere: 'August 13, 3113 BC is as precise and accurate as one can get for a beginning of history: the first Egyptian dynasty is dated to ca 3100 BC; the first 'city,' Uruk, in Mesopotamia, also ca 3100 BC; the Hindu Kali Yuga, 3102 BC; and most interestingly, the division of time into 24 hours of 60 minutes each and each minute into 60 seconds [and the division of the circle into 360 degrees], also around 3100 BC, in Sumeria. If the beginning of history was so accurately placed, then must not the end of history, December 21, 2012 also be as accurate?'
"(Sidenote: Regarding the World Age cycle we are closing in 2012 and the new World Age cycle to dawn, there are varying cosmologies as to whether we are closing the Fifth World and entering the Sixth, or closing the Fourth World and entering the Fifth. For example, In the perspective of the living Maya Timekeepers of Guatemala, calendrically speaking, each element has a 5,125 year cycle. They teach that we have been through fire, earth, air and water already. The next cycle (beginning Dec 21, 2012) will be ether – the Fifth Age – the Age of Center. Likewise, the Hopi teach we are closing the Fourth World of Destruction, and preparing to begin the Fifth World of Peace. Regardless of the title given, what is clear is that we are on poised on the brink of a World Age Rebirth!)
"Within the 5,125 year cycle lies 13 smaller cycles, known as the '13 Baktun Count,' or the 'long count.' Each baktun cycle is 394 years long, or 144,000 days. Each baktun was its own historical epoch or Age within the Great Creation Cycle, carrying a specific destiny for the evolution of those who incarnated in each baktun. For example, almost all of the Mayan inscriptions were seeded precisely during Baktun 9 (435-830 AD). This era is known as the time of the Classic Maya. After this point, around 830 A.D., the great Mayan centers were abandoned and their thriving culture mysteriously disappeared. To this day, no one can verify or prove why they left or where they went.
"The Classic Maya of Baktun 9 were of a specific destiny, distinct from Maya of other times. As Dr. Jose Arguelles writes, 'In 830 A.D. the engineering team departed back to space, back to the other dimensions from which the Maya keep their watch on things. Slowly the terrestrial Maya melted back into the jungles. The time of darkness was setting in. Sure enough the conquerors came. By 830 A.D. Warrior tribes who took the ancient name of Toltec, which means Master Builder, entered the Yucatan. War and human sacrifice were introduced.'
"Earth and her inhabitants are currently traveling through the 13th baktun cycle – the final period of 1618-2012 AD. This cycle is known both as 'the triumph of materialism' and 'the transformation of matter.' The Maya predicted this final baktun would be a time of great forgetting in which we drift very far from our sense of Oneness with Nature and experience a kind of collective amnesia. Like a memory virus in which we begin to believe the limited reality of appearances and grow dense to the spiritual essence which fuels this world, so humanity's sense of ego and domination has grown.
"We entered this baktun cycle right after establishing the world wide coordination of Pope Gregory XIII's 12 month calendar system (1582) as well as the perfection of 12 hour 60-minute mechanical clock (1600), which had been evolving for centuries. These are no small matters. According to Valum Votan, these 2 instruments are what manifested humanity's 'error in time' which is the following of artificial instruments of time that served to separate man apart from the rest of nature, operating by our own false timing frequency, to the detriment of the natural world."
---
Websites:

© 1998 - 2019 by Linda Moulton Howe.
All Rights Reserved.