December 31, 2004  Columbus, Ohio – As we move into the New Year of 2005, our planet is giving many signals that big ­ and perhaps very sudden ­ climate changes are facing us in the foreseeable future. On December 16th, at the American Geophysical Union meeting in San Francisco, Distinguished Professor Lonnie Thompson from the Geology Department and Byrd Polar Research Center at Ohio State University, presented evidence that the ice in the world's glaciers is melting rapidly and he is finding surprises in the melting glacial ice.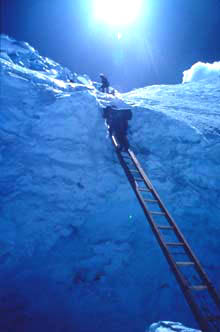 The high Quelccaya glacier of the Andes in Peru has melted so rapidly that since 1991, a 200-foot-deep lake has formed where the rock was once covered by deep ice. And ancient plants that once grew in a wet, warm climate there have been found perfectly preserved at the edges of the melting glacier. The plants are so freshly preserved that DNA has been collected and Carbon-14 analyses show that whatever "freeze-dried" the plants occurred 5,200 years ago. And for the plants to be so fresh, the climate had to have changed from warm to cold with deep snow within days.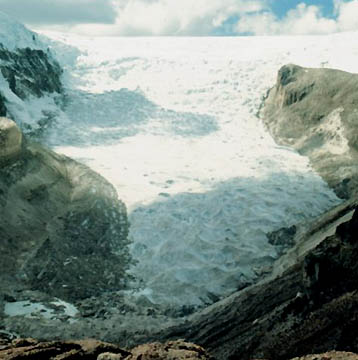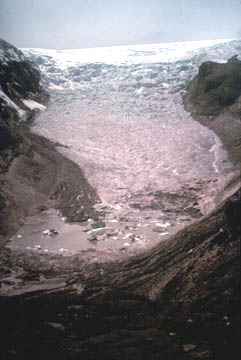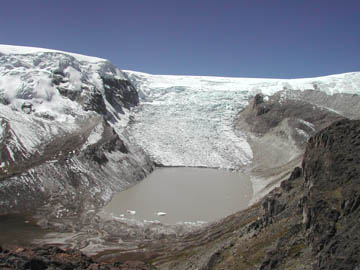 Professor Thompson thinks the cause was a sudden change in the sun's solar energy output. Today in the 21st Century, the sun's energy has also been lower again, but counteracting it has been the steady, exponentially increasing build up of carbon dioxide in the Earth's atmosphere ­ largely produced by human civilization's burning of fossil fuels.
Professor Thompson is seriously worried that our planet's climate system can be triggered into abrupt changes when various thresholds are reached ­ and then crossed. Right now, the parts per million per volume of carbon dioxide in our planet's atmosphere is 380. From ice core samples taken to study the past climate BEFORE the human industrial age, the natural earth variation in carbon dioxide has been a low of 190 ppm per volume during the ice ages and as high as 280 ppm by volume during the warm periods between ice ages.
That means our world's atmosphere now has 100 ppm by volume MORE than the natural CO2 cycle and the greenhouse gas is increasing every year. What happens when it reaches 400 ppm? Or 500 ppm? Will that trigger a global climate change that is so abrupt that green, growing wetland plants will again be "freeze dried" by sudden cold and snow? But this time, will it be the sun's fault? Or will it be humans ignoring the inevitable destiny of too much carbon dioxide blanketing the Earth?
---
Interview:
Lonnie Thompson, Ph.D., Distinguished Prof. of Geology and Research Scientist, Byrd Polar Research Center, Ohio State University, Columbus, Ohio: "Our interest in this 5,200 year event actually started in 2002 when we discovered these plants coming out of the retreating margin of the Quelccaya ice cap in the Peruvian Andes. The ice cliff there is about 30 meters high (about 100 feet) and right at the base was this plant deposit. It's about 2 meters across and these are wetland plants. They are not woody tissue. That's what makes them remarkable because they were so well preserved.
In collecting those plants and having them identified. They are Distichia muscoides. Then having them dated in two different labs and both came back at 5,200 years old. From that, we started ­ well, first of all for that site, it tells us a lot of things.
Number 1: sometime before 5,200 years ago, it had to be at least as warm as today for this plant to have grown at this site.
Number 2: whatever happened had to be extremely abrupt because the plants were captured, they are so well preserved the analysts have been able to do DNA on the tissues from the plants. That would say that the natural climate system back then was capable of very abrupt change.
Abrupt Climate Change Happened in Days to Weeks
WHEN YOU SAY ABRUPT CHANGE AS SEEN IN THESE PLANTS, ARE WE TALKING ABOUT SOMETHING THAT HAPPENED IN 24 HOURS? 48 HOURS?
I think we're talking about something that happened in the order of days to weeks. The plant, in order to be so well preserved had to be captured in whatever the event was ­ there had to be enough snow fall on this area to bury the plants deep enough so that it was not exposed again until just a few years ago. Otherwise, this plant would have decayed.
Likewise, we have looked around the world at other records and one of the most interesting of these is the 'Oetzi' ­ the ice man ­ who was found in the glacial ice of the Austrian Alps back in 1991. If you read the story on Oetzi, he was shot in the back with an arrow. He escaped his captives and sat down behind a boulder at the top of the Austrian Alps and bled to death. But shortly after he died, there had to be a snow event that was large enough to bury him deep enough so that for 5,200 years ­ which is his age ­ he was covered by ice, only coming out (in the melt) in the recent decade.
If you look around the world, we've drilled on ice fields on Mt. Kilimanjaro in Africa and the lowest, most negative isotope event ­ an isotope is an indication of temperature and precipitation ­ occurs 5,200 years ago in Africa. (Editor's Note: Mt. Kilimanjaro's glacier is expected to be completely gone in fifteen years.)
Then if you go into the Middle East in Israel, there are records there where there are isotope records that show there was just one event where speleothems show there was just one event in the last 13,000 years, a very wet event, at 5,200 years ago. And those are uranium-thorium dated. [Editor's Note: Speleothems are mineral formations occurring in limestone caves, most commonly as stalagmites and stalactites, or slab-like deposits known as flow stones. They are composed of calcium carbonated, precipitated from ground water.]
Then if you go to England and Ireland, there are oak tree chronologies that are annual. They go back 7,000 years. The narrowest ring in that collection is 5,194 years before present.
Then if you come to North America ­ when I was at the American Geophysical Union meeting, I gave an Emiliani Lecture. [Editor's Note: This is a special paleoclimate-paleooceangraphic lecture series named after the now-deceased Prof. Cesare Emiliani, Department of Geology, University of Miami.] He was an oceanographer, but he did a study that was published in Science back in 1979 on a spring, a water hole down in Florida. It turns out that this spring is a sink hole, a cavern, and in the early history of Florida, human and animals would go to this spring in times of drought to get water. It turned out there are ledges in this sink hole where people actually lived. He had dated the last time there was a sudden rise in the water in the spring based on human bones and artifacts and this was 5,220 years ago.
Was Sun the Cause of Rapid Climate Change 5,200 Years Ago?
IN YOUR DECEMBER 16, 2004, PRESENTATION AT THE AMERICAN GEOPHYSICAL UNION MEETING, YOU HYPOTHESIZED THE GLOBAL AND RAPID CLIMATE CHANGE MIGHT HAVE BEEN CAUSED BY A DROP IN SOLAR ENERGY. IF THE SUN COULD HAVE TRIGGERED SUCH A MASSIVE AND RAPID CHANGE 5,200 YEARS AGO, COULD WE TRIGGER EXACTLY THE SAME KIND OF RAPID CHANGE NOW?
I believe this is the case. We study ice here and ice is a threshold system. Ice is perfectly happy until you reach 32 degrees Fahrenheit. At 32 deg. F, it crosses a threshold. It melts and becomes water. I think the natural systems of this planet, many of them operate on thresholds. You're OK changing some things up to a certain limit, but if you cross that threshold, then the system reorganizes into something completely different than what it was before. In the case of climate, that would be in the form of abrupt climate change.
If we look at the warmest year on record since we kept temperature records was 1998. The second warmest record on record was 2002. The third was 2003. And 2004 is going to come in as the fourth warmest year since we've been keeping records.
Could Human Fossil Fuel Burning Trigger
A Similar Abrupt Climate Change?
But over the past 20 years, the solar output of the Sun has actually decreased. So, we've got other players at work here and the most likely candidate is the increase in greenhouse gases.
If you look at these greenhouse gas variations, they are kind of natural breathing of the planet through time and there seems to be an upper level and a lower level. The upper level is about 280 ppm. Humans came along and with our technologies, we've been able to mine the forests of the past through the oil and the gas and coal that we are consuming ­ bring all that carbon that had been taken out of the atmosphere by geologic processes and we have released it back into the atmosphere. So about 1900, we passed 300 ppm by volume. This year we are up to about 380 ppm by volume. That is increasing at a higher rate, especially in the past two years ­ and we're not sure why ­ but it's increasing over 2 ppm by volume each year.
It gets back to this concept of threshold. The climate system works on thresholds. Whatever caused that abrupt change 5,200 years ago ­ what if there is a threshold for carbon dioxide? We pass 400 ppm or 500 ppm by volume and we see an abrupt change in the climate system, not a gradual change.
United States Is World's Primary CO2 Producer
AND WHY IS THIS GOVERNMENT NOT LEADING THE SEARCH FOR SOLUTIONS ON THE CARBON DIOXIDE BUILD UP?
That's unfortunate. My feeling is that as the Number One producer of CO2 emissions on Earth, the United States needs to be at the table. You might not like whatever policy is on the table at the time, but we need to be part, a player, working toward a solution that works for everyone. My feeling is that it doesn't really matter what our government thinks or people think, for that matter. The (climate) system will react and it will change. We will adapt because we have no choice.
IF WE KEEP HAVING HURRICANE SEASONS INCREASING ­ WHETHER IT'S A NATURAL CYCLE ON THE EARTH OR IT'S BECAUSE GLOBAL WARMING IS CONTRIBUTING TO THE ENERGY OF STORMS ­ THE AMOUNT OF MONEY THAT IT WILL TAKE YEAR AFTER YEAR DEALING WITH FLOODS, HURRICANES AND THOSE KINDS OF CRISES, WILL HAVE TO EXCEED THE COST OF TRYING TO REDUCE CO2, WOULDN'T IT?
Oh, absolutely. Many companies that have worked on CO2 reduction such as British Petroleum found it didn't cost them anything. by fixing the leaks in your pipelines, you reduce the amount of methane going into the Earth's atmosphere, but you also increase the amount of fuel you are getting to your user.
SO, WHY SHOULDN'T THE UNITED STATES FOLLOW THOSE LEADS AND BE PUSHING FOR REDUCTION IN CO2?
I think it comes back to the economic perceptions we have now. The people in power think that any of these types of moves will cost money and impact the economy of this country. I think the only way to change that is to do it in a way that is in the economic interests to make these changes.
Worst Case Warming Scenarios for Earth
And if you ask what is the worst case scenario for warming Earth? If you raised temperatures to the point that you removed all the mountain glaciers on Earth and we are doing that. They are all retreating. You could raise sea level by half a meter, then you can look around the world and see what the impact of half a meter rise in sea level would be. And that would be to displace over 100 million people.
And then you say, What if you remove the Greenland ice cap? If we did that, we would raise sea level by 7.5 meters. Then you would displace millions and millions of people. In the worst case scenario, if you removed the Antarctic ice sheet, you would raise sea level another 65 meters and our world would be totally different than what it is today. So, you can always look at the worst case scenario.
I think that the evidence would suggest that these changes in sea level are occurring, that initially we are going to be dealing with displacement of millions of people. I think this is likely to take place because we as human beings have not got our act together and are doing nothing to curtail emissions of CO2. If you look at the economies developing around the world like China, we've got a lot of economies coming on line that are going to be big consumers of fossil fuels and hence producers of CO2. So, I think that we are going to be dealing with an adaptation to changing climate system as well as increasing sea levels.
BUT FOR THE PLANTS IN THE QUELCCAYA ICE CAP IN PERU AND FOR THE HIKER IN THE ALPINE GLACIER TO HAVE BEEN TRAPPED AND PRESERVED, DOESN'T THAT MEAN THERE WOULD HAVE BEEN A SUDDEN DROP IN TEMPERATURE AND THERE WOULD HAVE TO HAVE BEEN A LOT OF SNOW SUDDENLY?
Yes. Absolutely. At higher elevations where temperatures are cold enough, there had to be lots of snow. I think in other areas like lower elevations ­ if you to to the Middle East ­ you look at the stalagmite measurements – it was wet. It's interesting if you go to the Natural History Museum in London, there are tablets that come from Iraq and Syria that date back 5,000 years ago that talk about huge floods in that part of the world. So, if you are low enough and the temperature is warm enough, it's going to be rain. But if you are up at higher elevations and higher latitudes, then you could have very heavy snow fall and obviously that's what captured the plants and the Alpine hiker.
THEN WHAT YOU ARE SUGGESTING IS THAT THERE WOULD HAVE BEEN A TREMENDOUS AMOUNT OF MOISTURE ALL AROUND THE PLANET 5,200 YEARS AGO?
There would have been a displacement. Prior to 5,200 years ago, the Sahara Desert was a wet place. There were lakes. There were people actually living out there. But 5,200 years ago, it suddenly dried up. I mean it was a very fast event. So, moisture that was falling in that area was being displaced to other areas ­ perhaps in the Middle East where they had these record rainfalls. So, what you find is that there is a disruption of the moisture system ­ places that were dry become wet and places that were wet become dry.
IS THE DIFFERENCE NOW THAT IT IS WARMING RAPIDLY AND 5,200 YEARS AGO, IT WAS SUDDENLY MUCH COLDER?
I think if you look at the Carbon 14 production, you see it going in both directions up and down.
5,200 YEARS AGO?
Yes. You probably had just a large disturbance in the climate system that manifested in all these different records at the time. I think when you look at today's climate and the forcings that we have, you look at the greenhouse gases, you're looking at a period of time in which the mean temperatures of the planet are rising ­ that means as the mean rises, the chances of having extremes are going in both directions: both warmer and colder increase.
We had in 2003 the heat waves in Europe ­ those were an extreme in the weather patterns. Those become more common as the mean temperatures rise on the planet.
Abrupt Climate Change Could Cause Economic Catastrophe
IF SUDDEN ICE CONDITIONS AND SUDDEN DESERT CONDITIONS ARE WHAT HAPPENED 5,200 YEARS AGO ­ A CATASTROPHE THEN ­ WHAT DO YOU THINK IS THE CATASTROPHE NOW? WILL IT BE INCREASES IN HURRICANES AND STRENGTHS OF STORMS.
My personal view on this is what we, people will respond to, will be economics: the cost of these changes. You can look at the hurricanes in Florida this year ­ the cost of that is huge, billions and billions of dollars. The cost to the oil industry to their oil platforms out in the Gulf of Mexico. The cost to the insurance agencies. To me, unfortunately, our economic structure for the planet ­ people react to changes in dollars and cents. I think we are already seeing evidence of the cost of the climate system changing.
THAT IT'S INCREASING IN TERMS OF CATASTROPHES AND DESTRUCTION BY WEATHER EVENTS?
Exactly.
Will Climate Change Be the Greatest Challenge of the 21st Century?
OR THE CATASTROPHES IN CLIMATE AROUND THE WORLD FROM HEAT AND DROUGHT AND FLOODS AND HURRICANES CONTINUE TO INCREASE TO THE POINT THAT PEOPLE BEGIN SCREAMING FOR GOVERNMENTS TO ACT?
It becomes increasingly difficult for them to act at that point because so much of the resources are going to dealing with the immediate human problems of displacement and re-construction of houses and everything. It would be a prudent government that would be looking to the future, taking a long term view that we could do a little now that would have a big impact ten or twenty years down the line as far as renewable energy sources are concerned.
It's not just the U. S. It's a problem in China. One of the reasons the U. S. has objected to the Kyoto Protocol is that China and India aren't part of that. I think it's a good objection. They need to be part of it because in ten or twenty years, China will probably be the biggest CO2 producer. The point is that this problem can only be solved by people working together and we haven't taken the first step here yet.
AS A SCIENTIST AND PERSON LIVING ON THE EARTH, DO YOU THINK RIGHT NOW THAT IT IS PRETTY INEVITABLE IN THIS CENTURY WE'RE GOING TO FACE CLIMATE CHALLENGES, WEATHER CHALLENGES, LIKE WE'VE NEVER FACED BEFORE?
That certainly would be my opinion. I think this is going to be our Number One problem for the 21st Century."
Editor's Note: During the Age of Dinosaurs 65 million to 270 million years ago, it's estimated that the CO2 ppm per volume in the Earth's atmosphere was 1,000 ppm to 2,000 ppm. But there was no glacial ice anywhere. As the Earth warms now approaching 400 ppm per volume CO2 and above, Prof. Thompson's great concern is: What is the trigger point, the threshold, that could throw the Earth's climate system into an abrupt change? If ice melting is accelerated, all coastal life on Earth, including humans, animals and plants, are threatened as sea levels rise. If there is an abrupt change as is evident 5,200 years ago, how great would the survival challenges be?
---
More Information:
Ohio State University 2001 New Bulletin:
"Lonnie Thompson, an Ohio State University glaciologist recently recognized by Time Magazine as one of the top scientists in the world for his work on the "archive" of past atmospheric environments in ice cores dating back over 420,000 years, discussed his research. This work is a major piece in the understanding of global warming.Looking at air trapped in the ice cores, Thompson and associates have demonstrated the ever-increasing rise in carbon dioxide rates in recent years. Until industrialization, increases in carbon dioxide levels followed a predictable pattern of variability in which levels oscillated, for example, between periods of glaciation and volcanic activity, but never in the history of the cores higher than 300 parts per million (ppm).With increased industrialization and release of greenhouse gases through burning of fossil fuels in recent decades, carbon dioxide levels in 1958 were at 315 ppm and by this year are pushing 370 ppm, with projections approaching 600 ppm in the year 2060. With the relationship of atmospheric carbon dioxide levels to increased temperatures, this archival ice core data is a crucial piece of data in the case for significant and potentially devastating global warming in the coming century.Dr. Thompson also spoke of the rapid disappearance of current mountain glaciers around the world, at increasingly faster rates than normal. He left us with two quotes from the father of glaciology, Louis Agassiz: 'Study nature and not books' and 'Strive to interpret what really exists.' insecticide recommendations available for disease prevention."
---
Websites:
Prof. Lonnie Thompson Glacier Research: http://researchnews.osu.edu/archive/lonthmppics.htm
And: http://researchnews.osu.edu/archive/glacgonepics.htm
http://www.osu.edu/osu/newsrel/Archive/01-08-13_Lonnie_Thompson_Time-CNN.html

© 1998 - 2019 by Linda Moulton Howe.
All Rights Reserved.