"You could go so far as to call Iapetus pre-biotic. One of the reasons we are interested in the whole Saturnian system is the fact that it's kind of a laboratory for life. The molecules that lead to the origin of life on Earth, we think formed in the outer solar system, and we are seeing them in the Saturnian system. It's colder there and these complex molecules have persisted out there as kind of a laboratory for the origin of life."
– Bonnie Buratti, Ph.D., NASA/JPL Astronomer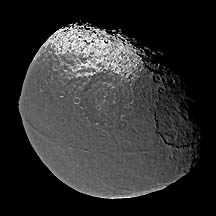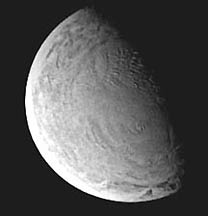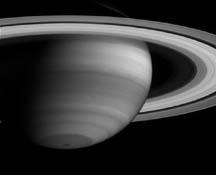 February 17, 2005  Pasadena, California – The current NASA Cassini mission to Saturn has produced the clearest pictures human eyes have ever seen of Saturn's rings, which are made out of ice and dust and iron. In addition to the rings, Saturn has 33 moons, including Titan ­ Saturn's biggest moon and second largest moon in the Solar System after Jupiter's Ganymede. Beyond the mysterious Titan where methane apparently rains down into dark lakes, Cassini has also taken the clearest images of two other moons which baffle scientists. Those moons are Iapetus (eye-AP-uh-tus) and Enceladus (en-SELL-uh-dus) from Greek mythology. The entire Saturnian system is named from the Greek dramas about gods and the universe. Saturn was the Titan who ruled over the Olympian Gods, including Iapetus. Iapetus was the father of Atlas, who carried the Earth on his shoulders, and father of Prometheus who was mankind's savior. Saturn ended up killing his father, Uranus, to become lord of the Universe. After the murder, revenging giants sprang from the father's blood. One of those giants was called Enceladus.
This week I talked with a NASA JPL astronomer who is an expert on Saturn's moons. She said there is no other object in the solar system that is black and white like Iapetus. The distribution of the two colors is odd as well. The leader of Cassini's imaging team compared the black and white pattern to a "stitched baseball." The strange moon is only about half the size of our moon, but the white side is so bright that Iapetus was first discovered and named in 1671 by Giovanni Cassini. Yet the side of Iapetus that goes forward in its revolution around Saturn is coal black.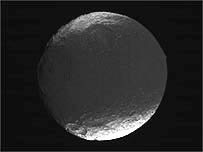 What Is Equatorial Ridge Around Iapetus?
Another unexplained anomaly of Iapetus is a bulging line that seems to go around the moon's equator as if the two halves of its sphere were welded together. The bulging line is 12 miles wide, 800 miles long and around 8 miles high in some places, which is taller than Mount Everest, the tallest peak on Earth. NASA wants to fly closer to Iapetus to learn more, but won't be able to until September 2007 ­ three years from now.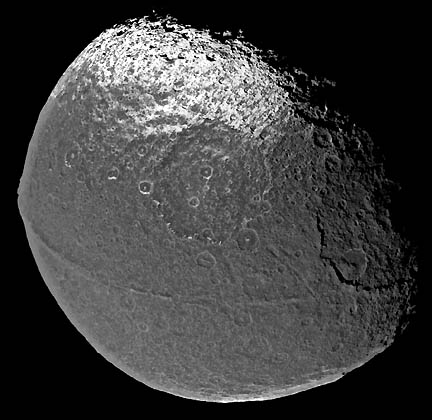 Wrinkles in "Fresh Snow" On Enceladus
As bright as Iapetus's white side is, another of Saturn's moons is even brighter. Enceladus (en-SELL-uh-dus) is one of the small, inner moons (499 kilometers diameter) that orbits Saturn. But it reflects almost 100 percent of the sunlight that strikes it. Enceladus also has a bizarre surface that is partly wrinkled and partly smooth. It was so bright that William Herschel was able to see the small moon in 1789.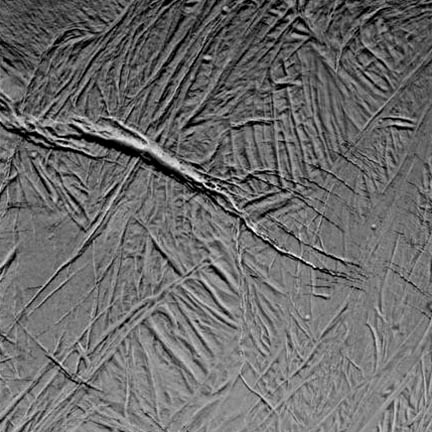 A Cassini mission scientist who has been trying to make sense of the data coming back from infrared spectra and visible images of the two mystifying moons is Bonnie Buratti, Ph.D. Dr. Buratti is Principal Scientist in the Division of Earth and Space Sciences at NASA's Jet Propulsion Laboratory in Pasadena, California. Dr. Buratti has been analyzing infrared spectra from the two moons and still doesn't know the source of the black, hydrocarbon substance on one side of Iapetus.
---
Interview:
Bonnie Buratti, Ph.D., Principal Scientist, Division of Earth and Space Sciences, NASA's Jet Propulsion Laboratory (JPL), Pasadena, California: "We've known from ground-based observations that Iapetus has two very different sides. One side, one hemisphere, looks like it's just a normal, bright, icy satellite, made primarily of water ice. Whereas the other side, the other hemisphere, is very dark. It's as dark as lamp black or tar. It appears to be composed of some type of organic material, carbon-rich material.
COULD IT BE SOMETHING LIKE A LUMP OF COAL COVERED WITH ICE?
No, we don't think the satellite is a lump of coal because coal has a higher density than the satellite does. The density of the satellite is very close to water ice. So, we think the dark stuff is something that was just painted on, that it came from some external source.
WHY WOULD IT BE ONLY ON ONE SIDE?
Because Iapetus keeps the same face towards Saturn, so it always has the same hemisphere leading the motion. In other words, when it is orbiting around Saturn, the same hemisphere is always facing the direction of motion.
LIKE OUR OWN EARTH'S MOON.
Exactly. So it turns out for Iapetus, the side that is dark is that so-called leading hemisphere and it sweeps up some dark material that came in from outside.
WHY SHOULD THAT SIDE ONLY BE DARK? YOU WOULD THINK THAT SOMETHING COMING IN WOULD HAVE DARKENED PERHAPS THE WHOLE MOON.
It is believed that the particles that are in orbit around Saturn are spiraling into Saturn from the outside. And the model that has been proposed is that they come from a satellite that is going in the opposite direction of Iapetus. In other words, you are correct. You are exactly right if the material is in the same type of orbit as Iapetus, that it would be evenly coated (with the dark material).
So, what we've proposed is that there are dark particles coming from an outer satellite that is orbiting in the opposite direction of Iapetus. That seems to work because the particles come in the opposite direction and hit only the leading side of Iapetus.
What Are the White and Black Sides Made Of?
HAVE YOU GOT ANY SPECIFIC IDENTITY OF THE MINERAL?
Yes, we have. I'm on the Cassini team and I'm on an instrument called the Visual Infrared Mapping Spectrometer (VIMS) that the main purpose of it is to look at the composition of satellites and we have a paper that's almost published.
It looks like the bright side is primarily water ice ­ not fresh water ice because the reflectivity, although it is bright, reflects about 60% of the radiation ­ kind of like dirty snow. So, we think there is something else there other than pure water ice. So, there is some organic material, some carbonate material that's rich in carbon, hydrogen, oxygen and nitrogen. Kind of crud ­ I think you could call it crud.
The dark side, though, has very little water ice. It's primarily minerals and various organic material. In fact, you could go so far as to call it pre-biotic. One of the reasons we are interested in the whole Saturnian system is the fact that it's kind of a laboratory for life. The molecules that lead to the origin of life on Earth, we think formed in the outer solar system and we are seeing them in the Saturnian system. It's colder there and these complex molecules have persisted out there as kind of a laboratory for the origin of life.
Dark Side: Pre-Biotic Hydrocarbons
IF IT'S PRE-BIOTIC, WHY DO YOU USE THE WORD 'PRE?' IF THERE IS THAT MUCH CARBON AND WATER ICE, WHY COULDN'T THERE POSSIBLY BE SOME KIND OF ORGANIC LIFE THERE ALREADY?
For one thing, there isn't any liquid water. It's also too cold. We don't know of anything that can live at temperatures that cold. We don't think there was an energy source in order for live to have evolved.
IN TERMS OF LIQUID WATER VERSUS ICE, IS IT POSSIBLE THAT INSIDE OF IAPETUS IT COULD BE WARM ENOUGH FOR THERE TO BE LIQUID WATER?
We don't think so. We think it is just too cold out there, even in the interior of Iapetus.
BUT THAT IT'S LIKE A LABORATORY FOR LIFE FROZEN IN TIME AT THIS MOMENT.
Exactly. It has the components. Here is the other interesting thing. We don't think these pre-biotic materials could have arisen on Earth. We think they had to be transported from the outer solar system (to Earth).
SO SOMETHING LIKE WHATEVER HAS DEPOSITED THIS CARBON ON IAPETUS MIGHT BE THE SAME MECHANISM THAT HAS DEPOSITED CARBONACEOUS MATERIAL ON EARTH THAT WAS THE PRECURSOR FOR LIFE HERE?
A similar mechanism, yes. We think that the objects that brought pre-biotic material to the Earth were comets. comets are the dirty, icy snowballs that seem to come from the outer parts of the solar system. We believe they come from the Kuiper Belt, which is kind of an asteroid belt that is outside the orbit of Neptune. It might be a similar-type Kuiper Belt object captured by Saturn that lead to either a collision or kind of an erosion of Iapetus through time, by micrometeorites. It might have been such a body that lead to the dark material, the source of the dark material on Iapetus.
There is actually one satellite out beyond ­ one major satellite out beyond the orbit of Iapetus and that's Phoebe. That's orbiting at about 13 million kilometers out there and that might be a captured Kuiper Belt object out there and that might be the origin of at least some of the dark material.
DOES PHOEBE IN SPECTRAL ANALYSIS SEEM TO HAVE THIS SAME KIND OF COAL-LIKE CARBON?
That is the main problem with this model. Spectrally, they do not match. The dark side of Iapetus and Phoebe don't match in the visual part of the spectrum. In the infrared part of the spectrum, they match very well.
WHAT WOULD EXPLAIN THAT?
We don't have an explanation for that. Either the material gets altered or that there is an additional source. We don't have a complete answer for that yet.
DR. VILAS SAID IN SOME OF HER WORK THAT IT APPEARS THERE MIGHT BE A REDDISH, POSSIBLY IRON IN THE DARK APEX OF THE DARK SIDE OF IAPETUS.
Yes, we seem to see a mineral that is iron-bearing in the infrared.
WOULD THAT MEAN THE HYDROCARBON WAS MIXED WITH IRON?
Yes, yes. It's a very complex mixture that there are minerals and the hydrocarbons.
SORT OF LIKE RUST-COVERED COAL?
Yeah, kind of like that. Although, I think rust needs oxygen to persist. But it's not exactly rust. It's something else.
AND THAT'S WHY IT IS SO DIFFICULT TO FIGURE OUT WHAT IT IS?
Yes, it's very complex. And the conditions are things that we can't replicate easily in the laboratory.
WOULD IT BE FAIR TO SAY THAT THE DARK SIDE OF IAPETUS IS UNIQUE SO FAR IN ANYTHING YOU'VE LOOKED AT?
Yes, it is unique. There's nothing like this where we see something that reflects like 60% of light that falls on it ­ like dirty snow (white side). Then on the other side, it's as dark as coal or tar.
IS THAT DARK, TARRY SIDE SPECTRUM THAT IS SO COMPLEX, IT IS UNIQUE ALSO IN THE SOLAR SYSTEM?
We don't know the answers to that yet. There are some asteroids that look like it in the visible and part of the infrared. But we have not extended our data in the infrared out to long enough wavelengths. We don't know as much about the asteroids as we know about the dark side of Iapetus. So we're not sure if they are similar or not.
The Equatorial Ridge of Iapetus
ANOTHER FEATURE THAT HAS INTRIGUED ME IS THE PICTURE THAT SHOWS THE BULGE AROUND THE EQUATOR OF IAPETUS THAT MAKES IT LOOK AS IF IT WERE TWO HALVES OF A BALL THAT WERE WELDED TOGETHER.
Yes, the 'walnut' picture.
WHAT DO YOU THINK IS GOING ON THERE?
I don't know! I mean, it could be some major global disruption. Or it could be a big crack that came out of a large crater, although we haven't identified a crater. We just do not know.
IT LOOKS STRUCTURAL, DOESN'T IT?
It is structural. We know that it is.
I GUESS THE SCIENCE FICTION QUESTION WOULD BE: IS IT POSSIBLE THAT IAPETUS IS SOMETHING'S CONSTRUCTION? COULD SOME ADVANCED INTELLIGENCE HAVE MADE IT?
No, there is no evidence for that. I would just quote Carl Sagan who said, 'Extraordinary claims require extraordinary evidence.' When you have something you can explain by some natural phenomenon ­ which we think we can, even though we don't have an exact answer. There is no reason whatsoever to invoke alien life.
BUT IT CERTAINLY IS ODD THAT THIS IS BULGING SO STRAIGHT AROUND THE EQUATOR PART, ISN'T IT? LIKE IF YOU DREW A LINE AROUND IAPETUS – IN THE PHOTO.
It's also true that if a crater came in and hit the equator, which is not all that unusual, that a structural deformity would also have its origin at the equator.
WOULD IT BE THAT STRAIGHT, THOUGH? OR CIRCULAR? BECAUSE IT LOOKS LIKE A LINE GOING AROUND IAPETUS.
Well, we haven't imaged enough of Iapetus to know it's going around the entire satellite. So, we can't say that. That doesn't show up in the Cassini images.
BUT HAVE YOU SEEN ANYTHING LIKE THAT IN THE REST OF THE SOLAR SYSTEM?
We have seen linear features, tectonic features, that occur on things like Iapetus. There is a large trench that we believe is caused by a crater on Tephys, so it could be a type of formation like that.
WHEN YOU AND YOUR COLLEAGUES HAVE TALKED ABOUT THE 'WALNUT' FEATURE OF THIS BULGE SEEMINGLY GOING AROUND THE MIDDLE OF IAPETUS, WHAT ARE THE VARIOUS HYPOTHESES THAT ARE DISCUSSED?
One of them is that there is some type of disruption of the satellites. I think it has been shown that satellites can be disrupted and then the gravitational force pulls them back together. There could have been something like that.
Another possibility is it's a stress fracture from a crater and we do see linear stress fractures that come from, for example, a large crater on Tethys ­ that's another possibility.
WILL DURING THE 2007 FLY BY, WILL THERE BE THEN CLOSER PHOTOGRAPHS AS WELL AS SPECTRA DATA?
Yes, much closer. It should get within a thousand miles of Iapetus.
WOW, THAT'S GOING TO BE EXCITING.
Yeah, it's amazing.
Enceladus – As Bright As Newly Fallen Snow
WHAT INTRIGUES YOU THE VERY MOST FROM ALL OF THE CASSINI WORK AND ALL OF THE MOONS AND THE PLANET ITSELF?
I'm studying the images right now from the fly by just a couple of days ago past Titan. I'm just intrigued by what I see. I mean, I'm not in any position to say anything to the press because I'm trying to figure out what is going on!
But another satellite that intrigues me is Enceledus. This is a satellite (Saturn moon) that had a fly by yesterday and we're waiting for the images and other data to come down. This is a satellite that is as bright as freshly fallen snow. It is the brightest thing we know of. We believe there has to be some type of activity on this moon, but we haven't seen it yet. So, we're waiting with baited breath to see these images and try to understand this intriguing satellite.
WHAT IN YOUR OWN MIND DO YOU PLAY WITH AROUND WITH AS A POSSIBILITY THAT COULD EXPLAIN THIS IF IT'S A FRESH PROCESS?
I think there are two possibilities and I'm not sure which it is. One is that it's some type of geyser process, that there are geysers on Enceladus. The other one is that it's just kind of a self-sustaining process where meteorites come in, hit and bump off particles and then they later re-impact Enceladus.
BUT THEN THE QUESTION WOULD BE WHY WOULD THERE BE SO MUCH IMPACT ON THAT ONE MOON?
It turns out that Enceladus is in the midst of a ring. We call it the E Ring. So, there are already particles there that could preferentially hit it. Possibly the ring was caused by an impact in the past.
IS IT EMBEDDED IN THE E RING, MEANING ALL THOSE LITTLE ROCKS ARE GOING AROUND IN SOME STRANGE ORBITAL MECHANICS WITH THIS MOON?
Exactly, except they are not rocks. We think they are 1 micron, tiny, little particles.
ONE MICRON?!
Yeah.
SO YOU ARE TALKING ABOUT A RING THAT IS DUST.
Yes, except it's water ice. It's dust size, but it's water ice.
ALL ICE. THEN ENCELADUS WOULD BE COMPOSED OF THAT SAME KIND OF ICE?
Yes, the surface at least. We know there is something in the interior that's a little bit heavier because density of Enceladus is a little higher than water ice. So, there is something else in the interior. But the surface, yes, it looks like it is composed of the same material as that E Ring.
HAVE THERE BEEN ANY SURPRISES FROM SPECTRAL ANALYSIS OF SATURN OR THE RINGS WHERE THERE MIGHT BE A CONCENTRATION OF IRON OR SOMETHING THAT IS UNEXPECTED?
We did find in the rings what looked like iron compounds and organics in the rings. The rings are pretty dirty. They have more than just water ice. But I don't think it was totally surprising, but it was neat to find out."
NASA Comments About Iapetus Equatorial Ridge
NASA press release: "The most unique, and perhaps most remarkable feature discovered in Cassini images of Iapetus is a topographic ridge that coincides almost exactly with the geographic equator. The ridge is conspicuous in the Cassini image as an approximately 20-kilometer wide band, which is 12 miles, that extends from the far western side of the moon almost to the day/night boundary for 1300 kilometers, which is 800 miles. It remains almost exactly parallel to the equator within a couple of degrees. The physical origin of the ridge has yet to be explained."
The press release left out the fact that the equatorial ridge rises as high as eight miles, higher than Earth's highest mountain, Mt. Everest. And the question remains: does the equatorial ridge go all around Iapetus in a 360 degree encirclement of the strange moon? We apparently have to wait until September 2007 to find out.
---
More Information:
Mysterious Landslide and Crater on Iapetus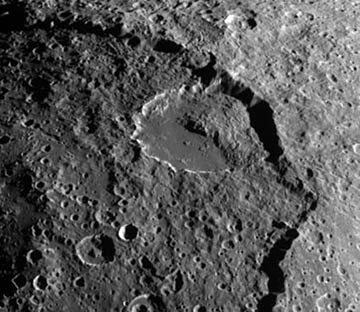 Another mystery on the dark side of Iapetus is a 9-mile-deep landslide surrounding an old, flat-bottomed crater. In the above photo, the fallen debris covers 60 kilometers (37 miles) of the crater floor, raising questions about how the landslide traveled so far?
Please see other Earthfiles reports concerning the Cassini mission to Saturn and its moons:
01/22/2005 —  Titan – A Moon Where It Rains Methane Into Seas and Soils of Hydrocarbons

01/14/2005 —  Updated – Cassini/Huygen's First Look At Titan's Surface

11/25/2004 —  Closest Look At Mysterious Titan from Cassini Spacecraft

06/11/2004 —  Cassini Spacecraft Will Rendezvous with Saturn July 1, 2004
---
Websites:
Saturn's Moons: http://saturn.jpl.nasa.gov/multimedia/images/images.cfm?categoryID=4
http://www.esa.int/esaCP/index.html

© 1998 - 2019 by Linda Moulton Howe.
All Rights Reserved.