"…we are on the verge of finding evidence for other Earth-like planets in the neighborhood of our galaxy. That is really an incredibly profound advance in science."
– Alan Ball, Ph.D., Carnegie Institution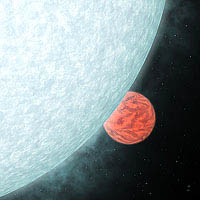 March 25, 2005   Washington, D. C – NASA's Spitzer Space Telescope, launched in August 2003, is the largest infrared telescope ever placed in space to orbit the sun. Now, for the first time, the Spitzer Space Telescope has captured the light and heat from two planets orbiting very distant stars, one 150 light years away and the other 500 light-years. The findings mark the beginning of a new age for planetary science, in which "extrasolar" planets can be directly measured and compared. In order for the Spitzer telescope to see the heat from such distant planets, the telescope must be cooled to near absolute zero (-459 degrees Fahrenheit or -273 degrees Celsius) so that it can observe infrared signals from space without interference from the telescope's own heat. Also, the telescope must be protected from our Sun's heat and the infrared radiation put out by the Earth. To do this, Spitzer carries a solar shield and was launched into a special orbit which places Spitzer far enough away from the Earth to allow the telescope to stay cold without having to carry large amounts of cryogen coolant.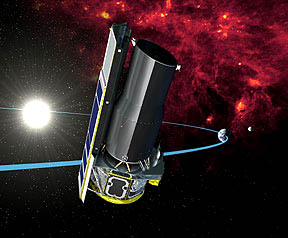 Prior to this revolutionary breakthrough, about 130 extrasolar planets had been discovered indirectly. Until now, astronomers studied intermittent dimming in distant suns presumed to be caused by orbiting planets. Astronomers also have detected wobbles in stars caused by gravitational tugs of orbiting planets. But no planets could be seen.
Now, Spitzer has directly observed the warm infrared glows of two previously detected planets the size of Jupiter, designated HD 209458b and TrES-1. "Hot Jupiters" are extrasolar gas giants that orbit closely around their parent stars. NASA says, "From their toasty orbits, they soak up ample starlight and shine brightly in infrared wavelengths."
But from Earth over all those light-years, how can scientists distinguish between the heat of the distant suns and their orbiting planets? I talked about that question with a planet formation theorist at the Carnegie Institution of Washington, D. C. Dr. Alan Boss has worked at the Carnegie Institution for 24 years.
---
Interview:
Alan Boss, Ph.D., Research Staff Member in Planet Formation Theory, Carnegie Institution of Washington, Dept. of Terrestrial Magnetism, Washington, D. C.: "What's happened is that 2005 is going to go down in the history books as the year in which we have our first strong evidence of actually detecting light directly from a planet outside of our solar system. As of ten years ago, we really had no evidence for planets outside our solar system. But in 1995, the first indirect evidence for finding a planet outside our solar system ­ at least around a sun-like star ­ was developed. In the past ten years, we've been able to find evidence for roughly 130 or so planets outside of our solar system, which is a remarkable advance. But it has still taken ten years to get to the point where we can actually see these planets. In the past, we've been able to infer their presence by the affect they have on their host star. But now we're actually able to see that the light from the planet, which is distinct from the light of the star, is a major advance.
HOW IS THAT ACCOMPLISHED?
The measurements were done by the Spitzer Space Telescope which is an infrared wavelength telescope operating in orbit around the sun. What was happening is that the planet as it goes behind the other star, its own sun, the amount of light emitted by the total system ­ the star plus the planet ­ decreases somewhat. So, when the planet comes back out again (from behind the star), we see the amount of light come up again which tells us that we can actually separate the light of the star from the light of a planet. We can see the overall system get dimmer when the planet is hidden (behind the star) and we can see it brighten up again when the planet is revealed. So we can subtract the two amounts of light and see exactly how much light came from the planet. And that has never been done before.
Looking for Earth-like Planets
I think the most amazing thing about what's happened in the last ten years ­ and I think few people appreciate it ­ is that we are on the verge of finding evidence for other Earth-like planets in the neighborhood of our galaxy. That is really an incredibly profound advance in science. If we are actually able to find some planets nearby which look inhabitable or look like they might even show signs of being inhabited, I think we will have a most significant impact on all human consciousness to realize that our planet is not unique. There might be other planets out there resembling our own, but perhaps in different states of development.
IN ONE OF THE NEWS RELEASES, IT SEEMED TO SUGGEST THAT NOT ONLY LIGHT BUT SCIENTISTS WERE ABLE TO PROBE TEMPERATURES, EMISSIONS FROM THE PLANETS AND YOU MIGHT EVEN BE ABLE TO MEASURE WIND FROM FAR EXTRASOLAR PLANETS?
That's true. The two teams of scientists lead by David Charbonneau (Harvard-Smithsonian Center for Astrophysics (CFA), and Drake Demming (NASA's Goddard Space Flight Center) ­ they have been able to interpret their observations of these two planets in the sense of trying to understand exactly how bright the planet has to be in order to give off the amount of light that is seen. From a fairly simple calculation, they can figure out the temperature the planet has to have to give off that amount of light. That temperature then tells you something very important about what is happening in the upper atmosphere on the planet and tells you something about the wind speeds and what is happening in the planet's atmosphere, which is a whole new way of probing the planets. We are learning more about what they might be like if you could be on one of them.
IF THERE WAS AN EXTRASOLAR PLANET THAT HAD OCEANS SIMILAR TO THE EARTH, WOULD WE WITH THE NEW INSTRUMENTATION BE ABLE TO TELL IF THERE WAS LIQUID WATER ON A FAR AWAY PLANET?
That is one of the major goals for the spacecraft that NASA and the European Space Agency are planning on launching in the next ten years or so. They will be able to detect the presence of water vapor in the atmosphere in the planets that they see. We know that water is a prerequisite for life as we know it, so that is one of the major thrusts for being able to characterize planets around other stars to try to see not only what the planet is like, but in terms of mass and orbit to see if that orbit is orbiting where water would remain liquid. We also want to see direct evidence for water in the atmosphere of that planet.
IT'S IRONIC, ISN'T IT, THAT WE WILL HAVE THE CHALLENGE OF LOOKING FOR WATER ON EXTRASOLAR PLANETS LIGHT YEARS FROM OUR SOLAR SYSTEM, WHILE WE ARE CHALLENGED BY TRYING TO EVEN UNDERSTAND THE MARTIAN WATER HISTORY?
Exactly right. We certainly will make tremendous progress on Mars because NASA has really focused on following the water on Mars and now has a rather major program underway for a series of rovers that will be going to Mars. Eventually, hopefully, some astronauts will be walking as well there. So, the time has come in the history of human evolution for us to reach out beyond the Earth moon system to go beyond the events of 1969 when Neil Armstrong first stepped on another body in our solar system and move on to the phase where we begin exploring beyond Earth moon orbit and understand more about the possible prevalence of life in our solar system.
OF THE 130 EXTRASOLAR PLANETS ORBITING AROUND OTHER SUNS, WHAT IS THE CLOSEST SYSTEM WE'VE BEEN ABLE TO DETECT AS HAVING OTHER PLANETS?
I think the closest planets are maybe 30 light years away ­ something of that order. They are not terribly close. We are continuing to search the very closest stars because the closest stars are the ones that would be where we could take the closest pictures. So we haven't gotten any close by planets so far, but it's in part because we don't really have the techniques available to do an in-depth survey.
NASA is planning on launching several very capable telescopes in the next ten years which will be able to search the very closest stars and take pictures of their planets if they are there.
THE CLOSEST STAR THAT I REMEMBER IS ABOUT 4 LIGHT YEARS FROM THE EARTH?
That's right ­ called Proxima Centauri. It's a member of a triple star system (Alpha Centauri A, Alpha Centauri B and Proxima Centauri) and that will be a prime example to look at to see if it has planets around it. So far people have been looking at it by the indirect method, but they haven't found any evidence yet for any large planets. But there could very well be some low mass planets that cannot be seen by current techniques. But we might find them eventually.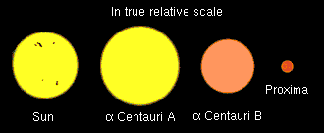 Only Jupiter-Size Planets Detected So Far
IN TERMS OF THE DISTRIBUTION OF THE PLANETS WE'VE SEEN SO FAR, ARE ALL OF THEM JUPITER SIZE OR LARGER?
Most of the planets are, yes, very large, comparable to the Jupiter and Saturn in our solar system. But just last fall, several groups of astronomers were able to detect the presence indirectly of planets as low in mass as 15 times the mass of Earth. So, they are getting down now in the range of what we might start calling a 'terrestrial-like' or rocky planet. We don't really know for those objects what their composition is. We hope to find out some day. But if they truly are roughly 15 Earth masses and are composed primarily of rock, then I think we have actually discovered a brand new class of planet ­ that is, planets much like the Earth and will give us even more excitement and impetus to search for Earth-like planets which are closer in size to Earth.
WE HAVE NOT HAD ANY INSTRUMENT THAT COULD FIND AN EARTH-SIZED PLANET YET?
That's exactly right. For all we know, a number of nearby stars could have solar systems very much like our own ­ including even the giant planets. We are just getting now to where searches have been going on long enough to reveal the rather long-term effects that a Jupiter-sized planet would have on its host star. You basically have to follow stars for 12 years or so because that's the period of Jupiter's orbit. We are just now getting far enough into the research that we can hope to find nearby stars that have large Jupiter planets.
But in addition, we have no capability whatsoever of finding Earth-mass planets in Earth-like orbits. That is going to be a task for the future and NASA is planning several missions which will be able to do that. So, in the next 10 years or so, we should be able to see if there are Earth-like planets around nearby stars, as well as more distant stars.
Planet Formation – The Mystery of Saturn's Iapetus Moon
I JUST CAME BACK FROM THE LUNAR AND PLANETARY INSTITUTE WEEK-LONG CONFERENCE IN HOUSTON. ONE OF THE BIGGEST MYSTERIES IN TERMS OF THE EVOLUTION OF OUR OWN SOLAR SYSTEM ARE ALL THOSE MOONS AROUND SATURN ­ AND SPECIFICALLY IAPETUS WHICH SEEMS TO HAVE A 12-MILE-HIGH RING THAT GOES AROUND THE MOON'S EQUATOR. HAVE YOU STUDIED THAT AND WOULD YOU HAVE ANY HYPOTHESIS AS A PLANET-FORMATION THEORIST ABOUT HOW THAT COULD HAVE FORMED?
I don't have any explanation for Iapetus's equator ring. That is certainly a major mystery. But as far as we know, the extrasolar planetary systems are going to have planets which have satellite systems around them and rings and so on, just like the planets in our solar system. But those will be even more difficult to detect. But there is no reason why we should not expect to find them.
As a theorist, I should point out that those of us who worry about planet formation pretty much have our hands full just trying to understand how the planets formed. We haven't quite gotten to the point where we can understand in general the formation of their satellite systems. In case of the Earth's moon, there is a very good theory that has evolved about how the moon was formed. But in terms of forming the regular and irregular satellites of the outer planets ­ Jupiter, Saturn, Uranus and Neptune ­ we are just beginning to scratch that problem.
Did Our Moon Eject From A Violent Impact On Earth?
DO YOU THINK THE MOON THAT ORBITS EARTH CAME FROM OUR OWN PLANET IN SOME VIOLENT EVENT?
Yes, back in the early 1980s, there was a major conference in Hawaii ­ the Kona Conference ­ that produced a consensus about the origin of our moon, that it arose from a giant impact ­ an impact between a roughly Mars-sized body with the growing Earth. That's become essentially the conventional wisdom and has not been challenged since. So, for the past 20 years, everyone who worries about formation of the moon has been working in the context of understanding how these gigantic impacts could produce a moon-like satellite to the Earth.
Will We Find Other Life in the Universe This Century?
DO YOU THINK IN THIS CENTURY THAT WE WILL SEE THOSE HEADLINES, 'LIFE ON MARS' OR 'LIFE ON ANOTHER PLANET'?
Oh, most definitely! This century is quite young, this being only 2005. So, if you give me 95 years ­ in scientific terms, that's an incredible amount of time. If you try to go back 95 years in time, think what we knew 95 years ago? We knew very little. And the amount of knowledge we have is growing in an exponential fashion. That means we certainly we will be able to have information about planets outside our solar system and what their atmospheres are like within the next ten or twenty years at the most. The plans for getting to Mars to understand Mars are certainly going to come to fruition in the next few decades. So, if you give me a 95 year time interval, I would say, 'Yes,' we will most likely know in that time period if we are alone in the solar system or universe or not.
THE NASA SEARCH FOR EXTRATERRESTRIAL INTELLIGENCE, KNOWN AS SETI, AND NOW OPERATING AS AN INDEPENDENT BODY, HAS BEEN LOOKING FOR A VARIETY OF RADIO SIGNALS AND CHEMISTRY SIGNALS FOR A LONG TIME. IT'S MY UNDERSTANDING THAT WE ARE PUTTING TV AND RADIO SIGNALS AND ALL OF THAT OUT FROM THE EARTH INTO THE UNIVERSE ON A CONSTANT BASIS. WHY DO YOU THINK THAT WE HAVE NOT SEEN SIGNS OF SOME OTHER KIND OF RADIO SIGNALS THAT WOULD FALL INTO THE CATEGORY OF INTELLIGENCE?
It's very difficult to detect radio or TV signals from another planet because the signals ­ even though they are leaving the Earth ­ are actually quite weak. They were not intended to be beamed out into space. So even though an advanced civilization on a nearby star might be now watching many years of 'I Love Lucy' reruns, in fact, they would have to have an incredibly huge telescope to detect those. To be able to detect signals from a technologically advanced civilization, they would have to be beaming a signal directly toward us with a rather large radio telescope of their own. They would have to intentionally be sending radiation right in our direction so we could pick it up.
Even if we want to do that ourselves ­ if we wanted to broadcast our presence to the rest of the galaxy, we would have to have a large number of dedicated radio telescopes sweeping through the galaxy looking at literally billions of stars and pinpointing them one after the other and sending them a signal and hoping that some of them might happen to be listening at the same time. So, if you think about the immensity of the galaxy and the number of stars and not knowing ahead of time where life is, it's really a quite difficult problem to expect to have heard from another civilization by now. Or to expect another civilization to hear from us. That's not to say it can't be done. Definitely the search should be continued, but it's not that surprising that we have not heard yet.
THERE WAS A SCIENCE FRIEND OF MINE WHO SAID IN A KIND OF IRONIC WAY, BUT IT MADE ME THINK. HE SAID WE DON'T KNOW WHAT INTELLIGENCE WOULD BE LIKE ON ANOTHER PLANET AND IF THEY WERE ALL TELEPATHIC, THEY WOULDN'T HAVE ANY NEED FOR COMMUNICATING WITH RADIO SIGNALS.
(laughs) I wouldn't want to suggest telepathy as a replacement for direct communication. But certainly one has to worry about whether or not civilizations want to communicate? Or whether they have finite lifetimes? There is always the problem that if we somehow manage to do ourselves in through global warming or through a comet impact or something like that, then perhaps we aren't going to be around much longer ­ at least not in a state to be able to have high technology radio communication devices. Perhaps the problem not hearing from Someone Else out there is simply due to the finite lifetime of civilizations. That's a pretty apocalyptic approach to things. I tend to be more cheerful than that in life, so I hope that some day we will actually find a signal.
WHAT YOU MEAN IS THAT THERE COULD ALREADY HAVE BEEN SOPHISTICATED CIVILIZATIONS THAT AROSE ON THE BELL SHAPED CURVE OF SURVIVAL AND WENT EXTINCT?
I think that's most likely the case. If it really is true that life can evolve elsewhere, then it's hard to imagine that that has not happened.
THAT THERE COULD BE PLANETS OUT THERE WITH LIFE WHERE OUR LIFE WAS MILLIONS AND MILLIONS OF YEARS AGO STARTING ON THEIR UPWARD ARC AND THAT WE HUMANS KEEP WANTING TO FIND OURSELVES SOMEWHERE ON ANOTHER PLANET REFLECTED IN THE UNIVERSE. BUT IN FACT, THE UNIVERSE MIGHT BE A BUZZING, BOOMING PLACE OF SO MANY DIFFERENT STAGES OF LIFE.
Absolutely. That's certainly true. The rise of life and intelligence of life on our planet took hundreds of millions of years. There is no reason to think that all of the planets are synchronized in their life evolution process. So, we should expect if we can sample a number of such planets, to find them in all stages of evolution. We should find some that are certain zoological parks of early creatures are beginning to crawl around. We should find some that are more archaeological sites where one could go and examine what had happened in a distant past.
AND STRING THEORY AND QUANTUM PHYSICS KEEP COMING UP WITH PROVOCATIVE POTENTIALS ABOUT TIME TRAVEL INTO THE FUTURE AND AN IMPLICATION THAT THERE COULD BE OTHER CIVILIZATIONS THAT ARE VERY ADVANCED AT A DIFFERENT AREA IN THE TIME LINE AND THAT THEY COULD BE TIME TRAVELERS TO US.
(laughs) I don't think I really want to go there! (laughs again) I'm too much of a hard nosed physicist to believe in time travel, I'm afraid.
BUT YOU DO KNOW THAT IS DISCUSSED BY PEOPLE WHO ARE WRITING IN STRING THEORY AND QUANTUM PHYSICS?
Yes, and that's not a physics I participate in. I tend to work in physics that is a little more grounded in reality. String theory is still an extraordinary hypothetical by definition. I always thought working on extrasolar planets was a pretty far flung enterprise. But it turned out to be grounded in reality. That's where I prefer to devote my efforts.
WELL, LOOK HOW MAIN STREAM YOU HAVE BECOME.
(laughs) Exactly!
WHILE STRING THEORY AND QUANTUM PHYSICISTS ARE STILL DESCRIBING THINGS THAT MIGHT BECOME JUST AS MAIN STREAM IN THE FUTURE.
That's certainly true. Quantum physics is still very rooted in observational experiments that scientists can perform in the lab. I think string theory is yet to be able to show it can make a prediction perhaps that could be observationally verifiable. That would be something to look forward in the future if it can be done.
The next major event perhaps will be the launch of NASA's Kepler Telescope roughly in 2007 or so.
[ Editor's Note: German astronomer, Johann Kepler. Publication of his Mysterium Cosmographicum in 1597 explained the spacings of the planets and established Kepler's reputation as a leading astronomer. The Kepler Mission is a special purpose space mission in the NASA Headquarters Discovery Program for detecting terrestrial planets, that is, rocky and Earth-size, around other stars. ]
The Kepler Mission will be designed to find Earth-like planets by transit, that is by watching a planet pass in front of a star and dim the starlight for a short period of time and then periodically come back and dim it again and again as the orbit goes around and around. So, Kepler will hopefully by the year 2009 or 2010 or so give us some indication of how many Earth-like planets are out there. That is Earth-mass planets orbiting on a one-year period around a sun-like star. That will be a very important number to know because if it turns out that Earth-like planets are quite frequent and commonplace, then it will be quite easy to find them to go to the next step. But if it turns out that Earth-like planets are somewhat rare, that means it will be quite more difficult to detect them."
---
More Information:
2005 – The Allen Telescope Array, Hat Creek, California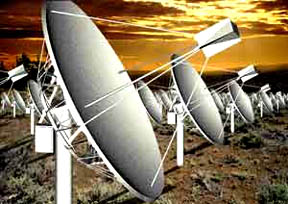 Coming on line this year, financed by Paul Allen and Nathan Myhrvold, who made their fortunes at Microsoft, is the Allen Telescope Array being constructed at the Hat Creek Radio Observatory in northern California where the University of California currently operates an array that observes at millimeter-wavelengths. This new Allen Telescope Array joins the search for extraterrestrial intelligence in the universe and will consist of 350 individual 20-foot antennas linked to form the equivalent of a single large antenna. When fully operational, the Allen Telescope Array will have more collecting area than the newly completed Green Bank Telescope in West Virginia, and better resolution than the Arecibo dish in Puerto Rico that has that has long been used by SETI to "search for extraterrestrial life in the universe."
2007 – NASA's Kepler Telescope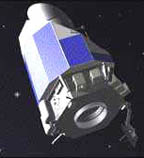 The Kepler Mission will be designed to find Earth-like planets by transit, that is by watching a planet pass in front of a star and dim the starlight for a short period of time and then periodically come back and dim it again and again as the orbit goes around and around. So, Kepler will hopefully by the year 2009 or 2010 or so give us some indication of how many Earth-like planets are out there.
[Editor's Note: German astronomer, Johann Kepler. Publication of his Mysterium Cosmographicum in 1597 explained the spacings of the planets and established Kepler's reputation as a leading astronomer. The Kepler Mission is a special purpose space mission in the NASA Headquarters Discovery Program for detecting terrestrial planets, that is, rocky and Earth-size, around other stars.]
2010 – Space Interferometer Mission, or SIM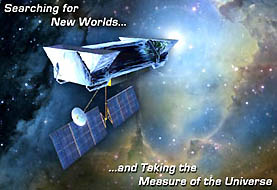 That mission will also look for Earth-like planets, or at least planets as small as 3 to 10 times the mass of the Earth around nearby stars. It will find them indirectly. SIM will see the effects of the planet's mass on the star, in the sense that the star has to wobble around the center mass of the star/planet system. So, SIM will be looking for wobbling stars and when they start wobbling with just the right wobble that a 10-Earth-mass planet would induce in them, then we'll have indirect evidence for Earth-like planets around those stars.
2015 – Terrestrial Planet Finder Coronograph (TPFC)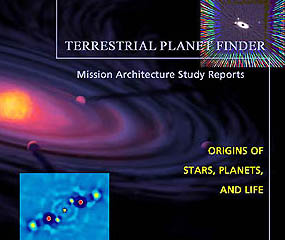 That telescope will be a very large optical telescope in space which will be able to take pictures of a planet and separate out the starlight from that of the host star. That will not only take a picture of the planet, but also tell us a little about what its atmosphere is like. It will be able to resolve the planet into a spectrum, that is the amount of light given off as function of wavelength. By looking at the planet's spectrum, we can say something about what sort of molecules are in its atmosphere; for example, water, carbon dioxide, even oxygen perhaps. With those signatures of the atmospheric composition, we will be able to say something profound about whether that planet is habitable or perhaps even if it is inhabited.
---
Websites:
Spitzer Space Telescope: http://www.spitzer.caltech.edu/about/index.shtml
Kepler's Telescope: http://www.kepler.arc.nasa.gov/spacecraft.html
Terrestrial Planet Finder: http://planetquest.jpl.nasa.gov/TPF/tpf_index.html
Space Interferometer Mission (SIM): http://planetquest.jpl.nasa.gov/SIM/sim_index.html
Allen Telescope Array: http://www.seti.org/site/pp.asp?c=ktJ2J9MMIsE&b=178025
Alpha Centauri 3: http://www.solstation.com/stars/alp-cent3.htm

© 1998 - 2019 by Linda Moulton Howe.
All Rights Reserved.