March 26, 2005   Albuquerque, New Mexico – Earthfiles is staying in touch with Larry Crumpler, Ph. D., Mars Spirit Rover Mission and Research Curator, who receives data from Spirit and designs maps based on rover data. Dr. Crumpler is based in the Volcanology and Space Science Department at the New Mexico Museum of Natural History and Science in Albuquerque, New Mexico. He is the scientist after whom "Larry's Lookout" was named in the Gusev Crater's Columbia Hills.
This week he emailed me twice about Spirit's long trek across the Columbia Hills and included the stunning image of Martian soil rich in magnesium sulfate. No question that Mars was wetter when the Columbia Hills rocks were deposited before the Martian climate suddenly changed very early in the red planet's history to greater dryness. See more information in Earthfiles 022505.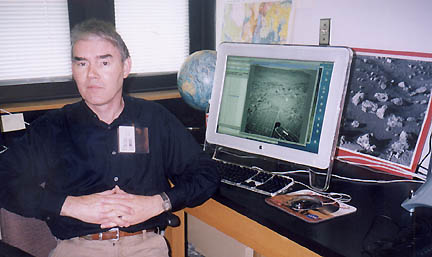 Larry Crumpler, Ph. D., Mars Spirit Rover Mission and Research Curator, Volcanology and Space Science, New Mexico Museum of Natural History and Science, Albuquerque, New Mexico:
E-mail March 21, 2005:
"Spirit's Mossbauer instrument has found soil at Paso Robles in Columbia Hills (Gusev Crater) that looks like sugar spilled in red sand and data indicate the soil is at least 25% sulfur or magnesium sulfate."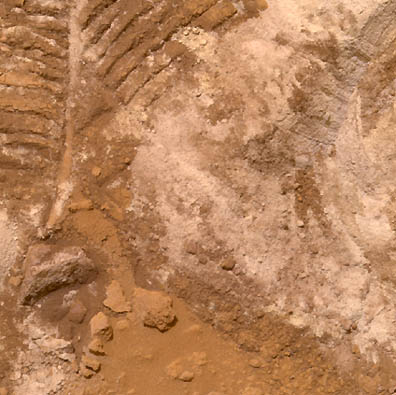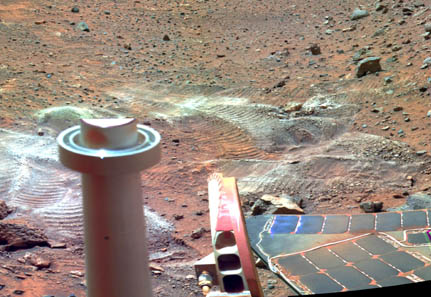 Martian Dust Devil Cleaned Off Spirit Rover's Red Dust?
"A panorama on sol 421 captured a dust devil out on the plains. Given that was the day that we got an energy surge, probably from a dust cleaning from the solar panels, it seems likely that dust devils were active and one passed over us. Paso Robles was after magnesium sulfate-rich Peace Rock and on the way to Larry's Lookout. We returned to it at the beginning of last week to do some more investigation after the Lookout work was done."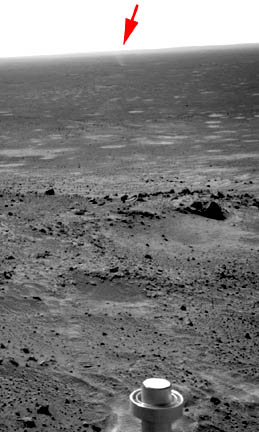 E-Mail March 25, 2005
"Sol 434, Spirit back at Larry's Lookout temporarily. Spirit enjoyed the Lookout so much (where it got a solar panel cleaning from a big gust of wind) that it did a U-turn and returned to it yesterday afternoon.
"Actually, Spirit had backtracked downhill to visit a soil patch ("Paso
Robles") that was recognized as one of the saltiest soils (magnesium sulfate) encountered (above) – after we had driven up hill to the Lookout. After the work at the Lookout, we RATted a rock ("Watchtower"). The solar panels were cleaned on sol 420 by a big gust of wind and Spirit drove back downhill with more solar energy to do some more work on the soils.
"Following the solar panel cleaning on sol 420, power jumped from 60 percent output to 91 percent out put. Whereas power was at about 420 W-hrs before, we now have over 800 W-hrs of power. Activities have ramped up accordingly. Also, at this time dust devils have become commonplace out on the plains. Every sol we do dust devil pans looking west to capture them.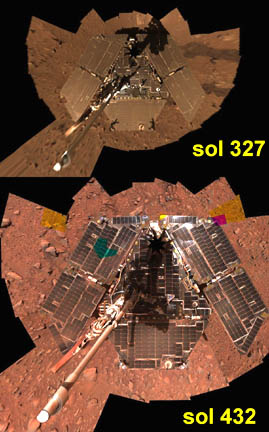 "Then, yesterday, Spirit drove back to the Lookout because the rover drivers felt that that was the best place to begin the long ascent towards the summit. That makes the path between Paso Robles and Larry's Lookout the most heavily travel route on Mars: 3 sets of tracks. That's heavy traffic on Mars.
"Today, sol 436, a 35 meter drive is planned that will take us south along the yellow path marked on this Navcam panorama.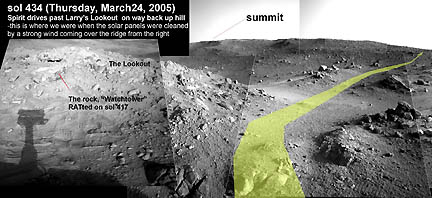 "That drive will execute by the end of Friday, March 25, (Earth time, middle of day Mars local). We just uplinked that plan this morning, or will as soon as the sun comes up at Gusev.
"The mega-Pancam color panorama that was acquired at the Lookout is in rough form right now. As soon as the clean version is available I will either post that or indicate where to get it. Pretty spectacular. (Upcoming at Earthfiles.)
Spirit Rover Holds Record in Martian Vertical Ascent
"Two sols ago, Opportunity did a record-breaking drive in excess of 219 meters in the 'parking lot' plains of Meridiani. With that drive the total odometry for Opportunity exceeded the odometry of Spirit. But Spirit still holds the record in vertical ascent, having ascending about 80 meters above the elevation of the landing site. In the coming weeks the view should get spectacular as Spirit starts to creep along the ridge towards the summit of the Columbia Hills. It should get windy up there since the spring winds are really whipping up now.
"Below is the Mission Manager's report for the past week:
After a very busy weekend, Spirit packed up the IDD and headed away from Paso Robles. Currently Spirit is back at Larry's Lookout before continuing to drive uphill on Friday, March 25, 2005.. Spirit is currently in restricted mode, so she's only been able to drive every other sol. ['Restricted sol' refers to the case when downlink is too late in the Earth day to build a detailed activity plan for the next sol.-LSC] Unrestricted sols resume this Friday, and Spirit should be able to make good progress towards the Husband Hill summit, using as much of the abundant solar energy as she can.
Mission Manager's Sol Details:
Sol 430: MB Integration on Paso Dark, Atmospheric Science, Targeted Pancam and MTES, Overnight APXS on light/dark soil mix
Sol 431: MI on Solar Panel, Undisturbed soil, Paso Dark (post-MB), short MB integration on Paso Dark, stow IDD. Bump back & image the IDD work volume, Drive towards summit, post-drive imaging.
Sol 432: Restricted sol. Deck Panorama and atmospheric science.
Sol 433: Restricted sol. Atmospheric Science, Pancam of magnets, dust
devil search.
Sol 434: Atmospheric Science, finish drive from Sol 431, post-drive
imaging.
Sol 435: Restricted sol: Atmospheric Science, Systematic Ground Survey
Sol 436: Drive!Drive!
-Larry Crumpler
MER Science Team
NMMNHS"
---
Websites:
http://marsrovers.jpl.nasa.gov/gallery/all/spirit.html
http://marsrovers.jpl.nasa.gov/gallery/press/spirit/
http://photojournal.jpl.nasa.gov/target/Mars
http://www.nasa.gov/worldbook/mars_worldbook.html

© 1998 - 2019 by Linda Moulton Howe.
All Rights Reserved.