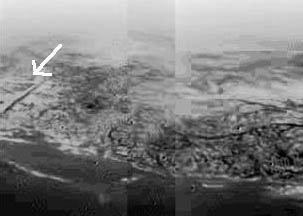 May 6, 2005  Tucson, Arizona – This week planetary scientists at the University of Arizona in Tucson submitted their first paper about the Cassini/Huygens probe images of Saturn's huge moon, Titan, to the British journal, Nature. But the article, with many images and hypotheses about what the surface geology might be on the mysterious moon, won't be released until the end of 2005. One of the many surface features that have provoked scientists to wonder what they are seeing is what appears to be a straight-sided 90-degree angle at the left of a composite image released on January 14, 2005, soon after the Huygens probe had descended from the Cassini spacecraft to land on Titan. This week I asked one of the team members studying Titan's surface images to comment on the "structure."
---
Interview:
Peter Smith, M.S., Research Scientist, Lunar and Planetary Lab, University of Arizona, Tucson, Arizona: "That is what we think of as cryovolcanism. It's a dark line and has a ghostly pattern around it that has right angle branching pattern and little stubby things going of the side of it.
[ Editor's Note: The Encyclopedia of Astrobiology, Astronomy, and Spaceflight describes cryovolcanism as "the eruption of water and other liquid or vapor-phase volatiles, together with gas-driven solid fragments, onto the surface of a planet or moon due to internal heating. It has been observed on only one world to date: Triton, the largest moon of Neptune. Geyser-like plumes of nitrogen were discovered on Triton during the flyby of Voyager 2. However, there is indirect evidence that cryovolcanic processes may have taken place elsewhere in the outer Solar System and might even be active today on moons such as Europa and Enceladus. Ice-volcanic melt is the fluid or semi-fluid material associated with ice volcanism; like molten rock, it can have a wide variety of viscosities and other flow properties." ]
(He laughs) But it's kind of speculation at this point. If you look carefully at the dark line that is so straight, you'll see on either side of it there is a bright area unlike some of the other dark lines in dark fields. We have other images (submitted to Nature) that show branches of this bright material going off and looking like something has flowed. But instead of a dark lane, you see a bright line. So, it's that bright material that suggests the cryovolcanism which I think has to be made of water and ammonia. These are the substances that really are dominant on Titan. The atmosphere is almost entirely nitrogen and that comes from the ammonia, I believe, which the moon was formed from. So the dominant materials are going to be the water and ammonia. When they combine, they can flow like a slow-moving river, viscous like a lava or flowing honey. Whereas the methane, it it was heated up and you tried to flow that, it would escape as a gas. So you wouldn't create this type of feature.
BUT WHY WOULD AMMONIA AND WATER FLOW IN STRAIGHT LINES WITH A 90-DEGREE ANGLE AND ANOTHER STRAIGHT LINE?
Apparently it's flowing down hill from another source to a low point and it just happens to be on a constant flow, following the line of least resistance.
NASA PREVIOUSLY OPERATED SETI, THE SEARCH FOR EXTRATERRESTRIAL INTELLIGENCE, WHICH IS NOW OPERATED BY A PRIVATE GROUP. IS IT POSSIBLE THAT TITAN COULD BE USED BY SOME NON-HUMAN INTELLIGENCE AND THAT THESE ARE ACTUALLY CONSTRUCTED PIPES OR SOMETHING?
Well ­ that seems pretty unlikely to me. You know the temperature there is 90 degrees above absolute zero. For us, that would be minus 200 to 300 degrees F. This is not a place that is conducive to life forms.
I'M NOT THINKING OF LIFE FORMS LIVING ON IT, BUT SOMETHING USING THE SOLAR SYSTEM THE WAY WE MINE OUR PLANET. COULD TITAN BE USED TO HARVEST RESOURCES AND COULD THAT 90-DEGREE ANGLE BE AN ARTIFICIAL STRUCTURE?
Well, there are lots of 90-degree angles in nature. That's not the first conclusion you would come to, in my opinion.
IT STUCK OUT SO MUCH COMPARED TO THE REST OF THE VEIN-LIKE DARK NETWORK.
We also think it's a different structure from the 'veins' you are talking about, but we think it has more to do with cryovolcanism than some sort of alien pipeline.
WHY WOULD CRYVOLCANISM GO STRAIGHT AND THEN MAKE A 90-DEGREE TURN AND GO STRAIGHT AGAIN?
Well, it's controlled by the terrain. If there is some sort of structure in the terrain that slopes one way and then slopes another way, and it follows the slopes.
ANY POSSIBILITY IT COULD BE ARTIFICIAL STRUCTURE?
(Laughs) What kind of probability would you like to put on that? 1 in a billion? I'm not one to say these things are not possible. It just seems very unlikely. It's not our first line of thinking in this process, that's for sure.
Other Mysterious Titan Features
IS IT FAIR TO SAY THAT THAT STRAIGHT LINE PATTERN IS UNUSUAL ENOUGH TO BE CONSIDERED MYSTERIOUS TO DATE?
It's not the only mystery we have in this picture. I think when it comes to any of the structures in the picture, they are all a little mysterious. Why are the lines dark? What makes them darker than the surrounding terrain? There are a lot of mysteries here, but I don't think any of the scientists on the team have been particularly struck by the straightness of the lines. It's more: Why are they dark? Why is it surrounded by the bright material? There are no end to mysteries in this picture.
IF IT WERE A HYDROCARBON FLOW, IS IT POSSIBLE THOSE ARE CHANNELS THE WAY WE THINK OF RIVERS OR SPRINGS ON THE EARTH WITH H2O. BUT INSTEAD, IT'S A DARK HYDROCARBON FLOWING IN THOSE DARK "VEINS?"
What's probably flowing is liquid methane with maybe some ethane mixed in. Those are the dominant liquids. Now, these liquids, like a river, they can have a lot of impurities and those could be what the dark material is. So, probably there is some small fraction of whatever liquid flows in those channels is dark, tarry material. I would agree that's certainly possible.
THEN THE MYSTERY WOULD BE WHAT IS "CUTTING" THE NETWORK OF CHANNELS?
Yes, it is apparently the same processes we see on the Earth. In other words, some sort of rain, the way water ponds on Earth and flows down hill toward lakes and maybe even seas and maybe a dust sort of settling on things. All of the same processes, but instead of a rocky hill or rock mountains that the water flows down, these are probably made out of solid ice. The liquid is probably methane, maybe a little ethane mixed in, and the dark material is tholins.
[Editor's Note: "The tholins are hard, red-brownish substances made of complex organic compounds. Earth's present oxidizing atmosphere does not allow tholin synthesis. However, tholins can be made in the lab by subjecting mixtures of methane, ammonia, and water vapor to simulated lightning discharges. Comets and the icy moons of the outer solar system may have reservoirs of tholins and other pre-biotic organic chemicals. Simulation experiments and the ideas swirling around the discovery of organic compounds extraterrestrially have fueled the new chemical discipline of "abiotic chemistry." Besides amino acids and other organic acids, experiments in abiotic chemistry have yielded sugars, as well as purine and pyrimidine bases, some of which are components of the nucleic acids DNA and RNA, and other biologically significant substances. It seems very likely that these small organic molecules, that are now known to form readily in the laboratory and appear to occur naturally extraterrestrially – that these are the first building blocks of life. To what extent these substances arose on earth or were brought in by the falling comets and asteroids that contributed to the final accretion of our planet is still being debated." Source: http://www.resa.net/nasa/xlife_intro.htm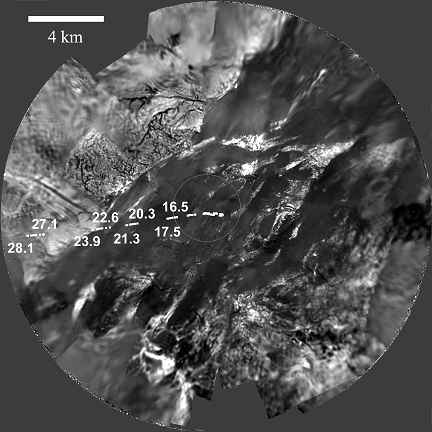 ---
More Information:
See other Earthfiles about Saturn's Moons
03/25/2005 —  Glow of Distant Worlds Seen For First Time
03/20/2005 —  Astronaut John Young: "The Moon Can Save Earth's Civilization."
2/17/2005 —  Iapetus and Enceladus: Baffling Moons of Saturn
01/22/2005 —  Titan – A Moon Where It Rains Methane Into Seas and Soils of Hydrocarbons
01/14/2005 —  Updated – Cassini/Huygen's First Look At Titan's Surface
11/25/2004 —  Closest Look At Mysterious Titan from Cassini Spacecraft
06/11/2004 —  Cassini Spacecraft Will Rendezvous with Saturn July 1, 2004
04/21/2004 —  At the X-Conference, Former Naval Intelligence Officer, C. B. Scott Jones
02/03/2004 —  Planet 150 Light Years from Earth Has Oxygen and Carbon Atmosphere
10/07/2002 —  Large Kuiper Belt Planetoid Found Beyond Pluto
04/27/2002 —  Classified NOSS Navy Satellites Offered As Dover Triangle Explanation
11/05/2000 —  Near-Earth Object 2000 SG344 – Is it an asteroid?
10/01/2000 —  A Search for Earth's First Life
02/16/2000 —  433 Eros, Orbiting An Asteroid Up Close
12/01/1999 —  Six More Planets Discovered 60 to 190 Light Years Away
08/28/1999 —  Oddball Quasar and Salt Water Inside Meteorite
03/14/1999 —  Africa Stone Circle and Triangle of Lights over Tucson, Arizona
---
Websites:
http://www.resa.net/nasa/xlife_intro.htm

© 1998 - 2019 by Linda Moulton Howe.
All Rights Reserved.