May 19, 2005  Washington, D. C. – A year ago in June 2004, I reported about German physicist Werner Von Braun's warning before he died in 1977 that space above planet Earth and beyond should not be used for weapons and war. Dr. Von Braun, who had worked in America's early rocket program at White Sands Missile Range in New Mexico, told a woman named Carol Rosin who worked for him shortly before his death, "that we must prevent the weaponization of space from happening because it will end up destroying humanity." Dr. Von Braun also told Carol Rosin that he knew there was other life in the universe and we would jeopardize contact with them if we persisted with weaponizing space.
This week, The New York Times headlined "Air Force Seeks Bush's Approval for Space Weapons Programs." The article stated, "The U.S. Air Force, saying it must secure space to protect the nation from attack, is seeking President Bush's approval of a national-security directive that could move the United States closer to fielding offensive and defensive space weapons, according to White House and Air Force officials. … With little public debate, the Pentagon has already spent billions of dollars developing space weapons and preparing plans to deploy them."
Four space weapons systems are listed in The New York Times article and this week I talked about what they are and what they could do with Theresa Hitchens, Vice President of the non-profit Center for Defense Information (CDI) in Washington, D. C. Ms. Hitchens worked as a reporter for twenty years writing and editing about space and military weapons issues for Defense News and other defense journals.
I began our interview by asking about the USAF's April 2005 launch of the XSS-11, an experimental microsatellite which The New York Times describes as having "the technical ability to disrupt other nations' military reconnaissance and communications satellites."
---
Interview:
XSS-11 Microsatellite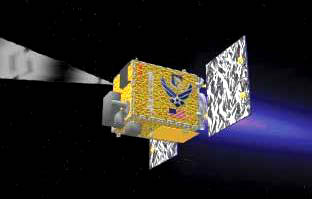 Theresa Hitchens, Vice President, non-profit Center for Defense Information (CDI), Washington, D. C.: "The XSS-11 is part of an experimental series. There was a satellite launched a few years ago, the XSS-10, which is the predecessor of microsatellites. Microsatellites are something that weighs under 100 kilograms. They are still big, but they are smaller than a lot of current satellites that weigh in the many tons. The idea behind this program was to establish that a microsatellite could be launched and it could control itself in maneuvering around a larger satellite.
Now, there are a number of reasons why you might want to do that, not all of them deadly. You might want to take pictures of your own satellite to see if it's been damaged ­ to do damage assessment. You might want to take pictures of someone else's satellite to see if it's really what it says it's supposed to be, right?
On the other hand, if you have a little satellite like the XSS-11 that can maneuver around a satellite because it has fuel and little thrusters and it can actually move in close to a satellite, it can also be used as a weapon. It could use its thrusters to simply run into another satellite in orbit and use kinetic energy to damage it. Or it could carry an explosive payload.
AND THE NY TIMES SAYS 'TO DISRUPT OTHER NATIONS' MILITARY RECONNAISSANCE AND COMMUNICATIONS SATELLITES.' THAT SOUNDS AS IF IT COULD INTERFERE IN SOME SIGNAL WAY?
It could do that, too, depending on if it had an IRF, or radio frequency, jammer onboard.
IS THAT XXS-11 LAUNCHED IN APRIL 2005 NOW UP THERE WORKING FOR THE UNITED STATES?
It's up there being tested. The test that has designed for this little experimental satellite is not a weapons test. The test that is being done is it's taking pictures of a satellite. They are trying to test out the technology of its ability to move and to move precisely in orbit and be able to maneuver. So, they are doing testing of the maneuverability of such a type of satellite.
ANY FEEDBACK ON THE SUCCESS YET?
So far, it's been successful. And the XSS-10 was quite successful. I think what was important in The New York Times story was that it technically could be (a weapon). Now, the USAF has actually studied these types of satellites as potential weapons systems. They have done internal studies that looked at the microsatellites and said these would make good anti-satellite weapons. So, it's not like the USAF is not looking at this with certain intentions down the road.
And it is true that any satellite that can do what the XSS-11 is doing today on orbit could also be used as an anti-satellite weapon.
Rods From God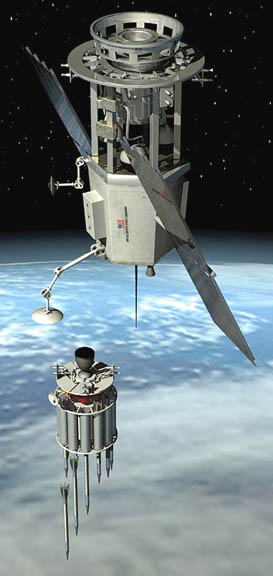 ANOTHER AIR FORCE SPACE PROGRAM NICKNAMED 'RODS FROM GOD,' THE NEW YORK TIMES SAYS, "AIMS TO HURL CYLINDERS OF TUNGSTEN, TITANIUM OR URANIUM FROM THE EDGE OF SPACE TO DESTROY TARGETS ON THE GROUND, STRIKING AT SPEEDS OF ABOUT 7,200 MILES AN HOUR WITH THE FORCE OF A SMALL NUCLEAR WEAPON."
IS THERE ANY CONNECTION BETWEEN THIS EXPERIMENTAL WORK NOW WITH THE XSS-11 AND THIS AMAZINGLY TITLED 'RODS FROM GOD'?
Not really. They are for different missions. The USAF has also been studying that concept which is formally known now as the 'Hyper Velocity Rod Bundles.' Since the late 1980s to early 1990s, when I was at Defense News, I did a story on one of the programs. It was at that time called the 'Long Rod Penetrator Program' and the idea is that you have the tungsten rods that would hurtle out of space and supposedly be able to bury themselves deep in the ground and hit hard at a target. It's actually not very simple to do that. The laws of physics are against you in many ways. You have to go so fast to get down, but if you are going too fast you are not going to be able to penetrate because you're going to burn up in the atmosphere. So, there are a lot of physical problems with that and it's not a new concept. It's something the USAF did study in the 1990s and sort of put away on the shelf and said this is not doable.
It's now been resurrected in some papers of the USAF. The mention of this system comes from something called the "FY2003 US Transformation Flight Plan," which is a document the USAF does every year that looks at where they intend to be ten to fifteen or twenty years down the road, the kind of capabilities they want to have. This system was cited in the 2003 document as something the USAF would like to have in the 2015 to 2030 time frame.
I don't know of monies being spent on this program in the same way as the XSS-11 has already been spent and is operating. I don't know of any monies in the budget for the Rods From God that are in a planning paper.
DO YOU KNOW WHO NAMED IT?
(laughs) Well, the nickname has been around forever. That's not its real name. Its real name is Hyper Velocity Rod Bundles (HVRB) and it used to be called the Long Rod Penetrator (LRP). But even back in the 1990s, the nickname for it was the Rods From God.
WHICH GIVES THE IDEA OF A METAPHOR OF JUPITER UP THERE THROWING DOWN…
Throwing down lightning bolts, exactly! I think that's exactly why it was nicknamed that. I don't think it's an official USAF nickname.
High-Altitude Airships for Laser Weapons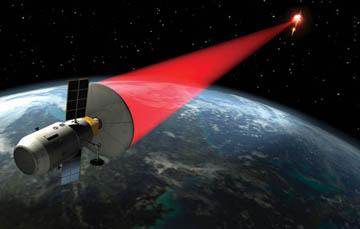 THE THIRD PROGRAM CITED BY THE NEW YORK TIMES WAS BOUNCING LASER BEAMS OFF MIRRORS HUNG FROM SPACE SATELLITES OR HUGE HIGH-ALTITUDE BLIMPS RE-DIRECTING THE LETHAL RAYS DOWN TO TARGETS AROUND THE WORLD.' COULD YOU FLESH THAT ONE OUT?
Sure. This is a program that is actually getting money. It's something called EAGLE.
[Editor's Note: Evolutionary Air and Space Global Laser Engagement (EAGLE) Airship Relay Mirrors: Significantly extends the range of both the Airborne Laser and Ground-Based Laser by using airborne, terrestrial or space-based lasers in conjunction with space-based relay mirrors to project different laser powers and frequencies to achieve a broad range of effects from illumination to destruction.]
The idea here is that you could have your ground-based laser, or in particular the USAF is looking at the airborne laser, which is a program they have been working on for missile defense to shoot down missiles using a laser that is shot off of an aircraft. The idea is that you could use these optical mirrors to bounce the laser beam and give it more range. The range of laser beams depends on how much power output you have and how well you can focus the laser beam.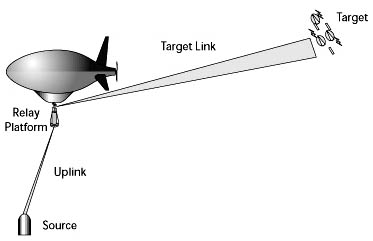 It would require quite sophisticated optical lenses and very difficult software manipulation: a very difficult program. But it is something that is being funded in the Missile Defense Agency budget for early experiments.

The airborne laser you would use ­ it is being done by the Missile Defense Agency. It is also in incredibly early stages. They have built a prototype, but the prototype is in a laboratory on the ground. They have never flown the prototype laser and they are having with its power capabilities, its power output. It's very large, too large to put on a Boeing 747 which is the platform they chose for it. Until they can figure out a way to make the power sources smaller and have yet more power, that particular weapons system is not going to go anywhere. There has been work with ground-based lasers, but again, you are talking about stuff that is relatively early stages of experimentation.
Radio Jamming and Electromagnetic Pulse
THIS GOES TO THE FOURTH CITED BY THE NEW YORK TIMES, 'SEEKS TO TURN RADIO WAVES INTO WEAPONS WHOSE POWERS COULD RANGE 'FROM A TAP ON THE SHOULDER TO TOAST,' IN THE WORDS OF AN AIR FORCE PLAN. WHAT IS THIS?
Right. The concept is that you can use both radio frequency waves and electromagnetic pulse as well as lasers ­ all kinds of directed energy ­ to harm or disrupt satellites.
[ Editor's Note: National Security Space Architect describes High Power RF Weapons Technology: "The Radio Frequency (RF) Weapons Thrust develops and transitions high power microwave weapons technology into the AF operational inventory and protects U.S. systems against potential radio frequency (RF) weapons threats. Efforts include technology development and demonstrations of advanced High Power Microwave (HPM) weapons, and development and transition of RF hardening techniques to AF Product Centers and industry. "The goal of the Radio Frequency (RF) Weapons Thrust is to develop and transition high power microwave (HPM) weapons technology into the AF operational inventory and to protect U.S. systems against potential radio frequency (RF) weapons threats. Efforts include technology development and demonstrations of advanced HPM weapons, and development and transition of RF hardening techniques to AF Product Centers and industry. Major milestones have been attained in demonstrating high power RF sources for a variety of wide- and narrow-band weapon applications including aircraft self protection (ASP), suppression of enemy air defenses (SEAD), command and control warfare (C2W/IW), and AF Space Control." ]
Communication satellites use radio frequency signals, both from the ground up to the satellite that tell the satellite what to do and from the satellite down, so when you broadcast down your television and internet broadcasts, those are radio frequency signals. All satellites use radio frequency signals going up to maintain their orbits. Satellite control is done by radio frequency.
It is possible today from the ground to jam radio frequency signals. You simply have to overpower them with noise, with more powerful radio frequency signals. That's how you jam a satellite.
THIS MEANS WHEN IT SAYS, 'FROM A TAP ON THE SHOULDER TO TOAST.'
Toast. That you can do that in such a way that you simply jam the satellite for a short period of a time. But if your power output, particularly high-powered microwaves, is high enough you could kill it, you could fry the satellite's circuitry.
So, the goal of these offensive weapons against satellites ­ satellite weapons ­ is essentially to prevent other nations from doing the same thing in space militarily that we (USAF) can do now. The idea is that we don't want to let anybody else have the same capabilities, or close to the same capabilities as us. The problem with that is most other countries do not have dedicated military satellite systems. They use commercial and civilian satellites for their military needs. So, for example, most countries don't have dedicated military communication satellites. They use commercial providers. They use the same satellites that people on the ground use for telephones. They are not dedicated military satellites. They are not even in some instances government owned. They are owned by international consortia companies.
American Pre-emptive Strike Strategy
WHAT YOU ARE SAYING IS THAT THE U. S. MILITARY WANTS TO BE THE 800-POUND GORILLA IN SPACE AND WANTS TO REMAIN THERE.
Right.
AND AS I UNDERSTAND FROM THE NEW YORK TIMES ARTICLE, IT WAS JUST LAST MONTH THAT YOU APPEARED BEFORE THE COUNCIL ON FOREIGN RELATIONS TO TALK ABOUT THE IMPLICATIONS OF THE AMERICAN MILITARY DESIRE TO DOMINATE SPACE AND SPACE WEAPONRY VERSUS THE PERSPECTIVE OF THE EUROPEAN UNION, CANADA, CHINA AND RUSSIA. COULD YOU SUMMARIZE WHAT YOU TOLD THE COUNCIL ON FOREIGN RELATIONS?
In essence, I said that most other countries of the world are against the idea of putting weapons in space. There has been a vote in the U. N. General Assembly for the last 20 years in which most of the other nations of the world have called for a ban on weapons in space. Under the Outer Space Treaty of 1967, which is the U. S. is a party to, space is considered a global commons. In other words, no one can own space. That treaty stipulates that no one can own space. Everyone has the right to use space, to transit through space. Nobody can claim territory in space or on the moon. That's what that treaty does and it exists.
Now, the 1967 treaty does not prohibit conventional weapons in space, but it does prohibit people from owning space. Other nations of the world see this space-domination strategy as an effort by the United States to own space and to prevent other people from using space in the ways they see fit. Other countries see this as part and parcel of the Bush Administration's over arching national security strategy which is a strategy based on dominant military power and the threat of pre-emption to prevent war. That concept is in fact embedded in USAF doctrine documents covering how they would fight space wars. They talk about the possibility of pre-emptively taking out someone else's satellite; or pre-emptively striking from space at targets on the ground. That's very frightening to other nations of the world, including our allies. For example, currently if you are France or the U. K., the United States has to get permission to fly over those countries with a bomber. It can't just show up in French air space with a bomber, even if it's not aimed at France, like it's going to Iraq or whatever. It has to get permission.
When you think about the concept of Rods From God, or any other concept that bases weapons in space aimed at the Earth, you are talking about having something up there 24/7 that every ten minutes could be over somebody's country with a weapon pointed down.
THE AMERICAN 'DEATH STAR.'
Yeah. That's pretty scary to other nations and I don't blame them. I would find it frightening if other nations had a similar Death Star over Washington, D. C. every 10 minutes!
It seems to me that by pushing forward with this space warfare strategy ­ although we might get an increased military capability in the short term, we are harming ourselves in the long term. But it does not make sense from a national security viewpoint in the long term because you've just prompted other people to try to do the same thing.
COULD WE POSSIBLY, SECRETLY, HAVE DEVELOPED THESE WEAPONS THAT ARE BEING DESCRIBED NOW AS R & D AND ALREADY HAVE SOMETHING IN THE WINGS AND WE JUST WANT TO HAVE OFFICIAL AUTHORITY TO USE THEM?
Well, that could be. The overall Dept. of Defense space budget, the budget DOD has annually for all space programs ­ and that includes things like spy satellites ­ fully HALF OF IT IS CLASSIFIED. So half of the U. S. space budget is classified ­ which means I don't know what's in that. So, maybe other nations would suspect that this is simply putting a political cap on something that we (U.S.) intend to unveil down the road.
RIGHT, EXACTLY.
I don't think that is true. I don't think we have a Death Star sitting out at Area 51 ready to go. That said, I can't say that with 100% certainty because I have no insight as to what goes on in the classified realm.
ANY LEAKS COME TO YOU FROM PEOPLE FRUSTRATED IN THE PENTAGON?
(laughs) I don't think I would be wise to answer that! I can say to you that not everyone in the Pentagon or military services thinks that a space weapons strategy is a good idea."
What Will Congress and Other Nations Do?
The next political step is in June when the House of Representatives will have a space program subcommittee budget hearing about the USAF request. Theresa Hitchens expects serious Capitol Hill debate leading up to the President's submission of the Defense Department's budget in February 2006.
She also expects highly negative political reaction from the rest of the world. She anticipates that the European Union could even try to punish the United States economically by blocking licensing of American commercial satellites and refusing to buy U. S. satellite technology.
---
More Information:
Background
Theresa Hitchens: "The U. S. has had an ambivalent policy with regard to the military use of space since the dawn of the Space Age. Pres. Dwight Eisenhower very deliberately set up a policy that separated military space from civil space and put the emphasis on peaceful uses of space.
Since that time, that traditionally was the U. S. policy. We've taken a rather reluctant view of the possibility of weaponizing space. That does not mean that the U. S. Air Force has not been pushing for that ­ since the dawn of the Space Age. At least some elements of the USAF have long believed that we need to take the 'high ground' so to speak to continue our military edge into the 21st Century. So there has been a long tradition in the Air Force of agitation and support for a space warfare strategy.
We tested anti-satellite weapons in the 1980s successfully. We tested an F-15 with a missile that shot and hit a dead satellite in low Earth orbit. The Soviets were also testing many satellite weapons at that time, too. Both sides ­ although they failed to negotiate a treaty to ban anti-satellite weapons – both sides pretty much stopped work sort of as unilateral moratoriums because they decided that space weapons were bad for international security. They might lead to accidental nuclear war because if the other side's early warning system were targeted by space weapons, it would stop the ability for each side to stop concern it would be targeted with nuclear weapons.
So, there was a concern about crisis instability at that time. The U. S. pretty much stopped its testing programs and the Soviets stopped theirs.
The next time space weapons came to the fore was during the Reagan Administration and the Star Wars program. Ronald Reagan was primarily interested in the use of space for missile defense. But at that time, the USAF also got approval to begin pursuing some anti-satellite options. So, there was a mix. It's hard to develop technology that is purely defensive. Any missile defense technology based in space would actually have offensive capabilities. Such a network of space-based interceptors would inherently be able to target satellites. It would just be a question of what they are looking at.
That was the next period of time when anti-satellite weapon systems were getting attention at least internally in the military, although not really publicly because the public eye was focused on the missile defense issue, right?
So, when George Bush, the first, came in, there was a ratcheting back of the missile defense program ­ particularly the space arm ­ and ratcheting back of any R & D that was ongoing on satellite systems. When Pres. Clinton came in and actually killed all of the programs, with the exception of one, that might actually have space weapons application. So, he killed a number of programs that were legacy programs from SDI (Reagan Star Wars). He let one laser test go through and it was a laser against a dead satellite. He let that go through because Clinton was convinced by the folks doing the testing that it was designed to show satellite vulnerability to lasers, not laser ability to attack a satellite. The test was configured and at least sold as being a test of our defensive capabilities. But that was the only thing that Clinton go through. He killed all the other programs.
President Bill Clinton is responsible for the current 1996 National Space Policy that this Bush Administration intends to re-write. That policy, like the Eisenhower policy, also put the primacy on peaceful uses of space. However, it raises the possibility that the U. S. might need to engage in 'space control,' both defensive and offensive in the text. That was never implemented, but it is in the text (of the 1996 policy.) So, even after Clinton, the USAF was able to push through some of the verbiage that it wanted to untie its hands."
---
Websites:
1996 National Space Policy: http://www.ostp.gov/NSTC/html/fs/fs-5.html
IEEE: http://www.spectrum.ieee.org/WEBONLY/publicfeature/mar05/0305star.html#f2
CDI: http://www.cdi.org/index.cfm
XSS-11: http://space.skyrocket.de/doc_sdat/xss-11.htm

© 1998 - 2019 by Linda Moulton Howe.
All Rights Reserved.