"I can't imagine anything more catastrophic effecting the human race today than a pandemic of H5N1 influenza around the world. …Anywhere from 180 to 360 million people could die from this particular strain of virus."
– Michael T. Osterholm, Ph.D., University of Minnesota
June 2, 2005   Minneapolis, Minnesota – 
West Nile Fever Virus

     
Dr. Henry Masur at the National Institutes of Health (NIH) in Washington, D. C., told Associated Press this week that the West Nile Fever Virus working its way through the United States is more virulent than its viral cousin in Europe, Asia and Africa and "has caused more cases of paralysis than there were in many years of polio." By 2005, it has spread to nearly every state. 
In 2004, one-third of American West Nile Fever cases reported to the Centers for Disease Control (CDC) had brain and nervous system complications such as meningitis and encephalitis. Worse, in a CDC study to be published next month in July 2005, an estimated 10% of Americans who develop the most severe form of West Nile disease will have polio-like paralysis. Many patients are in their 30s to 50s. The growing paralysis problems are of great concern, as well as the death toll. Since 1999, CDC has counted more than 16,600 human cases and 654 deaths.
One West Nile victim whose left leg has been paralyzed from the waist down since 2003 is 56-year-old Patricia Heller, who works for a doctor in Boulder, Colorado. Until the virus hit her, she was a healthy skier and bicyclist. Today she says, "There was no recognition that West Nile could paralyze and kill people that were healthy and relatively young. We were really caught off guard."
Doctors also now realize that recovery from a West Nile virus attack can take weeks. The Chicago Health Department statistics on West Nile cases found that 50% of known patients were sick for ten days and on average, it took those patients 60 days to get over lingering chronic fatigue.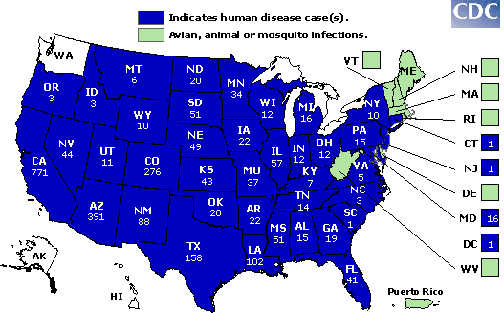 H5N1 Avian Influenza, "Bird Flu," – Infecting Birds, Pigs and Humans
Another virus mutation that has the entire world medical community nervous is the bird flu in Southeast Asia that has now jumped from birds to humans and pigs. Fifty-four people are dead from bird flu, which is also known medically as H5N1 influenza. Chinese officials say a recent flu outbreak among wild birds is twice as large as they thought. 178 bar-headed geese found dead between May 4 and 8 on a nature reserve in Qinghai province died of H5N1 flu. Now all nature reserves in China have been sealed off.
Avian influenza could also be infecting up to half of the pig population in some areas of Indonesia without causing symptoms, Nature magazine reported at the end of May 2005. In Indonesia, Chairul Nidom, a virologist at Airlangga University's tropical disease center in Surabaya, Java, said in Nature: "I think pigs pose a much greater threat of spreading the disease to humans than poultry." The reason is that swine, which are very close genetically to humans, can act as a mixing vessel in which human and avian flu viruses can swap genetic information, which could lead to a hybrid virus with the ability to spread easily among people.
Health organizations around the world dread the increasing and dangerous possibility that bird flu could be the next worldwide pandemic. Even in Brazil at the end of May, authorities ordered the slaughter of 17,000 chickens after 6,500 chickens died from a mysterious respiratory illness in the Brazilian state of Mato Grosso do Sul. Officials worried the illness might be H5N1. Lab results will be reported soon.
The dangerous H5N1 bird flu did not emerge until eight years ago in 1997 when chickens in Guangdong Province, China, outside of Hong Kong, became ill and some people got sick and died. The government ordered all the chickens in the province to be killed and burned, but that did not stop the H5N1 virus. It has now spread to all domestic bird populations throughout Southeast Asia, including domestic and wild. Now, it's just a matter of time, medical experts say, before more efficient spread from human to human begins, setting off what could be a horrific pandemic. Airplane travel around the globe means the bird flu virus could spread quickly, as did SARS in 2003.
One American epidemiologist thinks a pandemic could start within the next two years. He is Dr. Michael Osterholm, Professor of Epidemiology and Director of the Center for Infectious Disease Research and Policy at the University of Minnesota in Minneapolis, Minnesota.
---
Interview:
Michael T. Osterholm, Ph.D., Professor of Epidemiology and Director, Center for Infectious Disease Research and Policy, University of Minnesota, Minneapolis, Minnesota: "The H5N1 situation in Southeast Asia is at a very precarious point right now in that we have had ongoing transmission to humans in a very limited way ­ namely, that the virus is able to enter into the lung cells of a very small number of people. What we are really concerned about are two factors:
How easily can the H5N1 virus get into lung cells of humans? That is one part of the virus that currently must change even more to make that really efficient.
Can humans then transmit the virus to others? That requires a second part of the virus to also change to allow it to basically explode out of the human lung cells.
Unfortunately, in both instances, the virus is changing that way and that's why we are so concerned that although we have been dealing with a limited number of cases for the past several years, it might only be a matter of days to weeks to months that we see the virus change enough so it would start to be transmitted readily between humans and then start the world pandemic.
IN THE GLOBAL COMMUNITY NOW, IF H5N1 COULD TRANSMIT FROM HUMAN-TO-HUMAN LIKE SARS WITH VERY LITTLE OR NO IMMUNE RESISTANCE, WHAT DO YOU REALISTICALLY EXPECT THE CONSEQUENCES WOULD BE IN THE HUMAN POPULATION?
First of all, any pandemic strain of influenza – namely, a strain that has not been seen previously in the human population or one that was seen 50 or more years ago so very few people alive would still have protective antibody from it – that is always a problem for us. We worry about that because of the increased number of deaths that would occur with that kind of situation. But also, we worry about which strain of the virus emerges because we have clear evidence that not all pandemics are equal in their ability to kill. Some are moderately effective. Some are very effective.
So, when you combine a situation where you have a very effective virus at causing disease and death, combined with it has not been seen in the population so there is no residual protection of the population for many years: that's kind of the perfect storm of influenza pandemics. Unfortunately, that would be the case right now with the H5N1.
This virus has been a very lethal type virus as viruses go in the influenza area in humans in Southeast Asia. And I might add, very lethal in the domestic bird population. And it clearly is one virus we have not seen on a worldwide basis in any measurable human history ­ meaning, dating back to 100 years ago when we could actually measure antibody from people who were alive in the 1930s and 1940s who could tell us if that virus was even around in the late 1800s. So, we don't have any recent experience with it and it would mean that we are very vulnerable and with the severity of this virus infection, it could also be very lethal.
Comparison of H5N1 Bird Flu to 1918 Swine,
or Spanish, Flu Epidemic
[ Editor's Note: In February 2004, British scientists determined the structure of the so-called "Spanish flu" virus that jumped from birds to humans in 1918, killing perhaps 100 million people worldwide. In two separate studies, researchers from the Medical Research Council in London showed that, "the virus likely derived from an avian virus and retained some key characteristics of its avian precursor that caught the human immune system off-guard." ]
HOW MANY PEOPLE DIED WITH THE 1918 SWINE FLU?
Recent studies conducted by a group of historians have gone back country-by-country to look at the 1918 pandemic. The really thoughtful and well-researched numbers now estimate that between fifty to one hundred million people died during the 1918-1919 pandemic. Many of those died from the same kind of illness we're seeing in the H5N1 patients today ­ a thing called a cytokine 'storm' which is an immune reaction that the body has to the virus. This is why we are so concerned about the H5N1 because it looks like it could be a duplicating kind of experience with the 1918 pandemic.
[ Editor's Note: Cytokine storm – when your immune system mounts too strong of an attack against a respiratory virus. In effect, T-cells send out chemical messages to other T-cells to destroy invaders and the result is the patient's own immune response causes lung tissue to swell up and cause death. Cytokine storms explain why the 1918 Spanish Flu (swine flu) pandemic killed so many young healthy people. Their immune systems were strong enough to unleash a cytokine storm. Prof. Michael Osterholm, says, ""Everything that we're seeing in the virus-host interaction in Southeast Asia says cytokine storm."] Let me add one more piece that is so critical: the 1918 population numbered only about 1.8 billion people on the face of the Earth. Today we have 6.5 billion people. So, if the 1918 experience re-occurred today, using those 1918 numbers, today could see anywhere from 180 to 360 million people die from this particular H5N1 strain of virus.

Worse Case Pandemic Now?
WHEN YOU TALK WITH YOUR COLLEAGUES IN THE UNITED STATES AND INTERNATIONALLY NOW, WHAT IS YOUR WORSE CASE PANDEMIC SCENARIO?
At this point, none of us know when and where the next pandemic will begin, but we can tell you it's going to happen! Pandemics and influenza are just a part of Mother Nature. There have been ten of them in the last 300 years around the world (one every 30 years) ­ some of them much more severe, like one in 1830 and one in 1918. Others less severe, like the one in 1957 and 1968.
We are overdue for another pandemic. It's going to occur. It's a matter of what type of illness we see with the patients. Nonetheless, we'll still have millions of deaths. It's just a matter of whether we'll have many millions, or millions of deaths. That's the point we doctors all recognize and can say with some certainty, just like hurricanes, earthquakes and volcanic activity will occur, so will pandemics.
WHAT DO YOU AND THE MEDICAL COMMUNITY DO?
At this point, the single most important weapon we can bring to bear to this is vaccine. Unfortunately, we are still dealing largely with the 1950s vaccine, meaning we have not progressed much in either technology or in the ability to produce the vaccine more than we had 50 years ago. That is our single biggest stumbling block. Right now, we would not have any vaccine for six months into the pandemic because we have to use the strain that is circulating once it starts causing that pandemic as the seed strain to make the vaccine.
Secondly, we only have a very limited amount of capacity on a worldwide basis to make this vaccine. Today we could make at most about 350 to 400 million doses of this vaccine as it is currently constituted. We could probably stretch that to as much as a billion doses. But having said that, it's going to take at least two doses per person, so in the end if you do the math, it comes out to about 500 million people can get vaccine in the first year ­ not right away ­ just in the first year.
WHICH IS ABOUT HALF A BILLION.
That's only about 14% of the world's population.
SO WHAT HAPPENS IF H5N1 DOES TAKE OFF AND TRANSMIT HUMAN-TO-HUMAN?
I can't imagine anything more catastrophic effecting the human race today than a pandemic of H5N1 influenza around the world.
As we talked about the 1918 to 1919 experience, if we were to have a similar experience ­ and I might add, there are a number of reasons why modern medical technology will not do much to change that ­ we don't have the medicines or capacity today much more than we had in 1918 for this type of illness. That said, if we had even 180 million illnesses, which would be the low end of the range looking at the 1918 experience, that would give you some context: if you look at HIV AIDS, as horrible as it has been, to date only about 26 million have died. Pandemic influenza could do in one year what HIV has not done in 35 years.
WHAT DO YOU THINK THE LIKELIHOOD IS THAT H5N1 COULD SPREAD WIDELY TO PEOPLE IN 2005 OR 2006?
I can't say with certainty that this is going to be the strain that will take off. I think there is every indication that it will be. I think it's going to happen sooner than later. But I come back to the point that we as a world have to understand that another pandemic influenza will occur. Therefore, while this is surely the highest risk candidate right now, we can't take comfort in the fact that even if it does not emerge, that we're out of the woods. We must understand that pandemic influenza is a reality of our world, just as our hurricanes, tornadoes, earthquakes and other meteorological type events. We have to be prepared for this pandemic, but unfortunately right now, we're not.
Borders Closed and Quarantines
COULD YOU DESCRIBE WHAT YOU THINK MIGHT HAPPEN IF H5N1 TAKES OFF IN THE HUMAN POPULATION?
As soon as we document the transmission of H5N1 at a community level or regional level in the world, there will be an immediate cry to close borders in an attempt to try to slow the spread of it down. We will see overnight literally the stopping of international trade and travel as we currently know it. This in turn will lead to a whole series of economic and product available events which could be devastating because we live in this global economy and many of the goods and items we expect and need every day to live and exist in this country, for example, will not be available. That will be true worldwide.
Also we will watch through the eyes of the international media this infection literally march around the world. So, we will get to see firsthand the kinds of devastation that will occur country by country. Even with the borders closed, there is no doubt in my mind that because of all the movement of people illegal and legal, that we will still see the virus make its way around the world quickly and it won't be long and all the continents will be involved.
I'M ASSUMING THAT QUARANTINE WOULD BE THE ORDER OF THE DAY?
Quarantine will be something that every world leader will want to use immediately as some way to protect themselves. While it might slow the virus spread down, it's a lot like putting screen doors on a submarine. It still will not make it. And so, we will see this virus move quickly, even with quarantine.
WHAT WOULD YOU TELL YOUR OWN FAMILY IF IT IS NOW RAGING IN THE UNITED STATES?
Unfortunately, we don't have a lot of information that we can tell our loved ones and our colleagues that is going to bring great comfort. This is going to be a difficult situation. We currently today don't have the vaccines, the medicines or any other means of really stopping the transmission. All we can do is try to reduce it. Frankly, on a given day, there is no magic bullet that we're going to be able to bring forward, short of an international vaccine supply that might make a difference, which is not in the cards right now.
Urgent Effort to Create Bird Flu Vaccine
I'VE HEARD ANNOUNCEMENTS FROM THE NATIONAL INSTITUTES OF HEALTH THAT THEY ARE TRYING TO ANTICIPATE THE POTENTIAL SPREAD OF H5N1 AND ARE TRYING TO COME UP WITH SOME KIND OF A VACCINE. HOW CAN THEY DO THAT WITHOUT HAVING THE EXACT VIRUS THEY WOULD HAVE TO BE PROTECTING AGAINST?
Currently efforts at the NIH are really directed at taking the current circulating H5N1 strain and making early vaccines to it to try to study it to see how it really affects peoples' immune system, how we can administer it and reduce the amount of material needed for each individual and so stretch the vaccine. Those pieces of work are going on right now.
Unfortunately, we really want and believe we need the actual circulating strain to get the best protection. This work being done by the NIH right now is very critical. Let me add one last piece which is the reality of our vaccine supply system today. Even if we come up with the magic bullet vaccine, we don't have the industrial or government capacity to make much vaccine. So even in a year's time, we could only hope to make somewhere around the 500 million protective dose level for the entire world, which is less than 14% of the world's population.
SO WHAT YOU ARE SAYING IS THAT IF THE H5N1 VIRUS SHOULD BEGIN TO SPREAD AMONG HUMANS THIS YEAR OR NEXT YEAR, THE REALLY ONLY POSSIBLE SCENARIO IS A TREMENDOUS AMOUNT OF DEATH UNTIL THE VIRUS ITSELF IS STOPPED BY ALL THE DEATH?
At this point, we have to realize that pandemics, as horrible as they are, do go away. What we mean by that is eventually the strain that is so deadly will lessen in its ability to kill and will ultimately become the circulating strain that we see winter to winter. When that happens, we'll still worry about it because we know in this country each year up to 35 to 50 thousand people still die from routine garden variety influenza. But it will attenuate itself, or weaken, to the point that it will become a more common strain and not one so deadly that it could kill millions and millions.
Unfortunately that's a heck of a price to pay to get to that point of virus attenuation, but we do know that pandemics won't go on forever.
MEANING, WE MAY LOSE MORE THAN 300 MILLION PEOPLE AROUND THE WORLD.
We could. And that's a helluva price to pay to get through a pandemic."
---
More Information:
The World Health Organization, known as W. H. O., recently said in its website: "WHO believes the appearance of H5N1, which is now widely entrenched in Asia, signals that the world has moved closer to the next pandemic. While it is impossible to accurately forecast the magnitude of the next pandemic, we do know that much of the world is unprepared for a pandemic of any size."
Also this week, New Scientist magazine reports:
"Amid recent signs that H5N1 bird flu virus is acquiring the ability to spread more rapidly among people, many health authorities are pinning their hopes on Tamiflu, the only available antiviral drug known to be effective in blocking the virus. But Tamiflu is in short supply and may not be enough to stop a pandemic anyway. In the meantime, the World Health Organization is stepping up efforts to acquire a massive stockpile of Tamiflu, which it hopes will at least slow down any emerging pandemic."
H5N1 Spread to Brazilian Chickens?
Associated Press Report – May 31, 2005
"Brazil Orders Slaughter of 17,000 Chickens After 6,000 Die From Illness 
Sao Paulo, Brazil (AP) – Authorities ordered the slaughter of 17,000 chickens after 6,500 chickens died from a mysterious respiratory illness in a central western Brazilian state, officials said.
Sanitary authorities do not know what kind of disease the chickens had, but expect to identify it by the end of this week, Gladys Raquel, an animal sanitation manager with the state government of Mato Grosso do Sul state, said Tuesday in a statement.
Raquel and officials with Brazil's Agriculture Ministry refused to answer questions about the illness, or whether it had similar symptoms to bird flu disease in Asia, saying they want to wait for the test results.
The regional death toll in Asia's latest bird flu outbreak stands at 54 people. Vietnam suffered the most deaths with 38. The Brazilian farm at the center of the outbreak was quarantined with road blocks.
Brazil is the world's largest chicken exporter. Production in South America's largest country rose 8% last year, with exports skyrocketing 26%, in part because of the outbreak of bird flu in Asia."
See other Earthfiles reports about West Nile and H5N1 Bird Flu in the Earthfiles Archives:
03/12/2005 —  Could Avian Flu H5N1 Cause the Next Pandemic?
01/29/2004 —  Unprecedented Outbreak of Avian Flu Has Killed Ten People in Asia
01/13/2004 —  Updated: SARS and Bird Flu Back in Asia
01/18/2003 —  Can the United States Cope with Bioterrorism Attacks?
04/07/2005 —  Chronic Wasting Disease Has Spread to New York State Captive Deer
09/28/2002 —  2002 Mad Cow Disease and West Nile Fever Updates
10/30/2000 —  Science, Environment and Medical Updates
09/24/2000 —  Infectious Diseases – A Global Threat
09/03/2000 —  Environmental Updates and 79 Cattle Die in Saskatchewan
06/17/2000 —  Spring 2000 – Hottest On Record in U. S.
04/16/2000 —  Environmental Update April 16, 2000
03/12/2000 —  Environmental Updates and Mysterious Fires Near Scott, Arkansas
01/23/2000 —  Possible Link Between 100,000 Lobster Deaths & Pesticide Spraying
11/15/1999 —  Kunjin West Nile Fever Virus Update
11/07/1999 —  Environmental Updates and Calf Fetus Shocks Los Brazos, New Mexico
10/24/1999 —  Short Updates About Environmental Problems
10/21/1999 —  Bird Deaths In Mascoutah, Illinois and Erie, Pennsylvania
10/12/1999 —  Kunjin/West Nile Virus – First Time in Western Hemisphere
---
Websites:
WHO Avian Influenza: http://www.who.int/csr/disease/avian_influenza/en/
CDC West Nile Virus:http://www.cdc.gov/ncidod/dvbid/westnile/index.htm
University of Minnesota Pandemic Flu:http://www.cidrap.umn.edu/cidrap/content/influenza/panflu/index.html
Nature, May 2005, Bird Flu and Java Pigs: http://www.nature.com/nature/journal/v435/n7041/full/435390a.html

© 1998 - 2019 by Linda Moulton Howe.
All Rights Reserved.