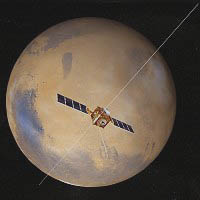 June 23, 2005   Darmstadt, Germany – I learned something amazing today from the Mars Express Orbiter Spacecraft Operations Manager. He is Michel Denis based at the European Space Agency's office in Darmstadt, Germany. I was getting an update about the plans for the deep ground-penetrating radar on ESA's Mars Express Orbiter which was turned on for the first time at 3 p.m. Pacific. The amazing fact I learned was that a month ago on May 7th, the Mars Express Orbiter and NASA's two spacecraft, the Odyssey and the Mars Global Surveyor ­ could have collided!
Mr. Denis said ESA received a call from NASA on April 29th about calculations that showed all three spacecraft orbiters would be going to their lowest point in orbit about 250 to 300 kilometers above the Mars surface. And there could be an intersection point ­ or collision ­ on May 7th. NASA asked ESA if they would change the orbit of the Mars Express Orbiter slightly to avoid the potential catastrophe and so they did. But who would think that only three orbiters on Mars could periodically face a traffic jam?!
In April, NASA's Mars Global Surveyor actually photographed NASA's Mars Odyssey and ESA's Mars Express.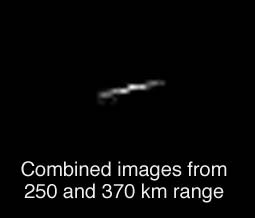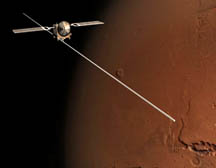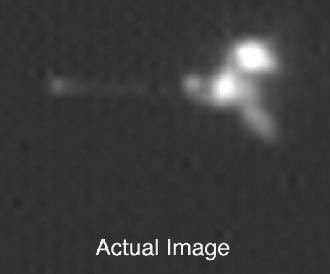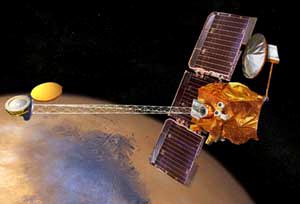 This week I also talked with Michael McKay, Flight Operations Director for the European Space Agency, also based in Darmstadt, Germany. He has shared the science team's frustration that it has taken an entire year to finally deploy the three radar booms which were supposed to have been operational in April 2004. The radar are composed of two 20-meter antennae and one 7-meter antenna made out of fiberglass and kevlar. The manufacturer was afraid that computer simulations showed the unfurling of the radar might have damaged the Mars Express Orbiter and jeopardized all the other important scientific instruments onboard. So software was tweaked over the past 12 months and finally today was the day for the first radar operation.
Now for the next ten days, the Mars Advanced Radar for Subsurface and Ionosphere Sounding ­ known more simply as the MARSIS antennas ­ will be turned on three times a day to calibrate the complicated instrument. The goals is to use the MARSIS radar to "see" into top 3 miles ­ or 5 kilometers – of the Martian crust to look for water ice, or even liquid water under pressure. Atmospheric scientists – such as Vittorio Formisano in Italy ­ want to see if the radar finds any underground structures that might contain ice or water to see if there is any match to what has been seen in the Martian atmosphere. Dr. Formisano, for example, has reported higher water molecule, methane and possibly formaldehyde gas concentrations in the atmosphere above three regions along the Martian equator. He thinks those concentrations might indicate sub-surface ice or even water at pressurized depths.
But now there's another problem. In order to do reasonably accurate deep ground-penetrating radar investigation, the radar needs to be turned on when the Mars Express Orbiter is at its closest to the Martian surface. That's about 270 kilometers and only happens periodically in the orbiter's very elliptical orbit which swings all the way out to 10,000 kilometers and then back to the 270 kilometers. And when the orbiter is closest to the Martian ground, it needs to be night time so the sunlight won't ionize the atmosphere and interfere with the radar's clarity. However, by mid-July, when the orbiter is at its lowest orbital spots, it will be in Martian sunlight. It won't be until early December that the lowest points of the Mars Express orbiter will finally match up with Martian nights. And that's when the real science will begin.
I asked Michael McKay this week if he personally expected the MARSIS radar would find a lot of water ice underground in the three miles of Martian crust the radar can explore?
---
Interview:
Michael McKay, Flight Operations Director, European Space Agency, Darmstadt, Germany: "Personally ­ I can give a personal opinion here. I believe so. I think there is still a lot of ice in the upper surface of Mars. We've seen it around the South Pole, so we've had quite a bit of permafrost. And there are also indications of water vapor and methane in combination around the equator. I think this radar will take the understanding of planets to another level whenever it operates.
AND IF THERE IS LIQUID WATER, WILL THE RADAR BE ABLE TO DISTINGUISH BETWEEN LIQUID WATER AND WATER ICE?
The radar looks at the reflection between different surfaces between rock or ice or rock and water. And it's based on interpreting that reflection. Liquid water would only exist on Mars when it's under substantial pressure. The atmosphere on Mars is 1/6000th of what we have here on Earth. So consequently, the ice would go straight from ice form to vapor. It won't go through a liquid phase.
ON THE SURFACE.
On the surface. It requires enormous pressure. So, if there is sufficient pressure under the surface of Mars and whatever ice is there is at the right temperature, then yes it could exist in liquid form.
AND 5 KILOMETERS DOWN, WOULD THE PRESSURE BE ENOUGH THAT IF THERE IS ICE THAT IT WOULD HAVE BEEN TURNED INTO LIQUID WATER AT THAT DEPTH?
It is possible.
THAT'S WHERE THE POSSIBILITY OF THE METHANE CONCENTRATIONS AND OTHER GASES IN THREE AREAS THAT DR. FORMISANO"S WORK AND OTHERS HAVE BEEN ABLE TO CONFIRM? THE IDEA IS CAN YOU LOOK BELOW AND SEE IF LIQUID ICE OR WATER ARE IN THOSE AREAS?
[Editor's Note: The three regions over which Vittorio Formisano, Ph.D., (head of the PSF atmospheric molecule analysis on Mars Express Orbiter) reported finding higher concentrations of water molecules, methane and possibly formaldehyde are: Arabia Terra; Elysium Planum; and Arcadia-Memnonia. ]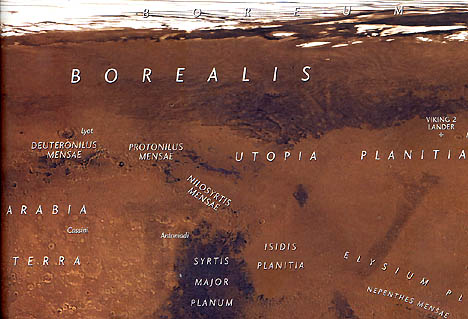 That is what we are hoping to achieve. To understand exactly what lies below the surface of Mars and in what regions. As I said earlier, there are some very significant high priority targets that I'm sure from a scientific interest point of view, we will want to go over and examine very carefully with the radar to try to put a better picture together ­ not just mapping the atmosphere and looking at the surface with a stereo camera, but also putting a new dimension to what is lying below and might be responsible for forming the features that we see only on the surface at the moment."
MARSIS Radar "Detects Interfaces, Changes In Structure"
Michelle Denis: "MARSIS is not technically looking for liquid water under pressure or water ice. It detects interfaces, changes in structure, from something that is soft to something that is hard, from something of a certain density to something to a different density. If you think of rocks on the Earth, it will differentiate between sediment and volcanic lava. So, MARSIS ­ even if it does not find water ice or liquid water, it might reveal all sorts of complex structures at various depths inside the Martian ground which in analogy with the Earth. That is what the MARSIS ground-penetrating radar is all about: telling you there is a change of structure and under the surface can distinguish a hill from a valley or canyon.
WITHIN THE UPPER 3 MILES (5 KILOMETERS) OF MARTIAN CRUST, WE WOULD BE ABLE TO TELL IF THERE WERE SUBTERRANEAN CAVERNS?
Oh, yes. If there were big hollows and tunnels in the crust on Mars, MARSIS should be able to differentiate, but it would appear only as transitions and structures in the radar. So we would have to go there to know for sure."
Mars Express Orbiter Budget To Be
Extended Until December 2007
Because of the year delay in getting the MARSIS radar operational, the European Space Agency's 15 nation constituency will soon vote to authorize more funding for another two years. The life time left in the batteries on Mars Orbiter Express might also expire in two to three years.
---
Websites:
ESA Mars Express: http://www.esa.int/SPECIALS/Mars_Express/index.html
NASA:
http://www.nasa.gov/vision/universe/solarsystem/mgs-images.html
Vittorio Formisano: http://www.esa.int/esaCP/SEMAK21XDYD_Life_0.html

© 1998 - 2019 by Linda Moulton Howe.
All Rights Reserved.