"In a CDC study to be published next month in July 2005, an estimated 10% of Americans who develop the most severe form of West Nile disease will have polio-like paralysis. Many patients are in their 30s to 50s. The growing paralysis problems are of great concern, as well as the death toll. Since 1999, CDC has counted more than 16,600 human cases and 654 deaths." – 060205 Earthfiles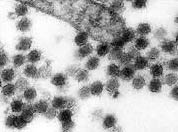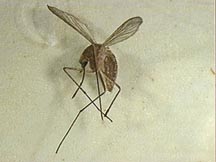 June 21, 2005   Atlanta, Georgia – The Centers for Disease Control issued the following press release this week:
"Nation's First Human Case of West Nile Virus (WNV) in 2005 Reported to CDC
The first human West Nile virus (WNV) illness of 2005 has been reported to the Centers for Disease Control and Prevention (CDC) by the Kansas Department of Health and Environment. WNV is transmitted seasonally by infected mosquitoes. Since 1999, when WNV was first identified in the United States, WNV has caused nearly 17,000 cases of human illness, including more than 650 deaths.
While Kansas is the first state to report human WNV activity, infection in birds, mosquitoes or horses has already been reported from fourteen states this year.
"This season's first human case of West Nile virus reminds us of the importance of taking precautions to avoid becoming ill," said Dr. Lyle Petersen, director of CDC's Division of Vector- borne Infectious
Diseases. "It's impossible to predict what this year's season will hold. So everyone who spends time outdoors should take steps to protect themselves from mosquito bites and West Nile virus."
Simple measures can help prevent infection: avoid mosquito bites by using insect repellents and protect your home by emptying standing water and installing screens. People can also help their communities by supporting community-based mosquito control programs. In many places, people can report dead birds to local health authorities to help with disease monitoring activities.
CDC recently expanded the list of active ingredients it recommends for protection against mosquito bites. In addition to DEET and permethrin, repellents containing picaridin and oil of lemon eucalyptus have recently been found to provide reliable and long-lasting protection from mosquito bites.
As of 2005, WNV was reported in all states except Hawaii and Alaska. (Washington state has reported only animal activity one year, in 2002.) The "hot spots," that is, places with high numbers of human cases, of WNV activity have changed each year, but virus activity has generally continued locally each year after cases are reported. In 2004, 2,535 total human cases and 98 deaths were reported to CDC, with the largest number of cases in Western states. Cases reported to CDC were highest in 2003, with 9,862 human illnesses and 264 deaths.
Mosquitoes become infected with WNV when they feed on infected birds, and the virus may be transmitted when an infected mosquito bites a human. WNV transmission through transplanted organs, transfused blood, from mother to fetus and likely transmission to infants through breast milk were also identified in 2002. Routine screening of blood donations for WNV since 2003 has greatly reduced the risk of WNV infection through transfused blood.
About two of every 10 people infected by a mosquito develop milder WNV symptoms such as fever, aches, nausea and vomiting. About 1 in 150 people infected with WNV develop more serious symptoms and West Nile virus can be fatal. Although people of any age can become severely ill, the risk is highest for persons age 50 and over or recipients of solid organ transplants."
---
More Information:
Previous Earthfiles reports about West Nile Virus in the United States in Archives:
06/03/2005 — West Nile and Bird Flu: Two Increasingly Dangerous Viruses
10/23/2004 — Mysterious Deaths of Squirrels in Michigan 
08/01/2004 — Sixth Straight Year Hundreds of Birds Die at Roestler Lake, North Dakota.
09/28/2002 — 2002 Mad Cow Disease and West Nile Fever Updates 
09/24/2000 — Infectious Diseases – A Global Threat
04/16/2000 — Environmental Update April 16, 2000
03/12/2000 — Environmental Updates and Mysterious Fires Near Scott, Arkansas
01/23/2000 — Possible Link Between 100,000 Lobster Deaths & Pesticide Spraying
11/15/1999 — Kunjin West Nile Fever Virus Update
10/24/1999 — Short Updates About Environmental Problems 
10/21/1999 — Bird Deaths In Mascoutah, Illinois and Erie, Pennsylvania
10/12/1999 — Kunjin/West Nile Virus – First Time in Western Hemisphere
---
Websites:
CDC West Nile Virus: http://www.cdc.gov/ncidod/dvbid/westnile/index.htm

© 1998 - 2019 by Linda Moulton Howe.
All Rights Reserved.