See Photos and Case Update in More Information below.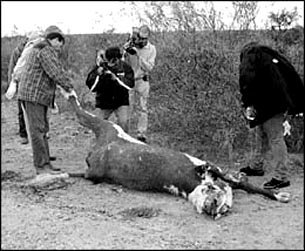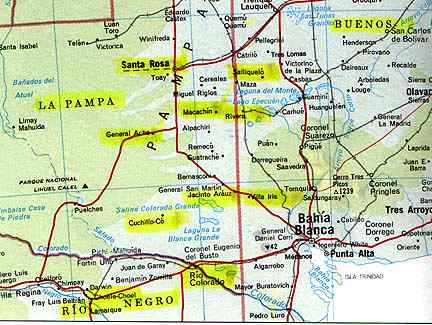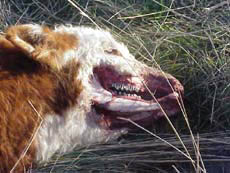 Updated June 23, 2005   Bradford, Pennsylvania – The number of unusual large animal deaths since 2002 in Argentina and Chile keeps climbing. I talked with Scott Corrales, Editor and Translator of Inexplicata, the Journal of Spanish Ufology, based in Bradford, Pennsylvania. Scott received his M. A. in Spanish Literature from Rutgers University. Scott's website, Inexplicata, provides Spanish-to-English translations about UFO-related incidents in Mexico, Central and South America.
Scott checked with Argentina researcher, Raul Oscar Chaves, who has investigated cattle and other animal mutilations in the La Pampa province. (Also see Update about Buenos Aires province in More Information below). Current totals for 2002-2005 in Argentina are:
Argentina
500 cases in 2002
1,082 cases in 2003
493 cases in 2004
75 cases so far this year
That's 2,150 animal mutilations, largely focused in the province of La Pampa, Argentina.
Chile
Paralleling Argentina along the Andes mountains is Chile. And there, Scott Corrales has the statistic of 1,294 animal mutilations since 2002. If you combine Argentina's and Chile's reported animal mutilations, the number is 3,244 in the past three and a half years.
Other
That's not counting the 1,461 poultry deaths in Chile caused by Something that punctures the birds with bloodless holes. Bloodless punctures were the calling card of the infamous chupacabras creatures that attacked in Puerto Rico, Mexico and the southern U. S. from 1995 to 1996. In addition, there were 837 mutilated and punctured animals on Brazil farms in 1997.
Along with the thousands of unusual animal deaths, Chile and Argentina eyewitnesses have also seen unidentified aerial objects and beams of light – despite the Argentina government's official explanation for all the animal deaths: a red-snouted mouse.
---
Interview:
Scott Corrales, Editor and Translator, www.Inexplicata.us, Bradford, Pennsylvania: "The mutilations continued despite the fact that the Argentina government, given the economic crisis, given all the political instability in Argentina at the time ­ had told the newspapers, 'We have already told you that the culprit is the red-snouted mouse.'
And if you guys continue to alarm the public, we are going to accuse you of being alarmists and any uprisings or mutinies or mayhem is going to be on your heads. So, the print media, the major newspapers, all backed down from reporting. So, it became a provincial web and local newspaper story.
After that ­ and I'm talking about August to September 2002 ­ the police were told not to accept anymore reports or complaints about animal mutilations. So, farmers knowing that no one was paying any attention simply kept the information to themselves or shared it with members of the mutilation research community. That goes on to this day.
EXACTLY. AND THIS ALSO UNDERSCORES THAT THE BUENOS AIRES REPORTER HAD GONE OUT INTO ONE OF THE PROVINCES TO TALK WITH A VETERINARIAN SPECIFICALLY FOR ME AFTER SENASA (Argentina's Dept. of Agriculture) MADE THAT VERY STRANGE ANNOUNCEMENT THAT THE RED- SNOUTED MOUSE WAS RESPONSIBLE FOR MORE THAN 1,000 OF THE ANIMAL DEATHS. THE VETERINARIAN, WITH THE REPORTER TRANSLATING, LAUGHED AND SAID, 'WE DON'T EVEN HAVE THE RED-SNOUTED MOUSE IN THIS PROVINCE!'
That's right and you can imagine how outrageous it was that when the mutilations moved over to Uruguay across the river, their medical examiners simply said, 'Blame it on the hornets. The hornets are the cause of the animal mutilations.' That was simply the answer that satisfied and not a single word was said again about what was going on in the Uruguay side of the river. Hornets responsible for animal mutilations and ask no further questions. Pay no attention to the strange lights that are going back and forth in the night sky.
And the most recent activity happens to be in a wilderness area called L'Arana, the Spider. Even a couple of days ago, they are still getting fascinating cases. They have a 500 kilogram cows found dead, missing their udders, left eye and tongue. One of the other victim's horse showed an excision in its lower jaw, missing its tongue, missing its ears, absence of hide, flesh mass and muscles.
And the most interesting thing, there were signs of microwave radiation present. Now, could this be from the instrument used in the removal procedure, or from other unknown source? We don't know. He certainly does not know.
Horse Subjected to Microwave Radiation?
HOW DID THEY DESCRIBE THE EVIDENCE THEY LINKED TO MICROWAVES?
I'm reading from Mr. Chavez's report: 'Part of the horse's hide was also seen missing from the right wither to the leg and from the back to the belly, as well as lack of muscles and flesh on the front of its left leg. The animal while lying on its left side presented signs of having been mutilated on both sides of its body. It also presented advanced signs of deterioration, 'eing practically desiccated. This may suppose the existence of some type of radiation or microwaves at play.
"According to the animals' owner, their deaths occurred some 15 to 20 days ago. The remains of the horse's mane separated from the body were also found. There were no tracks or traces suggesting the involvement of carrion animals. As in other cases, this could be due to the presence of radiation on the carcass.' End of report.
Something is going on! Couple that with 180 incidents of cattle mutilations in 2002, unidentified lights were reported. The fact that something is coming down from above, lighting the terrain or shooting down this energy of whatever nature it happens to be, is a crucial part of the phenomenon and has to be studied with it.
Advanced Beam Technology Can Lift
and Lower Heavy Weight
THAT'S RIGHT, WE'RE DEALING WITH SOME KIND OF TECHNOLOGY THAT CAN PICK UP AND LOWER 2200-POUND BULLS.
The procedure, shall we call it, by which the animals are hoisted or lowered on the beam of light ­ it took me back to a 2002 incident in Santa Rosa, in southern Argentina. That's where 19 cattle were found inside a water tank. They had been somehow taken from their pen and deposited inside this open water tank. Some were found drowned and some were found dying, as I recall. This is one of the most outrageous of the Argentina cases and another woman attached to Inexplicata tried to ask some questions there. The farmer could say nothing more than, 'Look, this is what happened. I have no other explanation. Someone took my animals and put them INSIDE the water tank by whatever means.' He had no idea. He could not tell.
If you look back to 1973 when they were having UFO activity in Wales in the United Kingdom, there was a case where a herd was teleported from its pen to another location down a road to another pen. So, the power of this force or beam or whatever energy to act as a Startrek-like tractor beam. It's funny how we go to science fiction to get terms of reference sometimes! It seems to be standard technology in these cases and reported in a number of countries. Certainly the effects seem to be the same. Many agree that the animal mutilations do not take place on the ground. They take place elsewhere and the animal is deposited back on Earth, either at the right location or at a distance from where the animal was originally collected.
Two Beings, Three Discs and Beams of Light
OF ALL THE CASES IN 2005, FROM WHICH EVER COUNTRY, WHAT IS THE SINGLE MOST DRAMATIC EPISODE YOU HAVE TRANSLATED CONCERNING POSSIBLE ENTITIES AND CRAFT?
I think it's a case we posted just this past weekend (May 28) on the internet seems to be the most compelling. It's a case from Argentina involving a man who was returning to his ranch after a family event on mule back. He is crossing a river that he describes as not being very deep, but very wide, and seeing strange lights down the river. He sees the lights having been accustomed to seeing them before and having tied them with the cattle mutilations in La Pampa Province. He decided it was time for him to spur the mule across the river as quickly as he could. But at some point, the mule got frightened. He fell into the river as these three, large disc-shaped objects passed directly over him, scanning the ground with their beams, giving him the distinct impression they were looking for something. They pass over him and keep going up river and he sees them, I guess, just fade away at some point. But these objects, the saucers or lights or whatever you want to call them, structures, were distinctly looking for something. It could have been a certain animal, a certain herd. That's my conjecture. But that's also the impression that the witness was trying to convey.
THAT WHATEVER WAS IN THOSE DISCS MIGHT HAVE BEEN ACTIVELY LOOKING FOR SPECIFIC ANIMALS WITH WHICH TO INTERACT.
Absolutely. Was it one of his? Or one on a neighboring farm? He doesn't know. This man had lost an unspecified number of animals already. Even though it was a brief report, you could detect the sense of hopelessness, why even bother reporting anything to the authorities? Nothing gets done. The police ­ unlike the Puerto Rican police in chupacabras years (1995-1996) who would dutifully fill out police complaints and take reports and file them. But in Argentina, there is nothing to be done after the government handed down the instruction not to report this, we have already given you an answer (red-snouted mice). But it's still happening! The mutilations continue. The craft appear.
Now, last month (May 2005), there was a case straight out of the 1970s of two fellows driving along in a car and they actually see beings, one of them descending along what they described as a 'tube of light.' If there had been more information from that case, that certainly would have been the jewel of the crown for 2005. But they were driving past very quickly and saw the object, saw the tube of light, saw one being on the ground and one being coming down the light beam. They poured on the gas and just got out of there. They would have had more information if someone had stopped. But again, who is brave enough in these cases? – I always ask myself ­ to actually pull over and have a closer look? I don't think human response to external stimulus works in these cases.
I'M CURIOUS. I WANT TO KNOW. I WANT TO SEE THIS UP CLOSE. WHERE EXACTLY WAS THE NEAREST TOWN WHERE THE BEAM AND TWO BEINGS WERE?
Town of Santa Rosa in Argentina, La Pampa Province.
Mystery of Swimming Pools and Water Tanks Emptied
I HAVE A MAP WHEN THE MUTILATION ACTIVITY WAS SO HEAVY AND BEFORE SENASA'S CRAZY ANNOUNCEMENT (ABOUT THE RED-SNOUTED MOUSE) AND THERE ARE REPEATED PLACES ON THAT MAP. IT SOUNDS LIKE WE ARE DESCRIBING THE SAME AREAS NOW AS WHEN I WAS INVESTIGATING ANIMAL MUTILATION ACTIVITY?
Absolutely, the 75 cases for the year 2005 that Mr. Chavez mentions are all from his area, La Pampa Province. Whatever is going on likes it there, has taken an interest in, I guess, the genetic bloodlines of the cattle there, maybe a genetic follow up on whatever is going on there. There is a reason why the phenomenon is attracted to that part of Argentina.
If you notice, one of the interesting cases of the cattle mutilation epidemic in 2002 had nothing to do with mutilations, it had to do with water. The fact that throughout Santa Rosa and the surrounding communities, swimming pools and water tanks were being systematically emptied of water.
RIGHT.
Then after we mentioned those facts and tied them into cases involving UFOs seen drawing water from ponds and lakes, there was the oddest thing. The Montel Williams Show (TV in 2004) had a segment with psychic, Sylvia Brown, in which one of the people asked Sylvia Brown for an answer to a mystery. It was a person from the southern U. S. – I'm not sure if she was from the Carolinas, Georgia, Alabama – who suddenly woke up one day to find her pool completely drained. No cracks, no spilled water around the pool, and Sylvia Brown told her, 'Oh, honey, those were aliens!'
Of course, the way it's said on American television is so folksy. But when you think back two years earlier to what was going on in Argentina, pools and water tanks and anything that could hold water being drained with no evidence of leakage. It's mind blowing!
AND THE HOST DID NOT SAY, 'SYLVIA BROWN, WHAT ALIENS ARE YOU TALKING ABOUT?'
Not that I recall. I think it was just sort of ­ it all dissolved into laughter, more or less.
YOUR POINT IS A GOOD ONE, THAT THE PHENOMENON THAT HAS BEEN OCCURRING IN REPEATED CASES IN SOUTH AMERICA AND IS NOT REPORTED HERE AT ALL. THEN IF SOMETHING HAPPENS IN NORTH AMERICA, IT'S DISMISSED WITH SARCASM.
Exactly. It becomes purely entertainment and there is valuable information here. There is material to be collected, in-depth interviews to be performed, analysis to be performed of whatever was in the water tanks and swimming pools. But it's not being done.
There was a journalist who had been a political reporter during the years of the water disappearances and had taken an interest in UFOs in more recent times. He was hot on the trail of all the 'stolen water,' so to speak. The more he asked around, the more questions, the more leads he followed and the more cases emerged from people who were either too afraid to mention anything, or had just said, 'There must have been a crack or leak. There must have been something.'
THE EMPTIED SWIMMING POOLS COULD BE A LARGE NUMBER FOR REASONS THAT ARE NOT COMPREHENSIBLE.
Exactly. And of course, you have the case of 2002. Why did the 19 head of cattle wind up inside a water tank?!
AS IF THEY WERE DROPPED.
Exactly, was someone asleep at the controls? Or? That's what came to my mind.
OR WE ARE DEALING WITH SOMETHING THAT HAS A PERVERSE SENSE OF HUMOR AND THAT THEY WOULD DO THIS IN A SOUTH AMERICAN LAND SAYING, 'NO ONE WILL FIGURE THIS OUT.'
I'm so glad to hear you say that. That's what our mutual colleague, Peter Jordan, was working with psychics on some photographs with psychometrists regarding chupacabras (puncture deaths) photographs provided to us by Puerto Rican researchers. One of the psychometrists said, 'Whatever is doing this, delights in confusing humans!' He said he saw the mutilations, he saw the blood, the horror, and incredible joy in whatever is behind this which loves to mystify, takes great delight in seeing humans going crazy, much like we're amused by one of our household cats trying to follow a laser beam on the wall. The cats go nuts. They have no idea what it is.
Hopefully, we don't take perverse pleasure in it, but we do find the cats amusing. And it ties into what Salvador Freixedo (UFO investigator in Spain) said, 'We are a human farm. We are here for the entertainment, the enjoyment of what he called the Gods.'"
The Dyfed Enigma in Wales
In the book, The Dyfed Enigma, Unidentified Flying Objects in West Wales © 1979 by Randall Jones Pugh and F. W. Holiday, the authors interviewed farmer Billie Coombes at his farm in the Ripperston-Broadmoor region of Wales. There the researchers learned that in April to May 1977, "… a herd of some 100 cattle had escaped during the night about half a dozen times. On these occasions the entire herd had apparently slipped silently past the house, gone down the lane, then turned down a side-road to end up at Broadmoor Farm, half a mile away."
When Mr. Coombes was asked how this could have happened, he answered: "They must have flew there!" And the gate was still locked. The 100 cattle herd was mysteriously transported in the night several times to the great frustration of the Billie Coombes family. There never was an explanation for the repeated cattle herd "teleporting." But at the time, there were constant reports of unidentified aerial objects and tall beings dressed in tight-fitting silver suits.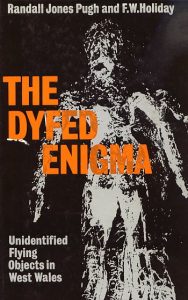 ---
More Information:
Animal Mutilations in Buenos Aires Province, Argentina, 2002-2005
Guillermo D. Giménez, from the Buenos Aires investigation group, GIFAD, assembled a map of investigated animal mutilation cases focused in Buenos Aires province northeast of La Pampa province. Currently, there are 65 geographic locations where animal mutilations have been reported, often more than once.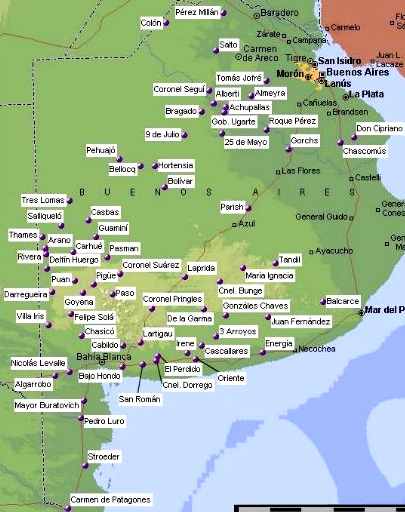 Mutilated Female Calf in Juan Jose Almeyra, June 18, 2002
All photographs © 2002 GIFAD, Buenos Aires, Argentina.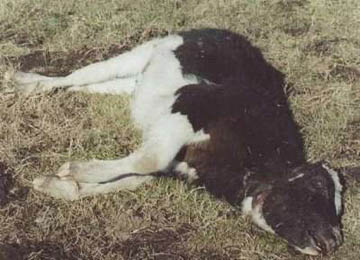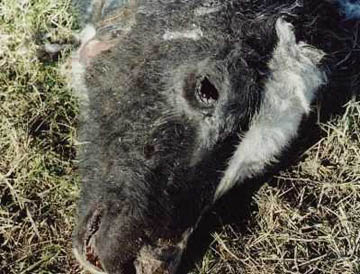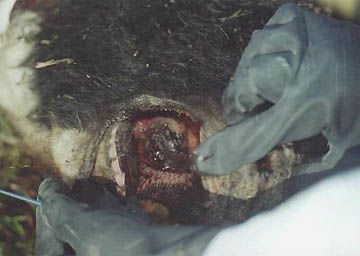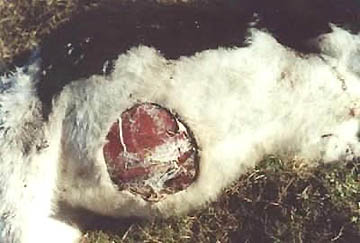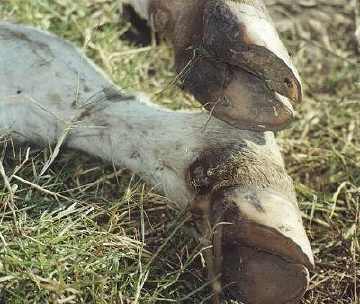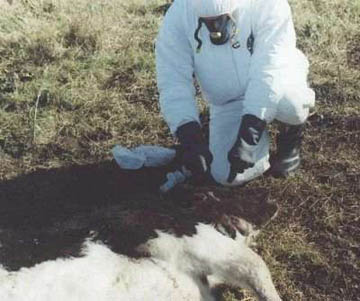 See other Earthfiles reports about worldwide unusual animal deaths in the Earthfiles Archives:
04/13/2005 —  Highly Strange Dog Death in Arkansas
02/21/2005 —  Updated – Bull and Cow Mutilations Northwest of Corpus Christi, Texas
01/15/2005 —  Bull and Cow Mutilations Northwest of Corpus Christi, Texas
12/22/2004 —  Part 2: "Reasons Why U.S. Government CAN'T Release Truth About UFOs!"
12/22/2004 —  Part 1: "Reasons Why U.S. Government CAN'T Release Truth About UFOs!"
12/10/2004 —  Part 4: "Peculiar Phenomena," V-2 Rockets – and UFOB Retaliation?
12/10/2004 —  Part 3: "Peculiar Phenomena," V-2 Rockets – and UFOB Retaliation?
12/07/2004 —  Part 2: "Peculiar Phenomena," V-2 Rockets – and UFOB Retaliation?
12/04/2004 —  Part 1: "Peculiar Phenomena," V-2 Rockets – and UFOB Retaliation?
09/25/2004 —  Part 6: "Clearview" Report on UFO Experiences on A Rocky Mountain Ranch
09/13/2004 —  Part 1: "Clearview" Report on UFO Experiences on A Rocky Mountain Ranch
08/11/2004 —  Newborn Heifer Mutilation in Anderson, California, on August 7, 2004
07/27/2004 —  Part 12: UFO Crash/Retrievals, Status Report VI © July 1991 by Leonard H. Stringfield
07/21/2004 —  The Apollo Program, Cape Canaveral and UFOs
02/24/2004 —  Part 1: UFO Crash/Retrievals: Status Report VI © July 1991 by Leonard H. Stringfield
01/24/2004 —  Oregon Man's Experiences with High Strangeness
12/21/2003 —  Part 4 – UFO Crash/Retrievals, Status Report VII by Len Stringfield
10/28/2003 —  Part 2 – U. S. Presidents and UFO Investigations
09/12/2003 —  More Domestic Cat Mutilations – Again in Bothell, Washington
08/01/2003 —  Field Notes About English Animal Mutilations
07/01/2003 —  40 Small Animal Mutilations in Denver and 11 in Salt Lake City
05/28/2003 —  Cat and Dog Mutilations in Salt Lake City; $6,500 Reward
04/19/2003 —  Unusual Animal Deaths in Valparaiso, Nebraska
03/08/2003 —  Cattle Mutilation – The Unthinkable Truth, Chapter 3, Part Two
02/03/2003 —  Cattle Mutilation – The Unthinkable Truth, Chapter 3, Part One
12/07/2002 —  Cattle Mutilation – The Unthinkable Truth, Chapter 1, Part Three
11/16/2002 —  More Cat and Cow Mutilations: Colorado, Utah and Missouri
10/15/2002 —  Chapter 8 – Mystery Stalks The Prairie
09/07/2002 —  High Strangeness Continues in Argentina
07/19/2002 —  Unusual Animal Deaths and Unidentified Aerial Lights Persist in Argentina
07/02/2002 —  Argentina's SENASA Blames Mouse for Animal Mutilations
06/22/2002 —  Argentina Animal Mutilation Count Rising Above 100
06/17/2002 —  Part 3 – Deer and Cattle Mutilations in Oregon
06/15/2002 —  Cattle Mutilations In LaPampa, Argentina
05/18/2002 —  A Bull Mutilation in Christmas Valley, Oregon
01/12/2002 —  Part 1 – Update On 2001 Montana Cattle Mutilations
10/13/2001 —  Heifer Mutilation and Mysterious Light in Mantario, Saskatchewan, Canada
08/24/2001 —  Part 2 – Unusual Montana Mutilation of Live Bull
07/28/2001 —  Pure Hemoglobin Confirmed On Alabama Mutilated Cow
07/22/2001 —  Mutilated Bull Calf in Missouri
06/09/2001 —  Colt Mutilated in Leitchfield, Kentucky
05/11/2001 —  Horse Slashings and Deaths in Calgary, Alberta, Canada
10/15/2000 —  Mutilated Heifer Found Near Boulder, Colorado
10/15/2000 —  Part 1 – Hardened Bovine Hemoglobin Found On California Mutilated Bull
04/16/2000 —  A Close Encounter with a Disc in Wyoming
03/29/2000 —  Mysterious Calf Deaths In Brothers, Oregon
02/06/2000 —  Large Yellow Sphere In Snohomish, Washington 
09/12/1999 —  Unusual Animal Deaths, Part 1: Nevada
08/25/1999 —  Unusual Animal Deaths in Australia and London, England
01/24/1999 —  Bull Mutilation in Colorado
---
Websites:

© 1998 - 2020 by Linda Moulton Howe.
All Rights Reserved.