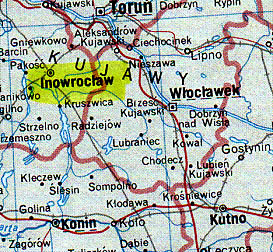 June 28, 2005  Papros in Central Poland – Report from Independent Research Group Torun (IRG Torun), based northeast of Inowroclaw: 
"On Sunday morning 19 June 2005 Leszek Owsiany received information from Nautilus Foundation that some crop circles appeared in a village Papros situated 25 kilometers south of Inowroclaw in central Poland.
"A few hours later Independent Research Group Torun including: Leszek Owsiany, Jacek Kozlowski and Wojtek Budny arrived on the place.
"We saw a pictogram in rye, on the field of Mr. Stynzewski consisted of three circles joined together.
Dimensions: 20.80 meters x 20.50 meters (69 feet); 7.70 meters x 7.70 meters (26 feet) and 6.00 meters x 5.70 meters (20.5 feet) shown in photograph below.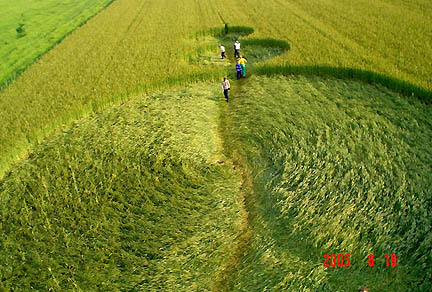 "In all circles the rye was lying on the right side. We noticed that the joints (growth nodes) of the rye were thicker and bent. See photograph below.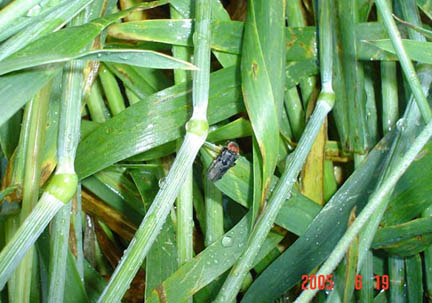 "Also, in some places we also noticed some burnings, shown in photo below.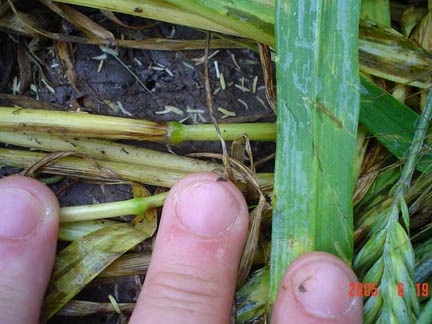 "The rye had started to rise a little bit and we learned that the formation was discovered on Friday morning, 18 June 2005. During our search, some local inhabitant Mr Zbigniew Wasilewski, came to us and told us that he also discovered two circles in his wheat field the previous day.
Older Wheat Circles in Nearby Field 
"We immediately visited these places. The first circle situated about 1 kilometer (1.6 miles) from the rye formation was a regular one that was 12.30 meters x 12.30 meters (about 39 feet) in the wheat, lying on the right side like the rye. See photograph below.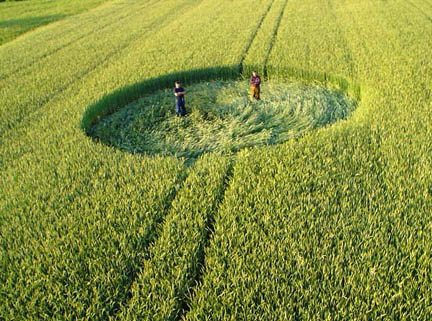 "We noticed the next circle situated 0.5 kilometers away that measured 14.80 meters x 14.70 meters (about 49 feet), lying on right side again. In this circle, the wheat was already almost standing up. It might have meant that the circle must have been created at least two weeks earlier. We got some samples on the ears of the crop and the ground to analyze."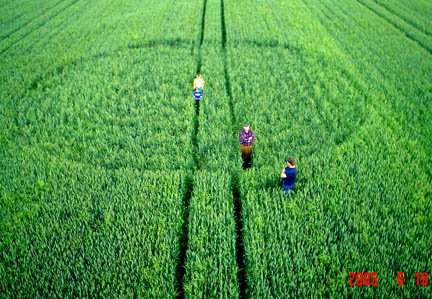 Zlotowo, Poland Crop Formation Examined June 13, 2005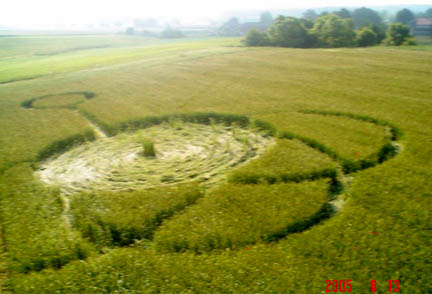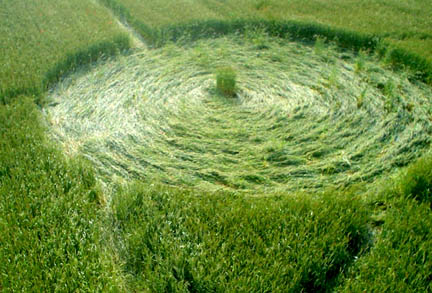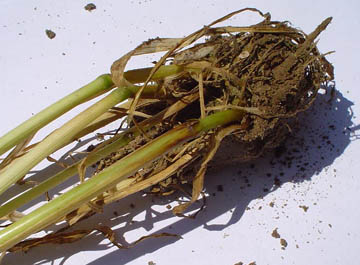 ---
 More Information: 
See more information about Poland crop formations in previously Earthfiles Archives::
08/09/2004 —  Pictograms in Poland
06/17/2004 —  More 2004 Holland and Poland Crop Formations
---
Websites:
http://www.cropcircleconnector.com
http://www.kornkreise-forschung.de
http://www.cropcircleresearch.com
http://www.temporarytemples.co.uk
http://www.CropCircleAnswers.com
http://www.ukcropcircles.co.uk/?page=home

© 1998 - 2023 by Linda Moulton Howe.
All Rights Reserved.