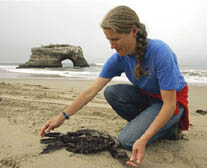 August 5, 2005 Corvallis, Oregon, and Seattle, Washington – This week, forest fires raged across southern Spain and Portugal, adding more CO2 to the already-thick blanket of carbon dioxide that surrounds the Earth now and is warming global temperatures. Europe is in its second hot, bad drought of the past three years. Spain has received less than half its normal rainfall and is challenged by the worst drought since record keeping began in 1947.
In western France, water levels are the lowest since the drought of 1976. And Portugal is rationing water use. Italy has been so hot that authorities are afraid the heat wave could kill people like the 2003 European heat wave that killed 20,000.
Meanwhile in Great Britain, there have been heavy rainfalls and a 130 mph tornado tore through three miles of Birmingham, England, the end of July. India has had record breaking monsoon rains in Mumbai ­ the new name for Bombay – that have killed more than a thousand people and untold animals.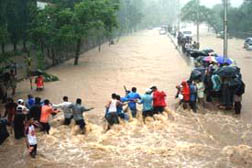 At the same time in the U. S., more than 30 people died in Phoenix, Arizona from a heat wave that kept temperatures well above 100 degrees F. for two weeks. The American Midwest has been in drought so long that Illinois has been declared a disaster area.
And in a state that usually has lots of rain ­ Washington had little rain in the winter and spring like it should and now the reservoirs are drying up. The weird weather is not confined to Washington state. The entire West Coast from Southern California through Oregon, Washington and into British Columbia, Canada, has scientists scratching their heads, puzzled about what's happening.
The first sign that something was wrong goes back to March. That's when the winds blowing south to north during the Pacific Coast winter are supposed to turn around and blow north to south. But they didn't. Not in March, not in April, not in May, not in June and not even early July. Without the north to south winds, there was no upwelling of ocean waters along the coast. And without upwelling of cool water that should carry plankton into the Pacific coast food chain, a lot of sea birds have been dying of starvation and fish such as salmon and tuna are at some of the lowest numbers on record. The winds finally turned around in late July, but what if the same unusual pattern persists into 2006?
Dr. Jane Lubchenco is a Distinguished Prof. of Zoology at Oregon State Univ. She is also the elected President of the International Council for Science which is a non-government organization of National Academy scientists from 103 countries. She was President of the American Association for the Advancement of Science (AAAS) in 1996-1997. She has been studying the Earth's ecology for thirty years since graduating in 1975 from Harvard University with her Ecology Ph.D.
I asked Dr. Lubchenco this week if the Pacific coast die-offs are an effect of global warming?
---
Interview:
Jane Lubchenco, Ph.D., Distinguished Professor of Zoology and Prof. of Marine Biology, Oregon State University, Corvallis, Oregon: "This year has certainly been very bizarre. The exceptionally warm temperatures that we're seeing off the coast of Oregon on the order of 8 to 11 degrees F. warmer than usual. The very low amount of phytoplankton ­ about a fifth of what we would normally be seeing in May, June and early July. And the consequent die-off of a lot of species like many of the birds that are dependent on that production lower in the food web, are all signals that there is something very strange going on.
Unfortunately, we don't know exactly what is causing these anomalies. We can say that greater variability, greater extremes, more weird things happening are completely consistent with many of the predictions of the models from global warming. But that does not mean that we can point our finger at these strange things and say, 'Aha, this is a smoking gun!' It does not quite work that way. It's completely consistent with our understanding of how a warmer world is going to be more variable. But we don't know for sure how all the pieces fit together yet.
IF THE BIRDS AND PLANTS CAN'T KEEP UP WITH THE VARIABILITY OF WHAT'S COMING IN GLOBAL WARMING, DO YOU THINK THERE IS GOING TO BE A LOT MORE EXTINCTIONS MORE RAPIDLY THAN EXPECTED?
Actually, three of the last four years off our Pacific coast of the U. S. have been strange, but in different ways. Last year and two years before that, we had a dead zone of low oxygen off the coast of Oregon. It's the first time ever, as far as anybody has documented. So, what we are seeing this year is very bizarre and strange, but it is different from the bizarre and strange things we saw last year and two years before that. So, we're not seeing a pattern of just one thing happening ­ no upwelling (this year), for example. We're seeing a pattern of weird but different things happening at different times.
The reality is that these are very complex systems and we don't understand how they work. What we do know is that we are changing them in ways that they've never been changed before and it is not surprising that we should be observing bizarre events and that's exactly what is happening. I think there is very real concern that there is going to be more bizarre things down the road and that is, in part, likely due to our own continued excessive release of greenhouse gases.
IF IT CONTINUES ERRATICALLY AND NOT PREDICTABLY, ISN'T THAT VERY HARD ON THE ANIMALS AND PLANT LIFE?
It absolutely is very difficult for plants and animals as well as for people to cope with erratic conditions. This increased variability and increased surprises are again very consistent with what climate scientists have been telling us is likely down the road.
Biggest 2005 Environmental Surprise
WHAT HAS BEEN THE BIGGEST SURPRISE TO YOU IN YOUR LONG TIME PERSPECTIVE AS A SCIENTIST ABOUT WHAT HAS BEEN HAPPENING IN 2005?
The biggest surprise is that there are so many bizarre things happening. Different things, different places in the world, not all necessarily due to global warming. But certainly, many of them are due to that. I think it's definitely likely a harbinger of things to come.
THAT WOULD, IT SEEMS TO ME, HAVE TO ACCELERATE EXTINCTIONS?
We already are seeing massive extinctions on land. Scientists have documented the rate at which species are going extinct is as much as a thousand times the normal levels that would have been typical of what's happened on Earth for millennia.
We have less good numbers about rates of extinctions in the oceans because we don't have the same kind of historic records and tracking.
HOW BAD COULD IT GET, DO YOU THINK?
The systems don't change in a uniform way. Because they are complex, there are so many different factors that affect how abundant species are ­ it's hard to say with any degree of accuracy or credibility about what's going to happen. What we can say is: we are going to be in for surprises and that there is going to be increased variability, increased sort of bizarre, weird, mysterious things happening like we've seen this year and last year and two years ago.
Pacific Coast Sea Birds Died by the Thousands in 2005
One of the 2005 surprises is how many adult sea birds are dying on the Pacific beaches, especially the Brant's cormorants and the common murres. Dr. Julia Parrish, a Prof. of Aquatic and Fishery Sciences at the Univ. of Washington in Seattle, has been studying the unexpected bird deaths.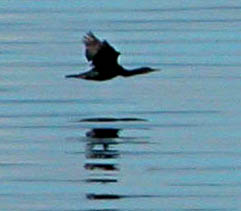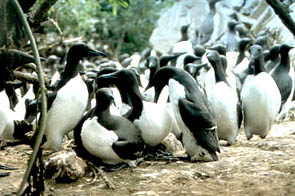 ---
Interview:
Julia Parrish, Ph.D., Prof. of Animal Behavior, School of Aquatic and Fishery Sciences, University of Washington, Seattle, Washington: "Normally at this time of year, we might expect to see for Brant's cormorants almost no birds of those species washing up dead. You could walk mile after mile of coastline and you wouldn't find a Brant's cormorant. This year, depending on the beach and the month, you probably won't get a kilometer or half a mile before you'll find a dead bird. That's a big difference. And when you think about the number of miles and miles of coast line, that adds up to some pretty significant numbers.
ARE WE TALKING IN THE THOUSANDS?
We're definitely talking in the tens of thousands. And we may well be talking in the hundreds of thousands, depending on how long this event persists.
HAVE YOU EVER SEEN THIS AMOUNT OF DIE-OFF OF THESE PARTICULAR BIRDS PRIOR TO THIS SUMMER OF 2005?
That's an interesting question. What is of concern to us is that it's coming at the wrong time of the year. (Adult die-offs are more common and expected after breeding season in the fall.) It's happening before the birds have even started to breed. This is normally the time of year when they should be in the best condition. They should have eaten a lot of food over the winter and the spring and gotten really fat and sassy and ready to go to the breeding colonies and put in that time. What this indicates is that not only are the birds not able to do that, they aren't even in good enough condition to survive.
WHY ISN'T THERE ENOUGH FOOD?
There is the $64,000 question. There are a lot of people working on that. We use a few indicators of the physical environment to tell us what might be happening in the local coastal system. One of them is how warm the water is right at the surface. The reason we use that right along the coast is that the normal pattern is for the winds to work to move the surface waters off shore – literally like blowing across the top of a coffee cup. That sucks water from deep in the ocean up close to the coast. That's why it is always cold when you go swimming in California, as opposed to swimming in New Jersey, which is the same latitude. New Jersey water would be almost hot.
So, when we use satellites and we see that the water along the coast is warmer than normal, we know that the pattern of the wind strength is not normal. That's certainly happening this spring. So, our physical indicators this spring are showing that the general pattern which we refer to as upwelling because it's that cold deep water that's welling up from below is much weaker than normal.
Mystery: It's Not An El Nino Year, So Why So Little Food?
The mystery here is that the strength of the upwelling is low, but it's not the lowest it's ever been. So the physics of the system are saying to us, 'It's not a very good year, but it's not a disaster year.'
YET YOU'VE GOT SO MANY BIRDS DYING AND IT'S MY UNDERSTANDING THAT THE PLANKTON IS ALMOST NON-EXISTENT IN SOME PARTS OF THE PACIFIC WHERE IT USUALLY IS PREVALENT AT THIS TIME OF YEAR.
Right. There are certainly some people ­ and Bill Peterson is one of them ­ he has a very long term study off the coast of Oregon where he goes out every single week and samples the plankton. So we have a very long term and detailed record. He is seeing some changes.
So, it's a two-pronged mystery. One part is that although we know the upwelling strength this spring is weaker than normal, it's not the worst ever. But the other part is that when we see a large die-off of animals so high on the food chain ­ organisms like sea birds ­ along the entire coast: California, Oregon, Washington, up to British Columbia ­ normally what we point to is the El Nino phenomenon. El Nino produces very weak upwelling, not only along the North American Pacific coast, but also the South American Pacific coast. It's a phenomenon that happens throughout the entire Pacific, very well known and tracked. But there is no El Nino this year. So, there is no very large forcing factor in the physical environment that we can point to. Therein lies the mystery.
IF THIS IS THE CONSEQUENCE OF GLOBAL WARMING AND WE'RE SEEING THESE RELATIVELY RAPID CHANGES NOW HAVING THESE KINDS OF DOMINO EFFECT FROM PLANKTON TO SEA BIRDS THAT DON'T HAVE ENOUGH FOOD, WHAT DO YOU PROJECT COULD BE THE WORST CASE IF THIS REPEATS NEXT YEAR AND THE YEARS THEREAFTER?
I guess I have two points about that. The first thing is that global warming is a well accepted physical phenomenon, forced in part by the activities of people and the consequence of burning fossil fuels which heat up the environment. While I think that everybody would say that a portion of this current signal, this current crisis, may be due to global warming, I really don't know anybody who is pointing a finger solidly at global warming and saying that's the cause.
We are putting (that possibility) in the mix, but it's hard for us right now to say: It must be global warming because we can't find anything else.
Global warming is from year-to-year going to increase things only a little bit. So, it's hard for us to imagine how that very little bit would suddenly have such a large effect.
Is Global Warming the Major Cause of Pacific Coast Changes?
BUT ISN'T THAT THE WHOLE QUESTION ABOUT 2005 IN WHICH IN BOTH HEMISPHERES GLOBALLY, THE WEATHER IS BREAKING EVERY RECORD. THEY'VE NEVER HAD RAINS LIKE THIS IN INDIA. THEY'VE NEVER HAD THE KIND OF WEATHER IN EUROPE TWISTING, CHANGING, UP AND DOWN SO RADICALLY. WE ARE FACING A REALLY BAD HURRICANE SEASON BROUGHT ON OR INVIGORATED BECAUSE THE ATLANTIC OCEAN SURFACE NOW IS SO WARM.
Right.
THE PACIFIC OCEAN IS MEASURING SOMEWHERE BETWEEN 5 TO 7 DEGREES WARMER THAN NORMAL WITHOUT AN EL NINO. SOMETHING HAS TO BE CAUSING ALL OF THESE GLOBAL RECORD BREAKING.
You are quite right, you've hit the nail on the head. I think one of the things that we scientists realize is that although we know that global warming is a slow, long term signal, there are several models that suggest that at some point in time it will cause relatively rapid effects. So, is this what we are seeing right now in 2005?
As a biological scientist, I'm not qualified to make that assessment. That's for the atmospheric scientists and the oceanographers. But sure, I think it's part of the story. But I think there are also short term local things that are going on.
The second part of that question that you asked me is: what if this is not just a weird year? What if this continues and this is the new pattern? With respect to sea birds and other predators such as marine mammals, for instance, and large fish like salmon, rock fish, or ring cod. They are usually long-lived species. they can live anywhere from ten to fifty years and rock fish can live hundreds of years. So, they are pretty good at weathering short-term changes, even if the season is very poor.
But if we are actually seeing a change in the system, then we are going to look at a fairly massive re-arrangement in where species exist and how many can survive in one place. So, that would be a large shake up in the environment.
And the problem is ­ with the extent to which humans have already colonized and are using the terrestrial environment ­ there's really not a lot of room to create new national parks or wilderness areas where there aren't ones now to accommodate those shifts.
WHAT IF THE ANIMALS AND THE PLANTS CAN'T KEEP UP WITH HOW RAPIDLY THE EARTH ECOSYSTEM IS CHANGING UNDER THE PRESSURE OF INCREASED CO2 AND GLOBAL WARMING?
That's an excellent question. We have certainly some evidence from the fossil record that when there are massive shifts in the environment, we get a massive response in biology. That is a set of extinctions, a rapid increases in the rate of extinctions. That is certainly one prediction.
Can Humans Control Global Warming?
So, I prefer to look at the situation and think that although our political establishment may be reticent to sign the Kyoto Protocol, I think it's every person's responsibility to step up and be part of the solution and not wait for the government to say what to do.
WHAT IF IT'S TOO LATE?
Well, I guess that depends on your world view. As a biologist, the organisms we study are amazingly resilient. Not only are they in the short term via behavior and ecology, but in the long term by evolution. There is certainly a point we can push the world to which would create drastic and perhaps irrevocable change. But, if we start pushing back in the other direction now, I think there is enough time to recreate some of the more healthy ecosystems that we are losing.
WHAT WOULD BE THE SIGNAL TO YOU THAT EVERYTHING MAY BE OUT OF CONTROL?
That's an excellent question. In biology, as in many things, it's not a light on or light off. We have a set of dimmer switches. Every year is a little bit different than the year before. At what point do you look back and say, 'Gosh, we're in a real new state now that we weren't in before?'
The sea birds along the Pacific Coast are literally screaming at us that something is happening. They are dying almost now in droves. If we see the same sorts of things developing the second year in a row, that's going to tip us off that things are really different and we should take perhaps more drastic steps to do something about it. And having said that, I can't tell you what those steps would be."
Earth's Environmental Damage Seen from Discovery Shuttle
On Thursday, August 4, 2005, looking down on Earth from the NASA shuttle, Discovery Commander Eileen Collins said that from her perspective 220 miles above our planet: "Sometimes you can see how there is erosion, and you can see how there is deforestation. It's very widespread in some parts of the world. The atmosphere almost looks like an eggshell on an egg, it's so very thin. We know that we don't have much air and we need to protect what we have."
---
More Information:
See other Earthfiles reports about unusual bird die-offs in Earthfiles Archives.
07/14/2005 —  8,000 White Pelican Chicks Mysteriously Died At Chase Lake, North Dakota
06/21/2005 —  CDC Reports First 2005 Human Case of West Nile Virus in Kansas

06/03/2005 —  West Nile and Bird Flu: Two Increasingly Dangerous Viruses

08/27/2004 —  Global Warming Impact On Birds – More Extinctions Expected

08/01/2004 —  Sixth Straight Year Hundreds of Birds Die at Roestler Lake, North Dakota

07/24/2004 —  What's Happening to Birds? – More Reports
06/29/2004 —  Four White Pelicans from Missing 29,000 Tracked by Satellite

06/17/2004 —  Updated – 29,000 American White Pelicans Have Disappeared from North Dakota Wildlife

01/18/2003 —  California Brown Pelicans Mutilated in Long Beach Harbor, California

09/28/2002 —  2002 Mad Cow Disease and West Nile Fever Updates

10/21/1999 —  Bird Deaths In Mascoutah, Illinois and Erie, Pennsylvania

07/25/1999 —  Maryland Fish Kills; Global Warming; and Warm Oceans and Disease
---
Websites:
Bird Kill, Pacific Coast Beaches: http://www.dailykos.com/storyonly/2005/8/1/114820/7173

© 1998 - 2023 by Linda Moulton Howe.
All Rights Reserved.